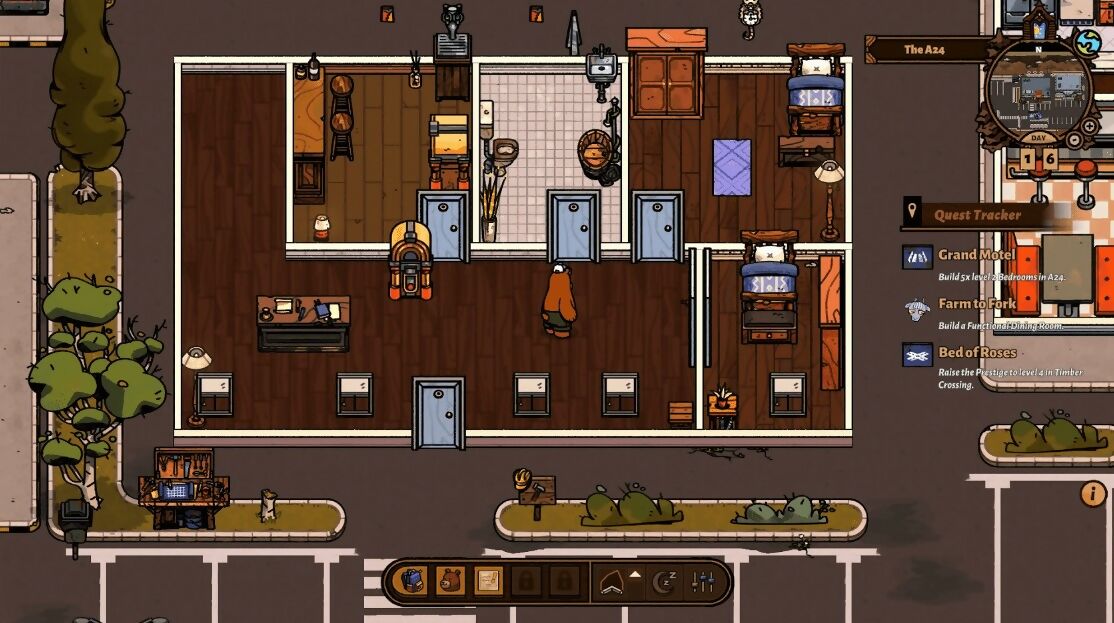 Bear and Breakfast is a cosy life sim that offers more than the bare necessities. Here's our review…
---
Hank the bear was trekking through the forest with his friends, minding his own business, when suddenly, out of nowhere, the shrieking of an electronic voice brought him to a halt. Pressing a green button on a curious metal shark, Hank learned the story of how humans fled the forest. From this moment on, he decided to open his own bed and breakfast in the hope of coaxing humans back into the countryside.
Developed by Romanian studio Gummy Cat, Bear and Breakfast puts us in Hank's hairy paws, gathering resources and materials to restore decrepit cabins to their former glory, thus providing comfortable stays for potential guests.
After cleaning and restoring cabins, we'll have to craft beds, vanity tables, and footrests to add an extra dash of comfort. Trash can be collected and traded with a raccoon, who will furnish Hank with room decorations, increasing the prestige of the cabins. Later in the game, more rooms will unlock, like a bar and an outdoor kitchen. These humans sure have some high standards.
Bear and Breakfast perfectly fits the requirements of a cosy game. The pacing is relaxed and there are no timed quests; even splashing out on a few luxuries isn't a huge issue as Hank's mum is on hand to provide occasional monetary relief. To attract more visitors, our dear shark recommends restoring abandoned places, like the diner or the information centre. Beyond bringing these places back to life, though, there seems to be nothing else to do with them – they just sit there, shiny and new but empty and alone, like the carcass of an abandoned mall.
The game's slow pace will be perfect for some, but players looking for a more focused experience might be turned off. There are quests that require Hank to wait for multiple guests to finish their stays. Hank can go to sleep (momentarily), which allows you to skip the night-time, but there's still several minutes of waiting involved. In these instances, we're invited to take our time, take a breath, and soak up the great outdoors. Luckily, the time spent wandering around the forests, swamps, and highways gives you more time to take in Bear and Breakfast's delightful graphics. Beautiful hand-painted scenes in loading screens sit alongside detailed sprites and locations. The electronic/trip-hop music also contributes quite a bit to the relaxing mood.
The writing, meanwhile, is witty, with colourful jabs at capitalism, along with the obviously bizarre idea that a bear should be building rooms to welcome humans back to nature. Instead of, well, scaring them away with roars or, in this instance, terrifyingly high prices.
If you can bear a couple of pacing issues, there's a lot to enjoy in managing cabins, seeing guests come and go, and later reading their reviews. Hank's ready to provide comfort as much to us players as he is to his in-game guests.
Highlight
Bear and Breakfast's lovely 2D graphics come together perfectly with the cosy gameplay and soundtrack‭, ‬providing a serene mood which makes it a perfect short stay to be enjoyed appropriately at the end of a long and stressful day‭.‬
Verdict
Bear and Breakfast‭ ‬is a cosy little sim that‭, ‬thanks to witty text and cute graphics‭, ‬will easily win hearts all over‭.‬
82%
Genre Management sim | Format PC (tested) /  Switch | Developer Gummy Cat | Publisher Armor Games Studios | Price £15.49 | Release Out now