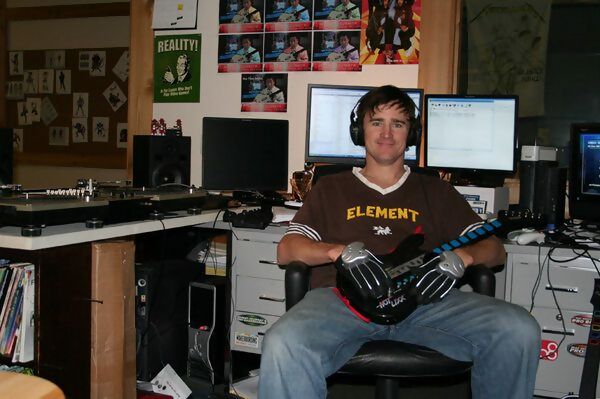 Activision alumnus Brian Bright talks early DJ antics, Guitar Hero, Call of Duty, Tony Hawk, and why Embracer Group came calling.
---
Rarely will you find a person who's worn as many development hats – especially within a publisher as large as Activision – than Brian Bright. A true industry veteran, these days he's arguably most known for being one of the main faces of the re-formed Infinity Ward, heading up all things co-op and Zombies-related for Call of Duty following the high-profile exit of founders Jason West and Vince Zampella, before just recently moving on to new horizons himself. The truth, however, is that Bright's experience in gaming runs much deeper than simply futuristic and real-world military action. His career also includes a large musical bent, which has always been his first love.
"Growing up in the late seventies and early eighties, I would listen to the local college radio station and tape the shows on my little Panasonic boom box," reveals Bright, on when his passion for music began. "The summer after my first year at Florida State University I started DJing at a few clubs in town. This was back in the day when playing electronic music that was instrumental was a sure-fire floor clearer. Girls would come up and ask me to 'play something with words' ". This encouraged the amateur DJ to explore new genres like house, techno, and UK break, which also saw him start to tinker with hardware. "After college, in 1991, I bought an Emax II sampler to go with my 1200s and shortly after had built a PC, had a SCSI SyQuest hard disk on the Emax (no more floppies!), and was running Voyetra Pro on DOS."
Fast-forward to today and Bright still admits to being obsessed with synths and records, just as much as he is with video games. Growing up in the so-called 'Bible belt' of northern Florida forced the future game director to play games on any system he could get his hands on at the time, leading to some rather unique initial experiences – including his family's first computer, the Interact Model One, which Bright recalls his mum buying for $599 back in 1979. "For a couple of years, my gaming life was loading up Dogfight or Gunfight on the tape drive." He cites the 1983 video game crash as making games even more accessible. "I bought a Coleco Gemini console, which was an Atari 2600 clone. At the time, you could buy new cartridges for under $5; the toy stores had so many games and nobody was buying them (thanks E.T.)."
By 1991 Bright had entered his full creative mode, building a PC that he used for both music production and playing up-and-coming games like Comanche and Wolfenstein. This knowledge in tech went on to see him accept a role as an IT manager, which he recalls as being dangerous during the time when DOOM had just dropped. "I snuck my friend (who is now a successful game producer in his own right) in one night so we could play 1v1," he reveals. "This is a guy who we would sit on my couch, playing Genesis NHL, and we would dream out loud about being able to make games." Bright got a step closer to achieving that dream after seeing an IT job at a small firm called Activision.
Active start
By the time Bright and his wife moved to Los Angeles, Activision mainly consisted of six close-knit internal teams, working almost exclusively focused on PC games. "MechWarrior has launched the year before I arrived," Bright recalls. It wasn't long before he got to work meeting several directors, designers, producers, and artists from around the company in a bid to try and get a job in game development proper. It was this kind of shrewd-thinking and self-made initiative that allowed Bright make his dream come true, rather aptly in the realm of audio.
"After about a year, the audio/video team recruited me to work with them," explains Bright. "I made 96×96 pixel web movies as that is all the bandwidth people could watch. I would make original music for these masterpieces and turned that into becoming an audio designer. I would create the sound FX (and sometimes the music) and mix them all for either marketing or in-game movies [for] games like Battlezone, Heavy Gear, Civilization: Call to Power, and Dark Reign 2." Just when he thought he'd found his groove, however, Bright had his first taste of the industry's volatility. "After working on Vampire: The Masquerade, Activision shut down the department. They decided it was cheaper to outsource, so I thought I was without a job and started making business cards for the upcoming E3."
His initial relationship and experience working at Activision was a little fraught, then, but despite getting off to a rocky start, Bright still holds fond memories of being at the publisher during its earlier period. "Back then, things were way less corporate," he enthuses. "Game teams were like 20 people max. Activision was generating $65 million in revenue, which was nothing compared to $8.8 billion now. We built the computers from parts, no ordering Dells. You had to be scrappy to get things done." According to Bright, it was when PC games took a back seat that he began to notice a strange shift in how things were done. "As console games started to become a bigger focus, Activision started to let its internal studios go. Some of these teams formed studios like Pandemic and Jamdat, both of which became hugely successful.
"A big change I saw was that we had an internal team working on Apocalypse, an action game featuring Bruce Willis and the musician Poe in a small role. The internal studio was not meeting expectations, and the game was pulled and given to a studio called Neversoft.
A few of the Activision developers on the internal team joined Neversoft and they began to try and salvage Apocalypse." Middling reception aside, the California-based developer impressed its publisher with its work on the game so much, it'd be officially acquired just one year after. "The game made it out, and wasn't bad or great, but right after the team put that Bruce Willis [character] model on a skateboard and the rest was history."
Skate nation
Neversoft was a team Bright quickly got familiar with following their work on Apocalypse, having started there as an associate producer soon after being let go from Activision's audio department. This slight breakaway was the perfect opportunity to get stuck in on a new IP at ground level, and learn more about the making of games from start to finish. Little did Bright know that his first producer credit would also see him at the forefront of an entire skating game revolution. Better yet, it was an excuse to tap into his musical prowess once again.
"[I] brought the turntables into the Activision recording booth to lay down some scratches. I was going for an Intergalactic by the Beastie Boys vibe," Bright recalls, about his initial work on the first Tony Hawk's Pro Skater game. That was for the game's E3 trailer, but things quickly got more serious when he formerly was hired as associate producer, and the tricky Nintendo 64 version loomed. "The audio contractors working on the game said it was impossible to get anything resembling the ten-song PlayStation music soundtrack onto the N64 cart."
A producer's role is to solve problems, broadly speaking, and Bright was adamant on finding a workaround so as to give Nintendo 64 players a comparable experience. Luckily, his music tech knowledge came in handy again. "To fit the music in, I used a Nintendo Sound Tools cart, chopped up each song into samples, and then I could discard the dupes and sort of resequence the samples with the N64 MIDI sample player to make it sound like the original. This worked, and it was all done on the fly at my desk. For all the Tony Hawk gamers on Nintendo 64 wondering why things didn't sound quite right, it was this or some [pooey] chiptune MIDI jam."
Despite being a relatively unproven concept, Bright believed that Neversoft had cracked the fun factor in the initial 'Bruce Willis on a skateboard' demo – even before he joined the team fully. Coupled with a kick-ass soundtrack, a wide roster of executable tricks, and iconic maps like School, Warehouse, and Downtown in tow, all those involved had high hopes that the very first Tony Hawk's Pro Skater would capture the attention of both the skater and gamer crowd. There were also a few early signals working in its favour. "There was a demo that came with any Pizza Hut pizza," Bright recalls. "Once that was released a few months before the game came out, and Tony nailed the first ever 900 in competition at the X Games, we knew the game was going to be a hit."
Life is a highway
Bright's next big career move saw him move into the market of plastic peripherals, soon after inheriting the increasingly popular Guitar Hero series from Harmonix, again as part of Neversoft. The studio seemed like a good fit given how important music was in the Tony Hawk's games, and with RedOctane (the original publisher for the rhythm game series) recently welcomed into the Activision family, hopes were high that the third Guitar Hero game could capitalise on the continued popularity set by the original PS2 games. Also helping was the fact that Bright and a lot of other Neversoft team members were already fans.
"The first Guitar Hero released just a few weeks after Tony Hawk's American Wasteland and quickly became the most popular game played in the studio," recalls Bright. "Neversoft was full of hard rock and metal music fans, and you'd see people playing in the conference room at lunch, jamming away on that original PS2 guitar. Activision owned the IP and the company that made the guitars, but they did not own any code or patents – that all was still with Harmonix." However, Neversoft studio head Joel Jewett wasn't the type to be dissuaded. "A 'grab the tiger by the tail' kind of guy. He saw that Tony Hawk sales were declining after Project 8, and Guitar Hero was the perfect opportunity for the studio."
The biggest challenge for Neversoft was to get the Guitar Hero concept running in its own engine, which proved trickier than you'd think, given that they didn't have access to code and were starting totally from scratch. "I was looking into how we could use MIDI to track the songs and had some discussions with the talented lead programmer, Paul Robinson, and in three weeks Paul had a demo of Guitar Hero running on the Tony Hawk's engine," reveals Bright. "From that point on, we got cranking to make the game in under a year. That was crazy, there was so much to do to go from zero to Guitar Hero 3 on all platforms. It was a ton of pressure for the studio, but they totally crushed it."
Guitar Hero 3: Legends of Rock released in 2007 on all major platforms, benefiting wildly from having the full support and infrastructure of Activision behind it. The core idea of hitting notes down a fast-moving highway as songs play remained the same, of course, but it was from the Neversoft era onwards that the rhythm series totally took off. Legends of Rock was the first game to include a fully licensed playlist consisting of nothing but original tracks, and it even managed to leverage some celebrity cachet by translating digital avatars of real-life guitar heroes Slash and Tom Morello into the game.
The bigger Guitar Hero became, the bigger the pressure was for Neversoft to innovate. Not only in terms of the music selection, but also in the ways players could interact with it. Such expectations were most keenly felt with the addition of playable percussion in Guitar Hero World Tour, which Brian remembers differently to most. "I had been working on the drum design for a while, and we were starting to get some initial kits in from RedOctane in China," Bright reveals. "The kits had a ton of cross-talk and dead zones, to the point where they were unplayable. I remember sitting at home thinking I need to get to China, so I bought a ticket without telling my boss and the next day I had a special build of the game made that displayed the drum velocity values on the screen in the GH music studio. I flew that night to Hong Kong and met with RedOctane's Lee Guinchard.
"I remember us crossing the border into China in a van, where Lee and I were hiding in the back with a bunch of Xboxes, which were not allowed in China at the time. We went through this massive checkpoint that had armed Chinese soldiers interrogating our Chinese drivers. Fortunately, they didn't look in the back of the van and we were able to make our way to the factories in mainland China. We fixed a bunch of issues using that special dev build of the game and were able to get the drums to a pretty good state. Unfortunately, there were a few thousand kits that were not up to snuff, but I think we made close to five million kits after that batch."
Co-operative
After just three years working on the Guitar Hero franchise, Neversoft had made six games. Market saturation had caused sales of music rhythm games to rapidly fall off, which again led Bright, Jewett, and the rest of Neversoft to plan their next move. Luckily for them, this was around the same time as the Infinity Ward/Activision split was happening, which led the team to believe that there might be an opportunity to work on Call of Duty – they were right! Although it took a while for them to find a good groove.
"Joel had us take the Modern Warfare 2 code and start working on a futuristic Call of Duty code-named NX1," Bright explains. "The problem is that the studio had no idea how anything worked in the Infinity Ward engine. I was running our Multiplayer team, and remember digging through the new Infinity Ward's Modern Warfare 3 check-ins, seeing what they were implementing." NX1 ultimately got cancelled, but Bright's team was still able to create a new game mode for Spec Ops called Chaos Mode that was released as DLC.
Soon after getting its foot in the door, Neversoft became close partners with Infinity Ward as it slowly rebuilt itself as the third Call of Duty pillar alongside Sledgehammer Games and Treyarch. That is until the two companies officially merged in 2014, following the launch of Call of Duty: Ghosts. "The new Infinity Ward studio head was an old boss of mine at Activision back in the day, so that was good," says Bright. "It was a strange time, though, as we had two studios, each with their own department leads. There was a bit of interviewing going on where the IW studio heads had to determine which leads would lead their departments, an IW or a Neversoft lead."
Despite this initial confusion, Bright continued to make a name for himself within Infinity Ward by heading up all things co-op, a core component within the annual Call of Duty offering. Building off the innovation set by Ghosts' new alien-themed horde mode, Extinction, what followed were exciting strides in both Zombies and Spec Ops. "The team went on to make Zombies in Spaceland, and the subsequent zombies DLC for Infinite Warfare. After we finished the post-launch year's DLC, I started pitching some ideas for a new Zombies experience in the revamped Modern Warfare game," Bright explains. "We had a few different prototypes that were pretty fun, but ultimately went on to make an updated version of Spec Ops." I had already tried to retire, but my boss asked if I would work from home and help the team out. I supported the co-op team for a couple of years heading into the pandemic."
New Horizons
Bright finally left the Activision family in 2021, a quarter decade after he first started there in the IT department and slowly worked his way up to become a principal designer. After playing a crucial role in shipping the critically acclaimed Call of Duty: Modern Warfare reboot and supporting it for a year afterwards during the midst of the pandemic, it seemed like the perfect time to recharge and re-evaluate. "At that point, I was done. I needed a break and took the next year off to dive into some passion projects I had brewing."
It wasn't too long that Bright was able to take it easy, however, as the call of an old flame quickly came calling. "I'm back working with Lee Guinchard and a few of the old-school RedOctane people I had spent time on Guitar Hero with," he says, doing so as part of Freemode, one of Embracer's many operating groups intended to incubate new and exciting games. "Embracer Freemode is exciting. We have an interesting group that has both hardware and games in its portfolio. I love working on hardware and software (obviously), so the freedom and the possibilities seemed exciting. It's a new group and it's going to be exciting to see where the future takes us."