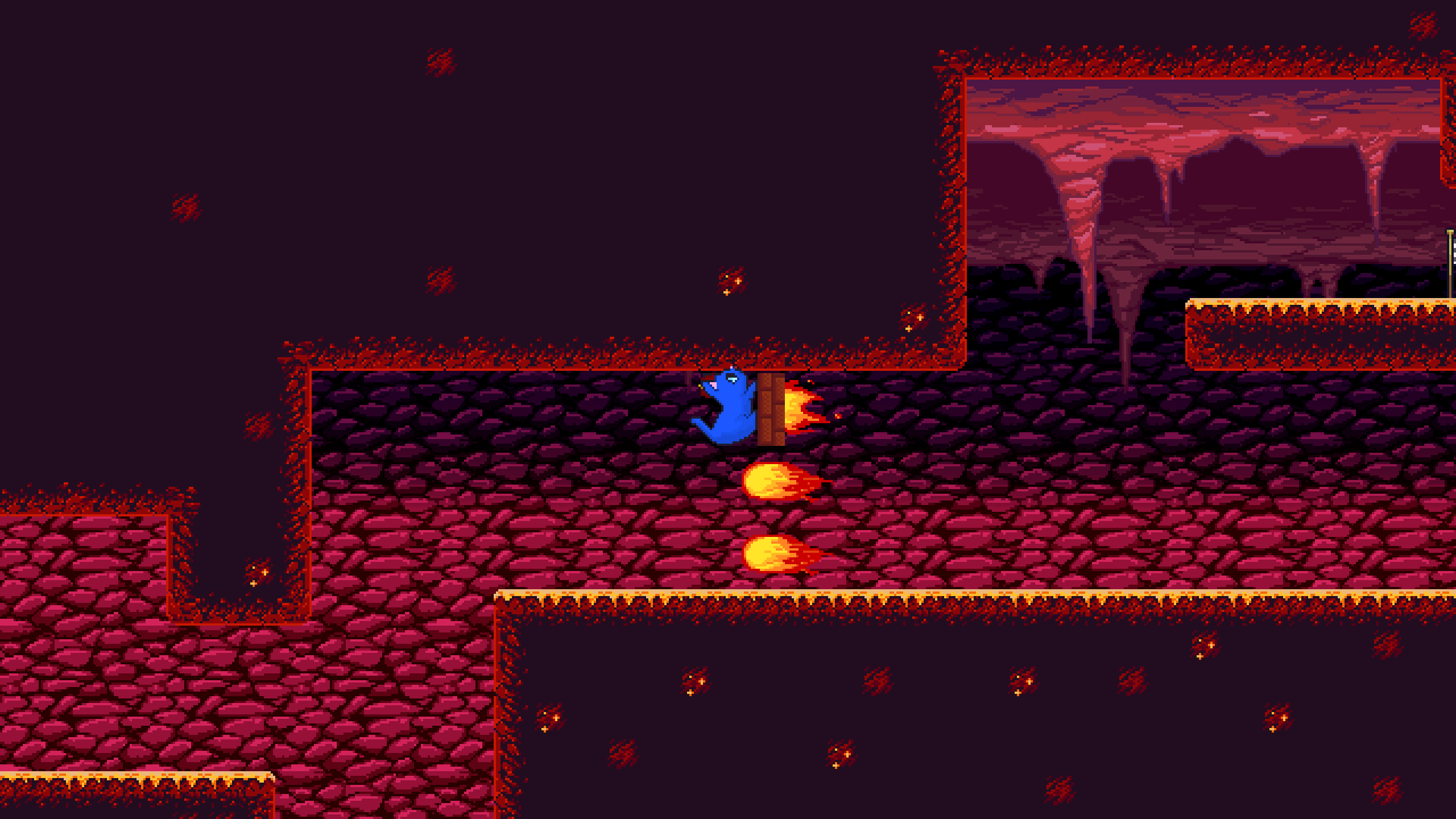 Created by Team Cats & Bears, the one-man studio that is Leamington Spa-based developer Johnny Wallbank, Bubbles the Cat is about to bounce its way into your life. Shown off at new gaming event Interactive Futures, the one-button platformer is Wallbank's first foray into indie game development.
Bubbles (your feline protagonist) auto-runs and requires one-button guidance to jump for fishy treats. Pressing the button while in mid-air will create a magic bubble for Bubbles to bounce off, and by default, you get a maximum of six bubbles. When Bubbles touches the floor, the stock of bubbles is instantly replenished. As the game progresses, Bubbles will get some sweet power-ups including floating and blasting.
"The very loose brief I had given myself was 'single input game that has a cat'," Wallbank explains. "The original concept was something like a hybrid between Lemmings and a platformer. Bubbles could be placed anywhere in the game world and you could create sequences for the cat to jump on," he says.
"While this had some advantages, like being able to interact with fireballs, it was surprisingly difficult to control. I got a lot of feedback from people indicating they either didn't get the game or they found it frustrating to control, as they'd be just slightly out with their bubble placement."
Wallbank initially built a few different prototypes for some quite different games. He made use of assets from sites such as opengameart.org and freesound.org; both things he recommends for quick prototyping. When he realised that making Bubbles the Cat a puzzle-platformer hybrid wasn't working, it marked an early cross-road in development.
Wallbank had to choose between embracing either the puzzle or platformer aspect fully, eventually finding it significantly quicker to rework the game as a platformer. This led to a drastic improvement in terms of the in-game action and feedback, and shaped the game's ultimate direction. Today, there are over a hundred levels set across six worlds, and bonus secret levels designed to challenge even the most dedicated platform gamer.
"In addition to the game's simple control scheme," Wallbank says, "I added a 'Boost' system to help even out the playing field – you can customise your experience by turning on invincibility or removing the restriction on the number of bubbles that you are allowed to make at any time and it won't stop you from progressing through the game.
It's worth noting that these systems are also great for people who are just getting into games. I hope these systems allow younger gamers to enjoy Bubbles the Cat, too."
Entering development of Bubbles in March of 2018, Wallbank had initially started in the games industry as a quality assurance tester at Codemasters, which eventually led to a game design role. He later joined Pixel Toys as a Lead Games Designer where he worked on mobile games and a VR title. "I found myself feeling hungry for a bit more responsibility, so I decided to go all-in on that front by doing my own thing," he says.
"Previously, I'd worked solely as a designer, and while I would work with coders to implement features or artists to ensure that the visuals were matching up to what we'd expected for gameplay, I could leave a big chunk of development work up to them. Art direction at all my jobs in games studios had been handled by extremely talented and experienced experts."
Wallbank is solely responsible for Bubbles the Cat's production, coding, and marketing while bringing artists on to the project. "While I'd been somewhat prepared for this," he says, "it's very important to note that this goes beyond just development work; there are other aspects of running a business that take up time, from more exciting propositions like making game trailers and talking to the press to mundane minutiae like tracking expenses."
Fortunately, he was able to rely on talented friends to help with the game's art and audio. As he explains, "The original electronic jazz-inspired soundtrack and the game's audio is done by Dan Parkes. I'd talked with him for a little while about making a game soundtrack and originally envisaged something chiptune-based but I much, much prefer what Dan came back to me with!"
The game's pixel art was primarily handled by Mariana Alves, with some additional art by Alex Price. "I chose Mariana's art as it seemed clear from what she showed me that she understood the game and what I was hoping to do with it," Wallbank says.
"That decision has been backed up by the number of people saying how cute the game looks. Alex is another friend who had time between contracting jobs to offer me a helping hand." Wallbank also gets a lot of playtesting feedback and development or business advice from his friends.
Bubbles the Cat is resolutely microtransaction-free. Players are rewarded for in-game achievements with unlockable customisation options such as hats, colours, and trails for their feline pal.
Initially coming to PC, with iOS and Android versions to follow soon after, Wallbank hopes to announce more platforms after the initial release. In the meantime, he regularly cuddles his cat Oscar to de-stress. "I hope players will feel a wholesome joy from playing the game," he says, "as well as a measure of satisfaction for conquering it. The later levels get pretty tricky, especially the bonus secret levels."
Bubbles the Cat releases April 12; here's its Steam page.