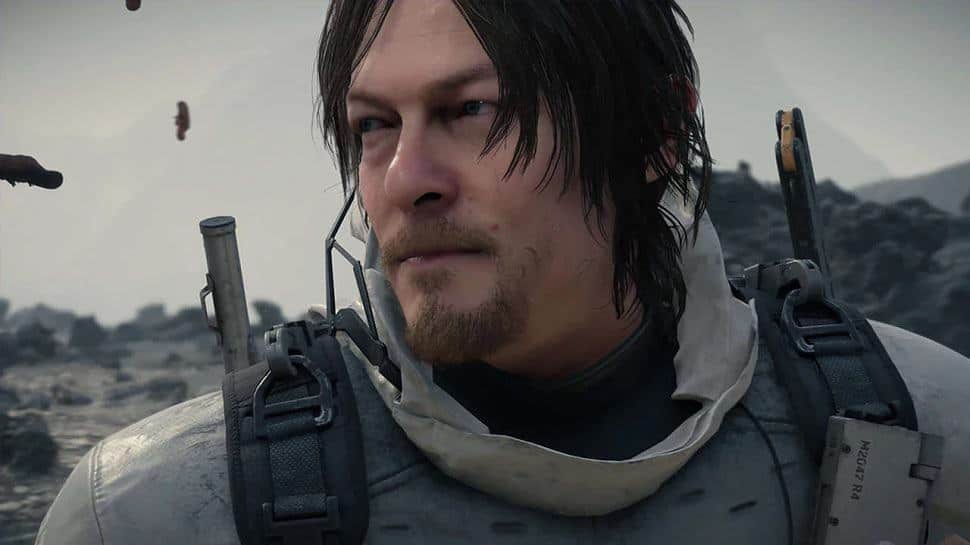 Death Stranding, Hideo Kojima's highly anticipated PS4 (and soon to be PC) game, is about to be unleashed into the world, and for those who have been playing it for review purposes, it's already captured hours and hours of their lives. Today, those reviews went live, and it's fair to say they paint a divisive picture of the latest surreal offering from our Metal Gear Solid mastermind.
The game can seemingly be separated into three acts, the first and third of which are mired in long cutscenes. The middle section is where things get tough and arduous – your character Sam (Norman Reedus) will be on a series of barely-concealed fetch quests that go on for what feels like forever. Although we've now learned quite a bit about the plot itself, we won't go into it here, as there are plenty of people who don't want that spoiled before they get to play it for themselves, and we'll respect that Kojima has deliberately spent a lot of time keeping it vague.
With years of unique development behind it, and a cast that includes Reedus, PT pal Guillermo del Toro, Mads Mikkelsen, Drive director Nicolas Winding Refn and Margaret Qualley, you'd expect the game to be a slam dunk, but much like Refn's wildly experimental Amazon series Too Old To Die Young, which started streaming earlier this year, Death Stranding apparently doesn't seem too interested in what reviewers think, and it's now very easy to see that the pair were working on these projects in tandem.
Here's a roundup of some Death Stranding impressions so far:
Dan Dawkins, The Guardian:
"For almost three and a half years, Death Stranding has kept us guessing about its true nature – and when the credits roll after a gruelling, occasionally magical, 60 hours of delivering parcels-turned-metaphors, you won't know whether to laugh or cry with relief. Divisive creator Hideo Kojima's open-world epic resolves its mysteries, but your satisfaction is numbed by painful memories of relentless trekking, jarring menu management and some – frankly wild – tonal shifts. Over time, your relationship with Death Stranding may start to shift, but it's a slow-burn album track, not a pop hit."
Oli Welsh, Eurogamer:
"As the credits roll on Death Stranding, heavy with unearned pathos, the impression you're left with is of a self-congratulatory monument to the ego of a creator who is high on his own supply. Has Kojima always been this full of it? Maybe. But then you return to the game proper, select a humble delivery order, lace up your boots and plan another reckoning with those unforgettable, haunted moors. And you realise that this game has got under your skin in a way few do."
Tristan Ogilvie, IGN:
"There is a fascinating, fleshed-out world of supernatural science fiction to enjoy across (Death Stranding)'s sprawling and spectacular map, so it's a real shame that it's all been saddled on a gameplay backbone that struggles to adequately support its weight over the full course of the journey. It's fitting that Kojima Productions' latest is so preoccupied with social media inspired praise, because in some ways I did 'Like' Death Stranding. I just didn't ever love it."
Heather Alexandra, Kotaku:
"Kojima is a man with a highly skilled team at his disposal, decades of experience, celebrity friends, and millions of dollars in Sony backing. He's no scrappier than any other rich and famous person. Because of this, there are two Death Strandings. There is the one in public consciousness, and there is the one that I have played. The first is a dream, an impossible (and frankly unnecessary) vindication of games as art created by a glorified mastermind. The actual game is a fantastic mess."
Kallie Plagge, GameSpot:
"Death Stranding is a hard game to absorb. There are many intertwining threads to its plot, and silly names, corny moments, and heavy exposition belie an otherwise very simple message. That comes through much more clearly in the game's more mundane moments, when you find a desperately-needed ladder left behind by another player or receive a letter from an NPC thanking you for your efforts. It's positive without ignoring pain; in fact, it argues in both its story and its gameplay that adversity itself is what makes things worth doing and life worth living. It's a game that requires patience, compassion, and love, and it's also one we really need right now."
Leon Hurley, Games Radar:
"There is an okay experience here, filled with a scrapbooking hokum of afterlife mythology and pseudoscience, with a cast of likeable if bluntly literal characters but it's a game that, ironically, is easily lost in its lengthy delivery."
Russ Frushtick, Polygon:
"Death Stranding feels like two games in one, designed for seemingly opposite audiences. One is a wholly unique open-world adventure with asynchronous cooperative multiplayer that allows me to feel like I'm part of a community, building a world from scratch. And the other is a long, confusing, deeply strange movie. The former is pulling most of the weight, but they share equal screen time. And, like a steamer trunk full of sperm, it's impossible to separate the good from the bad. It's all in the same box."
Andrew Webster, The Verge:
"To fully embrace Death Stranding, you have to let go of that desire to know everything. Much like watching Lost or playing pretty much any JRPG, the overall narrative is just a means to an end. It's a setup for creating dramatic, emotional moments. It's not always easy to get to those moments, and you'll have to suspend your disbelief quite often to fully enjoy them, but for a certain kind of player, that long, exhausting journey will be worth the effort."
Kirk McKeand, VG247:
"If you do manage to hold out, you will be rewarded with flashes of brilliance, it's just that those flashes are buried as deep as the core story is buried in the endless dialogue. And as profound as it wants to be, this is still a game in which you can equip and unequip your penis so you can piss out Red Bull. The good stuff is waiting for you beyond that piss, beyond the shit grenades, beyond that Ride with Norman Reedus advert unceremoniously plastered into a game universe where I didn't see a single television set. It's just a test of attrition."
Death Stranding will be released for PS4 on 8th November.
Wireframe #25 is out now