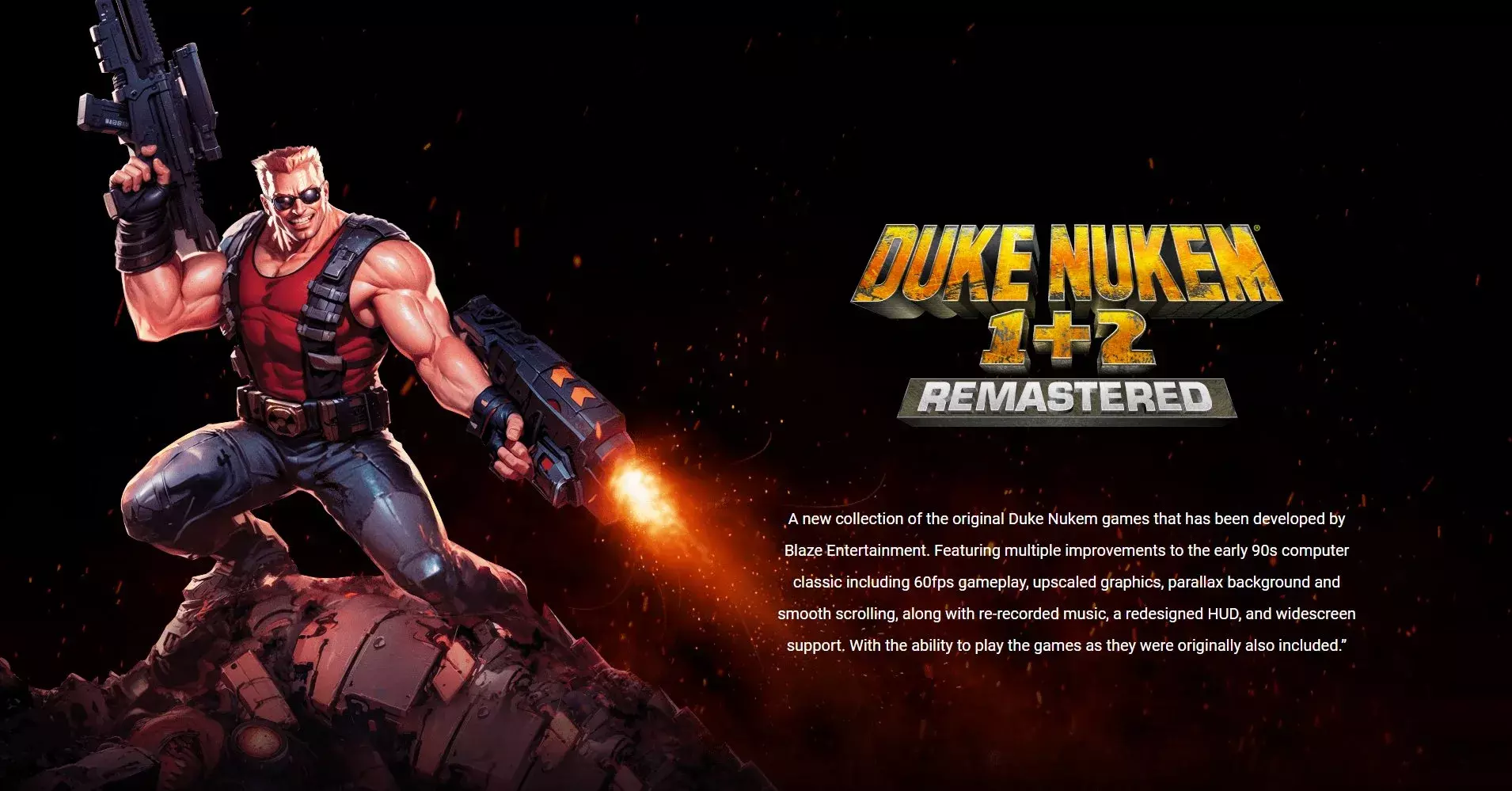 After an angry reaction from fans, Blaze announces that the new Duke Nukem Evercade cart won't use AI-generated art.
---
Blaze Entertainment recently announced a partnership with Gearbox to bring Duke Nukem 1+2 Remastered to the retro-inspired Evercade system. All well and good, you would think. What fault could possibly be found with a company bringing a classic 90s shooter to a beloved retro system?
WELL. Not long after the announcement, eagle-eyed Internet watchers were quick to spot that something was a bit off with the promo art released alongside the news. Why was Duke's leg bent at that weird, anatomy-defying angle? Why does his weapon look a bit banana-shaped? Why does his trigger finger seem to be fused with his gun? Hold on, has he only got four fingers on his left hand?
Yes, it turned out that the Duke Nukem art had been generated by AI. Initially, Blaze tried to defend the image, saying (in a now deleted tweet) that it was "original art by a very talented artist". But soon the evidence that it was generated either partly or wholly by AI became overwhelming. The artist in question, Oskar Manuel, describes himself as a 'Professional Hybrid Concept Artist', presumably with the hybrid part involving AI in some way.
Andrew Byatt, CEO of Blaze, soon issued a statement: "It is abundantly clear from the response on social media that the work on this commission has fallen below the expectation and standards demanded by fans due to the artists' use of AI in the process," he said. "We are immediately removing the art where possible to do so and will be announcing a replacement commission in due course that better meets the high standard expected."
Read more: Developer using AI in its games, but says it is recruiting AI experts
"We would like to apologise to you, all of the fans, who have felt passionately about this enough and please be assured are working to remedy this. We also would like to thank everyone who's worked on the project to date for their input."
So there we go, Duke Nukem will be drawn by a human after all. Although we fully expect to see a lot more of these kinds of shenanigans in the future.
Duke Nukem 1+2 Remastered is set to be released on Evercade in November. And if you need more Duke Nukem-style games in your life, the Hypnospace Outlaw spinoff Slayers X came out yesterday, providing some delightfully janky 90s-era first-person shooting with a funky neon palette.