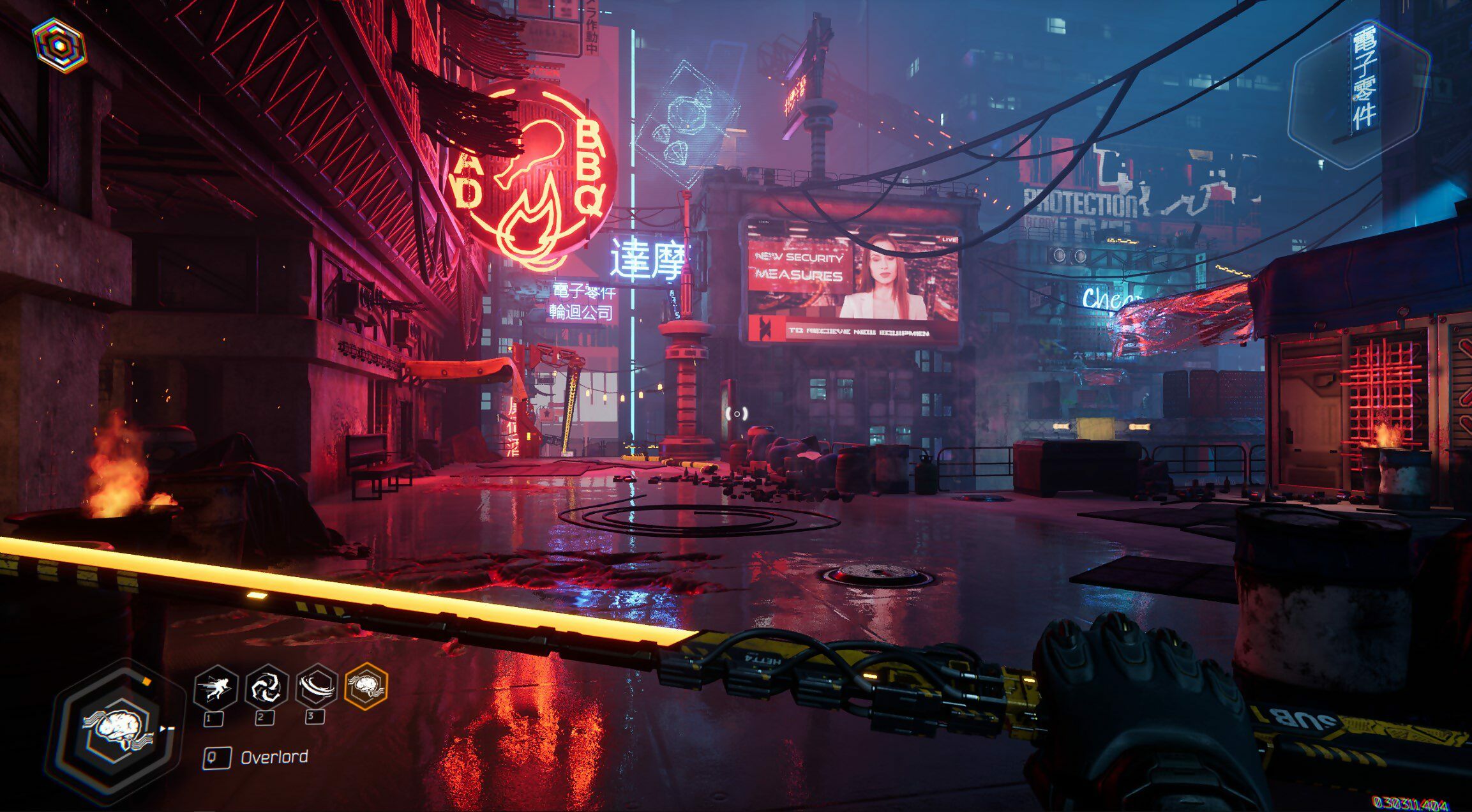 Difficulty is a tricky thing to get right in any game. You need to carefully balance the player's comfort in their own utility with the uncertainty of the challenge they face; an imbalance can either result in a game being too easy, or hair-pullingly frustrating.
A great example of this in action is Ghostrunner, a game with fantastic ideas let down by wildly uneven difficulty in each of its components.
Set after the apocalypse, Ghostrunner is a cyberpunk platformer that combines the parkour and mobility of Mirror's Edge with the one-hit-kill difficulty of Hotline Miami. One moment you'll be flowing through the gritty, high-tech dystopia of the massive Dharma Tower, humanity's last refuge, in a series of wall runs, leaps, grapples, and slides, and the next you'll be taking down the ruling tyrant's henchmen in bullet hell-esque combat segments.
The story is as generic and predictable as anything, but the aesthetics are on point. Gritty, high-tech, and synthy, it's pure cyberpunk schlock that I can't help but love.
Ghostrunner's platforming could've been an entire game on its own, and it would've been incredible. Fluid and physical, running and climbing through Dharma Tower is electrifying, and I struggle to think of any game with parkour feeling this great since Mirror's Edge. It's nice to see platforming put front and centre so frequently, with plenty of tough segments requiring your full attention instead of just being a way to get between combat encounters.
With platforming this good, it's a shame the combat really drags. Everything in the game dies in one hit, and to avoid enemy fire, you can slow down time and dash in any direction to get an advantage. The problem is the enemies simply don't feel designed with your skillset in mind.
Your hitbox feels way bigger than you, meaning bullets that should've missed you end up taking you out. There are enemies that can home in on you, enemies with swords that require parrying with hugely inconsistent results, and dreadful exploding enemies with huge areas of effect that are all too often crammed into narrow passages.
As I mentioned, the difference between good and unfair difficulty can be summed up as the ratio of player utility to systemic uncertainty, and Ghostrunner certainly has that a bit off. When you don't know whether an attack will register, or whether a shot will sail past you or kill you, or whether you're out of range of an exploding fool, that uncertainty is ramped up way too high to be enjoyable.
Ghostrunner is a superb platformer with a mediocre first-person slasher grafted on like a buggy cybernetic implant. When it lets you run and be free, Ghostrunner is possibly the most fun I've had with a game in absolutely ages, but its commitment to a faulty idea of difficulty really pulls it down.
Highlight
The parkour is incredible. Running through a cyberpunk megacity with a grapple and gravity-defying wall runs could've kept the game going for its entire campaign if One More Level wanted it to.
Verdict: 65%
Overly frustrating, but with some of the best platforming in recent memory.