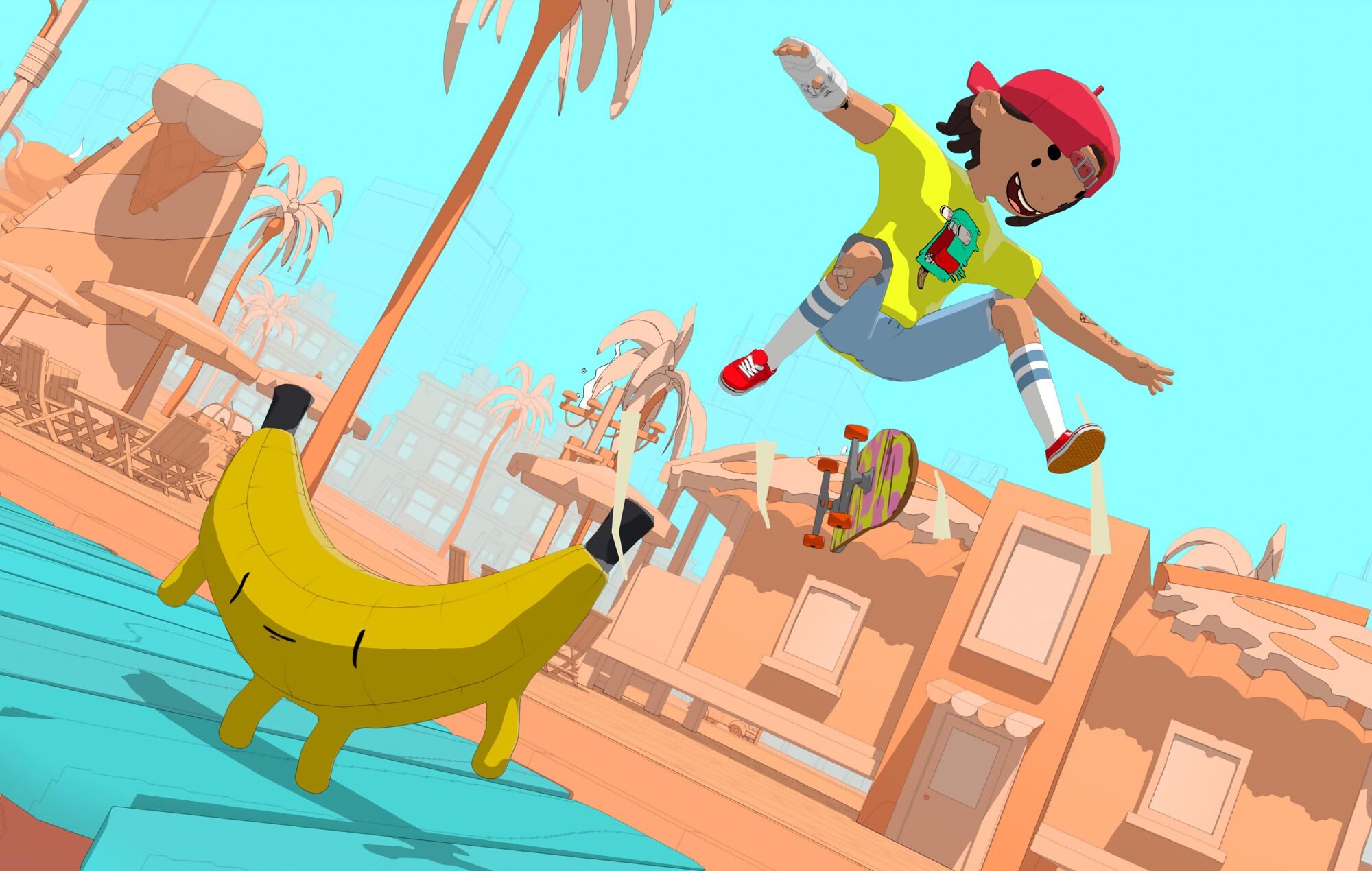 Roll7 co-founder Thomas Hegarty reflects on the studio's educational origins, and how it hit big with games like OlliOlliWorld and Rollerdrome.
---
Living up to its pun-tastic namesake, if ever there was an independent games studio that's been on a roll in 2022, it's Roll7, the firm behind such hits as OlliOlli World and Rollerdrome. The two indie hits released within just a few months of each other earlier this year to critical acclaim, both offering unique – but very different – spins on the famously underserved skating genre. And it's a genre that has come to define London-based developer Roll7 for well over a decade now. It might surprise people to learn, then, that Roll7's beginnings weren't all that tied to skating at all. Co-founders Simon Bennett, Thomas Hegarty, and John Ribbins instead had a much more noble cause.
"The initial aim actually came from our previous business," Hegarty says. "Rolling Sound was an educational company that taught courses in creative multimedia for at-risk young people. We'd run courses in film, music, and photography, but when we opened game design options, those quickly became the most popular." This inspired the team to place a larger focus on, as Hegarty puts it, "making proper games". Not just any "proper games", but games that could also potentially impact young people's lives for the better by placing real-life issues into focus. "We made two anti-knife crime games, and after that we started broadening what we worked on."
Launched in 2008 in collaboration with Channel 4, Dead Ends was developed in only six weeks to help highlight the TV station's anti-knife-crime campaign. Marketed as the world's first "socially responsible" game, the visuals and gameplay are rather quaint by today's standards, but it was still downloaded tens of thousands of times, and considered enough of a success to give all three co-founders the idea to push on with their own fully-fledged studio. "We made games with colleges, we made marketing games, and even a game that worked using a brain-computer interface with the University of Wollongong [in Australia] for children with ADHD. From there, making our own IPs began to feel like a real possibility."
180-degree turn
Roll7's 'gun-for-hire' approach made sense at first, if only as a way they could prove to themselves that they were capable of making games broad audiences could enjoy. This ambition eventually led to Hegarty and co pursuing original game projects and ideas, with one in particular showing certain promise. "The whole time we were making games for other people, John kept tugging at our shirts telling us it was time we had a go at making our own games. The idea was it might be something we could create alongside some of the young people we'd been working with up to [that] point. [Simon and I] were sceptical… until John showed us a prototype he'd been working on, OlliOlliOlli, and we were hooked. We did decide that there was one too many 'Ollis' in the name, though."
It was around this time, when the very first OlliOlli prototype was being worked on for mobile devices, that Roll7 started to develop a concept it would later specialise in, called 'Flow State Gaming'. Creating a good sense of flow is something that many developers have strived to achieve before, true, but it's rare to see one build their entire studio ethos around it – especially in the early 2010s. Roll7 decided quite quickly, however, that making player movements feel smooth and effortless should always be at the cornerstone of every game it produces, regardless of genre or mechanics. Much like the concept itself implies, 'flow state gaming' is an inherently flexible notion.
"'Flow state gaming' means a number of things – it's definitely a concept where the meaning has developed over the years as we make new games and come to understand what works and what doesn't," Hegarty explains. "It's something that we've often done with games that are grounded in sport, but that's just one way to access the state of flow. At its core, flow is about kinetic movement – one move linking to the next until the controller feels like an extension of your body. It's a deeply satisfying feeling that we strive to enable players to achieve."
Break away
Working with the likes of Lloyds Bank, computer manufacturer NeuroSky, and even the UK Home Office on countless marketing-orientated projects might not sound all that glamorous. But the trio didn't discount the experience they gained while working with such clients, and the freedom it gave them to experiment. "It was a fun time," continues Hegarty. "We had one room to work from and it was all very bootstrapped. I remember one day walking in and one of the devs had a Wii sensor taped to his forehead, just trying to work out what he could do with that." Needless to say, nothing quite this zany ever made it into one of Roll7's games. "But it was all part of the process – trying things out to see what happens."
By 2011, Roll7 had started to experience what a lot of start-ups and indies face when initially starting out: cash flow problems. Working on behalf of others was all well and good at first, until it led to issues with being paid. Suddenly, relying on other parties to put food on the team's table didn't seem like it made much business sense. This eventually inspired Bennett, Hegarty, and Ribbins to sell off their initial business, Rolling Sound, in order to purely focus on game development. Luckily, they weren't starting entirely from scratch. Ribbins' OlliOlliOlli prototype continued to show promise as the studio's first original IP. That didn't mean there wasn't also still a large degree of risk, though.
"There were a lot of worries," Hegarty says. "But it was a fun time, and I think it was all part of what went into initially making the studio great."
It was the mobile game market that was booming most around this time, with the likes of Jetpack Joyride, Doodle Jump, and other classics birthing a whole new generation of casual gamers. That was where the money was, and with cash flow still an issue, Ribbins thought it sensible to hold fire on fully realising his skateboarding minigame idea in favour of an Android and iOS title called Gets to the Exit in 2012. In it, players must guide prehistoric tribesmen across three distinct worlds while avoiding such obstacles as lava, spikes, and robot frogs. Much more than a simple A-to-B 2D platformer, Roll7's neat gameplay twist meant players controlled the ground by raising and lowering platforms, as opposed to controlling characters directly. Flow state gaming? An early form of it, certainly.
"The App Store [was] really exploding into the mainstream on iPhone, and it opened up a relatively 'easy' avenue to self-publish," Hegarty recalls. "We put aside six months and made Gets to the Exit, which included 45 levels and a tutorial, and got an 8/10 review from Edge. Even though we only sold about 345 copies at a whopping 59p each, that experience proved to us that making our own game – and most importantly, finishing it – was a thing we could do."
Though far from an overwhelming success, this did at least give Roll7 the much-needed inspiration to work on what would become its most important game. "That's the moment we decided to take OlliOllito PlayStation."
Portable play
Much like Gets to the Exit before it, the original plan was for OlliOlli to launch on iPhone too. That is until John Ribbins met and had a conversation with James Marsden, FuturLab's managing director who at the time experienced great success launching the studio's snappily addictive shoot-'em-up, Velocity, as a PSP mini through a partnership with PlayStation. This got Roll7 thinking whether the mobile market was the right avenue at all. Wasn't it better to be at the precipice of a new movement happening in the portable gaming space? Cultivating such talent made sense for Sony, too. Since launching the PlayStation Vita in 2011, they had been struggling to support it with enough first-party hits to stimulate mainstream interest.
The next tactic by PlayStation, therefore, was to try to make the Vita something of an ultimate indie powerhouse. OlliOlli launched in 2014, going on to play a crucial part of this experimental movement and continuing to ride a wave of indie enthusiasm. "OlliOlli was actually a PlayStation Vita exclusive – that's where the initial funding came from," Hegarty says. "After that, we ended up publishing OlliOlli for a bunch of new platforms through Devolver [Digital], and I'm glad we did as it's meant that loads more people have had a chance to play the game over the years." Self-publishing had its benefits, but Roll7 and Devolver Digital's combined strength saw OlliOlli reach greater heights. "It was a great fit for everyone involved."
OlliOlli's breakout success on Vita finally helped the small yet ever-growing team at Roll7 feel vindicated. They had tried various paths to getting their games to market before, but finally it clicked. Critics and players alike enjoyed the sense of flow this oddly minimalist take on the skating game genre employed, with Eurogamer's Simon Parkin most notably describing the game as both a "Twitch classic" and "a startling console debut from a young British indie" when awarding it 9/10. After six years toiling away with different game ideas and trying to stay afloat through contract work, it felt like something had changed.
"We'd already made one game which – while the three or four reviews we got were very good – had commercially totally bombed," Hegarty says. "So that dented some egos, and we were wary of the same thing happening again. Plus, OlliOlliwas a Vita exclusive, and the control scheme was pretty unique, and nobody had done a skate game in a while… We were very surprised and very, very happy to see how well it did." Even prior to its release, there were some early signs that things with OlliOlli would be different. "We actually had journalists contacting us to ask for interviews – which was new! Normally, it had been us chasing them. So it was great to see people giving something new and a little offbeat a chance."
Work it out
Roll7 quickly got to work on an OlliOlli sequel shortly after the first one's release. But 2014 turned out to be a busy year for the studio, as this was when development on bit-based, 2D run-and-gunner Not a Hero also began – the first original IP Roll7 published through Devolver. "Not a Hero was meant to come out much earlier than it did," admits Hegarty. "But in the end, it was a small indie team and it all just took a lot longer than we'd anticipated." This eventually led to both that and OlliOlli2: Welcome to Olliwood coming out within months of each other the following year. Not too dissimilar to OlliOlli World and Rollerdrome this year. "It actually worked in our favour. The buzz of releasing two games in one year helped keep us in the spotlight and also got people's eyes on our games."
2015 was also the year when Roll7 implemented one of its most ambitious studio policies yet, as it moved to remote working. This was in part inspired by how Not a Hero's development was handled.
"We'd had a taste of the freedoms it could offer," explains Hegarty. What else inspired the change? "We wanted a better work-life balance, and at the time, working from home felt like the best way to do that. Unfortunately, we were still crunching at that point. It wasn't until we stopped that we got to experience the benefits of a proper work-from-home environment and a real work-life balance. But it was definitely a good first step."
Roll7 didn't know it at the time, but going fully remote would obviously set it up well for future global events to come, because while most other game developers had to adapt quickly as a result of the pandemic, Hegarty's
studio was largely unaffected by comparison – fresh from shipping multiplayer sports battler Laser League, Roll7 also continued its work on the
long-awaited OlliOlli threequel.
"It was definitely a blessing that we were already set up for remote work," Hegarty says, "as it meant we could focus on looking after the team rather than spending all our time setting up systems to allow them to work from home."
Sporting new 2.5D visuals, an Adult Swim-esque art style, and a pastel colour palette, the goal with OlliOlli World for Roll7 was always to make the series more approachable for players. True, the two preceding entries had seen great success amongst a certain player base who enjoyed their tactile, Twitch-based controls and the drive to chase score multipliers through achieving crazy tricks, but with enough time away, Hegarty's team felt it was time to welcome a new audience in.
OlliOlli World still retains a high skill ceiling for those who want it, yet by making landings less punishing, including multiple level paths, and humorous characters, it was ultimately no surprise to see the franchise's third outing being so well received.
Whole new world
Publisher Private Division obviously liked what it was seeing behind the scenes ahead of release, too, since it bought Roll7 into its publishing label last November. According to Hegarty, such a move had been a long time coming. "It's been great. We'd been working together for two years before we joined the label – so it's like we were dating this whole time, and this was just formally tying the knot," he says. "We work really well with them, and joining the label means our days of stressing about where our next contract will come from are finally over.
"Having that support allows us to unlock our creativity – we still have a budget, but it's a lot less stressful and we know that we can hire people for extended contracts or permanently, with no worries about how we'll support them in the future. It's also given us as directors the chance to focus more on studio culture and creativity, and I think you can see, given that our two latest releases are our highest rated ever, that it's worked out extremely well."
That second release is obviously Rollerdrome, a more experimental skating game that plays as a mix of Jet Set Radio (even lifting its art style) and Tony Hawk's Pro Skater while mixing in Roll7's trademark tight controls and satisfying gunplay elements. In our review in last month's issue, we praised it for "bringing such high-flying antics into the third dimension with incredible ease". Rather famously, Rollerdrome began life as a solo project by developer Paul Rabbitte before Roll7 saw a lot more potential and brought him on board. It's not too dissimilar to how co-director John Ribbins toiled away on an experimental prototype that would become the OlliOlli series, defining the studio's approach for nearly ten years.
With a new parent partner in Private Division, a verifiably forward-thinking approach to working, and now two breakout successes under its belt in 2022 alone, it feels like Roll7 is quietly entering its next phase.
"Yes, it definitely feels like a new era," Hegarty agrees. "I can't say too much because everything we're working on now is under wraps, but we've learned a lot over the past three or four years, and it's really great to get to implement it all now. With Private Division's support, we can focus on growing our studio and building an awesome team of super-creative people who will be behind the many, many cool things to come… and that's about all I can say for now."