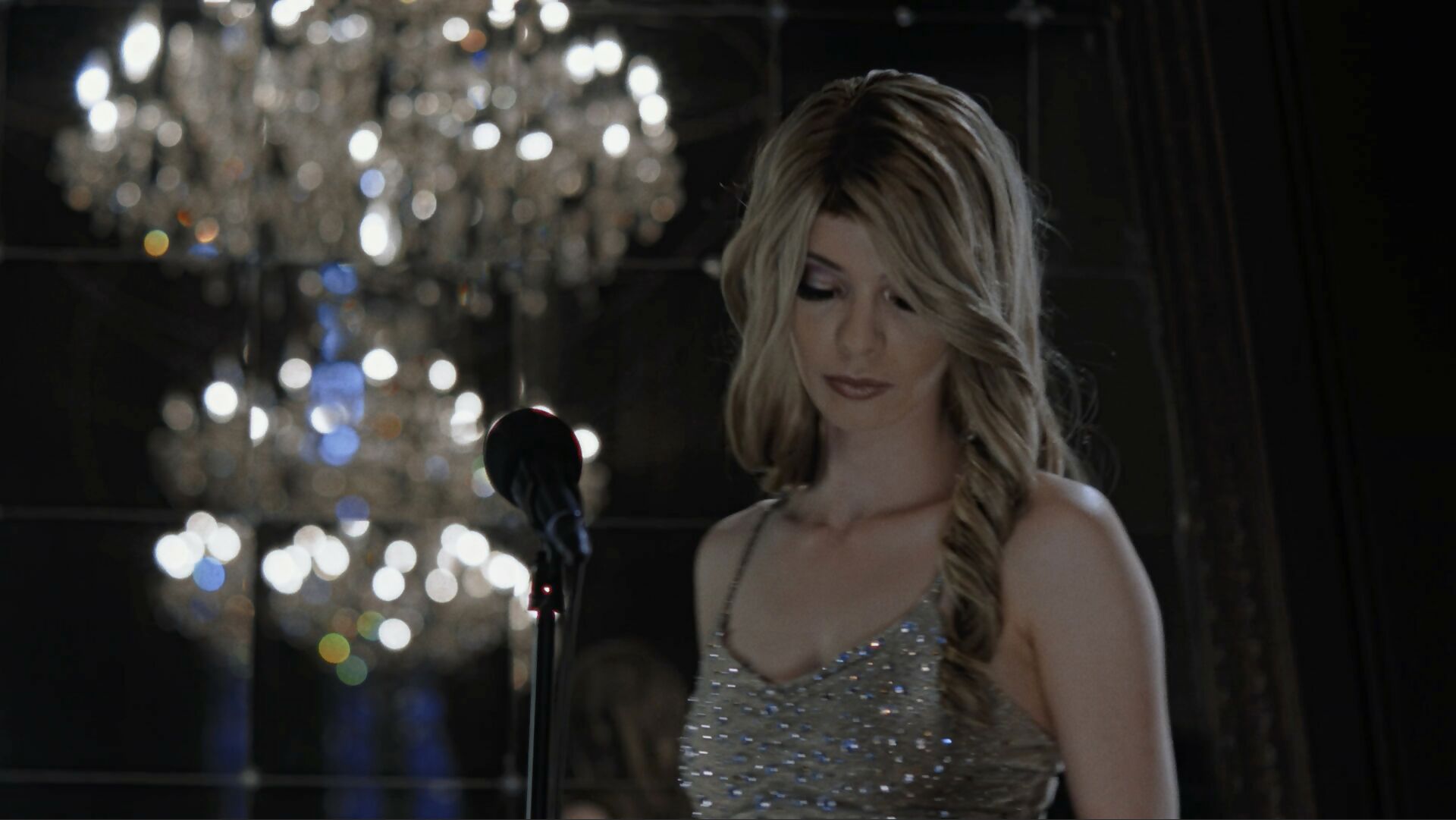 Immortality is an FMV experience with some truly chilling hidden secrets. With spoilers, its actors and creators talk about what it all means…
---
For some players, it might have happened in the first few minutes; for others, maybe not for several hours. It all depended whether or not the player noticed the odd rumbling of the controller or an eerie shift in the audio. For me, the discovery occurred as I was casually rewinding a film clip; a ghostly, monochrome figure faded in, its sudden appearance making me sit bolt upright with surprise.
So went my intensive review weekend of Immortality, the FMV narrative mystery where you search through fragments of footage from three lost movies to try and figure out what happened to its missing star, Marissa Marcel.
The strange figure described above – called The One, I later learned – appeared several more times during my play-through. It was only later, when I accidentally let a clip rewind for too long, that another scene emerged entirely: at this point, I suddenly came to the realisation that there was a whole other life beneath the game's surface. This is the real story of Immortality, as it goes from period mystery to supernatural horror.
The One is a sort of vampiric entity who devours and body-snatches her victims, including Marissa, played by Manon Gage. Any hint of The One's existence was deftly kept secret by developer Half Mermaid, and similarly, most reviewers and players were in a sort of unspoken agreement that it should be kept quiet. That is, until actor Charlotta Mohlin's performance as The One was finally recognised with a nomination at this year's BAFTA Games Awards.
"For the longest time, even during the entire way of filming, and afterwards, I was just like, 'no one's gonna see me'," Mohlin tells me when I meet her and fellow star Manon Gage during the week of the BAFTA Game Awards in London. Like Mohlin, Gage was nominated for an award, as was producer Natalie Watson.
Both actors would sadly lose out to the unstoppable juggernaut of God of War: Ragnarok (six of its actors were nominated between the lead and supporting role categories). I wonder, though, whether keeping such a tight lid on Mohlin's performance had hurt her chances, considering her short nomination clip was perhaps one of the few instances the wider public would even know about The One's existence. But in an age when publishers have strict embargoes to prevent spoilers, keeping this The One a secret was important to Immortality's creators.
"It was the hardest decision," Watson explains, "but it was imperative that it be such a personal and intimate moment the first time someone meets The One, for it to be such an individual experience. Now we can be shouting Charlotta Mohlin from the rooftops, and celebrate the performance and the role. But The One is such an intimate character, we wanted to almost protect her and her message, because the message is to be delivered to the player directly, not through any other means."
Like some of the best twists, The One was part of Immortality's conception from the very beginning. In fact, the idea of an immortal, vampiric being was festering away in writer-director Sam Barlow's imagination long before his pivot to indie development and experimentation with the FMV genre. As he explains when I catch up with him on the morning of the BAFTAs, where Immortality won the award for Narrative, the seed for the award-winning game was planted over a decade ago. In the late 2000s, Barlow was working as director on the action adventure sequel Legacy of Kain: Dead Sun at Climax Studios when, three years into development, the project was cancelled by publisher Square Enix. "There was a huge amount of baggage from what I did with Legacy of Kain: Dead Sun," Barlow says. "We researched every single vampire story. Our mission was, this can't be a vampire cliché, it has to be a fresh take. A lot we were digging into was less monstrous but something almost parasitic that lives alongside humanity and is interested in human culture in different ways."
One particular inspiration came from a series of stories by author Karen Blixen about a woman who takes on different roles like a ballerina and opera singer. It's implied that she's secretly a vampire who takes on the identity of the victims she devours. Immortality could be seen as a modern retelling  of those stories, transposed to the medium of film. "[Legacy of Kain] was a constantly painful struggle and then was cancelled, and became a lost game," says Barlow. "So this idea of tackling lost movies was subconsciously tied up in a lot of that."
In wanting to explore past decades of cinema, with Immortality's three films set in the late 1960s, 70s and late 90s, Barlow also researched old footage of young actresses from that era. One pivotal clip was of actor Olivia Hussey being interviewed about her breakthrough role in Franco Zeffirelli's Romeo & Juliet, filmed when she was just 15.
Says Barlow, "The interviewer's obsessed with the fact that she's smoking, and says there can't be many 15 year-old girls that smoke, and she just gives him this look, like, you have no idea what 15-year old girls are up to. Watching all these archival bits of these actresses, reading about how disempowered they were, the awful stuff they were subjected to, it was just this kind of wish fulfillment thing of, what if behind that look was actually something more powerful?"
Basing the story on a young actress's experiences in the patriarchal and misogynistic world of cinema hasn't prevented some criticisms of the game as trying to have its cake and eat it by also containing a lot of nudity and sex scenes, including depictions of sexual violence. There was undoubtedly a few side eyes over its signature matchcutting mechanic, used as a means to transport the player from scene to scene – and in the process unlock more footage – which included the ability to click on bare breasts.
"99% of what we see on screen in terms of sexuality is male gazing, but I don't feel like this fell into that," Gage says of her intimate scenes. "All of this is commentary on the fact that these moments that are happening in Marisa's life and The One's life involve misogyny – how do you show that and comment on it without showing it? I think Natalie and Sam came as close to doing that perfectly as they could. Also one of my best friends who came over to play Immortality wanted to click through all the tits, so who am I to judge?"
Of course, it's easy to point out that Barlow, who's trying to deconstruct the myth of the male auteur, is himself perceived as the male auteur of Immortality. In practice, however, Watson had just as much creative input as producer, while the team also hired intimacy coordinator Jean Franzblau for the films' many intimate scenes to ensure the actors were comfortable and had a say over what happened.
"Having Jean on set to establish boundaries was really helpful," says Gage, "because once everybody understands and agrees to boundaries, you can actually go much further. I think that for myself, the nudity and intimacy scenes that I did didn't feel misogynistic or gratuitous."
For every scene where Marissa is vulnerable, there's also likely a hidden scene where The One would emerge to confront the same situation. Says Mohlin, "It's the same scene, and we're both the same person, but we have the option to deal with it completely differently. One where you're Marissa in this world of misogyny, and you have this love of art and you want to act so you're following directions, but inside you're seething and what you really want to say is what I end up getting to say when I come in the scene afterwards."
In gaming terms, you might liken The One almost to a secret power-up – the Super Star to Marissa's Mario. In interviews, Barlow readily parallels with other game mechanics, initially hinting at Immortality as being like Pokémon Snap while describing his previous game, Telling Lies, as like Breath of the Wild. Barlow also mentions an easter egg: several scenes include paintings by French modernist Édouard Manet, famous for works like Olympia and The Luncheon, whose nude female models shocked contemporary audiences by how they gazed back at the viewer.
"People always say that with movies, you can't do interiority, and similarly games tend to lean towards bigger external stories," he says. "So there's something about being able to actually create this real expression of what was going on inside the characters' heads, either expressing the anger that's inside, almost like a DVD commentary."
With awards season wrapping up, Barlow's already thinking about his next game. And when you've made something as innovative and ambitious as Immortality – even as other FMV games that have followed have mostly fallen back on a traditional, binary choose-your-path format – it's perhaps no surprise that he's planning on changing direction.
"I don't want to jinx it, but it looks like probably the next project will be 3D," he teases. "It's been 10 years since I've done one of these, so I have a lot of pent up ideas and frustration…"
Read more: Immortality review | An unforgettable, thought-provoking edit-'em-up