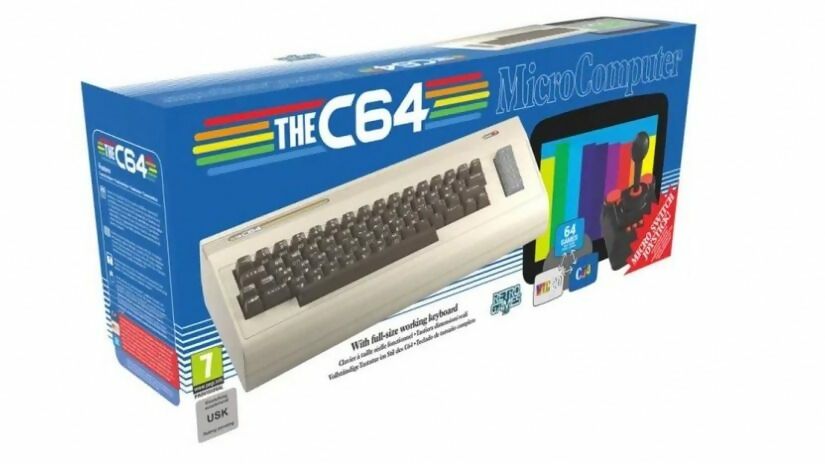 The blood, sweat and tears going into making retro games available to the hungry 'plug and play' market surely aren't going unnoticed. Last year, The C64 Mini was released for die-hard Commodore 64 fans (to mixed reviews) and now a full-size version from the same company is on the horizon, hoping to tempt punters with its functioning keyboard and other shiny features.
Set to be released on 5th December for a fairrrrrly reasonable price of £109.99, The C64 was originally announced all the way back in 2016, but it never reached its Indiegogo target. Nevertheless, Retro Games have managed to now make it a reality, and it'll be released sporting three switchable modes – C64, VIC 20, and Games Carousel – and an updated joystick with micro switches.
"We are delighted to be working with Koch Media once more to bring back even more of the most loved retro games ever on two of the most iconic home computers of all time, and which now has a full working keyboard," said Paul Andrews of Retro Games. "The C64 full size is a reimagining of the classic Commodore 64 computer and the second in a planned series of products on the way."
Have a look…
And now we come to the games you'll get with The C64. Feast your eyes…
Alleykat, Anarchy, Attack of the Mutant Camels, Avenger, Battle Valley, Bear Bovver, Boulder Dash, Bounder, California Games, Chips Challenge, Confuzion, Cosmic Causeway, Cyberdyne Warrior, Cybernoid II, Deflektor, Destroyer, Everyone's a Wally, Firelord, Galencia, Gateway to Apshai, Gribbly's Day Out, Gridrunner (VIC 20), Heartland, Herobotix, Highway Encounter, Hover Bovver, Impossible Mission, Impossible Mission II, IO, Iridis Alpha, Jumpman, Mega Apocalypse, Mission AD, Monty Mole, Monty on the Run, Nebulus, Netherworld, Nodes of Yesod, Paradroid, Pitstop II, Planet of Death, Psychedelia (VIC 20), Ranarama, Robin of the Wood, Silicon Warrior, Skate Crazy, Speedball 2, Spindizzy, Steel, Street Sports Baseball, Street Sports Basketball, Summer Games II (includes Summer Games events), Super Cycle, Sword of Fargoal, Temple of Apshai Trilogy, The Arc of Yesod, Thing Bounces Back, Thing on a Spring, Trailblazer, Uridium, Who Dares Wins II, Winter Games, World Games and Zynaps.
Just a brief skim through the list confirms that this won't be an exact match for your Mini games bank, with the likes of Apex's Creatures missing from the line-up for a start.
What do you think? Will The C64 get your Christmas cash? If so, pre-orders are now open at Game.