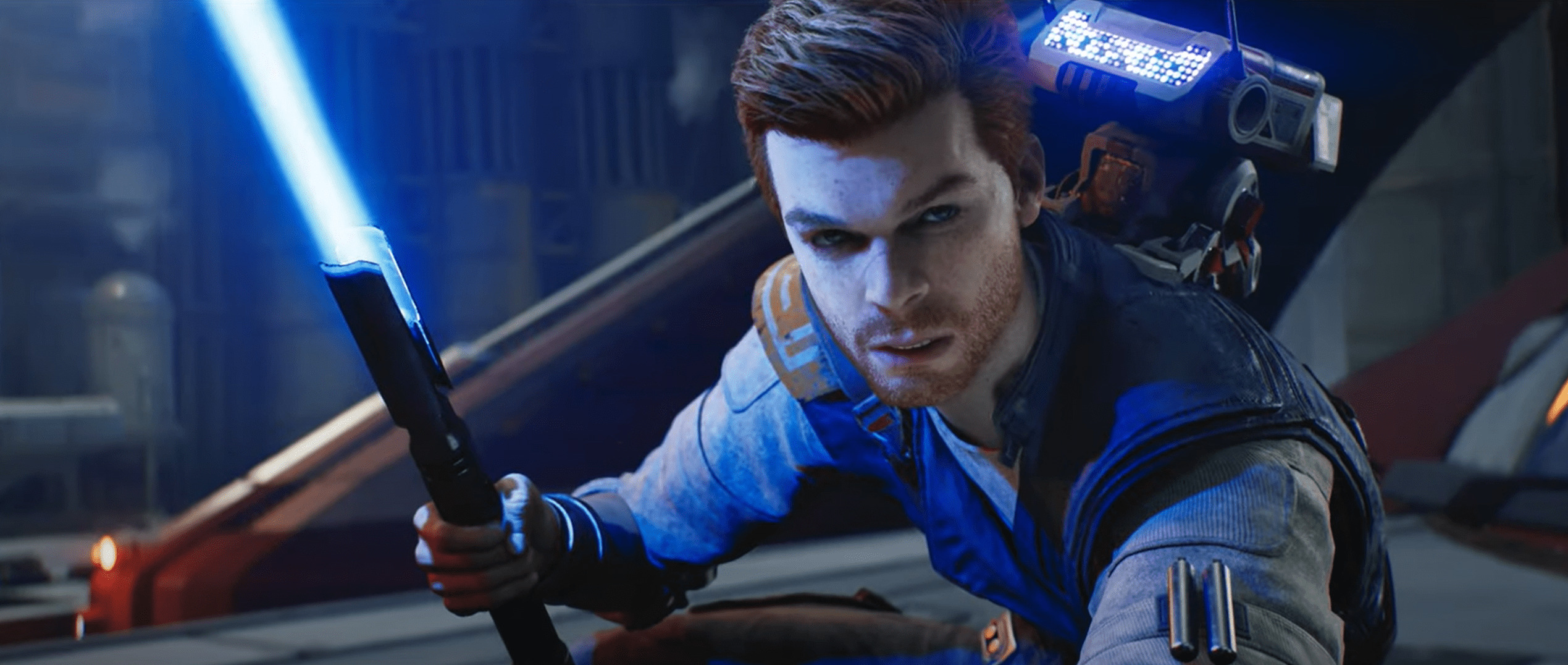 Respawn has released a new story trailer for Star Wars Jedi: Survivor. We take a closer look at what it reveals.
---
There's just over a month before Respawn's Star Wars Jedi: Survivor releases, and a new story trailer has landed to get us all in a lather.
Interestingly, the promo doesn't exactly overload us with details – it's short at less than two minutes long, and it only reveals the broader strokes of the game's plot. We learn that Star Wars Jedi: Survivor takes place five years after the events of its predecessor, Star Wars: Fallen Order, with protagonist Cal Kestis now looking visibly more mature and stubbly than the fresh-faced chap we met in the first game.
Other characters have changed in the intervening years, too. Merrin, Cal's Nightsister companion from the first game, is back and evidently more powerful than ever, as proven by the scene where we see her nimbly assist Cal in a fight with Imperial troopers. Greez and Sere are back, too, joined by a new member of Cal's crew, Bode Akuna, a mercenary who, like Merrin, can also give Cal a helping hand in combat.
The plot appears to be about finding a safe refuge for the Jedi, away from the murderous hands of the Empire. Standing in their way is Rayvis, a hulking Gen'Dai we saw in early promo footage – he and his Bedlam Raiders should prove to be formidable opponents, given that the Gen'Dai can heal even the deadliest of injuries.
The more mysterious villain is the grand-looking character who throws a Stormtrooper helmet at Cal and booms, "How could you let the galaxy fall to this unworthy machine of an Empire?" Given that their clothing and lightsaber look distinctly Jedi in origin, we can only guess at who they might be – or why he's so angry with Cal.
Beyond that, we get some tantalising looks at the locations we'll get to visit, some familiar (Coruscant!), others that may or may not be planet we've seen in the Star Wars saga before. Our only hope here is that Respawn can make Survivor's environments feel a bit more lively and vibrant than they did in Fallen Order, where much of the game was spent on planets with a handful of creatures trotting around, waiting for a fight.
Mostly, though, the trailer's a reminder of how likeable Fallen Order's diverse cast of characters was. The Souls-like combat, wall-running and action set-pieces are present and correct in Survivor – along with some interesting puzzle sequences where you use the Force to shift orbs about. But what's most enticing about Survivor, at least for this writer, is the chance to see more of Cal and the rest of the crew aboard the Stinger Mantis.
Oh, and it's a pleasure to see droid sidekick BD-1 back, too. If anything bad happens to that little fella in Star Wars Jedi: Survivor, we'll riot.
Star Wars Jedi: Survivor is out on 28 April 2023 for PC, PS5 and Xbox Series X/S.
Read more: Star Wars Jedi: Fallen Order review | The Force is fun with this one