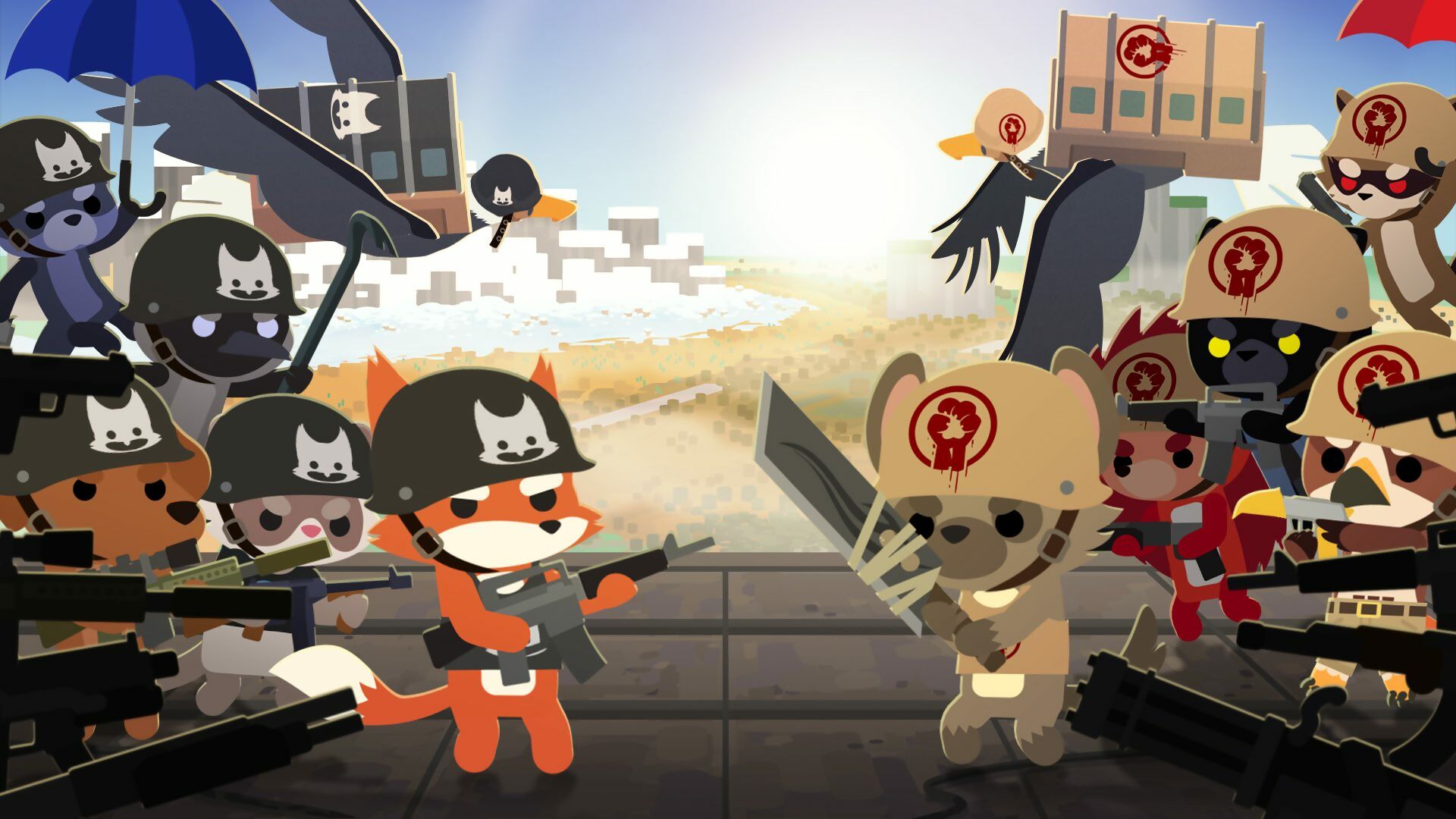 Way back in our third-ever issue, we took a look at a little animal-themed battle royale game that was imminently releasing in Early Access. Known as Super Animal Royale, it drew us in with its juxtaposition of cutesy visuals and, as you'd expect from the genre, multiplayer violence… and we weren't the only ones.
So here we are now, about two years later, revisiting the fortunes of a game that's almost at v1.0 and going to exit Early Access in the near future – as well as one that's seen a committed community build organically around it over the years.
When it comes to the bullet points of changes since we last spoke to Pixile Studios, things are pretty straightforward: top of the list is the move to free-to-play in November 2020, which opened up the ability to unlock all super animal breeds, cosmetics, and achievements for anyone playing the game.
Unsurprisingly this saw the player base jump up significantly. More animal breeds to play have been introduced too, rising from 50 at the start of Early Access to more than 300 at the time of writing and, you'd assume, more to come in future. New weapons, new map locations, giant emus to ride into battle – all those sorts of things you'd expect – but what has been a constant source of surprise and delight is the game's embracing of its storyline elements.
"We're approaching storytelling like an epic fantasy novel," says Michael Silverwood, co-founder of Pixile Studios. "So we've written a deep backstory for our absurd world and characters, and we use it to develop everything – new characters, new points of interest, biomes on the map, and our YouTube animated series."
Said animated series, Super Animal Royale Tonight, involves a mix of this storytelling, crafted by the dev team, mixed in with highlights – the best clips of skilful plays, or funniest moments, or what have you, as submitted by the community. It's proving a useful and unique way to keep players engaged and entertained, with the bulletins helping to keep things fresh and growing that organic player base.
As for the team itself, Pixile has grown to eleven strong with two new hires coming directly from the community – an artist and a software developer. "It continues to be a fully virtual team," Silverwood explains, "spread out across North America, Europe, and Asia.
Community feedback plays an integral role in game development across all our channels, but especially in Discord, where we're able to chat directly with players. The team also actively plays the game with the community so we can experience things first-hand and imagine together where we can take the game next."
The update process has changed thanks to this first-hand experience, as well as how Super Animal Royale has been received so far: "We began Early Access releasing updates every one or two weeks so that there was a consistent flow of new content for players, as we were building the foundations of the game," Silverwood says.
"In the second year of Early Access, once we had most of the foundations in place, we shifted to releasing updates every three to four weeks, which proved to be more sustainable and also allowed us to make each update bigger… Over the summer in 2020 we began working on our biggest update yet, overhauling the game's progression systems and menus and transitioning the base version of the game to be free. Fortunately, the long-term planning was worth it, and when the Major Update was finally released, we experienced a 10× jump in concurrent player count and a ton of excitement from players."
What's surprising is how relatively stable the whole thing has been. Super Animal Royale has seen many updates, of course, but the core mechanics – like the line-of-sight – haven't been tweaked hugely, or overhauled in any major way. "The line-of-sight mechanic has been foundational to the game design, so it hasn't been tweaked much and has proved to be integral to the game's success," Silverwood says – but there have been attempts to build on it.
"This past Halloween we debuted a night mode where we experimented with each player having a flashlight-style cone of vision to make gameplay more suspenseful, which is one of the few experiments we've run with the line-of-sight mechanic. Night mode now randomly activates 9% of the time to mix things up in matches."
The updates will continue in the run-up to v1.0 and beyond, but for now, Pixile finds itself in the enviable position of having a popular battle royale game with a decent player base established before it's even properly out. It's something that's not lost on Silverwood. "We're extremely proud of how far the game has come and the community that has grown around it," he says.
"The community of players is one of the most special aspects of the game, and is uniquely positive and sporting for a competitive game. It helps that it's harder to get upset when your death results in your cute animal exploding into spaghetti and meatballs or balloons and you're served up an animal pun, but it's also thanks to our exceptional community moderators who actively engage with players both in-game and in Discord."
As for that v1.0 release? Silverwood is very positive: "Rather than being an end, we see v1.0 as a new beginning. Much of our work through 2020 was laying the groundwork for the next chapter of Super Animal Royale, including regular seasonal content synced with new episodes of our YouTube series, new game modes and weapons, and expanded storytelling."
And, because you're clearly curious, here's season one of Super Animal Royale Tonight: wfmag.cc/SARTON.
Genre: Critter blaster
Format: PC / Mac
Developer: Pixile Studios
Publisher: Modus Games
Release: Later in 2021