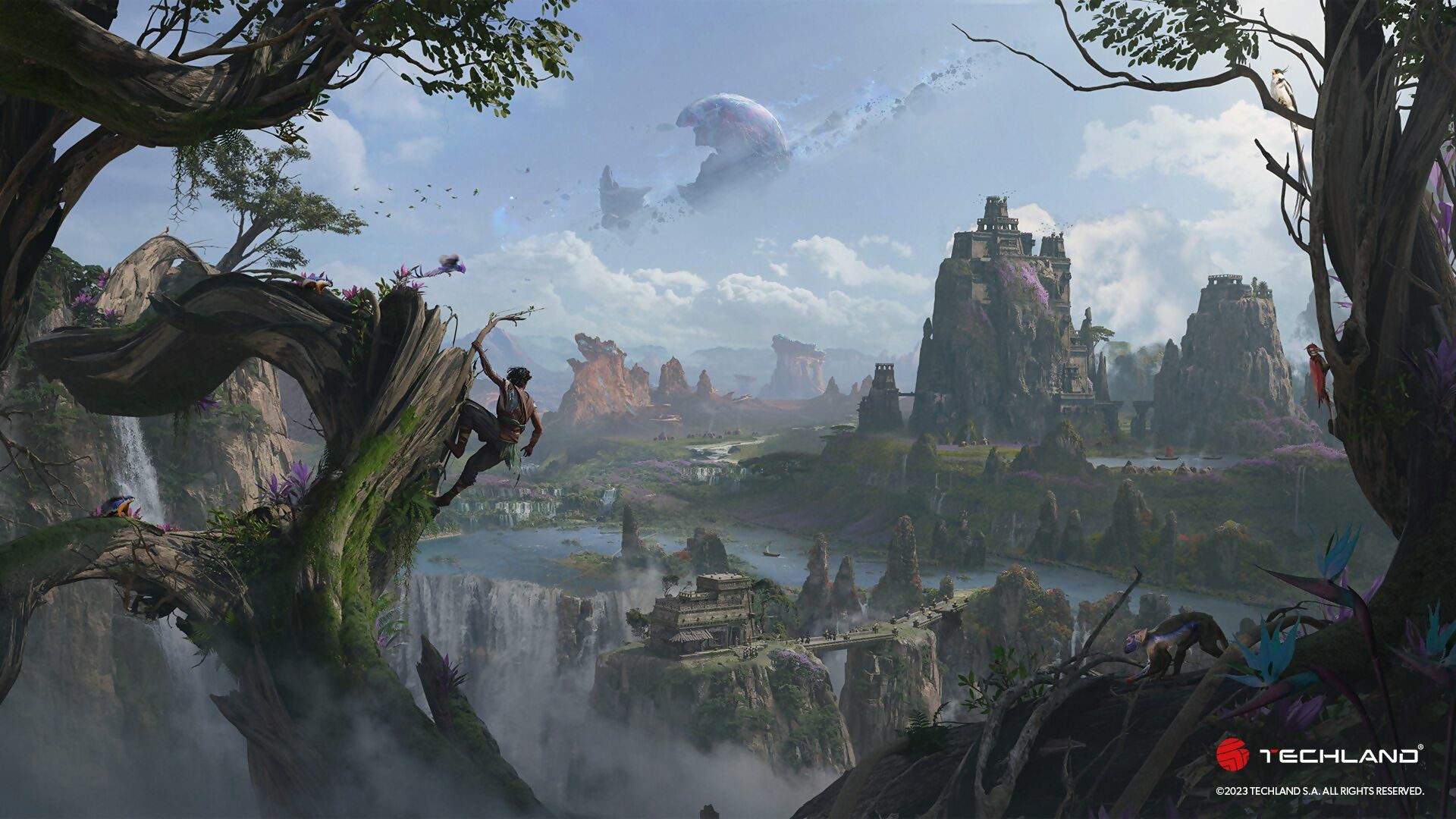 Dying Light 2 developer Techland has a new game in the works, and a first image provides an early glimpse.
---
Techland, the Polish developer behind such games as Dead Island, Call of Juarez and Dying Light 2, has a major new project in the works.
The untitled game will be a "narrative-driven fantasy epic", with the studio seeking to "create a compelling story-focused triple-A title that combines and refines the aspects of gameplay that Techland is known for."
So read a recent Tweet from the team, which also showed off a bit of concept art. Depicting a lush landscape with what appears to be the shattered remains of a moon or planet hanging in the sky, it hints at some kind of open-world adventure that takes in lots of climbing. At least, that's what we're guessing from the tiny humanoid figure clinging to a gnarled tree in the foreground.
What's more striking is that we can't see a zombie or cowboy anywhere – instead, the landscape's teeming with exotic life, including an alien-looking monkey and at least one kind of parrot. We're also pretty sure this will be the first Techland game to feature a woodpecker.
We never stop improving!

Our newest game is set to be a narrative-driven #fantasy epic with an exotic open world ready to be explored. We strive to create a compelling story-focused #AAA title that combines and refines the best aspects of gameplay that Techland is known for. pic.twitter.com/SuJ8vVWbrI

— Techland (@TechlandGames) March 16, 2023
Ornithology aside, Techland's most recent game was Dying Light 2 Stay Human, an open-world RPG released in 2022. We described it at the time as "a game of mild pleasures and mild annoyances," with some decent quests and parkour action marred somewhat by some nasty bugs at launch and clumsy storytelling. Maybe this is what the studio's referring to when it talks about refining aspects of gameplay it's known for – there were some great moments in Dying Light 2, but it undoubtedly lacked refinement.
Aside from Dying Light, Techland's best-known properties are Call of Juarez, a series we haven't heard from in a surprisingly long time, and Dead Island. The latter is now owned by Deep Silver, with the long-in-gestation Dead Island 2 – developed by Dambuster Studios – due out in April.
We'll no doubt be hearing more from Techland about its new fantasy property – and its alien woodpeckers – in due course.