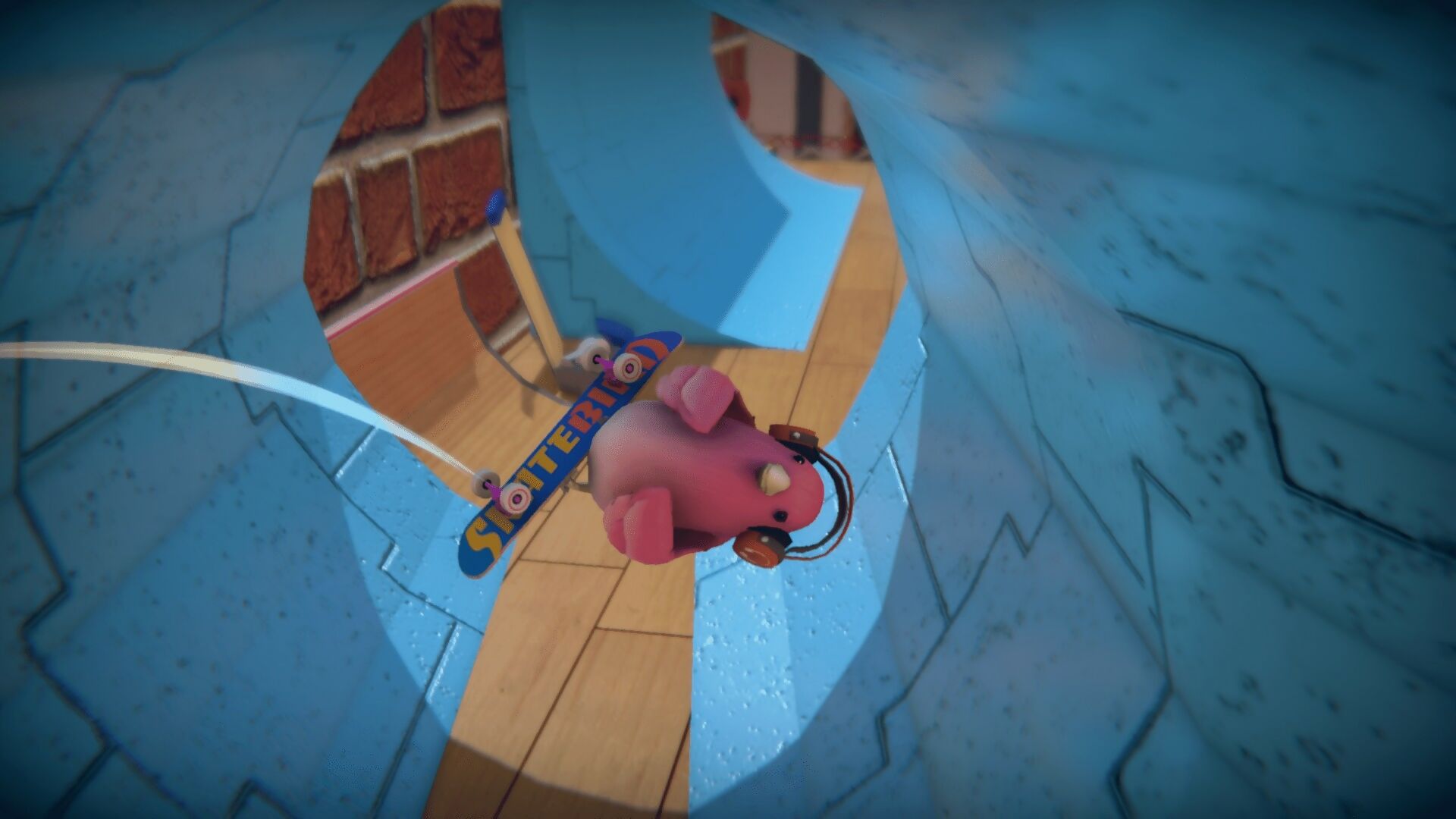 For developer Megan Fox, it all began with a single GIF: a seven-second clip of a blue budgerigar hopping on a tiny skateboard and bravely rolling down a ramp. It was, Fox says, "One of those lightbulb moments" – and in that instant, the seed of SkateBIRD was planted.
As you've probably gathered, SkateBIRD is a skating game with an avian twist; borne out of its creator's affection for Tony Hawk's Pro Skater series and EA Black Box's Skate, it sees a feathered skater cheerfully rolling, grinding, and kickflipping its way around a miniature park of cardboard, marker pens, and sticky tape. According to Fox, the game will immediately feel familiar to fans of the Tony Hawk's series, with simple controls underlining the easy-to-grasp, arcade feel.
"There's an ollie button, a flip trick button, a grind button, and a grab button – and that's mostly it," Fox explains. "You do flip or grab tricks based on the left stick's direction when you push the button, and grinds just depend on where the board is relative to a rail when you press the button. There's not much to memorise here – it's simple, which was the point: making a skate game that's fun for non-skaters and skate fans. You don't have to be an expert, and you don't have to practice for hours to pull off a simple kickflip, you just do it. If you've played Tony Hawk's games, that'll all sound pretty familiar."
SkateBIRD is the latest title from Glass Bottom Games, the Washington-based indie studio that specialises in games with a cute edge: it previously brought us the side-scrolling detective game Hot Tin Roof: The Cat That Wore A Fedora and the violent (yet still oddly adorable) first-person brawler, Spartan Fist.
There's a vivacity to Glass Bottom's games, in fact, that belies the sad story of its formation: before founding Glass Bottom, Fox was a senior graphics coder on the ill-fated MMO, Lego Universe. When Lego Universe developer NetDevil began to falter in 2011, Fox was one of dozens of employees who lost their jobs.
"Lego Universe closing was a horrible moment for almost everyone in the studio, but for me, it was a perfectly timed kick in the pants to go off and do what I really wanted to do," Fox tells us. "They treated us really well with severance and pay and such, so I had the financing to pull it off. Mind you, I still had a billion false starts, and had to let my only employee go a few months in – all the usual startup stories of stress and worry. I still don't think many get the opportunity I did there, timed as well as that was for me."
Founded in October 2011, Glass Bottom Games specialises in "absurdly cosy games about animals doing people things," and there's certainly a cosiness to SkateBIRD that sets it apart from other sports titles of its ilk.
"There will be different birds, and you'll be able to customise them with hats and fluffy little vests and scarves and such," Fox says. "None of that influences the centre of gravity or physical size, though, as we don't want player expression interfering with their ability to play the game."
In fact, getting the physics of SkateBIRD just right has been one of the biggest challenges so far; according to Fox, this aspect alone took "months" to tweak. "Trying to keep the board as physical-sim as possible, while also giving the player controls that feel arcade-like in their precision, has been an incredibly difficult line to walk," Fox tells us. "Skate physics are weird to dial the feel in on. If you get it wrong, it isn't a skate game, it's a weird-looking race car game."
While it doesn't quite have the budget that a publisher such as Activision would have thrown at a Tony Hawk's game in its prime, Fox still has some imaginative and fun-sounding ideas in store for SkateBIRD. Players will be able to find hidden objectives among the game's dinky stages, and organise skate events for other birds to attend.
And while it's being developed as a single-player game, there are also tentative plans for a multiplayer mode ("It'll be down the road a bit," Fox cautions).
Mostly, though, we're looking forward to finding out more about the game's feathered protagonist and where his hobby takes him – Glass Bottom Games are creating a disarming world of skate parks built on office desks, birds stuck in depressing nine-to-five jobs, and other birds becoming skating gods on social media.
And in case you're wondering: yes, there is a hawk called Tony in SkateBIRD. "There's a tiny hawk," Fox confirms. "His name is Anthony, and he's a SkateBIRD legend." Perfect.
Mellow birds
In line with its whimsical approach to the extreme sports genre, SkateBIRD replaces the aggressive tones of, say, Tony Hawk's Pro Skater 3's Ramones or Red Hot Chili Peppers with something far more laid-back. Composed by Austin, Texas-based musician Nathan Madsen, SkateBIRD's soundtrack is described as "lo-fi hip-hop crossed with birdsong". Its mellow beats are the perfect accompaniment for a game that's less about looking cool and hip, and more about enjoying the freedom of flitting about on tiny half-pipes.