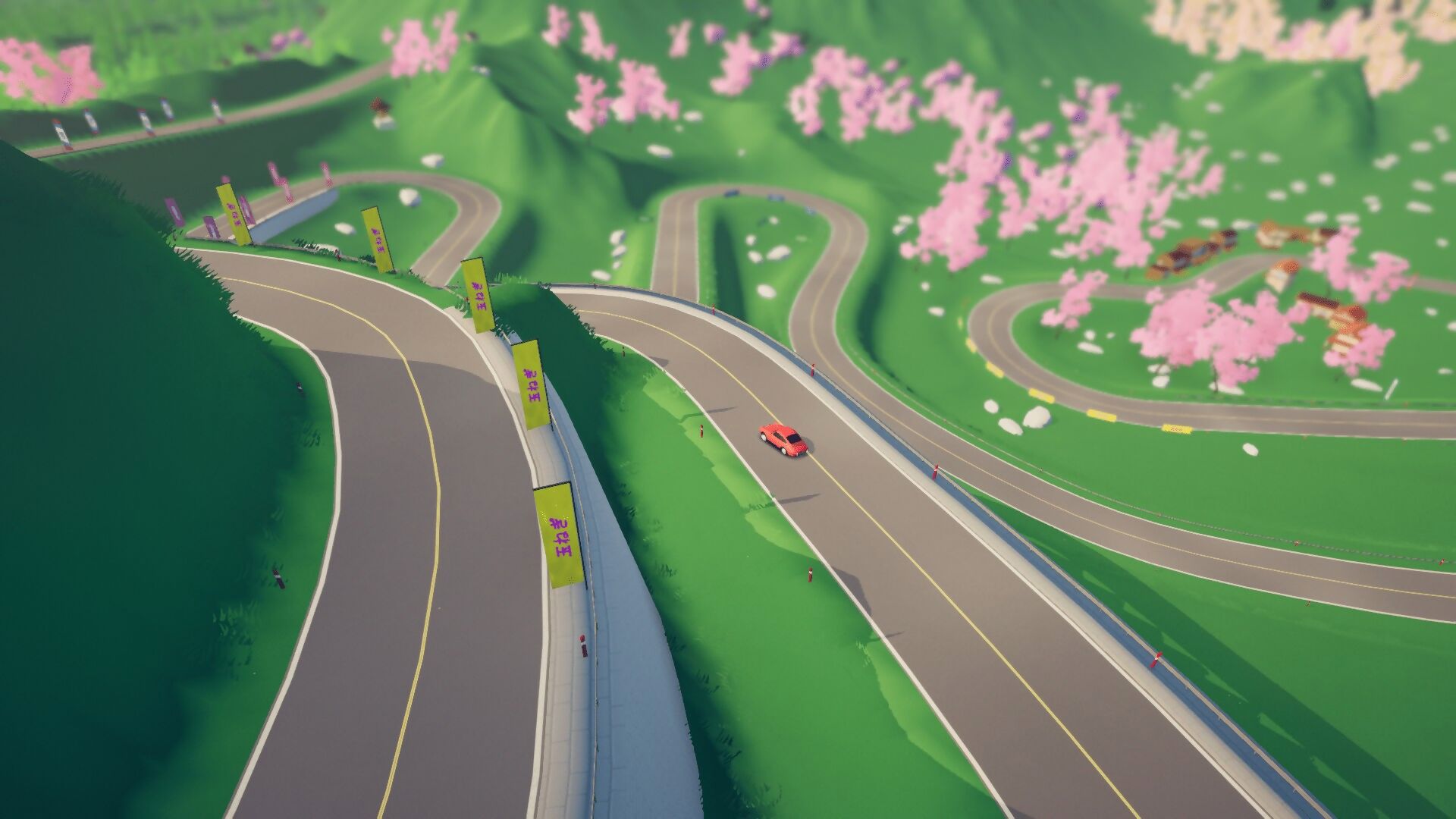 With a bold commitment to style that couples synthwave with pastel tones, Art of Rally revives the sport's golden age, an era inclusive of 1960s stock cars and the Group B legends of the eighties. It launches in the slip-stream of other retro-inspired racers, but Art of Rally is unexpected. It's a rally game from a top-down perspective, for a start, with a pure focus on threading your miniature motor through low-poly landscapes in the best time. It's like playing DiRT Rally via the aerial camera. Only it's more meditative, as ready to reward you for finishing stages as DiRT is for mastering them.
Point-to-point racing is the main event, taking place on picturesque stages inspired by real locations. Japan's asphalt stages see you glide downhill beneath cherry blossoms, while the sun-baked dirt roads winding alongside Sardinia's vineyards audibly strafe your car with gravel. As inviting as off-piste looks, penalties discourage shortcuts. Instead, finishing stages requires grasping how the straightforward controls interface with idiosyncratic handling. Do it right, and you will flick through hairpins.
Do it wrong, and you'll collide with a spruce. Then there's the scalable damage model, the absence of rewind and checkpoints, or a co-driver with pace notes. Art of Rally does for rally what Lonely Mountains: Downhill does for mountain biking. Its simplified interaction and striking visuals pair with mechanics that are easy to access yet tough to master. 
The cars, for their part, look brilliant and feel distinctive. You might start rallying with the 'meanie', a sprightly bug and facsimile of the Mini, or the beefier 'esky' (Ford Escort). Progressing through the career mode, covering 1967 to 1996, provides for graduating to a turbocharged icon like 'das hammer v2' (Audi Sport Quattro S1). The playful descriptions are incentives themselves, where you learn that a Volvo is a "fine Swedish metal turbo brick". Through handling and sound design – brakes squeak and engines backfire – cars are compellingly differentiated. Meanwhile, liveries are tastefully slick, embracing classic motifs like Subaru's blue/gold design. It's hard to resist trying cars out sooner in custom events or free roam, a mode with its own diversions and collectables to pursue. 
Art of Rally is chiefly the work of Vancouver-based developer Dune Casu, and the resulting game is necessarily pared back. Ideally, I'd like more feedback from the road surface, increased track variation, and a more experimental free roam. Yet there are surprising touches, from the way the game ensures you can always see your car through scenery, to how spectators shrink from your bumper. 
While it's a game of mastery, there are few pressures demanding you get the best scores. The only prerequisite of a career rally is completing the one before. There are leaderboards and challenges, but in Art of Rally, good enough is good enough. You must simply finish what you start – and do it with style. 
Highlight
It's possible to spend most of your time playing with the game's tooled-out photo mode, which is capable of producing exceptional images with the lavish lighting and toy-box of blocky car models. Both free roam and a post-race replay function makes it easy to find the perfect angles.
Verdict
A superb, beguiling distillation of the sport that's more sim than Sega Rally.
80%
Genre: Arcade/Racing | Format: PC (tested)/Mac | Developer: Funselektor Labs Inc. | Publisher: Funselektor Labs Inc. | Price: £19.49 | Release: Out now