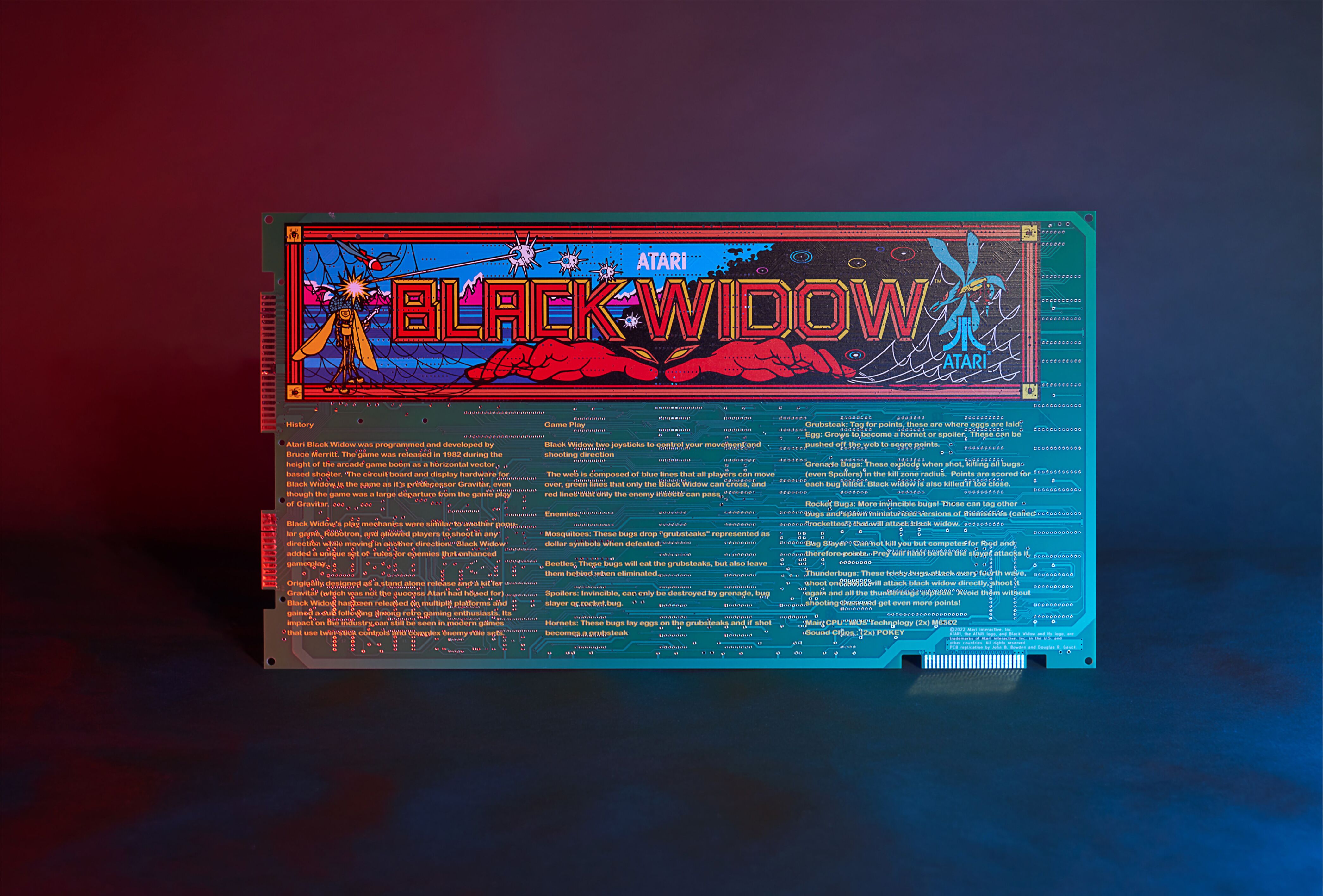 Atari has released a set of replica circuit boards for some of its 1980s arcade games, including Lunar Lander and Gravitar. They're about £190 each.
---
In a further size of the retro gaming scene's growing might, Atari has announced a new set of reproduction arcade boards. Made in conjunction with arcade restoration specialists Retro Arcade, the printed circuit boards (PCBs) are replicas of the ones found in Atari's cabinets back in the 1980s, and precisely follow the original schematics.
The PCBs are entirely unpopulated, but if you had, say, a Lunar Lander board that's become degraded and pitted after 40 years, you could theoretically port all the chips and other components over to its replica.
There are currently five PCBs in Atari's replica range: Warlords, Major Havoc, Gravitar, Black Widow and the aforementioned Lunar Lander. Each one is silk screen printed with its particular game's marquee, plus a quite lengthy slab of text detailing its history.
The idea, we're guessing, is that if you're a collector you could frame these and hang them on the wall. They'd certainly make for an interesting conversation piece. That conversation likely pivoting around the question, "What on earth is that on your wall?".
Atari says the boards have been produced in limited quantities, and their full asking price is $245 each (about £190), though there's currently a sale on their site at the time of writing, with prices cut to $208.25 each (about £162).
We're intrigued to see whether these PCBs prove popular enough for Atari to produce boards for its other arcade titles, given just how niche (and expensive) collecting and maintaining original arcade hardware is. The best known among this current wave is Lunar Lander; Atari's biggest hits from its golden age of arcade era included Asteroids, Star Wars, Centipede, Missile Command and Gauntlet.
You can find Atari's range of boards on the hardware section of its website.
Read more: Atari's Star Wars 1983 coin-op | remembering a masterpiece of arcade tech