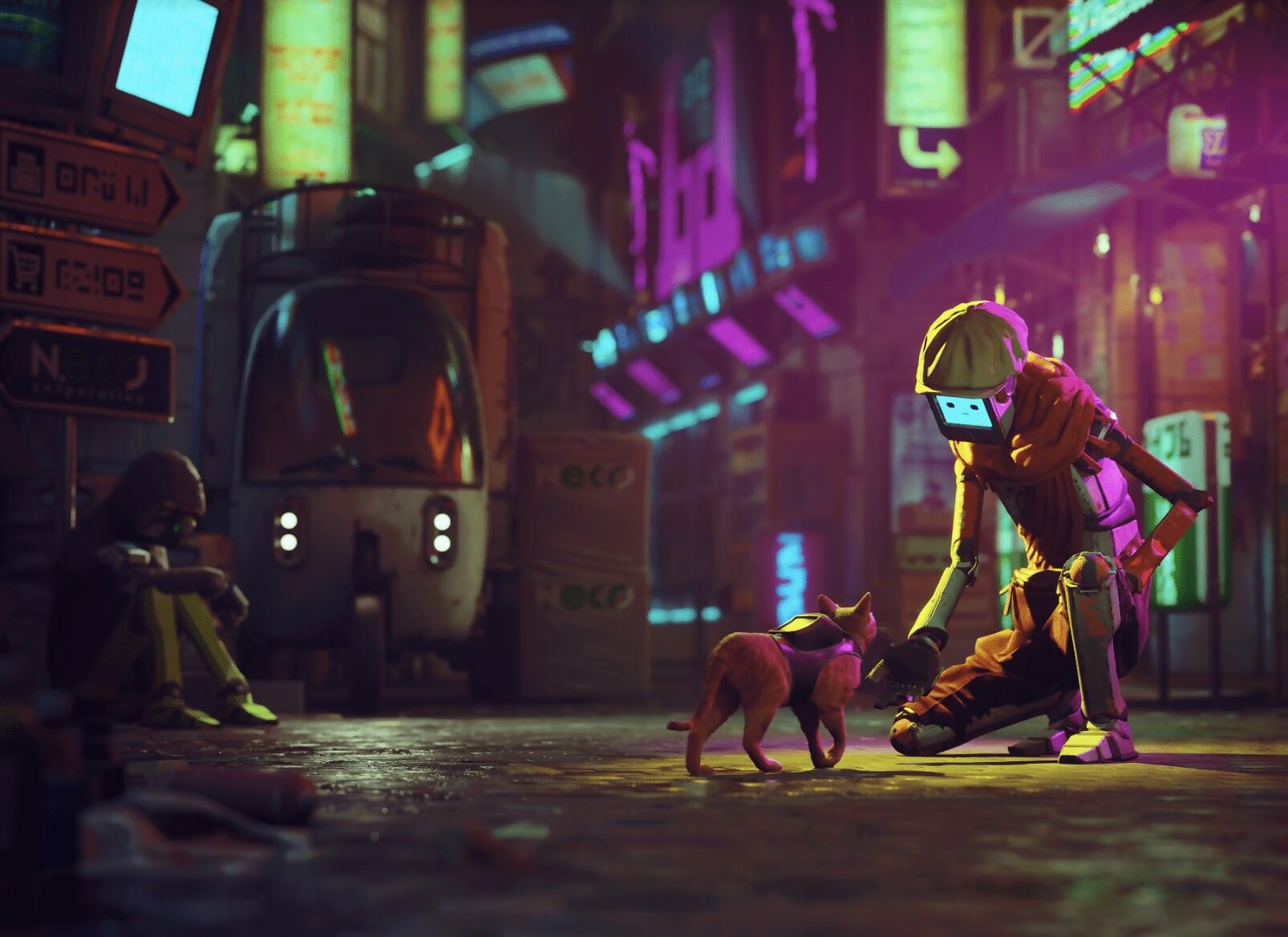 If curiosity really did kill the cat, then nobody told the well-groomed, ginger protagonist at the centre of BlueTwelve Studio's cyberpunk adventure. Originally revealed alongside the PS5 during Sony's 'Future of Gaming' event two years ago, the cat-based antics of Stray has had players on hot bricks – aching for just the slightest snippet of more information – ever since. Well, the titular feline finally creeps their way onto PC and consoles later this month, and judging by what we saw during a recent hands-off demo, this decidedly paw-some expedition comes within more than a whisker of greatness.
We presented Swann Martin-Raget, the game's producer, with the simplest of questions to start off with: why a cat? "Part of it is that I think about 80% of the team are cat owners, or have been owned by cats," he jests, "depending on how you look at it". More so than the inherent cat-lover appeal, though, the germ for the concept that would eventually form Stray wasn't inspired by the animal, but rather the location it ends up roaming. Studio co-founders Viv and Koola were transfixed by Kowloon Walled City, which no longer exists but was at one time Hong Kong's most densely populated area. "It's a unique and interesting place where the constructions are super-detailed," continues Martin-Raget. "So it was a fascinating site for them as artists, and really inspiring."
The complex construction of Kowloon Walled City proved to be catnip for BlueTwelve Studio, which soon got to work imagining what it would be like to navigate such a crowded space. The only problem was that doing so as a human would have felt as cramped as it once did in reality, and thus the idea for a game where players could roam around a multi-layered metropolis as a cat was born. Whereas exploring a city from a typical person's perspective is a well-established prospect, however, seeing these sights from a cat's-eye view required a whole new school of thought.
"Usually, in other games, when you want to decorate the place, you just add stuff that's pretty," Martin-Raget says. "So an air-con unit, a pipe, or something that will go through a building… In our case, anything you add is a platform or potential path that the player is actually going to want to cross and want to reach at some point."
This approach required a lot of playtesting and iteration, if only so players know where they can and can't go. "We have to really work on designing feedback, to make sure that players really understand what's possible. That's a very specific challenge to this game that was quite different from other projects."
At least BlueTwelve made the decision early on to fictionalise Stray's setting rather than slavishly follow the real-life one. This alone has allowed for a far greater level of creative freedom. The neon-lit cityscape the cat explores has become so intertwined with the game's identity; it's hard to believe that this too came from the need to overcome production constraints. " [With] humans being really hard to do properly and us having quite a high standard of visual representation, we just started to experiment with robots that would be easier to make and animate," says Martin-Raget.
The cybernetic citizens that inhabit the city further add to the mystery Stray weaves. Because while on the surface it might seem like the journey of a lost cat trying to get back to his family, players wanting to know more about how this world came to be are encouraged to explore deeper. Your flying AI companion B-12 can help you communicate and interface with your surroundings, sure, but environmental breadcrumbs worth seeking out are everywhere. Players may wish to know more by collecting memories that contain snippets of interesting data, or piecing together the fictional in-game language that the robots use to communicate, which BlueTwelve created itself.
As one of the earliest PS5 games shown, it isn't surprising to see Stray take full advantage of the PS5 DualSense controller's haptic feedback capabilities. "When the cat is sleeping, it is actually purring," Martin-Raget explains. "You have the sound coming out of the gamepad, alongside subtle vibration that really feels like you have a cat in your hands." Small details like this, combined with a smooth 60 fps and a complete lack of loading times – unless you fail during the many chase sequences – were core to keeping you immersed as a cat in a dystopia. "It's that sort of unbroken experience that really lets you step into a world."
A lot of attention to detail has gone into Stray – a feat made even more impressive by the fact that it's the passion project of a team comprised of just 25. Fortunately for BlueTwelve, this passion will surely be matched by cat lovers everywhere when it finally releases.
Keyframing a cat
Stray's cat moves so realistically that you'd be forgiven for thinking that the studio implemented mocap tech to portray its specific hops and strides‭. ‬In actual fact‭, ‬it's the effort of just one dedicated animator‭. ‬"Miko is really talented and fluent with keyframe animations‭, ‬like hand-made animation‭,‬"‭ ‬says Martin-Raget‭. ‬"It seems like the internet was basically invented to host cat pictures and videos‭, ‬so it's really easy to find anything you want‭. ‬Miko became a specialist of old cat videos at some point‭. ‬That was definitely very important in the process‭, ‬and‮ ‬the iterations between code and animation were‮ ‬crucial‭.‬"
Genre Action-adventure, platformer | Format PC  /  PS5  /  PS4 | Developer BlueTwelve Studio | Publisher Annapurna Interactive | Release 19 July 2022 | Social @HKdevblog