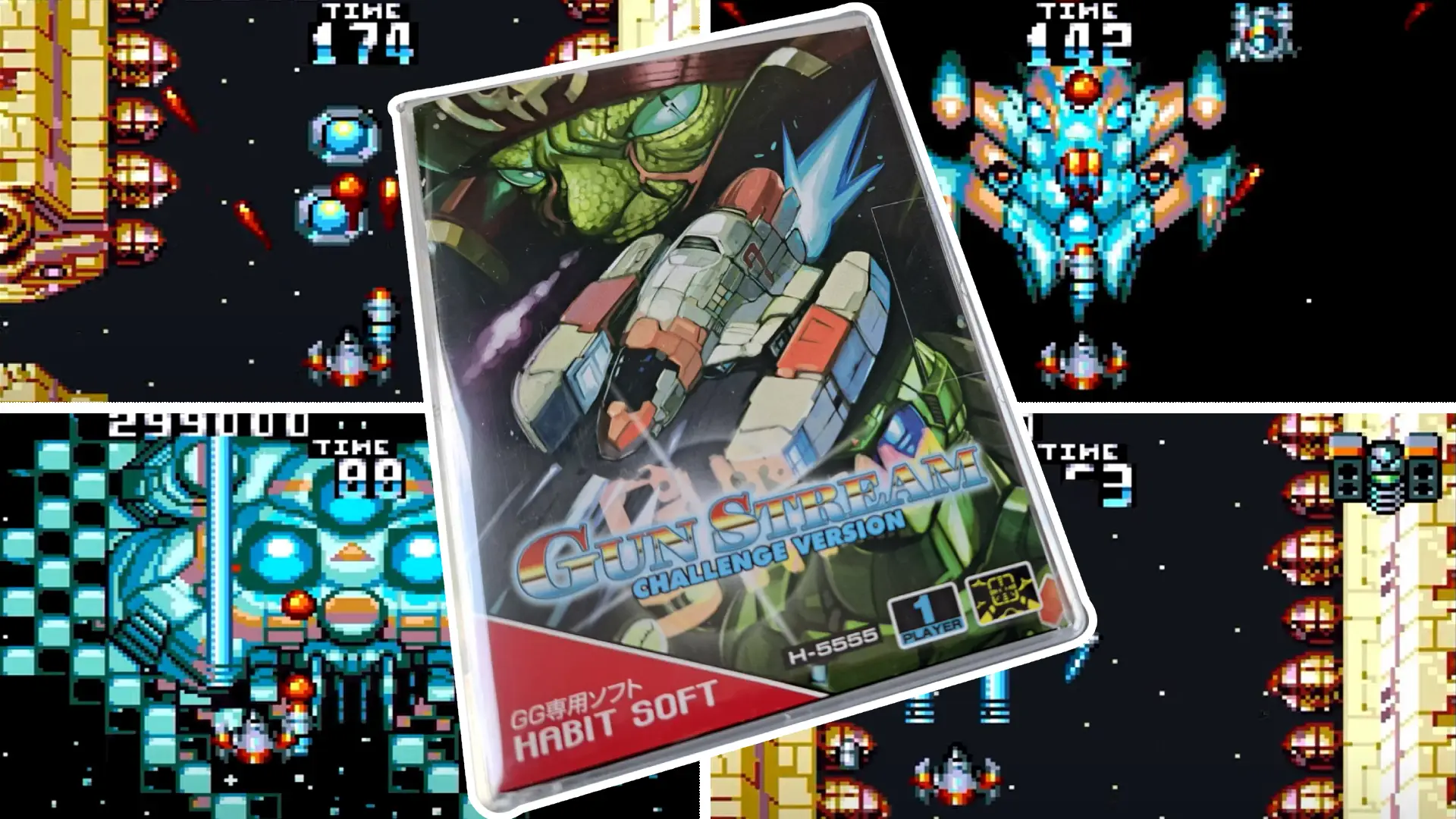 We check out Gun Stream: Challenge Version, a score attack shoot-'em-up. A spiritual successor to the GG Aleste games, it runs on original Game Gear hardware.
---
Although it still shifted several million units worldwide, the Sega Game Gear is often thought of as merely the runner up in the late 1980s/early 90s handheld console war, with Nintendo's Game Boy emerging as the obvious successor. But while the Game Gear had its drawbacks – horrendous battery life, a somewhat blurry colour screen by modern standards, and system-destroying leaky capacitors – it still had a terrific library of games.
Over 30 years on from its original release, the Game Gear evidently still has a dedicated following; Sega released some micro-sized handheld devices to mark the company's 60th anniversary in 2020, and developer M2 even produced a shoot-'em-up, GG Aleste III, which appeared as part of the Aleste Collection which came out the same year. (A limited edition version of the Aleste Collection even came with a white Game Gear Micro housing all the shooters found on the compilation.)
All of which brings us, finally, to Gun Stream – a top-down shoot-'em-up that's not only developed for the Sega Game Gear, but unlike GG Aleste III, is getting a stand-alone, physical release on cartridge. Evidently a spiritual successor to the Game Gear's GG Aleste games (the second of which was released in the west as Power Strike II), Gun Stream has even been designed by two of the people who worked on the GG Aleste titles at the sadly-departed studio, Compile.
Read more: Saluting the Sega Game Gear
Handling the graphics is Hiroki Kodama, the designer and artist behind the first two GG Aleste games, while programming is by Yukinori Taniguchi, the coder of those earlier Compile shooters. (At Compile, Taniguchi went by the pseudonym TAKIN; for Gun Stream, he goes by the moniker Zeppachi.) Gun Stream's music, meanwhile, is by Takeaki Kunimoto, who once worked at Hudson Soft on such top-down shooters as Star Soldier and Hector 87.
With a pedigree like that, it's little surprise that Gun Stream looks and plays very much like a classic, top-down shooter – a lot like a hybrid of an Aleste or Star Soldier game, in fact. You begin with a ship armed with a single shot, but a plethora of power-ups mean you soon have the pick of a multi-directional shot or a more powerful, focused dual laser. You can also choose between homing missiles and a kind of roving cannon that orbits around your craft.
You'll need those weapons, too, because the screen soon fills up with fast-moving enemies – it's impressive, in fact, how many sprites Gun Stream manages to fling around the screen at once. In technical terms, it doesn't have the same gob-smacking set-pieces that GG Aleste III introduced – there's no armada of gigantic, destructible space battleships here – but all the same, Gun Stream is impressively fast and slick. Even as the screen fills up with ships and green, glimmering bonus gems, the action never noticeably slows down.
Read more: Hudson Soft | The studio behind Bomberman and the PC Engine at 50
Not in the three minutes we've spent with Gun Stream, at any rate. The version of the game currently available in Japan – which we managed to get our sweaty mitts on – is officially known as Gun Stream: Challenge Version. In other words, it's a good-old score attack or Caravan Mode, much like you once found in Hudson's shooters. The order of the day is therefore: kill as many enemies as you can, grab the bonuses, try not to die, and see if you can get a high score. (Twitter – or X, if you must – has seen a number of Japanese otaku posting their scores – the number to beat at the time of writing seems to be around the 1,600,000 mark.)
Is Gun Stream: Challenge Version essentially a demo, on sale for the princely sum of 7,800 – or roughly £42 – before postage? Yeah, we guess so. Couldn't this score attack mode have been folded into the release of the full game, due out at some unspecified date? Quite possibly. But at the same time, we're suckers for both modern games released for vintage tech and retro shooters, so Gun Stream: Challenge Version was still a must-buy for us, despite the hoops we had to jump through to import it.
Besides, as an (expensive) appetiser before the main event, it's proven highly effective. Gun Stream looks and plays handsomely, with some quirky enemy designs – one looks like a 1980s hi-fi with speakers either side – and some immensely catchy music courtesy of Tsuyoshi. According to French blog Gamopat, who got to speak to Gun Stream's director, the finished game will have five levels, with the third stage taking in a screen-filling battleship inspired by the mighty R-Type.
With all of that to look forward to, we'd argue that Gun Stream is a project worth supporting – particularly given it's the product of a small homebrew company, Habitsoft. The game's director, who goes by the name Tenjô-Ura, has even said he's considering developing a separate Gunhed-like vertical shooter for the PC Engine. Here's hoping Gun Stream does well enough to make those future projects a reality. The world arguably needs more shoot-'em-ups in the classic Compile style.
Gun Stream is in development for the Sega Game Gear, and its release date is currently 'TBA'. We'll update you when a firm date emerges.