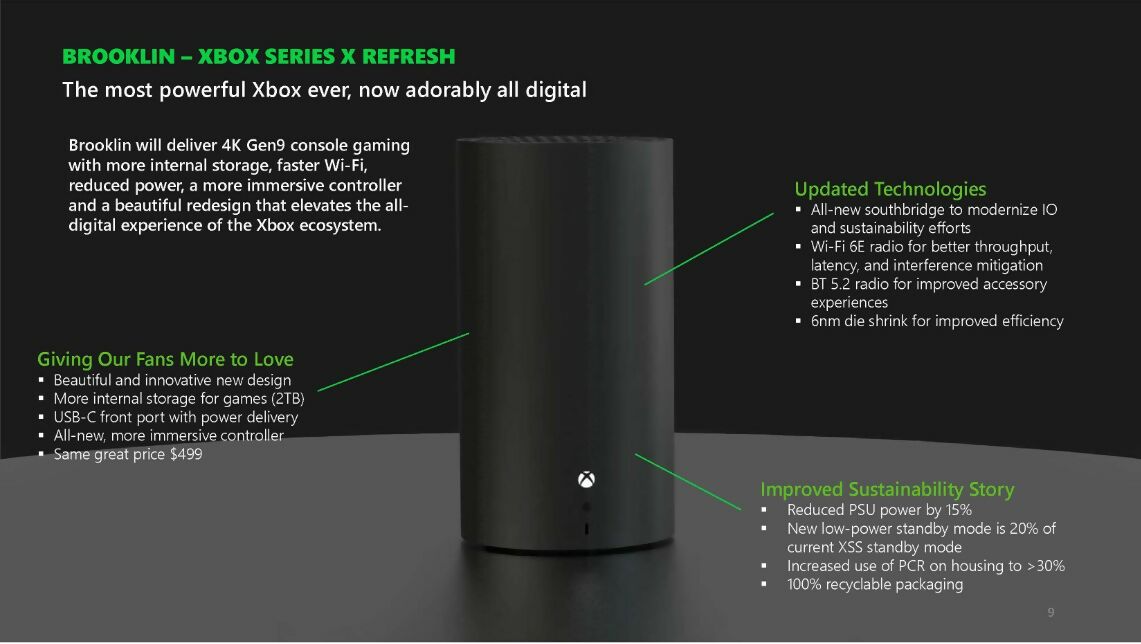 Leaked documents show two new Microsoft consoles and a brand new Xbox controller, as well as hints of a handheld.
---
Documents submitted as part of the lawsuit between the US Federal Trade Commission (FTC) and Microsoft over the Activision Blizzard takeover seem to have accidentally revealed the existence of upcoming redesigns of the Xbox Series X and S, as well as a new Xbox controller. Intriguingly, there are also mentions of a handheld.
The document revealing the new consoles – which is labelled Exhibit PX1517 – has been shared by The Verge. It's a presentation called 'Road to 2030', and it details Microsoft's hardware strategies for the next few years.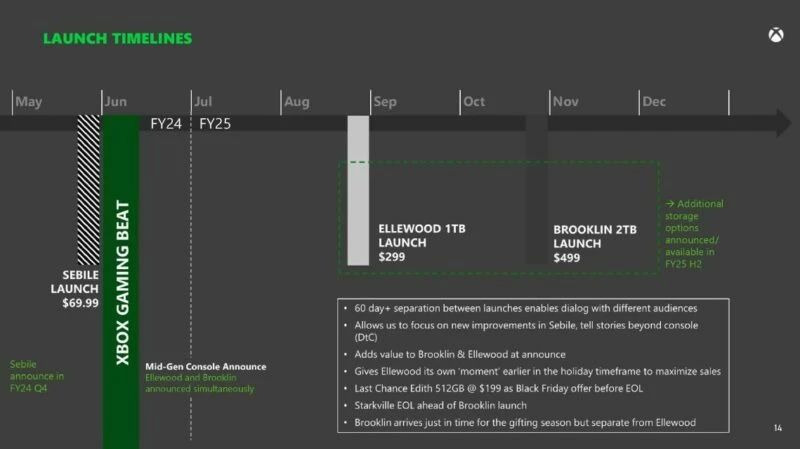 The biggest news is that there's a mid-gen refresh of the Xbox Series X on the way, and it doesn't include a disc drive. "The most powerful Xbox ever, now adorably all digital," reads the slide on the machine codenamed 'Brooklin', which is scheduled to launch in late October 2025. This redesign of the Xbox Series X will include more internal storage and faster Wi-Fi, and will also draw 15% less power. The console will adopt a cylindrical design rather than the square shape of the original, and it's being targeted at the same price point as the old Series X: $499.
The lack of disc drive will certainly alarm those who prefer to buy their games on physical media (not to mention games retailers), and it appears to show that Microsoft is aiming for an all-digital console line-up in the near future.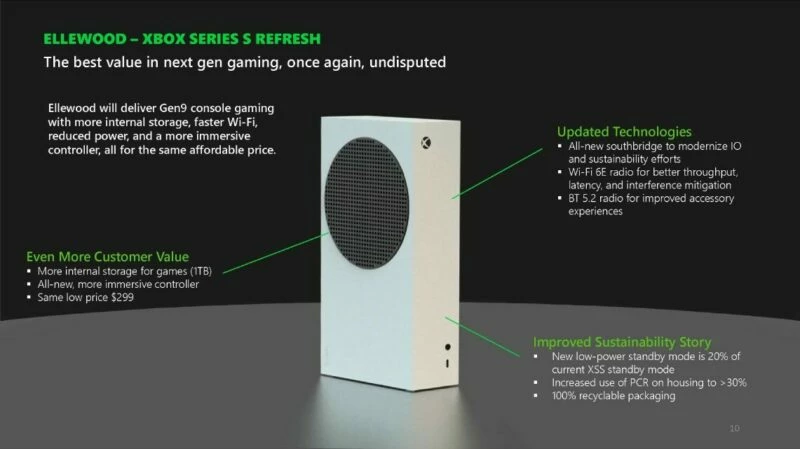 The redesigned Xbox Series S, meanwhile, looks superficially similar to the original Series S, but will include more internal storage (1TB) as well as having improved Wi-Fi. It will also use 20% less power than the initial incarnation of the Series S.
Codenamed Ellewood, the new Series S is scheduled for launch in late August 2025, at the same price point as the original: $299.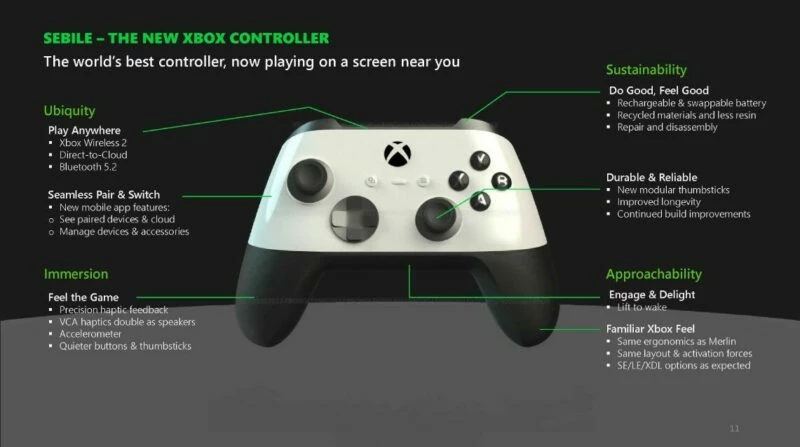 In addition, there's a new Xbox controller in the works, codenamed Sebile. The new controller is scheduled for late May 2024, and adopts a striking two-tone, black and white design. One big change is that it includes a rechargable, swappable battery, and it also features improved thumbsticks with "improved longevity". The document trumpets its "play anywhere" capabilities, including "Direct to Cloud" connectivity, and it will also have a "lift to wake" function. The Sebile controller will be bundled with both the Ellewood and Brooklin consoles.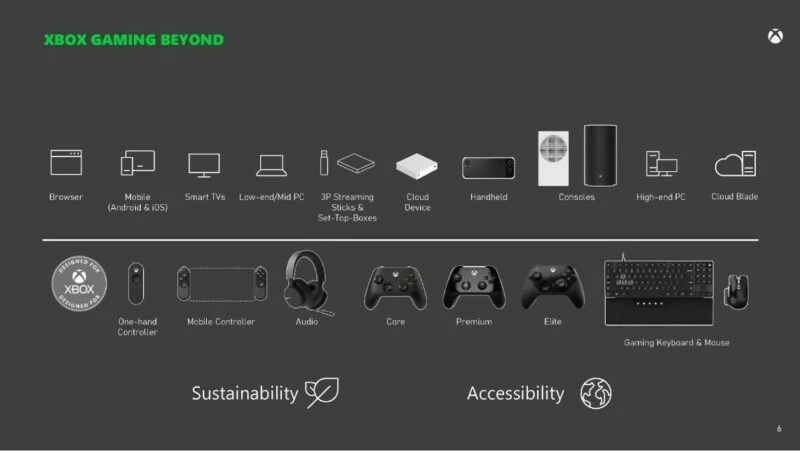 Tantalisingly, the Road to 2030 document also hints at Microsoft's handheld ambitions. In a section entitled 'Xbox Gaming Beyond', the two new, revised Xbox consoles are pictured next to a generic looking picture labelled 'Handheld'. Could Microsoft be working on a handheld console to compete with Nintendo's Switch?
Possibly, or possibly not. A later slide entitled 'Current Gaps in FY23 to Reach 2030 Goals' lists 'Handheld' in a section labelled 'Not in Scope for 1st Party'.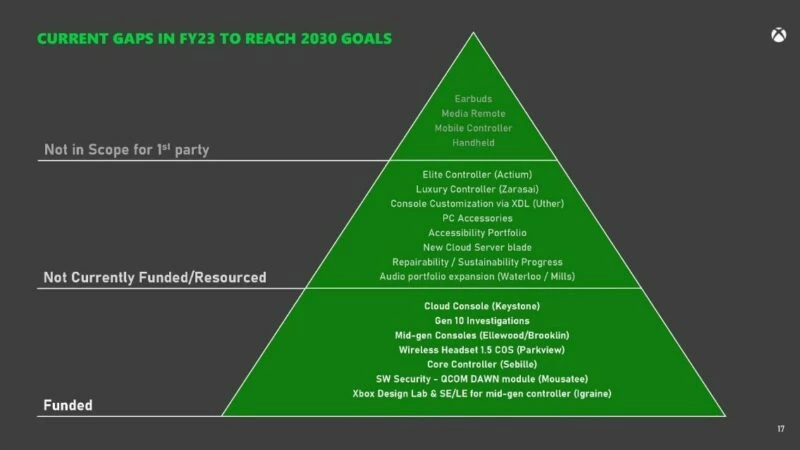 But Keystone, Microsoft's long-vaunted cloud console, is listed as 'Funded'. This cloud-gaming-only has been known about for a while, but – as reported by The Verge's Decoder podcast and VGC last year – it has been put on hold until Microsoft can lower its projected cost.