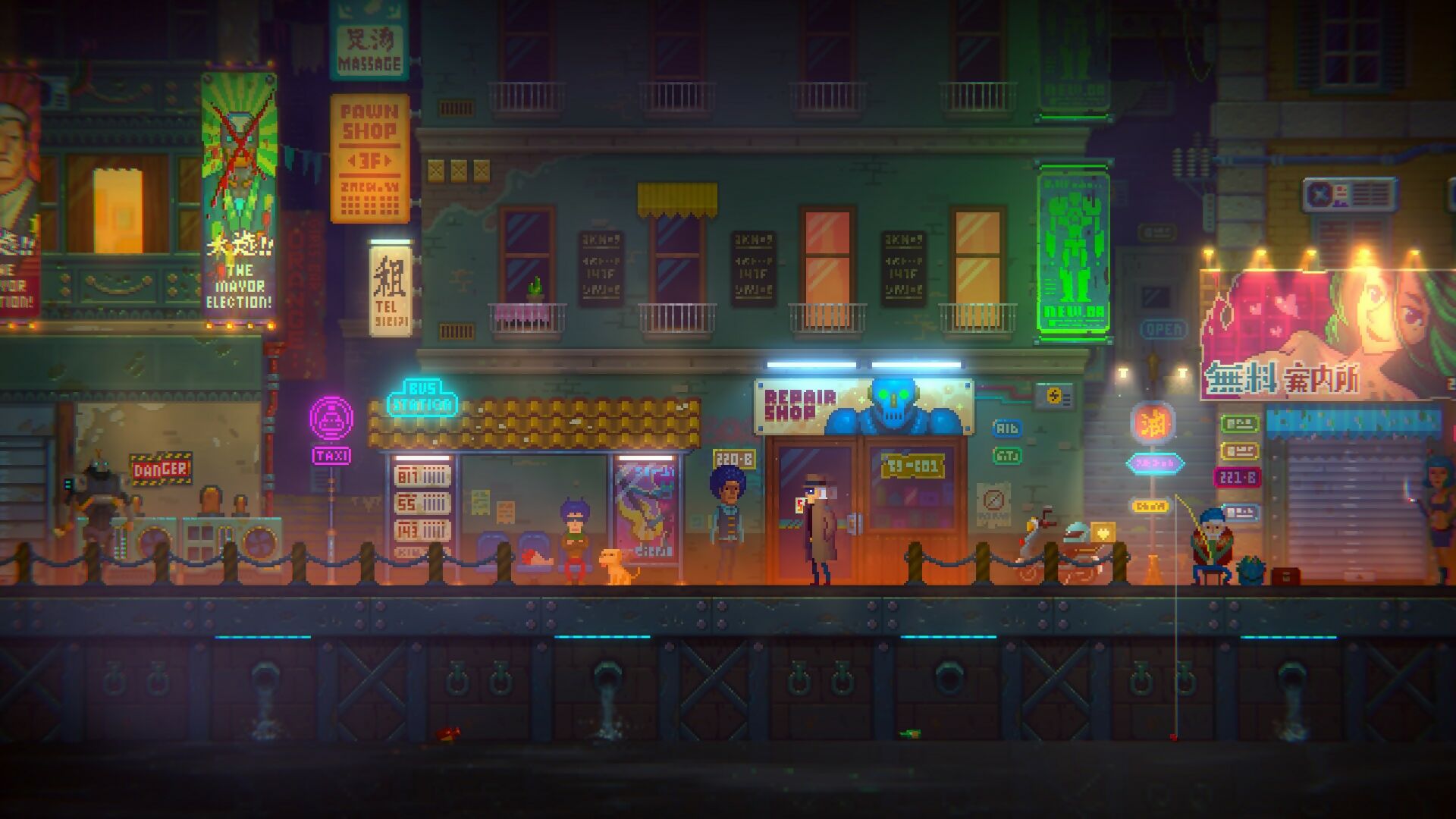 Genre: Adventure
Format: PC
Developer: Palm Pioneer
Publisher: Zodiac Interactive
Release: TBC 2019
Developed with a love of science fiction at its core, Tales of the Neon Sea brings a pixel art aesthetic to the realm of neo-noir cyberpunk we're all familiar with. "We grew up on genre staples such as Blade Runner and Ghost in the Shell, each with their own variation on an alluring and terrifying cyberpunk future," says Tian Chao, producer on the game. "At the same time, growing up in China during the ongoing economic boom has given many of us the feeling of actually living in such a world of towering skyscrapers and hazy neon streets! Even Denis Villeneuve, director of the recent Blade Runner sequel, referenced Beijing during the design of that movie. This gives us a unique perspective to inject into the now familiar cyberpunk vision."
Bringing this vision to life hasn't been the smoothest of journeys for developer Palm Pioneer, though, as the simple fact is there are more constraints and roadblocks when it comes to making games in China. Governmental controls and vetting procedures mean there can be stifling effects on the output of a studio, and the studio is no stranger to this impact.
"The development of the game has not always been smooth," Chao explains. "Under the constraints of both development time and local Chinese policies, we're constantly trying to inspire the team's creative vision, overcome any bumps in the road that we meet, while also polishing the quality of the game and trying to get the name out there."
But while Chinese government censorship is the go-to reason for the problems a studio might face, it's actually more nuanced than that: "During the game development process, the reconciliation between Eastern and Western cultures and the overseas promotion all posed a challenge for us," Chao says. "Fortunately, we received a lot of support and help from various parties, and we have successfully participated in international game exhibitions such as PAX and Gamescom. The positive feedback and comments players provide at these events greatly increased our confidence and drive during development."
It also helps that Tales of the Neon Sea looks fantastic, while its familiar sci-fi setting means it's universal enough to break down cultural barriers. "In the game," Chao explains, "players will find many puzzles and stories with oriental characteristics, but the oriental elements are only part of the Tales of the Neon Sea world view. Other elements in the game also occupy a very important position. We believe that the integration of these elements creates an interesting and unique experience."
Admittedly, a neo-noir cyberpunk adventure game telling a mysterious story full of twists and turns might not sound like the most unique of experiences, but Neon Sea is still uplifted, both through its usage of pixel art and its superb use of lighting effects, which really bring the seedy, futuristic city to life.
All of this has been achieved using Unity, and the experience has been a positive one for Palm Pioneer: "In terms of Unity, it has been integral in turning our dreams into reality," Chao says. "The custom functions and cross-platform capabilities helped to accelerate multiplatform development, and enabled us to design more content for (the game)."
There's a lot of effort and optimism going into Tales of the Neon Sea, as well as a quiet confidence the game can do well on the global stage. It's a big change from the Chinese development scene of just a few years ago, as Palm Pioneer is well aware: "A few years ago, most of China's gamers and development teams focused on mobile games, and a large number of so-called 'pay to win' games existed," Chao tells us. "In the past few years, the situation has begun to change, and many players and development teams are starting to pay attention to and get involved with PC and console games. Focus is now being placed on the gameplay and fun of the game itself, and many excellent titles have already emerged. So I think this is a good environment for an independent studio like ours.
"We are very optimistic about the future because we focus on doing what we love," Chao continues. "Making a good game has always been our team's dream, and we'll continue to strive towards this goal."
Tales of the Neon Sea releases in 2019 on PC.