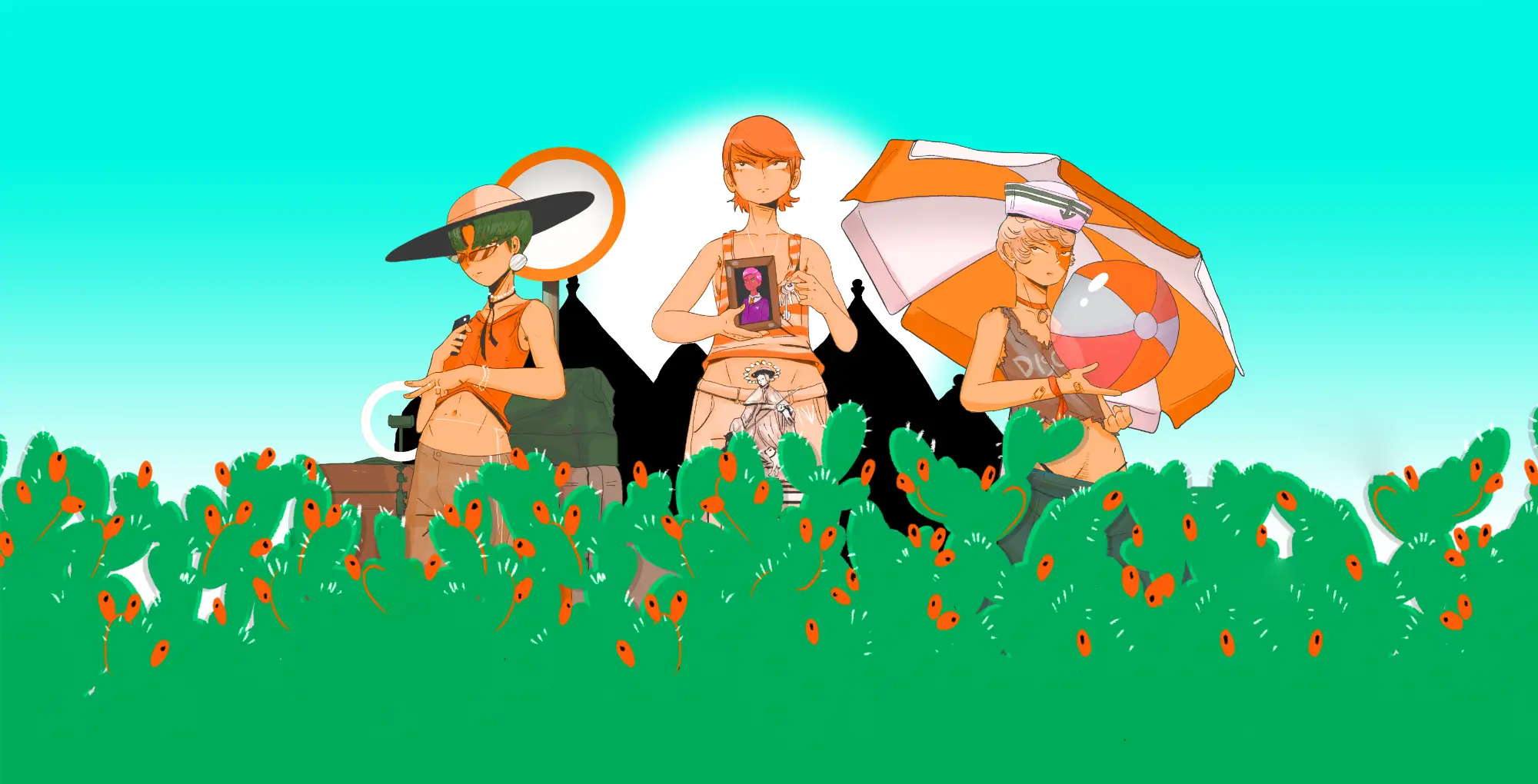 Steamy visual novel Mediterranea Inferno tackles the problems of the Z generation in search of a direction in life – all while stretched out on the beach. Here's our review:
---
Ah, Italy. It has beautiful landscapes and amazing monuments, but it's also a country which seems lost in nostalgia while ignoring urgent social issues. Developer Santa Ragione has long tackled head-on some well-hidden Italian issues. First, in the multi-choice, 70s-set adventure Wheels of Aurelia and, more recently, in the Sardinian-inspired horror adventure, Saturnalia.
Visual novel Mediterranea Inferno explores more recent history, and explores the long-term consequences of the COVID-19 lockdowns. Italy was among the first countries to go into total lockdown – a situation which lasted more than three months. The consequences of that enforced social distancing, along with severe rules on how and when to go out, are still being felt by the population even today.
The game's a solo work by writer and artist Lorenzo Redaelli, who previously developed Milky Way Prince for Santa Ragione, a story about trying a person's relationship with a partner with multiple personalities. The protagonists of Mediterranea Inferno are the 'Ragazzi del Sole' (the kids of the Sun), Claudio, Mida and Andrea. They're beautiful and successful, with a seemingly bright future ahead of them. But, suddenly, the lockdown hits and they lose sight of each other.
Two years later, they're trying to rekindle their friendship via a trip to the sunny beaches of Puglia in the south of Italy. Will this experience help bring them together or will it expose how fragile their relationships really are? The story climaxes right around Ferragosto on the 15 August (Assumption Day), with the religious holiday intrinsically linked to its characters' personal histories and their search for redemption.
Genre: Visual novel | Format: PC | Developer: Lorenzo Redaelli | Publisher: Santa Ragione | Price: £12.99 | Release date: Out now
As this is a visual novel, the gameplay is all about clicking to advance the story and choosing how to spend each day. Flea market or disco? Beach or lounging in the pool? Each choice will make one (or two) of the characters happy, while letting down the others. It all hinges on who you want to triumph at the end, by making them access one of four Mirages. These are the pulpy fruit at the core of Mediterranea's gameplay, since by making each character happy, the player collects sunny coins. These can be used to peel back a prickly pear, sucking its pulpy interior to enter the Mirages.
Mirages are a more direct and interactive way to experience the personal stories of the three main characters. You can click around and explore surreal locations, point-and-click adventure style. You're also on the hunt for "santini" – cards of saints which can be collected to access a sort of true ending. Mediterranea will require at least two or three playthroughs if you're planning to see everything – and while the game doesn't offer a 'skip read text' option, there's a fast forward key which means you can head straight to the parts you've missed out on.
Each Mirage is themed differently, depending on the character entering them. Claudio is strictly linked to the past, and carries the weight of the recent death of his grandpa who, from nothing, built a fashion empire. Andrea is starved for attention and meaningful relationships, often funneling his needs into sexual fantasies in an attempt to quench his loneliness. Mida is a model, so he's all about trying to maintain his glacial and distant image while trying to hide his unrequited love for Claudio.
The overall sadness brought by the young characters isn't simply personal; they're part of a generation that feels as though it's been robbed of a future that never amounted to much in the first place. Will they actually get to experience something new or have their parents already tried everything? How come older generations fought so much for social justice, but are now bringing about so much unfairness while blaming everything on the young? Is it even possible to experience something that isn't linked to someone else's nostalgia?
Seldom offering easy answers, Redaelli asks questions of both himself and his audience – and perhaps this is the biggest issue with Mediterranea Inferno. The writing seems preoccupied with explaining its metaphors and making sure nothing is lost in 'translation', so to speak. Considering how niche the topic is, and how distant it might be for someone who didn't grow up in Italy, this is perhaps understandable. The English version does explain things for a non-Italian audience, but on the other hand, it feels like there's little space left for a personal interpretation of the story and its characters' motivations.
The highlight is undoubtedly the visuals. Mediterranea Inferno easily stands as one of the most stylish visual novels you'll play, from hot neon pink sexual fantasies to sudden shifts to black-and-white claustrophobic wide awake nightmares. Imagine going through a collection of some of the steamiest gay fantasies, only to find out you've been dipping in an inescapable current of depression beneath them all. It's like a Stygian, uncrossable river running through the entire game.
The soundtrack is also noteworthy, as it alternates between Italo disco filtered through the gates of Hell, with John Carpenter-like soundscape of dramatic synths. The music perfectly frames some of the game's bleaker sequences, with each Mirage having a tendency to shift into something unexpected.
Mediterranea Inferno dives deep into languid decadence inspired by directors like Federico Fellini or Paolo Sorrentino, as respect for the past transforms into a barrier for the future. Nostalgia becomes a double edged sword that castrates an entire generation. Mediterranea Inferno strikes the perfect balance between happiness and desperation, carefree steamy sex and the regret of the next day, the beauty of young bodies and the horror of the insecurities that come from being exposed to others, whether they're friends or strangers.
By providing a strong platform for Lorenzo Redaelli's unique voice and vision, Santa Ragione confirms its place as one of the most daring indie studios around. While Mediterranea Inferno might be a niche title in terms of its subject matter and genre, it might also be one of the more thought-provoking games you'll play this year.
Highlight
One of the most memorable sequences involves a visit to a cemetery where famous Italian directors and musicians are buried. Mediterranea Inferno doesn't hide its roots and inspirations, and the scene provides some solid recommendations for movies to see (such as the work of Lina Wertmuller) and albums to listen to (Franco Battiato).
Verdict: 85%
Mediterranea Inferno is a steamy and emotional visual novel which captures the senses and doesn't let go until the very end.