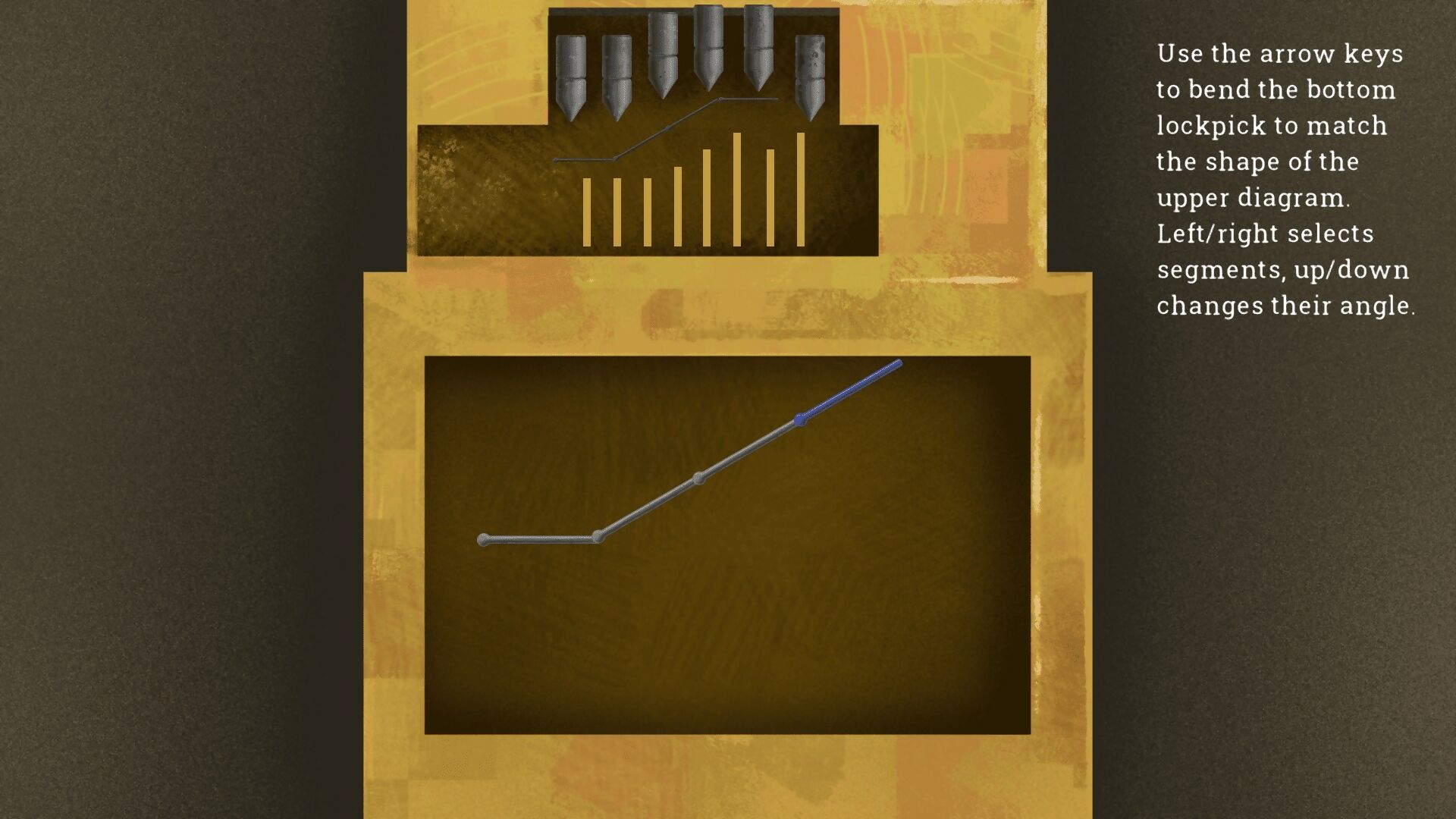 Picking our way through an interactive historical document of a familiar game staple in Museum of Mechanics: Lockpicking. Here's our review…
---
Without fanfare, you begin in a large, dimly-lit room. What light there is comes from the panels above the exhibits, shining down on names like Mass Effect, Splinter Cell, and the all-important three-for-one: Thief / Deus Ex / No One Lives Forever. As a sign explains when you enter, this is the Museum of Mechanics: Lockpicking, an interactive historical document collecting 24 different approaches to the art of cracking locks for players to peruse.
The museum's split up into three wings, with RPGs in one, immersive sims in another, and everything else in a third. This holistic approach means that familiar takes from modern triple-A games like Skyrim sit alongside less well-known attempts from older games like Hillsfar, and down the hall from recent indie innovators like Jenny LeClue: Detectivu. Some put the player on the outside of the lock, some give a view of the interior, and some, like Mass Effect and Mass Effect 2, abstract the process so much it doesn't really resemble the process of picking a lock at all.
Production values are fairly low. Don't expect the Fallout 3 minigame to look as polished here as it does in the original game. That's a small price to pay, though, for the chance to have all this information collected in one place.
Genre: Lockpicking Sim | Format: PC (tested)/ Mac / Linux | Developer: Dim Bulb Games | Publisher: Dim Bulb Games | Price: £7.19 | Release: Out now
My only real gripe with Museum of Mechanics: Lockpicking is the lack of contextual information about the games included. Unless I purchase and play a specific game (which an in-game sign encourages you to do if you're curious), I'll have little understanding of why a developer might have chosen a certain approach. What are the pros and cons of that abstracted approach Mass Effect takes, for example? If we compare this museum to a real-world historical museum, we're only getting the objects themselves without explanatory placards or tour guides. You could always play a GDC talk in the background for a rough approximation of a self-guided tour, but it would obviously be preferable to have a bit of context in the game itself.
Still, Museum of Mechanics: Lockpicking is an open-hearted piece of work. It will only take you about 30 minutes to complete (if that), but completing it isn't really the point. Do you 'beat' a museum? Instead, this is a resource for developers who want to see how their predecessors have tackled a common problem, and for players who are curious about the way one specific mechanic has evolved over years of communal iteration. For an industry that is notoriously bad at preserving anything from two console cycles ago, Museum of Mechanics: Lockpicking is a necessary historical document.
Highlight
It's terrific fun to discover new takes on lockpicking from games I missed. The Testament of Sherlock Holmes approach, which involves bending the four segments of a malleable piece of metal to match the innards of the lock, is particularly good.
Verdict
Not a game as such, but rather an invaluable and well-researched look at one particular aspect of the medium's history.
79%