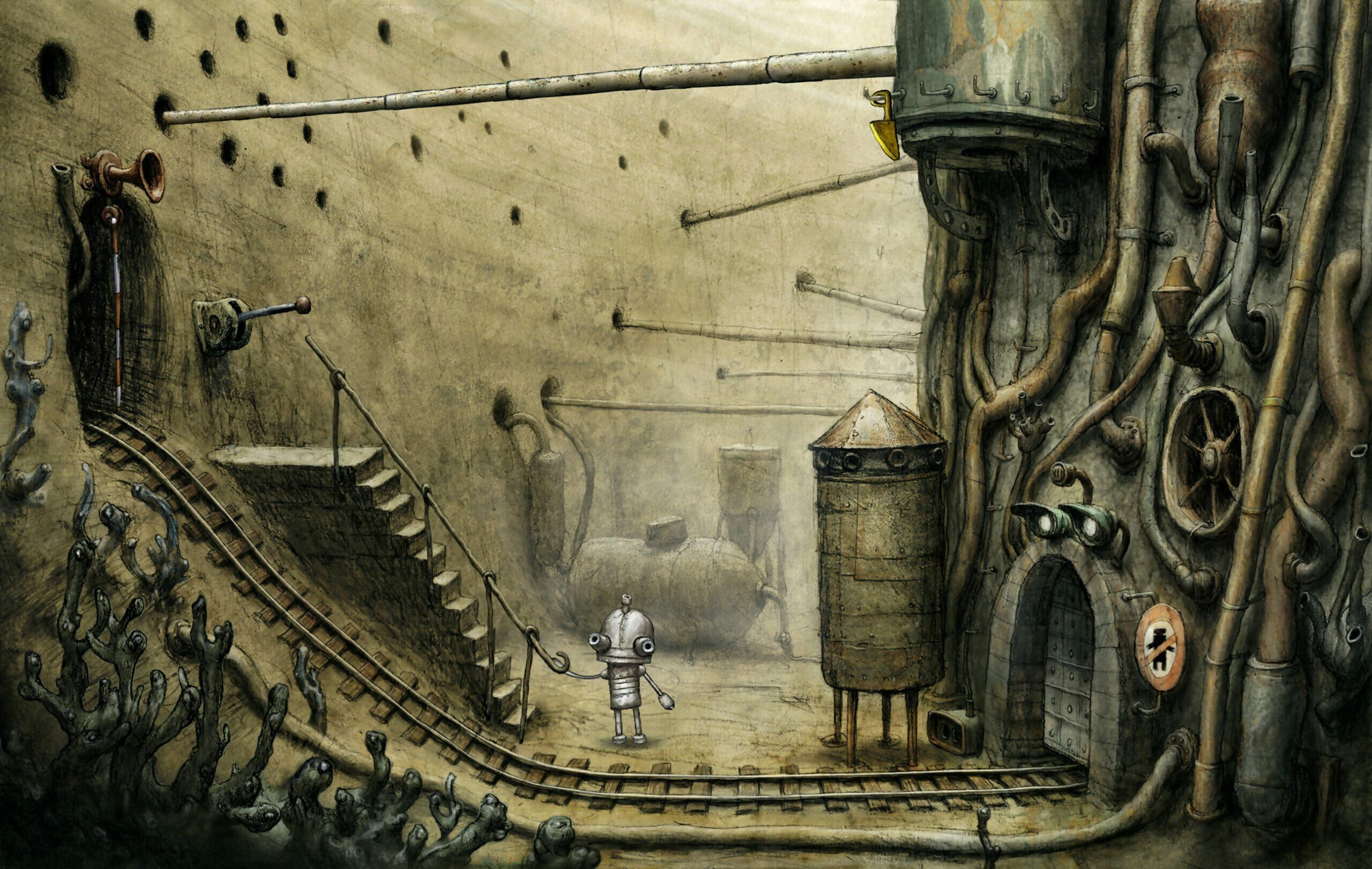 With its spires, turrets, and steeples, Prague is among the most romantic and beautiful cities in Europe. But while the Czech Republic's capital might be picturesque, Jakub Dvorský, Prague resident and founder of Amanita Design, sees beauty elsewhere. He's as fascinated by rusty old machines and abandoned industrial buildings as he is by classical architecture, and spends a great amount of time in the surrounding forests with his family. "A sense of freedom is vital to me," he tells us, taking a break from working on Happy Game, his studio's forthcoming title. And it's a sense of creative freedom that has underpinned the success of his studio for more than 17 years.
From Samorost to Machinarium and from Botanicula to Chuchel, Amanita's games are carefully engineered mixtures of the natural, the industrial, and the downright surreal. The studio's passion is such that its games aren't released until they're deemed as perfect as they can be. Amanita's games are mostly point-and-click adventures and share an enchanting style, both in their art and sound. But their games also defy a number of genre conventions, taking players on wordless journeys that let their worlds and the thoughts of their tiny characters speak for themselves.
Happy Game, on the other hand, will take the studio into slightly less family-friendly territory. Announced at Nintendo's Indie World Showcase in mid-December last year, Happy Game is far less jolly than its title implies. "It's going to be Jára Plachý's latest game," says Dvorský of the developer he's worked with for over a decade. "This time he's created something much darker – we really don't know what's going on in his crazy head. Jára doesn't plan and mull over things too much; he just creates. We encourage him to do so and help him to realise his vision, no matter if it's happy and playful or scary and disturbing."
Wild Times
Happy Game is due for release in the spring, and it's demanding the studio's full attention – "I'm quite busy these days," Dvorský says – but then, these are exciting times for Amanita. Phonopolis is also in the works: a puzzle game designed by a three-person team which makes use of handmade paper models, which are then photographed and turned into animated 3D objects. "Phonopolis is being developed by a new team who've brought yet another art style to our studio," says Dvorský. "But it's too early to talk further about this game. It still needs a lot of work, and we haven't even announced it officially yet."
These games are part of an ongoing artistic evolution where little is planned in advance. If an idea sounds great, or if Dvorský encounters a team producing something special, he'll give the go-ahead or make an approach. Where that path takes them all is part of the excitement.
This artist-led way of working is partly thanks to Dvorský's mother, who was a film director, and father, who was an illustrator. "My parents taught me a lot, but not directly," Dvorský says. "They never taught me any artistic skills and never pushed me in any direction. I was free to do what I felt like doing."
Dvorský grew up in an unconventional household, at least by old Czech standards. "They were freelancers, even in communist Czechoslovakia when the state employed 99% of working people and it was very uncommon," the 42-year-old says. "I felt that was my way as well; I knew I was unemployable."
Making sense
Dvorský's game-making career began when he was 15 years old. "At first I worked as an animator, helping my friends with their point-and-click adventure game," he says referring to his time at the indie studio, NoSense. "A year or two later, I was already a game designer working on my own project, a combination of a dungeon crawler and adventure game with half hand-drawn graphics and half pre-rendered 3D."
That game was Asmodeus: Tajemný kraj Ruthaniolu, which Dvorský designed with Marek Floryán. He'd combined genres and styles that he liked at that time, "and, surprisingly, it kind of worked," he says. Even so, it took three years to get the game ready for release in 1997 because the pair couldn't settle on a genre. Still, that free-form thinking would soon define Dvorský's approach to his art.
"I was a gamer as a kid but never a hardcore one," he says. "I started with 8-bit games but got seriously hooked later with early PCs, adventure games, and dungeon crawlers. I also read many science-fiction books, listened to death metal records, drew maps and bizarre castles, and spent time camping in the wilderness. I was a fairly typical dark-romantic kid, I guess."
Flash of inspiration
When Dvorský began creating games, he did so in an environment that was very different from his parents, and he admits to being lucky in this regard. The non-violent Velvet Revolution returned Czechoslovakia to a liberal democracy in 1989, ending 41 years of Communist one-party rule. Four years later, the country peacefully split into the Czech Republic and Slovakia.
"It was a very euphoric and hopeful era, and I'm glad I could experience it myself and be part of it," Dvorský says. "The mood is so much darker today; our current prime minister is a former Communist state security agent and the society is torn, hateful, and divided. It was an excellent time to grow and create, that's for sure."
In 1997, Dvorský studied Animation Film at the Academy of Arts, Architecture and Design in Prague. He began work on a game called Samorost for his thesis project. "I wanted to create an experimental interactive project or a website using Photoshop collages from my photos and simple animations made in Flash," he recalls. "I worked quite intuitively, and it was only at the end of the development when I realised I'd created a game. I launched it on the web to make it easily playable for professors and a bunch of my friends. Then it went viral and exploded."
Samorost was short and quirky, gaining Dvorský a grade B. Released for free, it allowed players to control a space gnome who lived on a moss-covered asteroid that resembled a lump of dead wood ('samorost' being a Czech word for items made from such material). By clicking around, gamers could follow a story in which the gnome would visit planets in a rusty old spaceship, solving puzzles. The unusual art style and dreamlike music created an experimental, near meditative experience, which offered no guidance, kept players guessing, yet felt richly rewarding to play.
As one of only a handful of people on the course to use computers for animation, Dvorský sparked much discussion about games as an artistic medium. "Flash was a perfect tool for the creation of Samorost, because it allowed me to do three essential things in just one piece of software," Dvorský explains. "I could make both vector-based, hand-drawn animations and cut-out animations, implement interactivity that required only basic programming skills, and publish the result on the web where it was directly playable without any downloads and installations. Utter magic!"
Samorost's success prompted Dvorský to found Amanita Design in 2003 and start work on a sequel. He earned some money in the meantime by developing browser games for Nike and American rock band The Polyphonic Spree – side projects that provided a financial lifeline and space to experiment.
As before, Dvorský created the backgrounds for Samorost 2 by taking photos of moss and mushrooms. The gameplay and premise were largely the same too, and the sequel retained the organic, rusty look of the original. This time, however, Dvorský enlisted some help. Tomáš Dvořák, who worked with Dvorský at NoSense, produced the music, while another Tomáš Dvořák worked on the sounds. Václav Blín, who Dvorský met at university, helped with the design and animation. "Samorost 2 was our first attempt to create an independent project and make some money out of it so that we wouldn't need to do commissions like Rocketman for Nike. Luckily it worked, so we were able to continue in that direction and make Machinarium."
By now, the studio was beginning to evolve: it was becoming less dominated by Dvorský and more of a collective. "I like to work with people who are talented and who are also nice people, not only to work with but to be friends with," Dvorský says of recruiting and building the studio. "I was naturally picking up people from my social bubble to work on the games at Amanita Design."
Machinarium took three years to develop, and it was the studio's first full game. Players took on the role of a tin can droid called Josef – named after Josef Čapek, who first coined the word 'robot' – and attempted to solve a series of puzzles which later became massively layered to the point of mind-bending agony. "Honestly, I can barely remember that we made the game, it's been so long," laughs Dvorský. "I recollect that we made several mistakes during the development, though – we didn't make any prototypes, and we barely did any playtesting with early builds.
"Generally we just hoped the initial design was good enough. We went ahead and created all the elaborate graphic assets and made them functional, but this intuitive and naive approach worked out surprisingly well in the end."
Those who worked on Machinarium received little remuneration. "We spent very little back then because everyone was trying to make some money on other jobs," Dvorský recalls, adding that the team mostly worked from home and only met up occasionally at a tiny Prague apartment. "The studio only supported a few people, with little money. The whole team believed in future success and felt they could earn it back with their revenue share."
Back to nature
Machinarium went down a storm, winning the Excellence in Visual Art Award at IGF 2009, and selling over four million copies. There had, however, been an issue with piracy. Amanita said as few as five percent of gamers had paid to play Machinarium by August 2010, which could have impacted on future projects. Instead, the studio got on with their next title, Botanicula, in 2012. This game was entrusted to Plachý, who had a background in animated movies. He originally wanted players to be able to choose between one of two paths to determine how the game would progress, but Dvorský encouraged him to evolve the title into a point-and-click adventure. Unlike the far trickier Machinarium, the plan was to make a more accessible game that was nonetheless full of odd characters, collectables, and humorous animation that would encourage gamers to continue exploring. "We were still learning, especially when it came to game design and polishing the gameplay," Dvorský says.
To be a pilgrim
Where most studios grow as their games make money and then hire more staff, Amanita has gone in the opposite direction. Samorost 3, a game five years in the making, was made by just six people; it also used the antiquated Flash platform for its animations, albeit modified for external processing using scripts and other tools.
In Samorost 3 and the games that followed, Amanita's aim was to produce living, breathing worlds that players would want to continue interacting with over and over again. In this respect, it became just as important that gamers would finish what they started, so when Plachý developed the playful comedy-adventure Chuchel, the aim was to incentivise players to press on to the game's conclusion; unlike Machinarium's complex puzzles, later games took a more accessible approach.
"In Chuchel and Pilgrims, the design was such that anybody should be able to finish the game and enjoy it," Dvorský says. "That's why we reward players, even for 'bad' decisions and 'wrong solutions'. We came to care more about the flow of the playthrough, the learning curve and all these things."
More recently, Amanita has also sought to look beyond the point-and-click genre; Creaks, released in July 2020, was the developer's first platform-puzzler. Designed by Radim Jurda and Jan Chlup, it has players explore a vast subterranean mansion with enemies that come to life in the dark, yet change into harmless furniture when light is shone on them. Those enemies – the Creaks of the title – resemble everything from robot canines to jellyfish, and are impeccably animated in a manner typical of Amanita. The hand-painted backgrounds are similarly delightful – these were rendered in acrylic paints and scanned into the computer.
Initially, Creaks flourished independently of Amanita, with Dvorský bringing its creators on board, giving them autonomy, and helping them see the game through to release. "Both the art and gameplay style come from Radim. He's a talented game designer who can invent strictly logical yet elegant and creative puzzles," says Dvorský. "His art style is similar to our older works, and it's strongly influenced by Czech and Eastern European films, art, and book illustration.
"Like Machinarium, we also wanted to emphasise the hand-crafted feeling and make it look like an illustration from an old adventure book. That's why the drawings are created with ink on paper and shaded with watercolour. I believe it creates a certain timeless quality that isn't present in 3D or vector-based 2D graphics."
By bringing in other teams and projects, Amanita has widened its scope, and become more prolific in the process: games are being delivered faster with gaps between releases far smaller than in the studio's earlier years. Yet Amanita's creativity and unique style remain undimmed, and for Dvorský, there are exciting times ahead. "I'm lucky to live in a cool bubble of diverse, intelligent, and generally nice people," he says. "And I'm happy at how things have been working out."