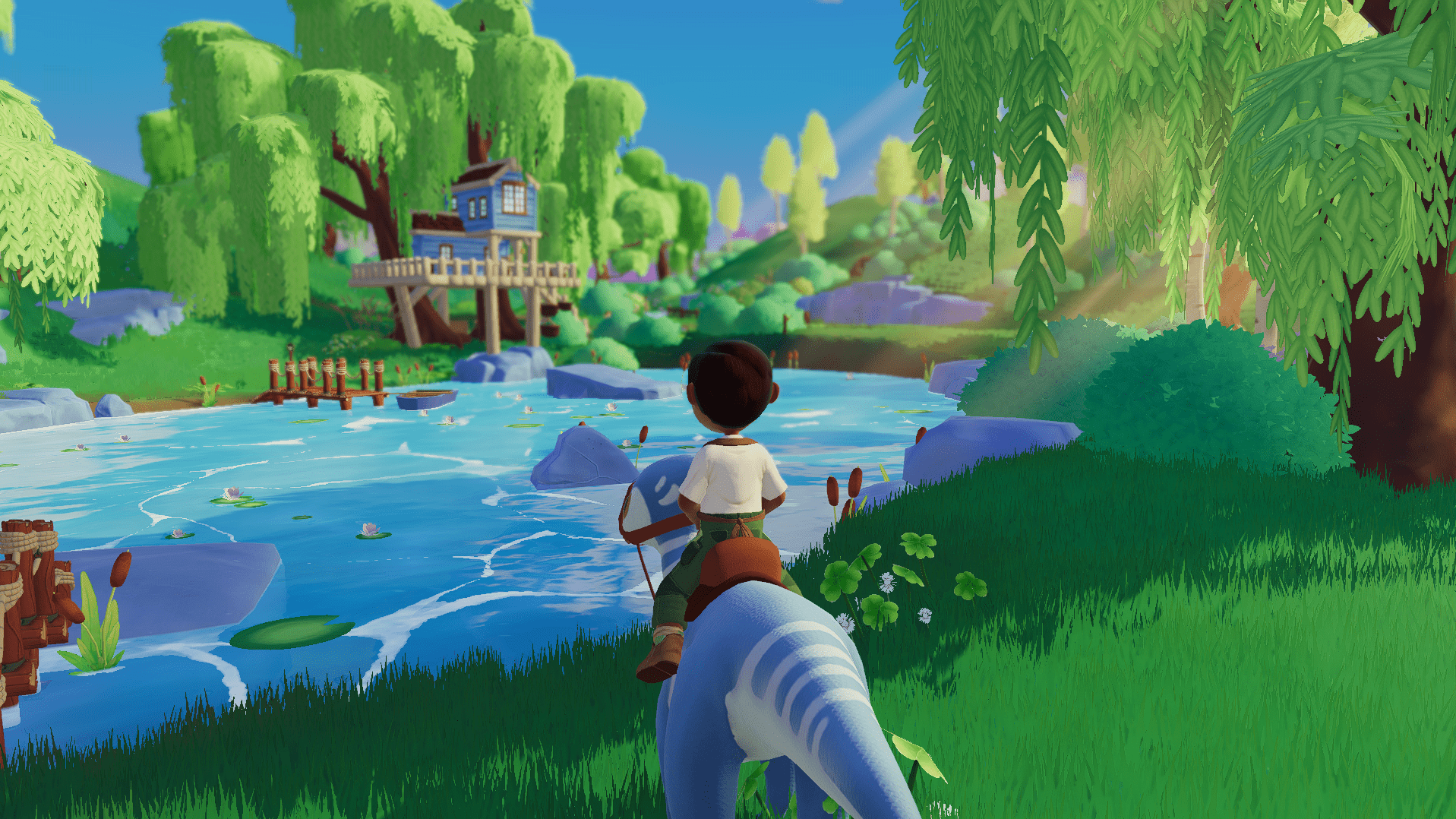 We talk to executive producer Aimee Lingman about making the ultimate cosy dinosaur life sim, Paleo Pines.
---
There's a certain appeal to cosy games, whether it happens to be a farming sim like Stardew Valley or Spirittea, or maybe something more narrative-driven like the gentle interactive dramas, Lake or Dordogne. All provide a welcome break from the stresses of reality, with worlds where problems are solved through cooperation and creativity rather than gigantic firearms.
One game that fits tidily into the cosy genre is surely Paleo Pines, the upcoming life sim that takes little dashes of Story of Seasons, Viva Pinata and Animal Crossing, then throws a menagerie of wide-eyed dinosaurs into the mix. In development at Belfast-based indie developer Italic Pig, Paleo Pines is a farming sim and adventure hybrid where you establish a new home on a leafy island, plant crops, and gradually build up a dinosaur ranch by finding and attracting the various pastel-shaded lizards you'll find as you explore.
It's all thoroughly disarming stuff, aided by lush, round-edged visuals and some charming, sharply-written non-player characters who you can befriend and help out as you go. Paleo Pines' demo, currently available on Steam, points to a life sim that, if it gets the right level of support, could keep building well into the future.
To find out more about the making of Paleo Pines, its dinosaurs and writing, we caught up with executive producer Aimee Lingman, who kindly answered our questions via email. Here's what she had to say…
It's an obvious place to start, but how did Paleo Pines come about?
The original concept for Paleo Pines, and Lucky the Parasaurolophus, originally came to life out of a Game Jam in 2019 from the original creator, Jordan Bradley. The concepts Jordan created struck a chord with so many people and within the Italic Pig studio the game as we know it today began to take shape in those early days of development. Whilst the current game has evolved from the original concept, we've kept to the originally designed core values of dinos, friendship and exploration.
I recall that Pixar used Montana as a real-world inspiration for its film, The Good Dinosaur. Did you look at any real-world environments when you designed Veridian Valley and the rest of the island?
We have a very diverse team that grew up around the world and I think that each person on the team has added an element from their childhood into the environments in some way. This has been done in subtle ways, such as recreating a path that one of the environment artists would have traversed in their youth in the Netherland to the more obvious indicators that are clearly based on a childhood lived in Northern Ireland. Other environmental elements are purely based on our imagination and a desire to make the environments as interesting as possible- the area that comes to mind first is Ariacotta Canyon.
We set out to take a desert environment and make it feel as lush and alive as our Dapplewood Forest. I think we've achieved this, and the players are in for a real treat as they explore this region. My personal litmus test for whether we've achieved the standard we set out for is whether I am happy just sitting on a bench in that region and soaking up the atmosphere and the dinos playing in the wild. If this passive experience is rewarding, then we've got a brilliant base upon which to grow the rest of the gameplay.
Games like Animal Crossing and Harvest Moon tend to be fairly enclosed. Would you say Paleo Pines is more open world than those? How large is the island setting, roughly?
Paleo Pines has three key regions: Veridian Valley, Ariacotta Canyon and Dapplewood, which is the forested region. Whilst each of these is a significant size and indeed open world, the feeling you get in these regions is similar to the way we all would have explored in our childhoods – because each area offers multiple ways of exploring and opportunities for delightful discoveries, the exact size of a region matters less than what you can experience there.
I love that you hired a palaeontologist to help work on the game. How important was it to get an element of authenticity in Paleo Pines? Have they provided you with useful details you might otherwise have missed?
We've loved working with Natalia Jagielska, who at first consulted us on the anatomy and sounds of the dinosaurs and is now providing additional reviews, artwork, and factual content as we move towards launch. It was always a core aim to ensure that although the dinos in Paleo Pines are stylised, they are also factually accurate to a large degree.
Natalia was so valuable in ensuring that we stayed on track with this accuracy and was always there to turn to if our animators or modellers needed a second opinion on a new design or movement.
How many dinosaurs are there in the game? I think I counted 27 in your online dino journal. Do you think you'd add more in future updates?
At the moment, we have 29 confirmed dinosaurs and 30 if you count the wuerhosaurus seen in our latest trailer but not yet officially announced within our Dino Journal. In game, there are colour and pattern variations including rare and ultra-rare dinos – some of which you will only encounter during certain weather events or seasons. There will be more dinos in the full release version, but we wanted to keep some of these as a surprise!
Different types of dinosaurs can interact with one another in the wild. What sort of interactions can we expect? Would a larger dinosaur attack a smaller one, for example?
First off, there is absolutely no attacking of any kind in Paleo Pines. We're fond of saying that it's survival of the kindness in this world so even though there are herbivores and carnivores and dinos of all sizes, they do live in harmony. Saying that, we have noticed that their dino personalities are definitely on show with some dinos getting very attached to one another and even a bit of dino jealously if the player pays too much attention to other dinos! Lucky in particular seems to have a bit of a jealous personality!
How important are NPCs, and how are you making them feel lively and human-seeming, rather than mechanical quest/item-givers?
We are lucky enough to have an experienced narrative writer leading our writing team in the form of Kevin Beimers (Beneath a Steel Sky, Hector, Schrodinger's Cat) who is one of the most talented writers in the industry at ensuring that there is a consistent voice for the NPCs throughout the adventure.
Our team's key talent lies in the subtle – ensuring that each NPC's personality comes across not in a way that shouts, but in a way that is clearly their own – whether that's the modesty of Marlo or the cheekiness of Granny Agami.
What's been the biggest challenge on the project so far, would you say?
We've been on quite the journey with Paleo Pines as we've been in production for over three years including a pandemic! Most recently, our biggest challenge has been choosing where to focus our resources with a small development team. There are so many things we want to do with this game from character customisation options to new dino colors, but we also want to make sure that first and foremost the players have a fun and seamless experience. Striking that perfect balance can be difficult as many indie studios know, but we are proud of the work we've been able to accomplish so far and excited to share it!
Are there any ideas that you wanted to implement but couldn't – or might introduce at a later date, perhaps?
I could pose this question to every person on our development team and get an entirely different answer of what they each wish they could have had the time to get into Paleo Pines. The responses would range from baby dinos to swimmers to entire regions that we concepted but were unfeasible with the time and budget we had. Personally, my request would be smaller. I would like to see more customisable options that are inclusionary – vitiligo, glasses, facial hair, birthmarks, and such. I think these are on my wish list because we were so close to getting them in!
How important was an event like Steam Next Fest, and getting a demo into the hands of players, as an indie developer?
I think the Steam Next Fest, like any other promotional event, becomes what you make of it. At Italic Pig, we are trying to go the extra ten miles with every opportunity, and I feel as though we did this with Next Fest. For instance, we didn't just broadcast one dev gameplay, we broadcast 12 hours of dev gameplay interspersed with content creators playing the game for 24/7 for the duration of the festival.
We didn't just promote our demo with a post or two saying we were at the Next Fest; we launched a week-long Festival of Dinos as a festival within a festival and provided never-before seen content on a daily basis alongside a festival competition. We turned what would have been an okay event into an absolute banger of a time for everyone following along and the audience responded brilliantly.
How have you found the feedback from players so far? Have their comments been useful?
We've had over 40,000 players play our Demo since the Next Festival and we have been absolutely blown away by the response. It's the first time that the outside world has really experienced the world of Paleo Pines and the reaction from the players to the demo has been the biggest validation we could have asked for. They are not just getting it, they are falling in love with the world, the dinos and the NPCs. The feedback we've gotten has been brilliant for bug fixing and preparing us for the final launch in September – both in the practical sense of understanding the support the fans will need but also in gaining a greater sense of all that Paleo Pines could become.
Finally, what's left for you to do before release, and do you have any post-launch plans you can share?
So much! The development team is working steadily towards submissions for consoles and ensuring that the release is solid across all platforms. Our community support team is growing in numbers to prepare for a greater influx of fans across channels and our marketing team is full speed now sharing content and engaging with fans around the world. Just this week, we've launched the first Paleo Pines merchandise shop and next month we'll have a Lucky Plushie campaign with Makeship. As for the future of Paleo Pines, that will depend entirely on what happens in September, but it is the desire of the entire dev team to have the opportunity to continue to grow this world for many years to come.
Paleo Pines is out on 26 September 2023 for PC via Steam, Nintendo Switch, PS4, PS5, Xbox One, and Xbox Series X/S.