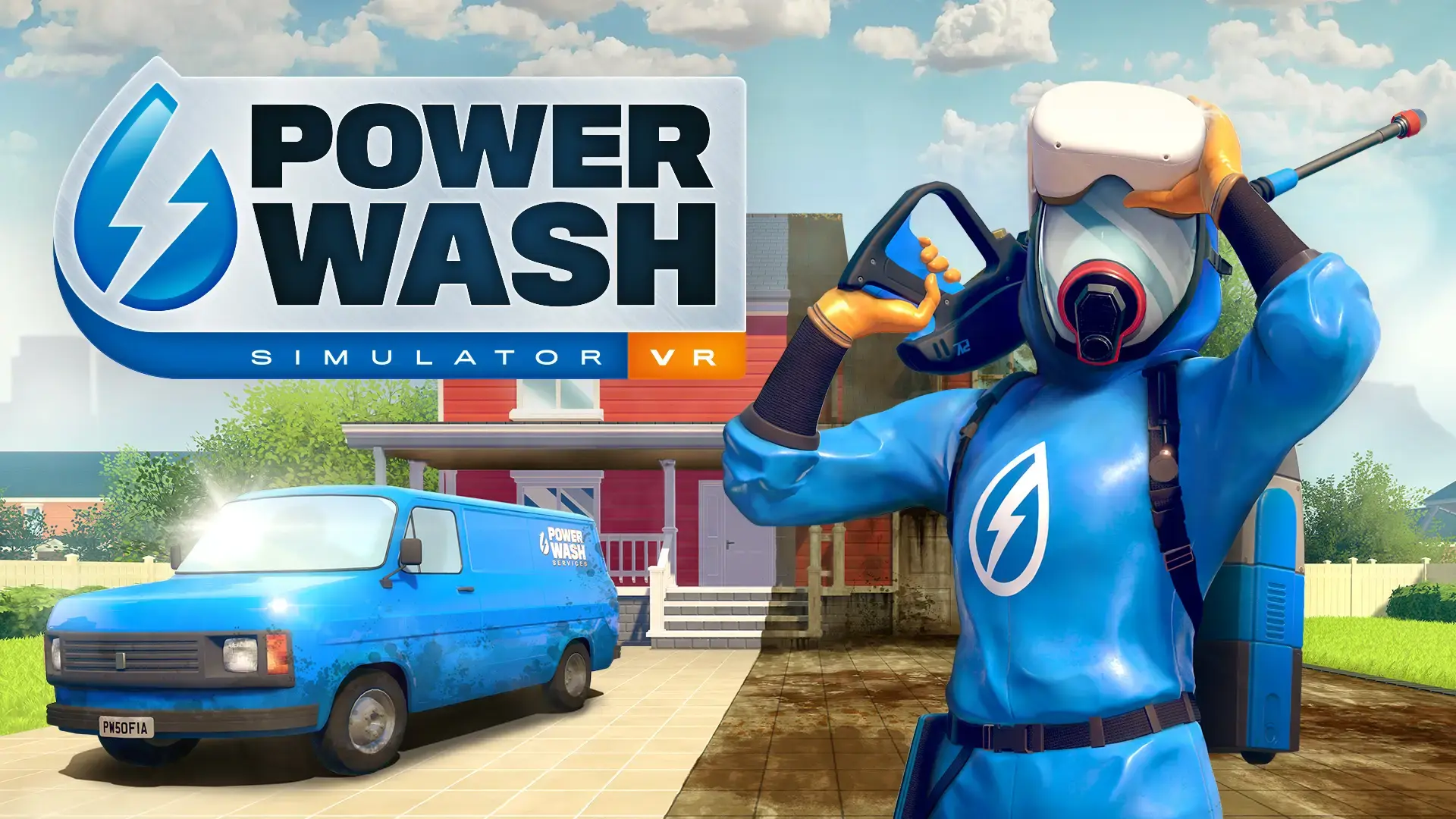 Surprise hit PowerWash Simulator turns out to be a perfect fit for VR. We go hands-on with FuturLab's soothing wash-em-up…
---
The wonderful thing about video games these days is that, beyond the big-budget blockbusters, you never know what's going to become a hit. As it turned out, last year's PowerWash Simulator, a game about blasting away dirt and grime off from all manner of objects and environments, came out of early access in the summer and sold over seven million copies as of last month.
In some respects, PowerWash Simulator is similar to the tidying up of Tetris or another breakout indie hit, Unpacking. But the soothing sound of the game's pressure washer also seems to have resonated with players looking for something more relaxing than, say, killing things, saving the world, or confronting hard-hitting emotional truths.
More to the point, it makes sense that PowerWash Simulator should be ported to VR, as it makes its way to Meta Quest later this year. The VR community had been requesting a port almost since launch – and so FuturLab has duly delivered, with VR veteran nDreams publishing. I hadn't played the original flatscreen version before, but once I put on a headset to try out a preview build, I fully understood the hype.
"We've known FuturLab for a while," says nDreams CEO Patrick O'Luanaigh, "and it's one of those games where it's brilliant in 2D. But when you think of it, it's first-person and you're wielding your powerwasher, and it just makes sense in VR. I think as soon as they put together a demo of it in VR, it worked nicely. We've been approached about lots of 2D games that wouldn't make sense for VR, but this one, right away, you go, 'yeah, it's absolutely going to work'."
For the uninitiated, PowerWash Simulator VR puts you in the fictional and aptly named British county town of Muckingham, where you're tasked with helping its residents clean up – a concept that seems to have been alien to them until now. I start with a dirty van in a garage, and within seconds of holding the Quest controller like a powerwasher – where you can hold the back trigger to manually spray your high-pressured water or tap the side trigger for auto-spray – it's obvious why this works for VR so well.
The van's covered from top to bottom in filth, but there's something instantly satisfying about washing it away with the soothing jet-stream of water, and having that freedom of movement in VR means I find myself instinctively peering close up to make sure I haven't missed a spot. Fortunately, the game tracks this all nicely as the van's made up of different parts, meaning you'll be alerted whenever you've fully cleaned a specific section with a pleasant-sounding 'Ding'. Each noise sends a shot of dopamine straight to the brain.
Of course, it's not all that straightforward, as some stains are a lot more stubborn. Even as I hold the washer down on a stain for a while, I get no results – but this is where fitting the washer with different parts, such as another nozzle that increases the pressure and focus comes in. This can be done by a button tap or via an onscreen radial wheel. There's also an even more gamey-but-useful feature where, by holding a button, you'll automatically see unfinished surfaces glowing, almost as if the dirt is radioactive.
The challenge also increases through scale, so while the most I had to do with the van was teleport on top of it to make sure the top was also clean, jobs quickly move to locations such as a neighbour's back garden that quickly had me questioning their life choices. Nonetheless, since there's no timer to rush you, you can do the washing at your own pace, picking a spot you want to start off with. I tried to break each job down into smaller, more manageable tasks based on proximity, so I'd concentrate on a fence, say, before moving onto individual patio steps.
There's both an allure and danger here, though, as I can imagine hours completely passing me by as I get lost in the task of cleaning. Other environments from the base game include a mini golf course and skate park (there are apparently no plans to port the original game's DLC crossovers, such as the Tomb Raider mansion, to VR).
"It's such a relaxing mindfulness experience," says nDreams' VP of publishing David Corless, "and there's something about doing a menial task but seeing immediate results, and then the feeling you get from actually completing something – it's lovely."
Corless also refers to one of the company's core pillars about what makes a great VR experience: emotional amplification. In the early days of VR, the easiest example of this was fear, which meant a lot of VR horror, but now players and developers alike are understanding that mindfulness is an equally, if not more important, feeling to have in VR. Says Cortless, "It's even more relaxing!"
About the only thing disturbing that zen feeling, however, were the messages that would come up on my in-game smartwatch. Said messages came from other residents wanting to give me more jobs, thus providing me with an ever escalating in-tray that sparks a hint of the kind of real-world stress I'd rather be escaping from.
There's also a minor bone to pick with the controls. While PowerWash Simulator VR caters for left-handed players such as myself, I noticed that activating this would flip the stick controls for controlling movement and turning. Hopefully, the final build will allow for some customisation because even as a lefty, I'm far too hardwired into using the left stick for moving and the right stick to control the camera.
An exact release date has yet to be confirmed for PowerWash Simulator VR, nor is there any news on whether it will be coming to other VR platforms. A release that coincides with the game's first anniversary in July would be a logical step, though. That said, FuturLab and nDreams might be doing us all a favour by waiting until the summer's over to release their VR washing experience. That way, we won't have an excuse not to get on with our real-life outdoor chores while the sun's still shining.
Read more: Job simulators – games that find magic in the mundane