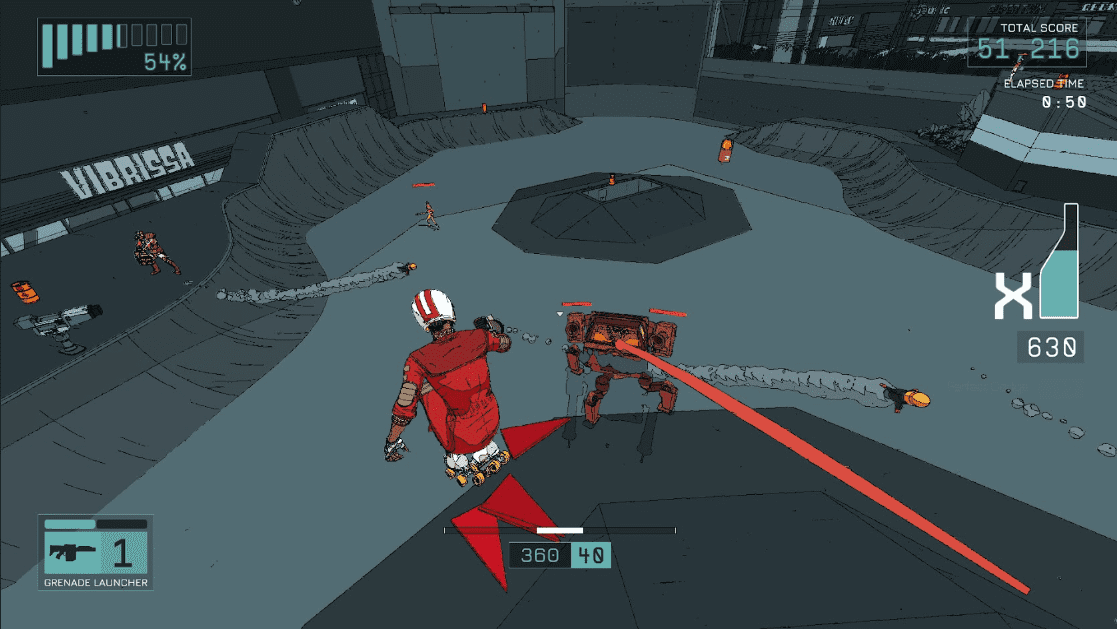 Roll7 serve up a truly satisfying game in the shape of the retro-futurist Rollerdrome. Here's Aaron's review…
---
Momentum is king in the eponymous, near-future blood sport Kara Hassan finds herself taking part in. It's there each time she forward-flips into a new arena, performs the cool tricks needed to refill her ammo belt, and skirts a rail or rides a wall in the hopes of gaining a better vantage point on her next enemy target. This combination of factors quickly sees Rollerdrome evolve into a delicate dance of dodging, shooting, and grinding in the best way; the pursuit of improving on them also rendering it a dangerously addictive endeavour. And yet, having already near-perfected the act of skating on a 2D plane with OlliOlli World earlier this year, it's no surprise that developer Roll7 has done it again, bringing such high-flying antics into the third dimension with incredible ease.
Set in the year 2030, at a time when civilisation is advised to stay indoors and stay distracted by different bouts of mega-corp-funded entertainment, the most popular amongst them is Rollerdrome. Becoming champion in this shooter-skater hybrid means killing enough enemies – known in-universe as "house players" – to advance as stylishly and skilfully as possible. Done correctly, it's enough to make you feel like an unstoppable force, and much of this comes from how the game's mechanics always feel they're working for you instead of against you.
Genre Third-person shooter, sports action | Format PC (tested)  /  PS4  /  PS5 | Developer Roll7 | Publisher Private Division (PC), Take-Two Interactive (console) | Price £24.99 | Release Out now
Working your way from the bottom to the top of the league, every round of Rollerdrome begins with you simply getting a lay of the land. Because while your objective to decimate a predetermined number of enemy waves always stays the same, how you navigate and use each fresh environment to your advantage proves equally as important. If you're skate-shooting through a mall, for instance, it can often pay to grind up to the upper levels and take out house players from above. Similarly, in the handful of arenas that take place in the snow, skirting across the skylift that adjoins its two zones can be essential for maintaining a good sense of flow, always staying stocked with enough ammo, and keeping your score multiplier ticking up.
It might sound complex, but in practice, ascending the Rollerdrome ranks is far from it. Certain OlliOlli staples crossing over – such as the in-game tricktionary and each stage's specific challenges – sands down most rough edges, acting as a shorthand to get familiar players up and running while being understandable for newcomers to enjoy (and potentially even master). With only a dozen or so unique matches to complete, most will be done relatively quickly, but with the aforementioned challenges, gradual rollout of new weapons and enemy types, and an additional campaign that ups the difficulty by rearranging elements, Rollerdrome offers plenty of reasons to brush up on your skate skills.
Highlight
Inspired by retro-futurist sci-fi cinema from the 1970s and 1980s‭, ‬Rollerdrome‭ ‬combines this aesthetic and vibe with cel-shaded linework and bold colours to really draw you into its world‭. ‬The style's simplicity makes each arena easy to read‭, ‬which is essential when you're rolling around‭, ‬shooting‭, ‬and performing tricks at high speed‭.‬
Verdict
A short yet oh-so-sweet spin on the skating game genre‭, ‬packed with fluid action that feels rewarding for all skill levels‭. ‬
82%