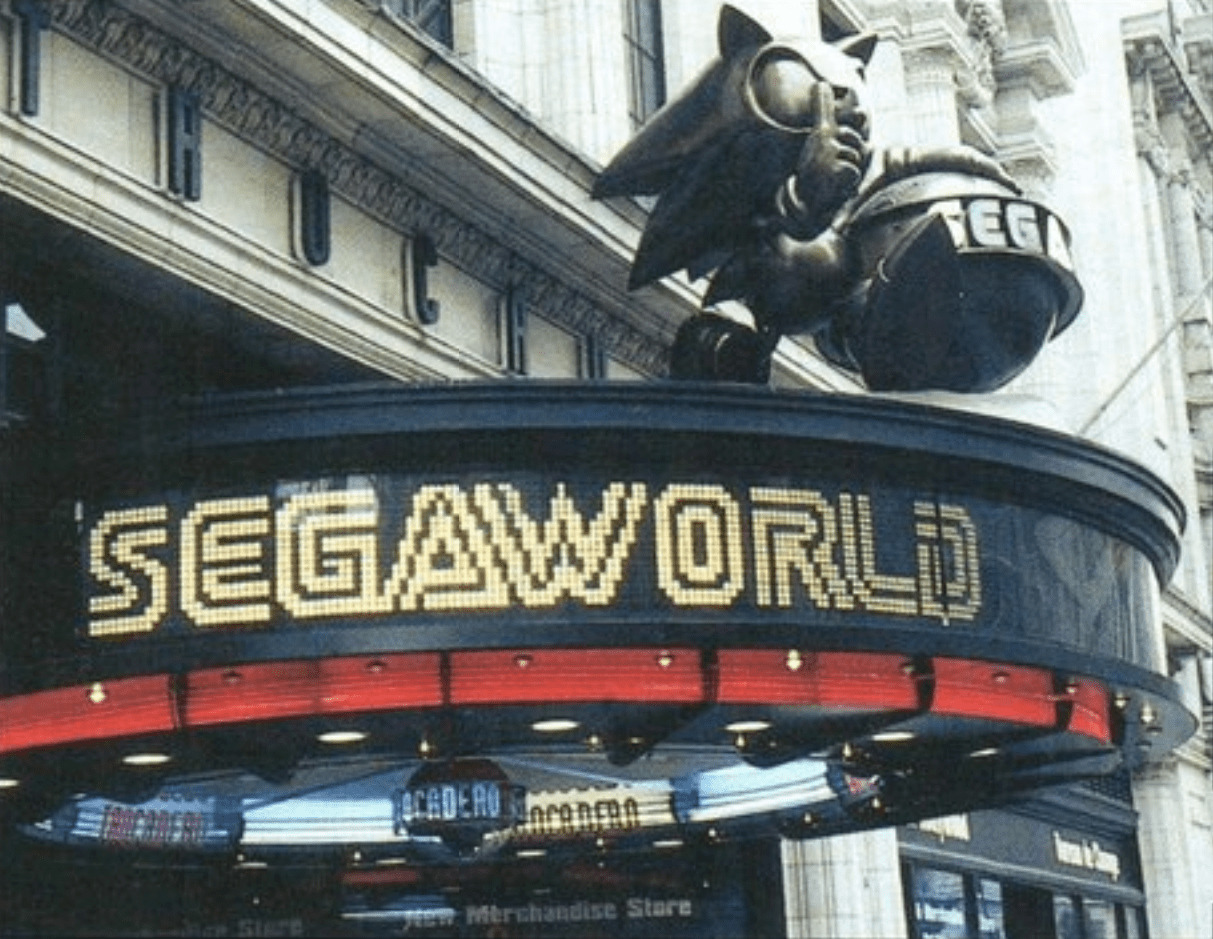 On the 27th anniversary of its opening, Alan Wen remembers Sega's futuristic indoor theme park, SegaWorld London, and an old childhood friendship.
---
Saturday, 7 September in 1996 was a momentous date in pop culture. In the UK, the Spice Girls were at their seventh consecutive week at the top of the music charts with 'Wannabe'. And SegaWorld London had its grand public opening at the Trocadero in Piccadilly Circus, a historical day that, as an 11 year-old Sonic-obsessed Sega fanboy, I had the pleasure of going to.
I went with my best friend, whose dad took us, back when driving into Central London was still the norm, and we waited outside in a long queue on Shaftesbury Avenue to get in. My childhood had often involved family trips into Central London to yum cha in Chinatown, but my personal highlight was always getting to visit the Trocadero nearby where its lower floors were home to the Funland arcade, so I was familiar with the place already.
Still, I'd never been there so early with such feverish anticipation to see a whopping seven floors of the building transformed into a Sega fanboy's idea of paradise. There was the electronic SegaWorld sign outside, with its bronze Sonic statue sitting on top. The huge 'rocket escalator' you rode from the entrance all the way to the top of the venue – it was as if you were being transported into the future. The second Sonic statue (with a spinning globe on its finger) standing in the reception area.
In retrospect, having to pay a theme park admission price for what amounted to some fairly underwhelming indoor and VR rides that couldn't compete with the thrills of roller coasters (or indeed the Pepsi Max Drop that was introduced in the Trocadero a couple years later) was a bit of a rip-off. This wasn't helped by the fact many rides, some of which only seated up to eight people at a time, had long waiting times, or that SegaWorld's main attraction were tons of arcade games, which, being arcade machines, all required paying for separately. But as kids, we soaked it all up, the long wait times all the better reason to make a complete day of it, as we slowly worked our way down each of the themed floors, like the dimly lit gritty arcade-focused Combat Zone and the colourful kid-friendly Carnival, which also house one of two marked-up McDonald's.
I spent months prior to the opening reading whatever I could about SegaWorld in Fleetway's fortnightly Sonic the Comic, which heavily promoted it at the time and I think even provided some of the park's concepts. I lapped up all the rides I went on – be it the weird VR space mission training starring Michael Jackson, to the bizarre opening attraction Beast in Darkness that's basically just walking around in a dark corridor while a bunch of audio-sensory tricks try to make you jump. Nonetheless, I strongly recall that even I couldn't hide disappointment over Mad Bazooka, a sort of shooting game bolted onto dodgems that was incredibly naff.
Sonic's back in action! 🎉

The iconic SEGAWORLD London statue is making a comeback after two decades, fully restored to its former glory. Don't miss out, visit our #gamescom booth this week to witness this piece of nostalgia up close! pic.twitter.com/CPIK5crJy3

— SEGA (@SEGA) August 21, 2023
Ultimately, it was the themes of each floor that made it for us. Even if we couldn't afford to play everything, it was a thrill to see the bleeding edge of arcade games, where Sega was still king at that point. SegaWorld was the first place in the UK where you could play Virtua Fighter 3, which looked leagues ahead of everything else at the time on Model 3 arcade hardware. The Race Track floor was a particular highlight, as it was one of the few places that had the space to accommodate the full eight-player set-up for Daytona USA, which blew my socks off compared to the version I was playing at home on the Sega Saturn. And of course, being total Sonic heads, this was the one place you could go to actually play Sonic the Fighters and SegaSonic the Hedgehog featuring the blue blur along with Mighty the Armadillo and Ray the Flying Squirrel – games that were almost apocryphal and I'd only previously glimpsed in magazines.
Yet there's a poignancy looking back on this day, because little did I know at the time that it was also the beginning of the end of many things. Being such an insulated Sega fanboy, with a best mate who was also into Sega, I couldn't see that the Saturn would mark the start of a decline that the Dreamcast would fail to salvage. Similarly, mismanagement of SegaWorld, along with its bad press, meant that the park's operations would be short-lived, with the venue being taken over by Funland just three years later – though it was really just there to oversee the decline of the arcade as a whole.
Read more: Arcade perfect | Running a modern day gaming emporium
Despite these issues, SegaWorld remained a place I'd regularly visit along with the usual family outings to Central London, especially once it became free to enter. It was the place to go to play the latest Sega arcade games, which was where I got my first taste of Naomi/Dreamcast classics Crazy Taxi and Samba de Amigo.
More importantly, I look back on SegaWorld's opening as a kind of last hurrah with my best friend, the person who got me into Sonic to the point I was devouring the games, comics, cartoons, and even had the blue hedgehog on a duvet. This was just as we were beginning a new school year, except we'd be going to different secondary schools, split up because of a last-minute offer from the grammar school my parents wanted me to go to – the Saturn was basically their way of sweetening the pill.
Sure, we could've still been friends outside of school, but I'd always been the type of person to lose touch with people not within proximity, all the more so in a pre-mobile/internet era. We did still catch up again on a few occasions as we grew up to discover we still had similar interests in both games and films, though he naturally had his own thing going on in completely new social circles. The last time we caught up was over a decade ago when we were somewhat polar opposites – he'd joined the police while I was getting involved in a bunch of social justice issues involving protests (I hadn't quite expected him to go from liking the blue blur to joining the boys in blue) – so I wondered whether we would have any reason to speak again.
So it was the news of the restoration of the SegaWorld Sonic statue – the one that once stood in the venue's reception area – that didn't just rekindle my memories of that opening day, but curiosity as to what my dear old school friend had been up to, and if he would still remember this trip from over a quarter of a century ago. Fortunately, he was still in my phone's contacts all this time. It was an incredible moment being able to casually reconnect in just a few messages. He's a dad now, with a daughter and another on the way, relocated to Yorkshire, and also got back into his passion for film by re-training in VFX.
When I ask him about SegaWorld, he tells me he remembers it fondly: "I think it's one of those things that was probably crap, but being a kid I thought everything was amazing if Sonic was involved!"
Hopefully next time he's in London, we'll have a couple pints to properly catch up. But after all these years, it's hard to completely put into words just how much it's meant to be able to rekindle one of my earliest friendships. All it took was seeing a dirty, abandoned Sonic statue restored to its former glory to get me to pick up the phone. Sega Ages, indeed.