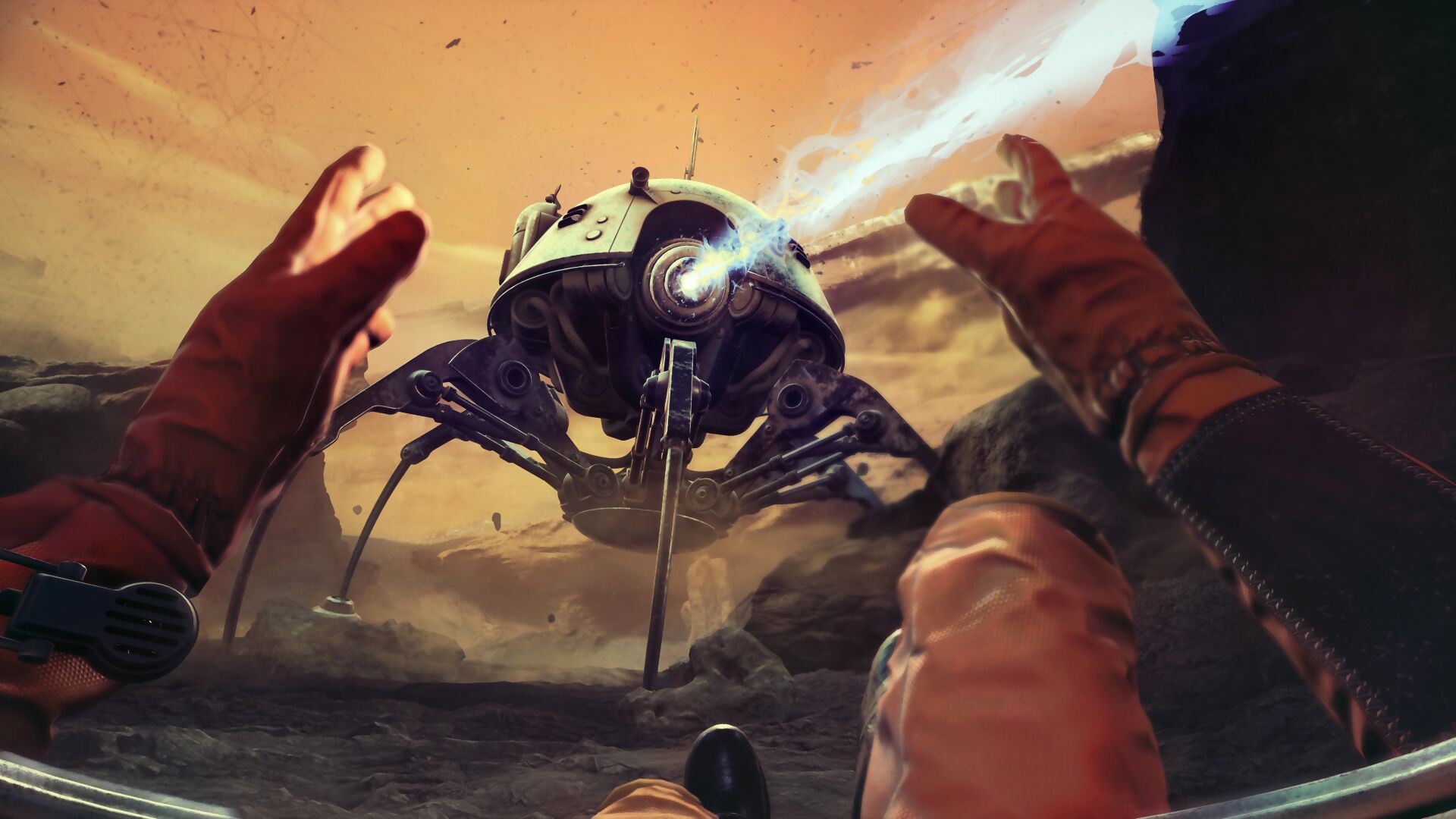 The Invincible is a sci-fi game adventure with an eye-catching pedigree. We chat to its team about its origins as a Stanislaw Lem novel, its debt to Firewatch, and more.
---
If you're a nerd for video games adapted from hardcore sci-fi novels, the last couple of years have been a real treat. The prime example is, of course, ZA/UM's award-winning debut Disco Elysium. The indie darling RPG was based on lead designer Robert Kurvitz's first and only novel, Sacred And Terrible Air, which wasn't translated to English up until last week. It's an excellent read, especially if you're familiar with Disco Elysium's post-war, politically-charged world. But when it was first published in 2013, the book flopped. It barely sold 1,000 copies, and inspired Kurvitz to search for answers at the bottom of a bottle.
The situation with Starward Industries' first-person sci-fi adventure The Invincible is a bit different, though. It's inspired by the 1964 sci-fi novel of the same name by Stanislaw Lem, best known for his 1961 novel Solaris (adapted for the screen several times, most famously by celebrated filmmaker Andrei Tarkovsky). 
The game, meanwhile, is developed by Starward Industries – a team of veterans whose fingerprints can be found on such games as Dying Light, Dead Island, and Cyberpunk 2077. The Invincible is the studio's debut, and expectations are high, particularly when you consider that its director, Marek Markuszewski, was previously the producer of The Witcher 3: Blood and Wine, also adapted from a book by a beloved Polish author. "It's a great pressure," Markuszewski admits, "and it's one of the reasons why we invented new characters and new ships."
It wasn't just fan expectations that inspired Markuszewski and the team to steer away from a "one-to-one adaptation" of the novel, he tells us, but also the chance to expand on Lem's interstellar vision. "We wanted to add additional value to people who read the book. If they start to play the game, they won't know exactly what will happen. Even if they know the mystery surrounding The Invincible, it will be presented in a very fresh way."
After getting our hands on The Invincible's demo, which premiered at GDC this April (and for a limited time was available on Steam), we can confirm that Markuszewski isn't bluffing. Set in the rocky world of Regis III, a desolate planet picked out in shades of Mars-like red, The Invincible throws the player some 40 to 50 minutes into the story's events. Our amnesiac heroine, Dr. Yasna, a new character created by Starward, is trying her best to make sense of her situation, with most of her crew having gone AWOL.
As we progress, tracker in hand, and with pilot colleague Novik chattering in her ear, our protagonist approaches what looks like an abandoned campsite. Then we spot another moving object: a chrome-domed, drain pipe-legged 'androbot' which gives a strong retro-futurist vibe akin to Fallout. Turns out our tin buddy is non-responsive due to a damaged satellite. It's a situation that we can fix or ignore, a choice that will send us on a path towards one of 11 possible, "very different" endings.
"It was an important thing for us when we were making The Invincible – not to have the final [choices]," explains Markuszewski. "Sure, some decisions have a bigger impact than the rest, but it mostly depends on how you play."
Markuszewski adds that, while The Invincible remains a narrative-heavy game, there'll also be hints of action and even stealth in places. "We have some combat," he says, "but it's very 'directed.' It's not like you have many opportunities where you actually need to sneak."
Admittedly, in the 20-minute demo we got to play, the action was scarce, just like the number of living human beings we got to meet on our journey. There's Dr Krauta, one of Yasna's comrades, who we find hiding in a space tent. But just like the malfunctioning androbot, he also turns out to be in a deep stupor – a strange spell that seems to befall most Regis III visitors – prompting players to choose how they describe the situation to Novik.
If all of this bears more than a slight resemblance to Firewatch, Campo Santo's 2016 masterpiece which set the standard for first-person narrative-driven games, it's a comparison Starward Industries' proudly accepts. "One journalist told me, 'Don't compare yourself to Firewatch because you're way better,'" Maciej Dobrowolski, Starward Industries' chief marketing officer, tells us. "This is a huge compliment for us, because Firewatch was one of the main inspirations for the game."
Indeed, the resemblance couldn't be more noticeable, with its walky-talky dialogue (minus the banter) and picturesque landscape that you can't help but take screenshots of. Just like Firewatch's earthly protagonist, Yasna will also get out of breath if she runs too far, causing her helmet to steam up. Still, The Invincible's debt to Firewatch is welcome, particularly given Campo Santo's abandoned follow-up, In The Valley Of Gods, left a gaping hole in our hearts.
Alien: Isolation was another big inspiration for Starward. This becomes evident as soon as you get your hands on a range of retro-futuristic devices, particularly the homing tracker mentioned earlier which, Markuszewski says, once "filled almost the whole screen," before it got a major redesign. According to the team, the gadgets we see in the game were designed with strict authenticity to the limitations – or technological advancements – set by the era in which Lem wrote his novels. It's a retro-futurist aesthetic that Alien: Isolation's developers were later celebrated for, too.
"We [consulted] with scientists to keep it [accurate], because that's what Lem did while writing his books," Markuszewski explains. "It was important for us to maintain the serious tone [of the novel]. So as we create the world, we really try to make it believable."
With players controlling a sole astronaut stuck in a deserted wasteland, The Invincible's lonely tone is underlined by the synth-led score of Brunon Lubas, previously heard on Layers of Fear 2. By turns evoking the otherworldly awe and a possible extraterrestrial threat, it recalls Stranger Things' theme song and Clint Mansell's haunting soundtrack for Duncan Jones' film, Moon. 
Unusually, though, Lubas' main influences don't all come from the big screen. "I was particularly inspired by the early electronic music experiments, like what the Polish Radio Experimental Studio was making at the time," Lubas says. "It was completely mind-blowing for me that in the 50s and 60s, people were experimenting with electronic music like that," Lubas says, citing Boards of Canada, John Carpenter and The Legend of Zelda: Breath of the Wild among other influences.
As proven by such exploration games as JETT: The Far Shore and Outer Wilds, the soundtrack is an integral part of the experience. Learning that Lubas was involved in the production since its early days – although "not the pre-production days", he's quick to add – leaves us confident that The Invincible is in the right hands. 
"I guess it's the first time that I feel like the development of the project is so personal to me, because I already live and breathe these kinds of sounds," says Lubas. 
After releasing a five-minute preview of The Invincible's music on Starward Industries' Youtube channel in 2020, the same day the game was announced, Lubas' work was met with nothing but praise. "Hope the whole game has this track's vibe," one comment reads.
After we left Novik to deal with the frozen robot, but not before we marvelled at the alien fish our spaced-out doctor caught and stored in a pod (it's still breathing, don't worry), we set our sights on an eerie cave nearby, hoping to find our missing crewmates. Instead, we found branching pathways, a few of them requiring Yasna to drag herself up and over some boulders, which she does without breaking a sweat. It may sound weird, considering it's just bare rocks we're talking about, but the intense lighting and the deep shadows make every crevice look breathtaking.
That said, we're talking about a next-gen game – one of the first to showcase the power of Unreal Engine 5. Or so we thought. "It's always nice to hear that people actually think that," Markuszewski says, revealing that The Invincibleactually runs on a UE4 and not its newer, 10 billion polygon-bearing cousin. We're impressed. "While it looks like it could be on Unreal Engine 5, why move?," the director adds. Touché.
With a copy of Lem's The Invincible on our shelf, ready to be devoured before the game is out this year – hopefully before the weather turns cold again – I was eager to learn why the studio chose this novel and not, say, Eden, another one of Lem's sci-fi tales. "The strange thing about Lem's books is that they had some film adaptations, but no video game ones," Markuszewski argues. "It was almost too strange. Talking about the books, we had a few in mind, but The Invincible stood out as the best pick for potential visuals and scenes." 
Unsurprisingly, the other novels the studio looked at remain undisclosed, with Markuszewski hinting that there's "still potential" there for "future games."
After the demo comes to its dramatic conclusion, we can't say that The Invincible is necessarily "better than Firewatch" just yet. But with an incredibly detailed setting and convincing dialogue, the potential here is as great as Regis III's atmosphere is hostile. Here's hoping the finished game lives up to the brilliance of its source novel.
The Invincible is due for release in 2023 for PC  (Steam, GOG, Epic Games store), PlayStation 5 and Xbox Series X/S.