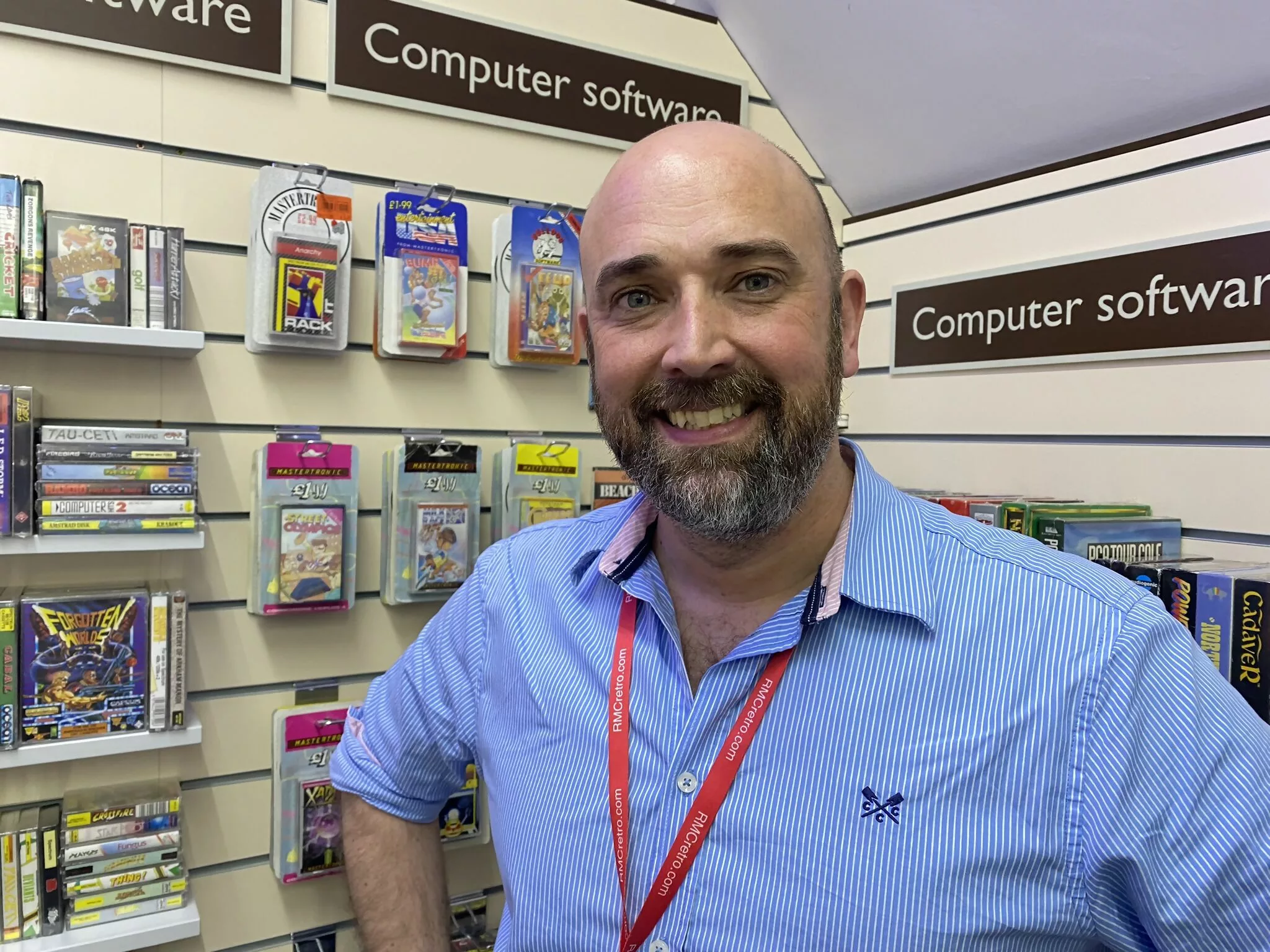 Deep in Gloucestershire lies The Cave, a remarkable retro-computing museum featuring a loving reproduction of a 1980s WH Smith. We chat to its creator, Neil Thomas.
---
The approach to The Cave is stunning. After diving off the M5, I wound my way down the country lanes of Gloucestershire in my little car, plunging through sun-dappled holloways, and enjoying beautiful vistas of rolling green hills in places where the trees thinned.
Eventually I reached the tiny village of Chalford down switchback curves, heading past the picturesque church to a grand old stone mill on the banks of the River Frome, the frankly gorgeous home of The Cave. It's hardly the kind of place you'd normally expect to find a retro gaming museum. But I immediately wished they were all like this.
The Cave is a "celebration of old technology, computers, consoles and gaming" that has been painstakingly put together by YouTuber Neil Thomas over the course of the past two and a bit years. Neil began his channel in earnest in 2017, back when it was named 'Retro Man Cave', and he quickly gathered an audience of like-minded lovers of retro computing. He says that the YouTube channel came about as a way to connect with people who shared his hobby. "I had plenty of friends that were into football and going down the pub and drinking, but not many that were excited about Amiga 500s."
In fact, a video about restoring an Amiga 500 was the real breakthrough for the channel, attracting around 10,000 subscribers in one month, and Neil has since managed to build an audience of more than 156,000 subscribers, at the same time as securing income from Patreon and sponsors that allows him to indulge his retro-gaming passion full time.
He rebranded the channel to RMC a few years ago after worrying that the original title made it sound like it was exclusively for men. But the really big change came at the end of 2020, when Neil moved his YouTube studio out of a small basement office and into this huge 18th-century mill in Chalford. "I saw the potential for it to be a museum," says Neil. "The response from the YouTube audience was great, everyone stepped up and said, 'OK, we want to support you doing this'. So that was really nice to see. It felt instantly like I'd made the right decision." With support from his channel's patrons, he has since gradually filled an entire floor of the mill with all sorts of retro computers, consoles, handhelds, gaming magazines and various other ephemera, and in early 2022, The Cave finally opened to the public.
It's a magical space if you're into video-game history. Here's a row of shelves with every single Sinclair computer. Over there is a corner dedicated to electronic handheld games, from Game & Watch to Tomytronic 3D, and even the little-remembered Barcode Battler. One part of the room is dedicated to the history of the Apple Mac. Another houses an enviable collection of rare and obscure consoles, from the Panasonic Q combination GameCube and DVD player to the portable Car Marty entertainment system. There's even a Magnavox Odyssey from 1972.
Best of all, it's very much a hands-on exhibition. Signs on the shelves declare 'Do Touch', and encourage you to 'pick things up, look at them and enjoy them'. Computers and consoles are set up and ready to play throughout the room, including an Amstrad Mega PC, a tie-up between Amstrad and Sega that I'd forgotten even existed. Neil gives me a sound thrashing over a few laps of Stunt Car Racer on the Amiga 500.
But the thing that makes this retro-computing museum truly unique is that one small room has been converted into something extra special: a recreation of a 1980s WH Smith, right down to the long-abandoned dark brown and beige colour scheme and the Rubik's Cube-style logo. There are even authentic 1980s WH Smith carrier bags. "I just wanted to step back into my memories," explains Neil. "And a huge part of gaming back in the day for me was going into town on my bike with my pocket money, sitting on the carpet in Boots or WH Smith, and just going through the games for an hour – because it was a big decision when you could only pick one game. So I just wanted to recreate that experience. And it seems to have really struck a chord, other people have the same memory."
The unique thing about this WH Smith, however, is that you can actually play the games without spending your hard-saved pocket money on them first. Any titles with a red sticker on the back can be zapped with a barcode scanner, which will instantly load the game onto a TV embedded in the wall. It's magical, a kind of wish fulfilment for anyone who spent hours as a child staring at video games they couldn't afford.
The set-up runs on the MiSTer Multisystem, a retro console based around the MiSTer emulation system. Neil says that one of his pet peeves with game emulation is that configuring the front end can be fiddly and time consuming, and the fact you can store thousands of games often leaves you paralysed by choice anxiety. So his idea was to make the shop itself into the front end. "You physically take the game off the wall, you scan it, the game loads, and it just turns the whole room into a bit more of an interactive experience. And I think it works quite well."
The shop fulfils an important educational purpose, too. Neil runs half-term events where he invites groups of children to discover the history of computers, showing them things like cassette tapes, objects they may have never seen in their lives. "My favourite question to ask them is, 'What's the oldest video game?'" he says. "Ninety percent of them will say Minecraft, because if they're 10 years old, it has existed for their entire lives. So we start there, and then we go all the way back."
For those children, the idea of going into a stationer to buy video games might seem strange. But WH Smith was one of the biggest game retailers in the 1980s, a time when retail chains like GAME or GameStop simply didn't exist, and internet retail was a distant dream. In fact, all sorts of unlikely stores sold games back then: Neil remembers 8-bit games hanging on racks in corner shops.
Stepping into the recreated WH Smith is an uncanny experience. If playing old video games is an exercise in nostalgia, then this is a full-body nostalgia workout, dredging up long-forgotten memories of browsing through racks of computer games. There was a point in my pre-teens when WH Smith was my absolute favourite shop, a stockist of all my favourite things as a child: video games, books, magazines, and unusually long pencil cases. Frankly, the retail chain is now a shadow of its former self, but here… here in this tiny toom, the old Smith's is back.
It's not an exact replica, of course. Neil has carefully shrink-wrapped the games to make them appear as if new, but there's a mix of games from different eras here, games that would never have coexisted on shelves in the 1980s. And there's no till – although charmingly, there is a price-sticker gun, something I haven't seen in years. Plus the attention to detail is superb, right down to the font for the section signs.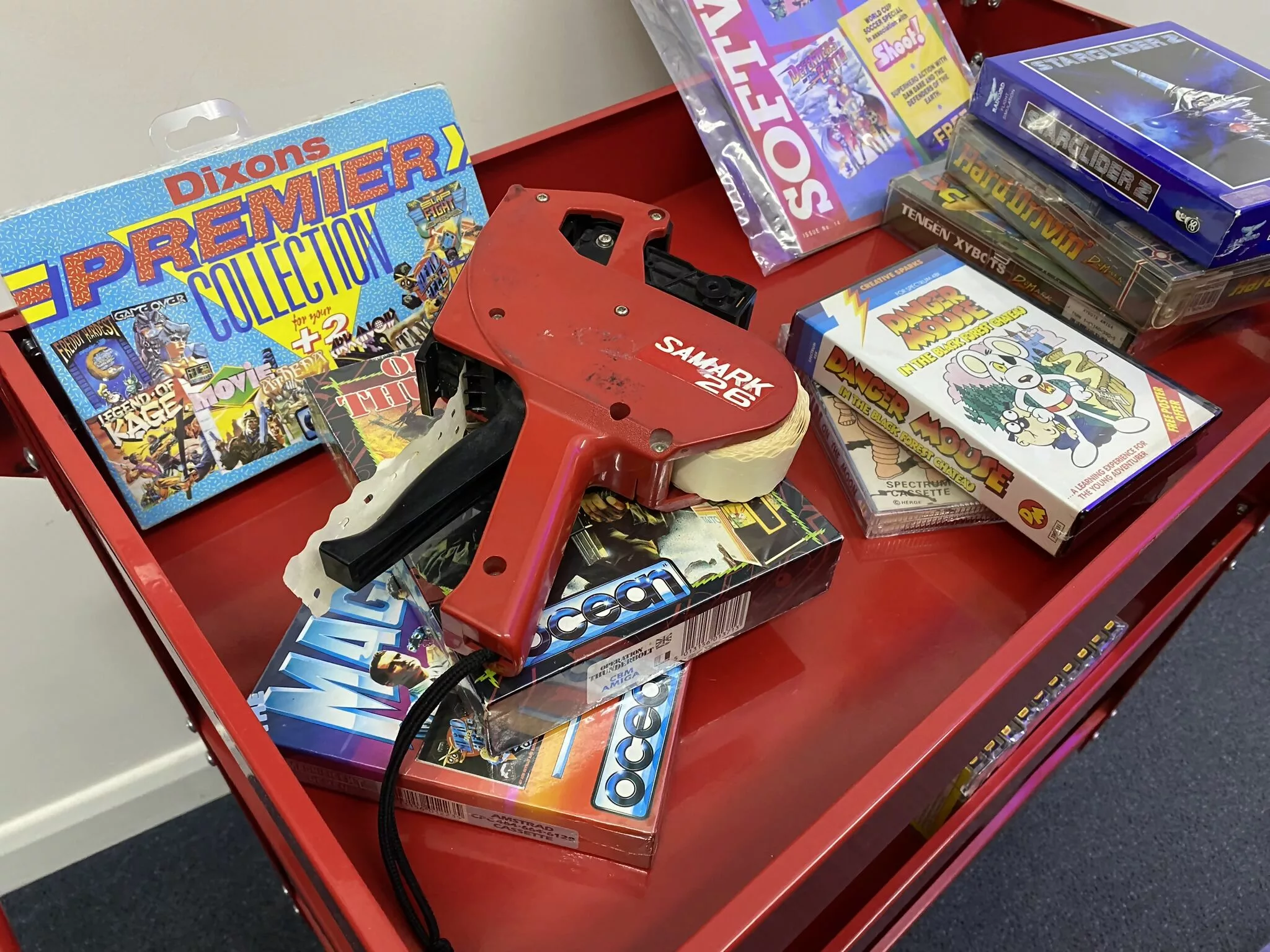 Neil says he would like to create more spaces like the replica WH Smith. "The next one we're working on is called the Dev's Den," he says. "We've got a chap called Jason who had some games published for the C64 back in the 80s. He's still got his PDS development system, his Amstrad 286 PC and his MIDI synth that he did the music on, and he's going to recreate his office in an 80s style with the décor, with the furniture, with the walls…" I ask whether they will be authentically covered with yellow nicotine stains, and we both laugh at the appalling memory of smoke-filled 1980s offices.
"So that will be like a living museum piece," Neil continues. "You can go and talk to a developer who is actively going to develop games, and we might get to the point where we can publish something together." Like the WH Smith, it will be another little time warp, another glimpse into a rapidly receding past.
It's a remarkable place, really, The Cave. Neil tells me people have flown over from the United States to see it, and some have even come from Australia. I've been to plenty of retro-gaming exhibitions, but none have had such warmth and friendliness, none have been so beautifully presented and willing to let the public play with and touch pretty much everything. "In terms of damage, we've been very fortunate so far," smiles Neil. "The joysticks and keyboards seem to withstand quite a lot of abuse." Although he adds that the Track and Field arcade cabinet gets a 'hammering', which has prompted some repairs. "These things just need a bit of TLC regularly."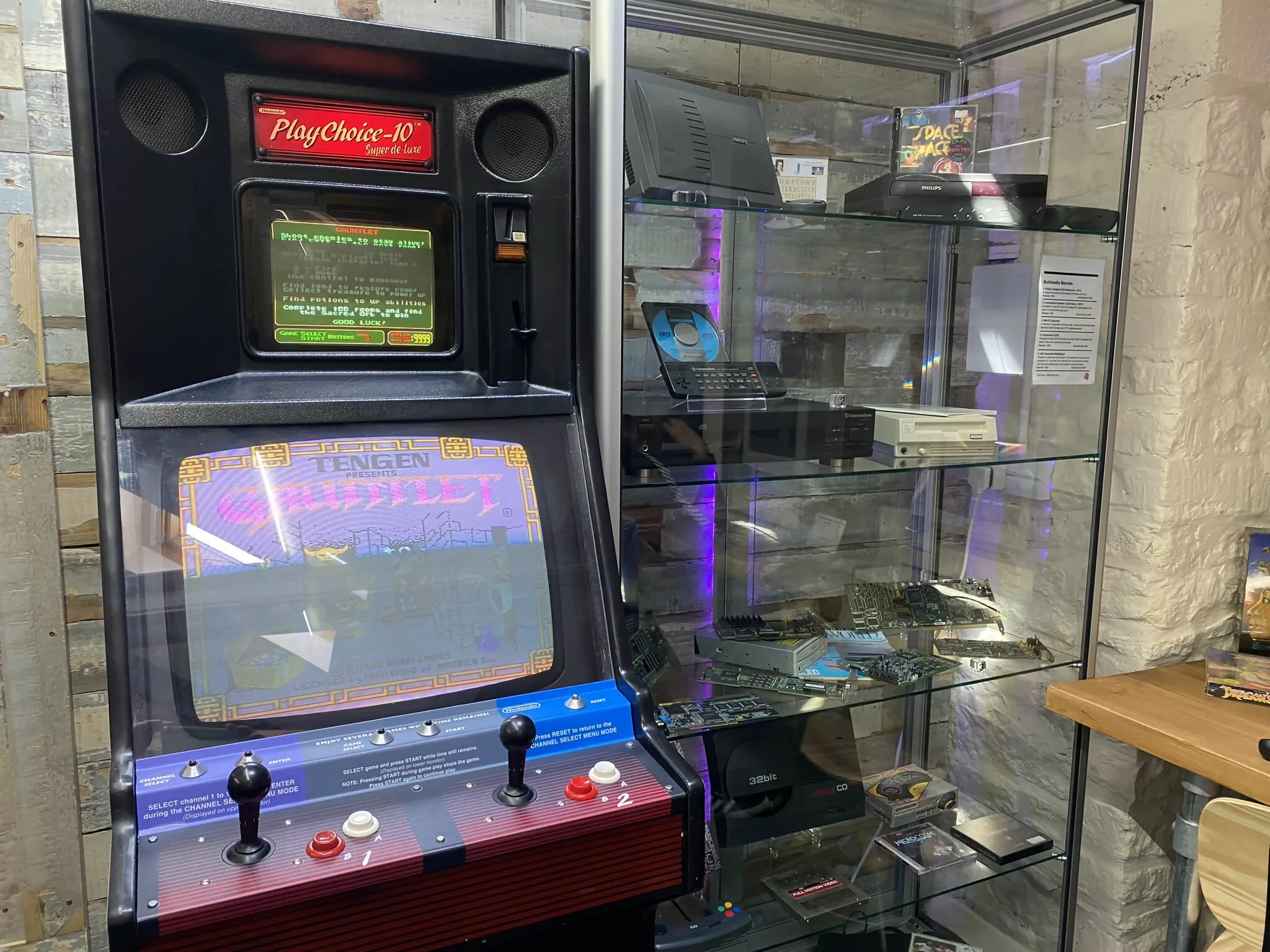 Speaking of arcade cabinets, Arcade Archive opened on the ground floor of the mill late last year, run by collector Alex Crowley, who has put together an amazing selection of rare machines like Nintendo's Sheriff from 1979. It's run as a separate business, but both The Cave and Arcade Archive are part of the Retro Collective community, and Neil is keen for additional, complementary businesses to set up shop in the building, perhaps a pinball hall or retro-themed café, or even a cinema.
"We just want to see more and more people have the same kind of opportunity that I've had, that Alex has had, to create a lifestyle business where they can do something that they're really passionate about and share it with other people," enthuses Neil. "We'd really like to help people to do that."
Read more: The ZX Spectrum | Celebrating Uncle Clive's greatest hit