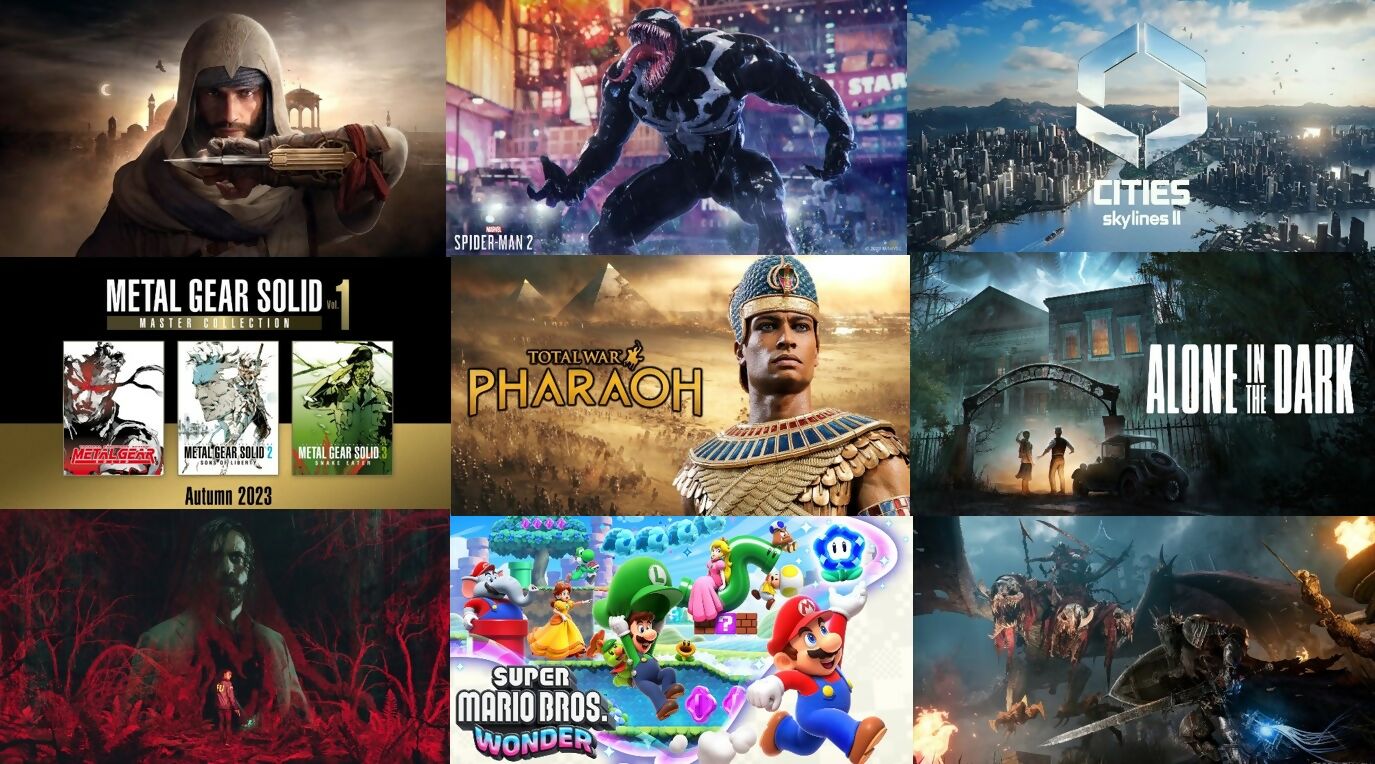 With so many big game releases clustered together in October, there are bound to be some that will lose out.
---
The pre-Christmas release season is always busy. Big, triple-A games tend to launch in October or November, ready to be scooped up as Christmas pressies, and there's always a huge spike in games sales towards the end of the year.
Things have eased off a little in recent years as publishers have realised the value of giving their games space to breathe in the quieter months, and Covid-related delays have seen the release schedule for the past couple of years appear a little lighter than usual. But the final few months of 2023 will see an absolute deluge of games arriving.
The release dates for tentpole titles in September are fairly spaced out, with Starfield arriving on 6th September, followed by Mortal Kombat 1 on 19th September and EA Sports FC 24 on the 29th. But then we hit October. Here's a list of some of the biggest games releasing that month:
The Lamplighters League – 3rd October
Assassin's Creed Mirage – 5th October
Detective Pikachu Returns – 6th October
Forza Motorsport – 10th October
Lords of the Fallen – 13th October
Batman: Arkham Trilogy – 13th October
Alan Wake 2 – 17th October
Hot Wheels Unleashed 2: Turbocharged – 19th October
Super Mario Bros. Wonder – 20th October
Marvel's Spider-Man 2 – 20th October
Just Dance 2024 Edition – 24th October
Cities: Skylines II – 24th October
Metal Gear Solid: Master Collection 1 – 24th October
Alone in the Dark – 25th October
Total War: Pharoah – ??th October
Sonic Superstars – Autumn
That's a lot of games in a very short space of time. And I'd suggest that quite a few of them overlap in terms of the audience they're targeting, meaning they'll be in direct competition for the same gamers' money.
Ubisoft has already shifted the release date of Assassin's Creed Mirage: just this week it announced that the game will be arriving on 5th October rather than 12th October as originally planned. It's a sensible move, since the back half of October is absolutely packed with huge releases. In particular, I imagine that many of the same people who might be interested in Marvel's Spider-Man 2 might also be thinking about purchasing the new Assassin's Creed.
The new Spider-Man game also launches on the same day as Super Mario Wonder: at first glance this might not seem like much of a conflict, since both are exclusive to different platforms and are targeting slightly different audiences, but it does mean that they will be competing for coverage in the media. (And perhaps here we should take a moment to reflect on all the poor games reviewers who will be burning the midnight candle as they attempt to meet their ridiculous October deadlines. Godspeed.)
Perhaps the biggest alarm bell comes from how close together the launch dates are for Alan Wake 2 and Alone in the Dark (17th and 25th October, respectively). Both are firmly in the survival horror genre, and both are targeting practically the same audience, so it seems almost inevitable that some consumers will be forced to choose one over the other – when they might have bought both if they had been released a few months apart.
Speaking of Alan Wake, I have a dreadful feeling that this sequel could well suffer the fate of the original, which launched in May 2010 at almost the same time as Super Mario Galaxy 2 and Red Dead Redemption, and recorded lacklustre sales as a result. (It wasn't the only casualty that month: the arcade racing games Split/Second: Velocity and Blur both saw poor sales as a result of not only going up against Red Dead and Mario, but also competing against each other.)
The racing titles Forza Motorsport (10th October) and Hot Wheels Unleashed 2 (19th October) are also alarmingly close together. Perhaps the younger target demographic of the latter means they're not quite in direct competition, but even so, you might imagine there's some overlap in audience.
And then there's Cities: Skylines II, which surely must be targeting a similar audience to Total War: Pharoah. We still don't have a firm release date for latter, only that it's coming in October, but one can imagine that Sega is currently scratching its head trying to work out where exactly in October it should fit. Judging by how packed the schedule already is, I wouldn't be surprised if they delayed the game to November or beyond, simply to avoid it being drowned out by all the other games hitting shelves that month.
Similarly, Sega must be in a pickle about when to release Sonic Superstars. It's currently just listed with an 'Autumn' release date, but with Super Mario Wonder pegged for the end of October, they will be wanting to avoid competing with Sonic's old rival at all costs. Then we have Detective Pikachu Returns launching on 6th October, just a few weeks after the arrival of the first of two huge expansions for Pokémon Scarlet/Violet on 13th September.
Finally, take a look at how close together the launches of Batman: Arkham Trilogy and Metal Gear Solid: Master Collection 1 are – just a week apart. The former is only for Switch, and you can imagine that some Switch owners are unlikely to be keen on buying TWO remastered trilogies back to back.
All in all, the tightly packed October release schedule can probably be seen as a boon for gamers, as there are some fantastic-looking games on the way. But surely, with so many titles vying for similar markets at almost the same time, at least a few publishers are going to experience some seriously disappointing sales.