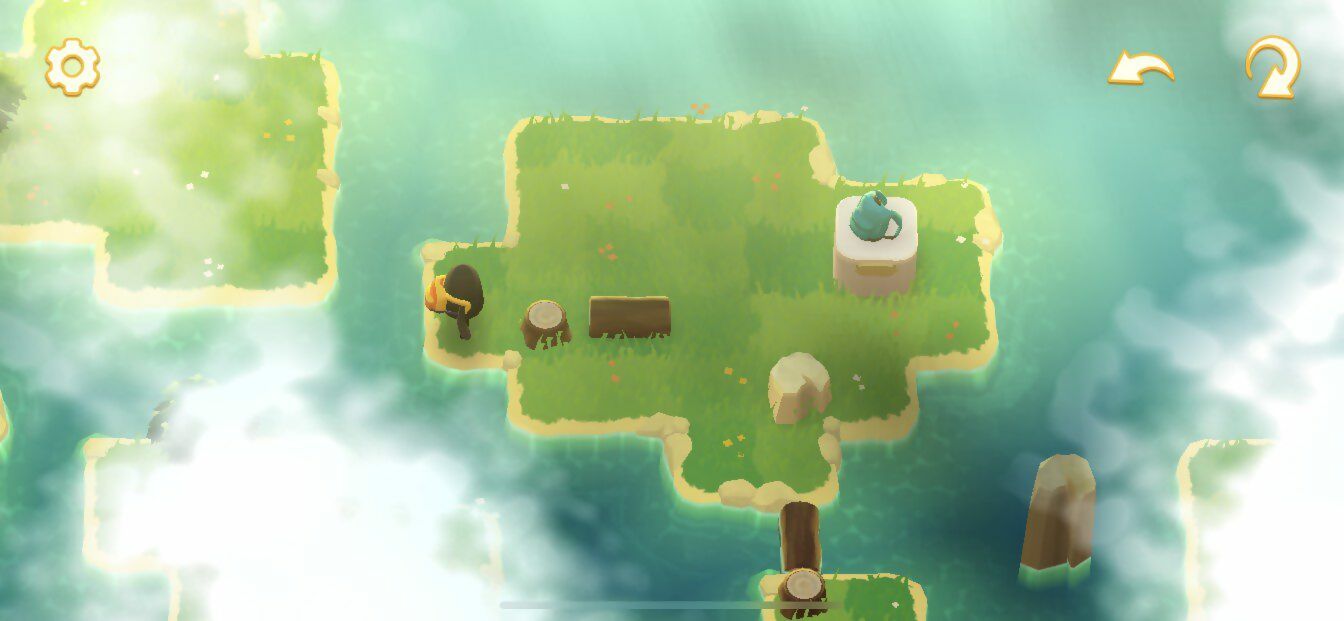 A Monster's Expedition is a game that resonates with good cheer. It's a happy grin in digital form, packed full with little moments that are going to warm the cockles of your heart. And on top of all of that, it's also a supremely engaging puzzler with plenty of tricky challenges.
The game sees you working your way through a strange museum. You're playing as a podgy monster with spindly arms and legs. The exhibits are all remnants of human civilisation, replete with funny descriptions that are going to raise at least a chuckle.
The museum is made up of little islands, and you need to figure out how to move between them. Sometimes that's as simple as pushing a tree over and bridging a gap next to it. The trees all roll and move in the same way, and you need to figure out how to move them to where they need to be.
After a while, you'll be building rafts by combining logs, then pushing off from rocks to explore even further. There are taller trees as well, which can bridge longer gaps. The map is huge, and it's open for you to explore however you want. Postboxes scattered around let you jump across bigger distances when you've unlocked them too.
While the islands themselves might be small, you never feel hemmed in, and there's a real sense that you actually are on an expedition. The sort of expedition you might make on a Saturday afternoon with a backpack full of jam sandwiches and ginger beer.
But the simplicity of the mechanics means you can drop in and out whenever you feel like it. It's lovely to be able to pick up where you left off, like climbing back into bed on a frosty morning and snuggling down under the covers.
There's a decent level of challenge here as well, but it's never enough to leave you frustrated or furious. Slow but steady progress is the order of the day, and you can always wander off somewhere else if you can't get past a tricky section.
A Monster's Expedition is a heart-warming and friendly adventure. It might not be the deepest game in the world, it might not shake up the foundations of the puzzling genre, but it is going to make you feel warm and fuzzy in ways most games can only dream of. This is a slice of escapism designed to whisk you away from grey reality and brighten up your day. You should definitely let it.
Highlight
Tap on the monster and he'll have a little sit-down. It's such a simple thing, but it's emblematic of the good feeling that resonates throughout every second of A Monster's Expedition. And every time you start the game, he'll be having a little nap. Make sure you look out for the coffee stand as well.
Verdict: 82%
A game filled to the brim with goodness and light that's sure to put a big ol' smile on your face.
Genre: Adventure / puzzle
Format: iOS (tested) / Windows / Mac
Developer: Draknek & Friends
Publisher: Draknek
Price: Free (Apple Arcade sub)
Release: Out now