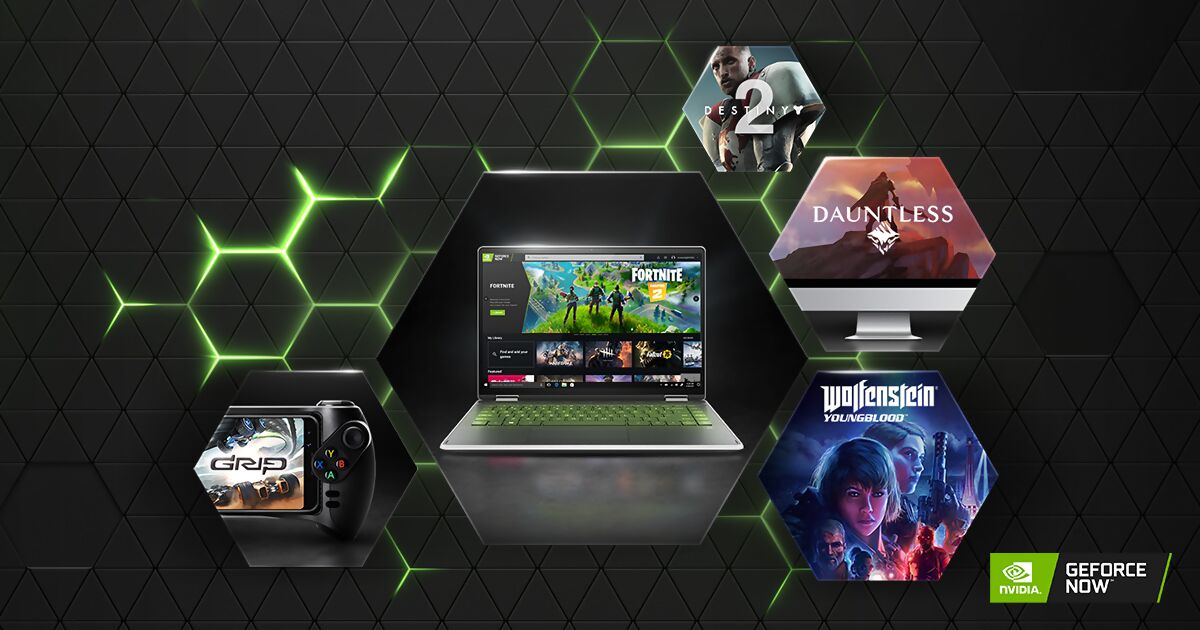 Despite some false starts, cloud gaming is becoming a reality – and accessible entry to high-end gaming. So is the technology at its silver lining? Alan Wen investigates.
---
Based purely on the grand ambitions and spectacular failure of Google Stadia, you'd be forgiven for thinking that cloud gaming was a whole lot of hot air. On the contrary, it's actually only continuing to grow – and is fast becoming a viable way to play your favourite games.
In the past year, we've seen the launch of multiple cloud-dedicated devices like Logitech G Cloud, Razer Edge, Abxylute, while the ability to stream games has become part-and-parcel of PlayStation and Xbox's top-end subscription services. Sony is also running betas on PS5 games via the cloud, while Netflix is conducting its own tests with game streaming in a bid to reclaim the 'Netflix for games' title from Game Pass. Alongside mobile, this is the one real, fast-growing market in the gaming landscape, which is one reason why the UK's Competition and Markets Authority (CMA) blocked Microsoft's proposed acquisition of Activision Blizzard.
Cloud gaming isn't necessarily about replacing the current console and PC models, but about capturing a huge, untapped market of people who might be interested in playing games but don't want to invest hundreds of pounds on extra hardware – nor do they get all hung up on details like resolution and latency. As a once-lapsed gamer, goodness knows I would've been overwhelmingly spoiled for choice if I'd picked up the hobby again today instead of 10 years ago. All I needed was my phone or potato laptop.
Of course, there are valid reasons to be sceptical about cloud gaming – not least because of what happened with Stadia. I can't be the only person who lets out a huge sigh whenever a Switch release of a current-gen triple-A title is announced, followed by the words 'Cloud version'. My own scepticism had also been clouded (pun unintended) by my limited early experiences of the tech, namely attempting to play Yakuza 5 via the old PlayStation Now service years ago, which in retrospect had been done via a very poor Wi-Fi connection with a pre-fibre service provider.
More recently, however, my thoughts on cloud gaming have really turned around – not least because I had to review the Logitech G Cloud and had also been provided access to Shadow PC, a cloud service which gives you the equivalent of a high-end gaming PC you can use through any supported device. Fortunately, my internet's also gotten better in recent years, with the magic of powerline adaptors ensuring I can wire up most of my hardware with fast and stable connections.
When cloud gaming works in the right conditions, the results are almost alchemical. Through Nvidia's GeForce Now, which essentially lets your PC (or supported handheld device) use the power of an RTX graphics card to run your own games (also working across different launchers like Steam or Epic), my eyes honestly can't tell the difference. Essentially, I'm enjoying those RTX god rays without forking out over a grand for the privilege.
Although the tech is meant to make games accessible to folks who may not have access to consoles or high-end PCs, cloud gaming is also effective for console owners, too. I've spent evenings casually browsing the PlayStation Plus back catalogue; within seconds, I can start playing a game, which is how I recently got around to playing the excellent PS4 launch title, Resogun, which looked and felt as arcade-smooth as if I'd installed it on my PS5. Maybe it's just down to me having better internet in the intervening years, but it's a huge leap over when I last used PlayStation Now.
Even for console-owning core gamers, you can see the appeal and immediacy of being able to stream past or current blockbusters whenever it takes your fancy, especially as game sizes keep getting bigger and you're constantly having to decide what to keep on your diminishing SSD storage. It's only maddening that the PlayStation Portal (not quite a cloud gaming device, since it's exclusively used for remote-playing your PS5 – though it can be done with another Wi-Fi connection and therefore away from your home) doesn't allow you to stream games via the PlayStation Plus collection.
Xbox's cloud gaming also isn't without its shortcomings. While it's well optimised on its consoles to upscale to 4K, and there's a nice touch that means you can still get the Xbox Series X/S experience on an Xbox One, the big draw is the supposed option to play anywhere with your phone (or a streaming handheld). But for reasons unclear, running Xbox's cloud service on mobile has some weird compression issues, so even though I get smooth 60FPS, the picture quality has a blurriness which makes it fall well below the 1080p resolution it's supposed to deliver. I marvelled at being able to play a full match in Halo Infinite, but I sure as hell couldn't get a sharp focus on my crosshairs.
There's some inconsistency to cloud tech between companies, then. There's great HD quality to be found on other services, such as Amazon's Luna, which also offers a small selection of free games each month for Prime members. The aforementioned GeForce Now works fine on mobile devices. (Incidentally, it's with Shadow that I've been able to run Game Pass games through a browser with excellent picture quality on the G Cloud, because in this case it's a mobile device running a PC, albeit one on the cloud, as confusing as that might sound.)
Of all the cloud services I've dabbled in, Shadow is probably the one I'd recommend, despite its off-putting monthly cost, starting at its GTX 1080-baseline of £33 per month, while its Power Upgrade that gives you something on par with an RTX 3070 is £50 per month. This makes it the polar opposite to, say, Game Pass Ultimate. I probably come at this as someone from a non-PC background, but still want the option of a high-end gaming PC when the need arises (in my case, having to play a PC build for preview or review purposes) thanks to a flexible subscription model as with other services. As you still have to buy your own games, this leaves the matter of game ownership in your own hands in the event of anything going south in the future. Google had the good graces to refund everyone who made Stadia game purchases, but I doubt you'll get the same with any cloud version titles released on Switch, for example.
There are also a few caveats here. Even if you have a wired connection with no internet issues on your end, that doesn't mean there won't be problems from your provider that are outside of your control. Let's just say that playing Baldur's Gate 3 via Shadow the same time the service was going through scheduled maintenance lasting multiple days for consecutive weeks was quite the experience. Considering the company's original owner, Blade, had also previously filed for bankruptcy, while its more expensive Power Upgrade tier had taken almost three years to materialise, I'm not sure it necessarily inspires confidence for the long term.
There's still a few stormy patches to weather before cloud gaming can really be considered ready, then. This might explain why, despite launching as part of Game Pass Ultimate in 2020, Xbox's cloud gaming feature is still labelled as being in 'beta'. Nonetheless, from the shaky foundations of OnLive to Google's big bust with Stadia, the technology continues to go from strength to strength, partly thanks to the rise of 5G and Gigabit internet speeds.
You shouldn't see cloud gaming as a threat to console and PC hardware; indeed, you might say it's an additive rather than a replacement. At best, the technology means that even more people can experience the best of what gaming has to offer – and in the end, isn't that good for us all?