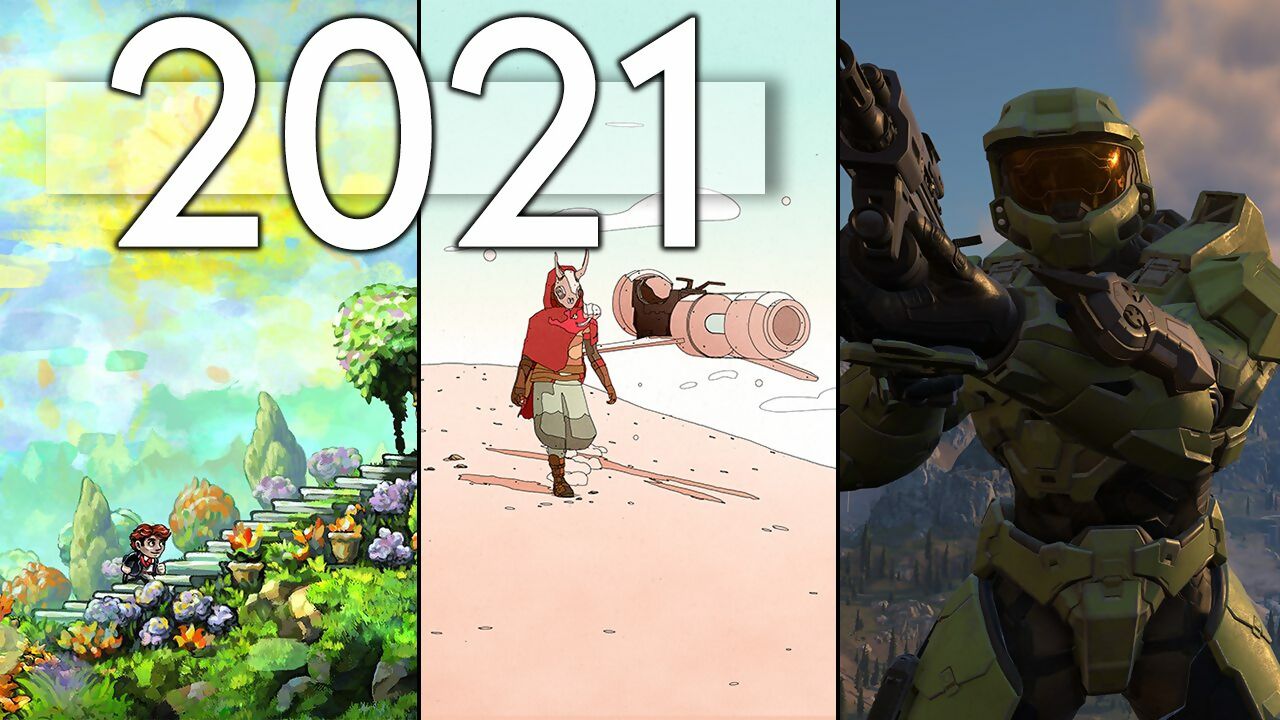 The pandemic may have cast a pall over 2020, so here's hoping this year will be a brighter one. With this in mind, join us as we look ahead to all the gaming-related things we have to look forward to in 2021 – big games, yes, but also plucky indies, hardware, and a couple of movie adaptations…
[Written by Ian Dransfield & Ryan Lambie]
The big hitters

> ##### Halo Infinite
> The infinite wait for Halo Infinite continues, as Microsoft and 343 Industries has pushed Master Chief's latest alien-blasting lore-'em-up back another few months, into the autumn. Originally intended to be a launch title for the Xbox Series S/X, it's telling just how significant a delay this has become – and shows just how much Infinite's final quality matters to both the developer and platform holder.
>
> The core game sounds like it's all but done beyond polish, with recently hired creative director Joseph Staten saying he's played through it at least twice (and that he was "stunned" by it, of course), so this extra time sounds like it's being focused on upgrading the graphics significantly and a heck of a lot of other polishing and tweaking elsewhere. As long as there's a tribute to Craig the Brute in there, we'll surely be happy.

> ##### Horizon Forbidden West
> Guerrilla Games' post-apocalyptic world of marauding robot animals was an intoxicating one in 2017, and Horizon Zero Dawn remains one of the finest console games of the last generation. Its setting felt like a genuinely hostile, dangerous place, where humanity was no longer anywhere near the top of the food chain. How, then, will Guerrilla take advantage of the PS5's extra processing power and DualSense controller for Horizon Forbidden West?
>
> While we'll have to wait and see on that front, we're already impressed by the footage we've seen of the sequel so far: protagonist Aloy now roams a devastated California, a place where yet more fearsome mechanical creatures and mysteries await. If Guerrilla can retain – and even improve on – the tense, enthralling hunting mechanics from the first Horizon, then Forbidden West could end up as one of 2021's finest games.

> ##### Hogwarts Legacy
> So very much pressure. Avalanche Software is handling the first major Harry Potter title in a fair old while – sorry, Wizarding World – as young Hazza makes no appearance here, what with it being set in the 1800s. Anyway, Avalanche has some chops when it comes to making kid-friendly adventures, with its experience in the decent Disney Infinity toys-to-life series getting it through a stint under the watchful gaze of the House of Mouse.
>
> How this will translate to an open-world title with players taking on the role of a young wizard as they attend classes, then bunk off and get into spell-flinging duels behind the broomstick shed, is yet to be seen. There's such a tightrope to walk – the huge licence means plenty of eyes are on Hogwarts Legacy. The fact it will be a top tier new-gen release on the Xbox and PlayStation gives it extra importance, and the raw expectation of the fan base means anything other than spectacular will be a let-down. So yeah, sorry to bring it up like this, Avalanche, but the pressure really is on here.

> ##### Resident Evil Village
> It's Resident Evil 8, but they're not calling it that. Instead, we get the decidedly strange decision to call it Resident Evil Village, like it's a horror-themed take on Pontins or something. Regardless of the odd naming, though, this is one we are extremely keen on. Resident Evil VII was an absolute barnstormer of a horror game in its own right, never mind a bold and terrifying reinvention of the series that had lost its way somewhat over the past decade.
>
> There's the chance this could work against Resident Evil Village, of course – the fact we now expect great horror biting it on the bum like a particularly rude zombie – but there's no reason to believe the tenth main entry will leave us wanting. Plus Chris Redfield's back, so it's possible we'll again get to hear a man with gigantic biceps asking for eggs before punching a rock.

> ##### GhostWire: Tokyo
> Tango Gameworks' third game and second new IP, GhostWire: Tokyo is a) a PS5 console exclusive made by Bethesda, which is owned by Microsoft, and b) described as 'karate meets magic'. OK, so on the first point, it's only an exclusive for about twelve months, then it'll surely appear on Xbox. And the second point? Well, that's where the fun comes in: GhostWire sees you travelling around an abandoned Tokyo hunting ghosts and other such supernatural, spirit-y beings using your magical attacks which are indeed based on martial arts.
>
> It's a directorial debut for Kenji Kimura, one would assume with direction from Tango's Shinji Mikami, and also has Shinichiro Hara on board – a combat designer from 2016's DOOM. So while the director himself might not be wholly proven in the role, he's backed up by some solid talent. It's going to be fun to see what Tango does outside of the survival horror genre, with GhostWire tilting far more towards action than horror.
—
Must-play indies

> ##### Axiom Verge 2
> Indie developer Thomas Happ has a tough act to follow, given just how good the original Axiom Verge was: its Metroid-esque alien world, full of bizarre creatures and exotic weapons, was riveting to explore. To his credit, Happ's going for a markedly different style for the sequel: where the first game was all shadowy chambers and bio-mechanoid critters, Axiom Verge 2 goes for a bright-er, more colourful palette, and environments that look almost Mesopotamian – statues with enormous beards are the order of the day here. As well as being a top-notch game designer, Happ's also an accomplished storyteller, so we're looking forward to seeing what sci-fi yarn he has in store for us this time.

> ##### Endling
> We all need some positivity after that thing that was 2020, and Endling – bleak as it might look on first glance – could well give us that jolt of hope we all so clearly need. For those who didn't see our coverage of the game in issue 41, you play as a mother fox, looking after her cubs in a post-disaster world riddled with dangers both natural and human-made, though mainly the latter. It's a wordless tale of survival, with a hint of horror, and the bravery to offer something we might well recognise as 'the potential for a happy ending'. That said, it could just make us all even sadder. Be fun to find out, anyway.

> ##### No More Heroes III
> The last mainline entry to this series came out in 2010, meaning it'll have been an eleven-year wait for No More Heroes III, Goichi Suda's continuing adventure of Travis Touchdown. That's long enough to be forgiven for thinking it would never be happening, to be fair. Anyway, NMHIII sees Travis battling a full-on alien invasion this time around, with the extra-terrestrial baddies who have, handily, adopted superpowers in order to help them conquer the Earth. It can never be easy, can it? After such a long wait we're excited to see what rich ideas have been percolating in the brain of Suda51; hopefully this Switch exclusive will let him unleash his best work yet.

> ##### Kena: Bridge of Spirits
> The first game from US studio Ember Lab, Kena is a third-person action-adventure with some really gorgeous character and environmental designs. As the titular warrior, you roam a leafy fantasy world populated by creatures both cute and deadly; the action looks a little like a late Zelda game, but the style and attention to detail set it apart: the particle effects and textures on display should really pop on the PlayStation 5. Impressively, this slick-looking game was created by a relatively small team of around 14 designers. If the gameplay can match the visuals and sound, we should be in for a treat here.
> ##### R-Type Final 2
> It's been over 15 years since the last proper R-Type game, and it's fair to say that side-scrolling shoot-'em-ups have only grown more niche in the intervening years. But developer Granzella, led by the director who oversaw the previous R-Type Final, is looking to bring both the series and the genre back in style. Built in Unreal Engine 4, the awkwardly named R-Type Final 2 brings a retro genre up-to-date with some swanky lighting and explosion effects. The humble shoot-'em-up probably won't break back into the mainstream anytime soon, but games like this will, we hope, keep the old flame burning for a while longer.

> ##### Balan Wonderworld
> Although hardly made on a shoestring like some indie games, this forthcoming opus from Yuji Naka and Naoto Ohshima isn't exactly a triple-A release, either, so we thought we'd slot it in here. The Sonic the Hedgehog duo are teaming up for another fantastical action adventure, though this one looks more like a spiritual successor to Nights into Dreams than anything starring the blue blur. It's a colourful fantasy game with a musical theme; we can't yet know whether it'll live up to Naka and Ohshima's finest works of the nineties, but we're more than willing to give it a shot.

> ##### Sable
> We've been looking forward to getting our hands on Sable ever since we first previewed it in the magazine way back in 2019. First, there's the look of the thing: it's an open-world game with the pen-and-ink style of the late artist Jean 'Moebius' Giraud, and will see us traversing lonely desert landscapes on a futuristic hoverbike. We're told to expect plenty of environmental puzzles, but it's the exploration we're most enthusiastic about: developer Shedworks' sci-fi world looks like one well worth getting lost in.

> ##### 12 Minutes
> This mystery-thriller looked intriguing enough in its early stages, but the arrival of publisher Annapurna Interactive has given developer Luis Antonio the resources to spice it up even more with motion-captured performances and voice-acting. It's the concept that intrigues us the most, though: a mysterious intruder breaks into a couple's flat one evening and murders your protagonist's wife. To solve the mystery, you work through the same twelve minutes over and over, hunting for clues. With its eerily detached top-down perspective, this looks like a fascinating take on the increasingly popular genre of time-loop games we've seen of late.

> ##### SkateBIRD
> The title isn't misleading: it's a skateboarding game – with birds. Indie developer Megan Fox's up-coming sports title looks absolutely adorable, and quite relaxing, to boot. Courses are cobbled together from bits of cardboard and sticky tape, and you'll be able to kit your avian skater out in little hats and scarves. There's a proper skating game under all the whimsy, though, with all the flips, grabs, and grinding you'd find in, say, Tony Hawk's Pro Skater. We can't wait for this one.

> ##### Jett: The Far Shore
> It's been a while since Superbrothers has had a hand in anything that's seen release, with its eponymous Sword & Sworcery EP releasing back in 2011. But here we are, gearing up for something new from the enigmatic Canadian team, alongside co-creators Pine Scented and music by scntfc. So what is Jett: The Far Shore? Well, it's a game where we'll be exploring an ocean planet, blundering through a stylish adventure, and investigating the mysteries within, all backed up by Superbrothers' penchant (based off one game) for style, depth, and intelligence in its creative output.
—
Remakes and remasters

> ##### Prince of Persia: The Sands of Time
> Young 'uns could do with some learning forced on them – like a swift reminder that, before the original release of this game, the action-adventure genre tended to be wafer-thin and presented itself as little more than an interactive popcorn movie. At best. Prince of Persia: Sands of Time flipped the script, presenting players with a stylish and genuinely quite good story, unique presentation, and backed it all up with a game that was as inventive as it was fun to play, with a combat system and time-rewind mechanics that are still riffed on to this day. A remake of the master, therefore, we welcome with open arms.

> ##### Alex Kidd in Miracle World DX
> Sega is pleasantly open to letting fans of its back catalogue get involved in the revival of its much-loved mascots – Sonic Mania, for example, began life as a fan-made project. Similarly, the upcoming remake of Master System platformer Alex Kidd was itself the product of some enthusiastic fans, before Sega stepped in and made it an official product – and we can see why they were impressed enough to add their stamp of approval. It takes the 8-bit original and gives it a welcome lick of modern paint, with hand-drawn characters and more detailed backgrounds. It looks like a cracking remake so far.

> ##### Mass Effect Legendary Edition
> The original BioWare trilogy comes to modern formats, remastered and bundled together with all its disparate DLC to make the ultimate collection of one of the finest western RPG series ever seen. Yes, even with the damp squib ending Mass Effect 3 once had. A Mass Effect collection is especially exciting since we've not seen a release of the original trilogy in almost a decade, so there's been enough time for it all to feel fresh again. And newcomers? You're in for a treat. Especially with the music.

> ##### The Stanley Parable: Ultra Deluxe
> Opportunity knocks twice, it seems, as this return gives all those who missed it first time around the chance to atone and blunder their way through one of the wittiest and most meta video games seen in… well, ever. The Stanley Parable: Ultra Deluxe contains the whole of the original release, as you would expect, with a host of extra content, tweaks, nips, and tucks slathered liberally on top. It's coming to consoles as well as PC, and it's something you should all both look forward to and actually play when it eventually releases. Notice we're not telling you anything about the game specifically here? Yeah, that's because it's one of those games. To say anything would be to ruin the fun, the surprise, the humour within.

> ##### Braid, Anniversary Edition
> For some reason celebrating its 13th anniversary or thereabouts, Braid, Anniversary Edition (yes, the comma is part of the title) sees the indie classic get more than just a bit of spit and polish. We'll see the game repainted in higher resolution, with new animations, reworked audio, and a commentary track so you can listen in on the whys and hows of the game from its enigmatic creator, Jonathan Blow (and, of course, others involved in the making of both versions). And if none of that tickles your fancy? Just press a button to get back to the original version, graphics, sounds, and all. It's win-win.
—
Tech & movies

> ##### Uncharted (the movie)
> After absolutely years in development – remember when Mark Wahlberg was originally going to play the lead? – the movie adaptation of Naughty Dog's blockbuster series is finally on the home stretch. Filming has wrapped, and Tom Holland is front and centre as a youthful Nathan Drake. Oh, and Wahlberg isn't out of a job, either: he's moved over to the role of Sully, Drake's friend and mentor. How faithful to the video games will it be? Well, we're hoping for lots of scenes where Nate guns down entire armies of villains, makes a glib joke about it, and then scuttles off to nick some more treasure.

> ##### Analogue Duo
> Analogue is a company that makes good hardware. Look online and you'll find complaints about limited stock, opaque pre-order practices, and early-day bugs in its machines, yes. But look a bit harder, find those who own anything Analogue has made, and you'll find a hell of a lot of people absolutely overjoyed with some of the most faithful, and beautiful, FPGA console recreations in the world. And now it's the turn of the PC Engine/TurboGrafx and its variations. The Analogue Duo is compatible with TurboGrafx-16, PC Engine, SuperGrafx, TurboGrafx CD, PC Engine CD-ROM², and Super Arcade CD-ROM² games – disc and card – and offers a magnificent way to play old games on a modern display, with all manner of customisable elements behind the scenes to make things look as crisp or as retro as you want them to. We're gushing a bit, but as proud owners of both Analogue's Super Nt and Mega Sg, we've supreme confidence the Duo will be another winner. At least once its firmware is sorted a few months post-launch…

> ##### Playdate
> This cute device caused quite a stir when it was first announced in May 2019. Nearly two years on, and we'll soon be able to check it out for ourselves. In case you aren't familiar, it's a handheld console distinguished by a little handle on one side, which could be used for all kinds of interesting mechanics if developers have the imagination to integrate it into their games – or it could prove to be a quaint-looking gimmick. Playdate's other novel idea is how games will be delivered: they'll arrive monthly as surprise launches, and developers such as Keita Takahashi and Zach Gage are among the names already signed up.

> ##### Mortal Kombat (the movie)
> We've had movie adaptations of Midway's ultra-violent beat-'em-up series in the past – the 1995 one even starred the mighty Christopher 'Highlander' Lambert – and they weren't what you'd call classics. Nor did they delve too deeply into the gorier aspects of the Mortal Kombat game franchise – the infamously grotesque Fatality moves were conspicuous by their absence. The filmmakers behind this new movie are reportedly aiming for an R rating, however, so there's a strong possibility that we'll see the games' assorted spine-ripping and face-melting splashed across the big screen. Which should make up for the absence of Lambert.

> ##### Polymega
> OK, so it's not the FPGA system we originally hoped for, but Playmaji's upcoming retro console still has plenty going for it. First, there's its novel design, which will allow you to plug different modules to the front of the base system, depending on which classic console you want to emulate. Systems supported so far include the Sega Mega Drive, PC Engine, NES, SNES, and Saturn, and early reports suggest that the emulation is pretty solid. Each of those modules also has the appropriate port – depending on which console it supports – so you'll be able to use your existing Mega Drive or NES controllers if you still have them lying around. The versatility aspect alone makes this one of the more interesting clone systems on the horizon.