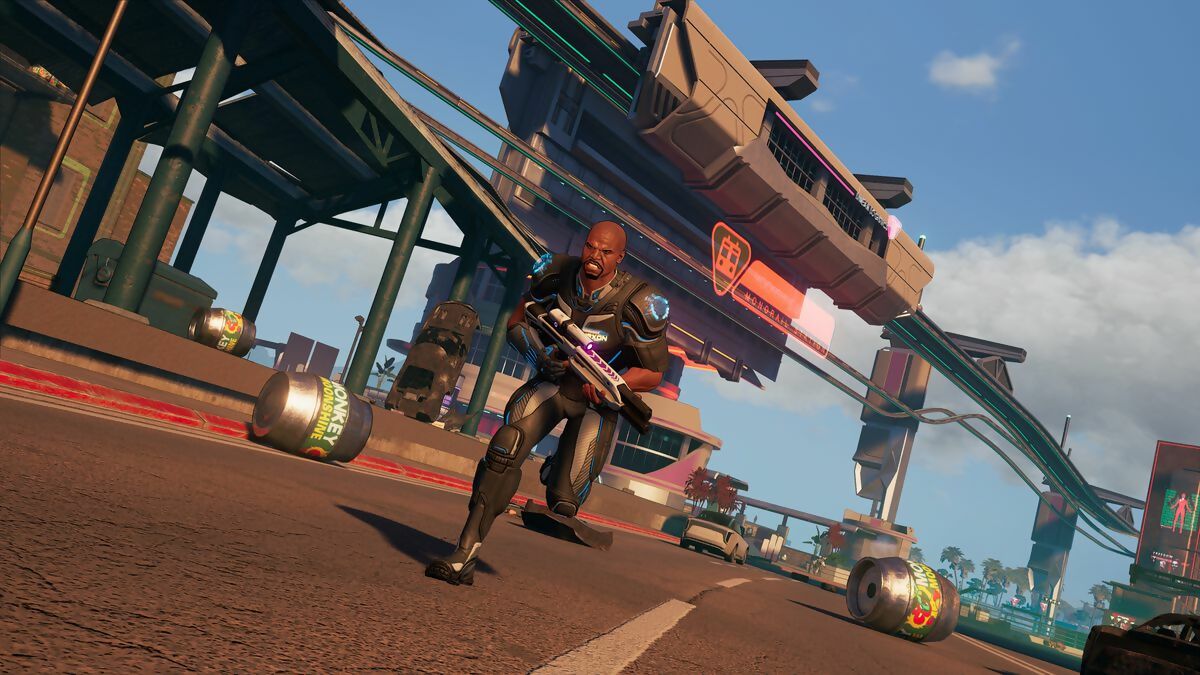 Denki's Gary Penn reflects on his varied career path, from journalism to Grand Theft Auto to his own studio, and potentially beyond.
---
Making a game has a bit in common with putting a magazine together. That's according to Denki co-founder and industry veteran Gary Penn, who started his career writing for publications like Zzap!64, The Games Machine, and The One before making the jump to development. It was in 1996, as creative director at DMA Design, that he played a key role in a little title called Grand Theft Auto. Setting deadlines, it turns out, can be useful in both disciplines.
While Penn got his start on the editorial side of gaming, making video games was something he was fascinated with from a young age. "I used to make all sorts of different games when I was a kid," he says, "including computer games as I got older, so it's more surprising to have ended up in journalism, to be honest."
Despite his unusual entry point, Penn describes his magazine work as "seminal" for how he came to view this up-and-coming form of entertainment. "At the time, it felt like you could do anything you wanted if you put your heart and mind to it, and I was doing exactly what I wanted. I guess all we were doing at the time was sharing our enthusiasm for the medium."
Penn soon went on to rise up through the editorial ranks in a freelance capacity, acting as consultant editor on a lot of Future-published mags like Nintendo Power and Edge, until he began craving a different type of challenge. "I get bored fairly easily," he jests. "So I was just looking for something else to do." This ultimately led him down a rather varied path of working in multiple areas of games. Penn began writing instruction manuals for titles such as Disney's The Lion King for the SNES and Sega Mega Drive, and most intriguingly, 1993's Mortal Kombat, and then eventually into quality assurance and so on. "Over the past 37 years in the industry, I think I must've done – and enjoyed doing – pretty much everything you can do with games," Penn says. "Graphics, audio, voice acting, writing dialogue and narrative, game appraisals, instruction manuals, formal demonstrations, marketing, PR, QA, designing, producing, directing, editing… everything except sales."
All these experiences give Penn an understanding of the efforts that go into making games at every stage. "It certainly helps to walk in other people's shoes, to better appreciate their perspective."
Working on instruction manuals might have seemed like a strange step for someone who'd already reached such journalistic heights. For Penn, however, it was an opportunity for him to be his own boss, in a market adjacent to the industry he adored that was going relatively untapped. "I started doing instruction manuals because I like a decent instruction manual, and there weren't enough being made. I offered a thorough service, writing, sourcing images, sorting out the layouts, editing where necessary, and so on, which was thanks to my magazine publishing experience.
That was only ever meant to provide a dependable income, but it almost took over because every publisher – and developer – at the time wanted me to write their manuals for them. Flattering, but also far too constraining and consuming for my liking."
It was through his work editing manuals that Penn started freelance producing on UK projects like Batman Returns and Frontier: Elite II for roughly a year or so, primarily on the publishing side. Following that, and looking for something more permanent, he then took on the role of senior producer at publisher BMG Interactive, where he was charged with looking after its new star signing: a developer based in Dundee called DMA Design. Penn had gotten to know the studio's founder, David Jones, through his prior work as a journalist, hence why he was hired into the DMA Design family proper once BMG Interactive's US owner went bust.
Officially hired as a creative director at DMA, Penn wasn't immediately tasked with wrangling Grand Theft Auto into the final form we know and love today, but he recalls how the idea behind it first came to be. "Programmer Mike Dailly – who also did the original Lemmings – was constantly creating these interesting technology showcases, one of which was this top-down view of a world full of simple boxy polygon structures."
The original GTA may have started out life before Penn upended his life to Scotland and arrived in the DMA offices, but its potential was instantly clear. "It was an elegant illusion," is how Penn puts it, "like a camera on a news helicopter flying over a city."
Having just started at the studio in 1996, Penn got involved in other DMA games already in the throes of development, like action-adventure Nintendo 64 exclusive Body Harvest, PC strategy game Tanktics, and tank battler Wild Metal Country. One of the first things Penn noticed about the way DMA operated was just how much it was outstretching its development capabilities. The idea at the time was to develop each game for almost every platform (PC, PlayStation, and Sega Saturn), until – largely as a result of Take-Two Interactive's acquisition of BMG Interactive in March 1998 – scope was brought inline to be much more manageable. A good example being the aforementioned Body Harvest's exclusivity deal, which meant it would launch only on Nintendo 64.
Even before BMG was liquidated, though, Penn was given clues that development wasn't running as smoothly as desired. "The team just kept going," he recalls. "When I was at BMG, we'd have weekly calls with our US office, and they – understandably – weren't happy with the way GTA was not coming together; it was the same with Tanktics, Space Station Silicon Valley, and Covert." Still, Penn didn't see the sense in giving up completely. "With hindsight, I'm not sure why I used to constantly defend it, and DMA's poor progress as a whole, but I did. I guess I was blinded by belief; I wanted all these cool ideas to work, to become real."
Making Grand Theft Auto resemble something real, and just generally get it to a releasable state, required the opposite of a delicate touch. It was here, when being fully brought onto the project as creative director, that Penn imposed several of the lessons magazine journalism had taught him. "Having to 'cut to fit' – to make a magazine within a fixed timescale – teaches you a lot about what you do, how you do it, yourself, your team, and your audience," he says. "Game development has a tendency to slip, whereas there's no such luxury when delivering printed periodicals on a regular basis." Penn admits that his leadership style might not have been popular amongst most staff, but it worked to get GTA over the line. "Editing is what makes the magic happen – in all media. You can't edit what you don't have, so finishing is essential. You effectively need to make your game then remake it at least once."
Speaking of remaking… with the original GTA (finally) out of the door and well received by critics and players alike, the task of tackling the sequel loomed, and the idea of expanding in scope but retaining the first game's vibe and feel served as its main driver. After all, it wasn't broken, so why fix it?
"GTA 2 was meant to be the first game remade better, but it ended up taking on a life of its own," Penn says. "The story threads [were] tighter now, but that structure mixing story-driven missions and open-world play didn't change that much since the beginning."
By the time Grand Theft Auto III – a game we now know would change how we think about open-world games forever – was being thought about, Penn's classic case of not being challenged enough started to creep in once again. "I was burned out, too, and I needed to do something before I self-destructed."
Fortunately, other than the need to drastically rethink the game's perspective, the template for what would become GTA III had already been set. "It was clear the core team had everything in hand," says Penn. "They had the attitude, the skills, the previous two games for reference. I didn't feel the need to be involved at all."
Turns out he wasn't the only one seeking a fresh start following GTA 2's release, as many of the key creative people behind DMA Design (Dave Jones included) left to form another studio, Denki. From 2000 right up until now, this is where Penn still happily works as head of development, overseeing a foray into new modes of development like interactive TV games, licensed tie-in games, and more. However, alongside his more experimental work at Denki, even he couldn't turn down the opportunity to expand on a genre he helped usher in with GTA at a shorter-lived studio: Realtime Worlds. Again in partnership with long-time collaborator David Jones, it was here where early Xbox 360 hit Crackdown came to be.
"I was involved with Crackdown from start to finish," Penn enthuses. "From when it was called Car Wars and was more of a turn-based RPG. Dave [Jones] wanted to use Denki's proven development methodology on a big game." True to tradition, not every aspect of the game's development went to plan, but it eventually took enough shape to catch the eye of a particular tech giant hoping to make further waves in the console world. "We helped package up the concept to sell it to Microsoft, and then I ended up doing a mishmash of design, direction, and production – and eventually some editing and writing and even voice acting. It felt like the concept changed every day, until one day, one of the designers was messing around with the main character and made it more like a superhero. That stuck, and ideas started to consolidate around that."
Realtime Worlds may have shut down after the disappointing sales suffered by its second game, APB: All Points Bulletin, in 2010, but Penn continued to be heavily involved in Crackdown as an advisor and writer. It's especially notable given just how much the series was passed around between different studios, as Ruffian (another developer based in Dundee) completed work on the direct sequel, while Sumo Digital launched Crackdown 3 after an infamously troublesome development cycle – in part due to overshooting with its ambitiously destructive cloud tech. "Kudos to Sumo for finishing it off," says Penn. "Crackdown 3 was… a challenge. Trying to constrain and direct the destruction within the Crackdown universe was a nightmare."
Crackdown 3 may not ultimately have lived up to its full potential as a key Xbox One title, but it's yet more evidence of Penn's wider belief that it's crucial to finish what you start. It's fair to say that none of the tentpole titles Penn has been a part of has been an easy ride.
But maybe that says more about the speed at which the industry evolves and adapts, as opposed to any lack of skill or ambition. Theorising why this is, Penn says: "Making original games is so hard, even harder at this scale. You shouldn't go into production until you've finished the game once in a playable form and have a clear idea of what it is you're building… but we did, despite trying so hard not to." For evidence of how it should be done, Penn cites a certain other open-world behemoth. "GTA III is a great example of what a capable team can do, working from a tangible model like the first game."
Most recently, after securing funding from the UK Games Fund back in 2017, under Denki, Penn has been in his element handling a new series of cutesy games based around the idea of automating settlements, called Autonauts.
Designed to encourage players young and old to engage in Scratch-style programming, the objective is to build, create, and automate legions of workerbots to function in whatever way you choose. The concept's flexible structure and litany of design capabilities makes pinning it into any one genre a tough task. But its low-poly art coupled with near endless possibilities has rendered the original Autonauts a fun way for children to get into programming, going so far as to be used as an educational tool in schools.
"It's been such a lovely surprise to see Autonauts help people learn about coding," Penn says. "We've had some fantastic feedback from schools around Europe who've seen students better appreciating the fundamentals of coding from playing Autonauts.
"It's not a coding game, not really – [it's] more about using the broadening principles of coding to automate systems, which is a horribly dry way to put it."
Such infinite potential left Penn at somewhat of a dead end when thinking of where to next take the series following the game's full launch in 2019.
Where do you take a game that can be influenced and manipulated into almost anything? Into its own sub-genre, consisting of both tower defence and real-time strategy elements, of course. The recently released Autonauts vs Piratebots "is a puzzle game like the original," explains Penn, "but sees you juggling essential base-building with automating a business, to create finances to build an army to defend against and attack hordes of Piratebots." Not only does this serve as an effective way for the sequel to maintain the core creativity introduced in the original, but it also offers new players a bit more structure. The hope being that an even wider player base can discover the joys only a game based around automation can provide.
One of the enduring aspects of Autonauts, and now Autonauts vs Piratebots, is the idea of collaboration. Because unlike when Penn was forced to take charge during his days at DMA Design to get GTA shipped, and then Realtime Worlds where he wore a lot of development hats, Autonauts allows for a back-and-forth conversation between player and studio. For the first time in years, Penn is free to create a relaxing and attractive space for people to play instead of rushing out the door, with technologies like Discord and Reddit being excellent avenues to provide instant fan feedback. "We used our brilliant community's feedback to help us decide where to go with Autonauts, and ended up at Autonauts vs Piratebots. We shared visualisations of six possible concepts and found there was a hunger for automating combat within RTS and RPG themes."
As well as being indicative of his desire to never stand still, Penn's move into a more automated brand of game development sees him focus less on deadlines and more on what creative choices will best benefit the titles he now makes. It's hard to imagine him reaching this point, though, were he not forged in the fires of magazine journalism and triple-A game development. And whereas before, Penn was sometimes forced to strip away a project's ideas to help it see the light of day, now the opposite is true: "There's so much untapped potential".