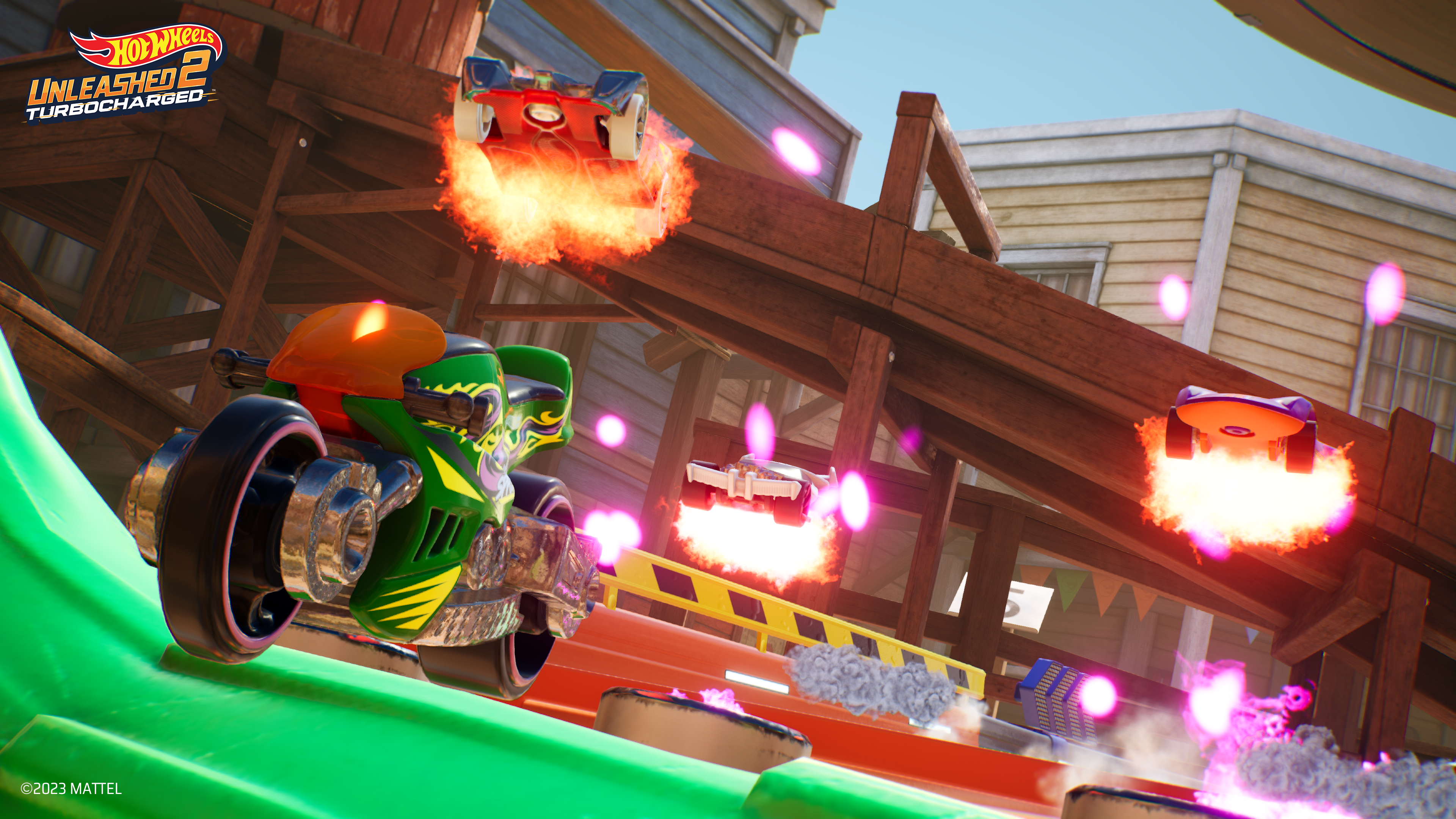 Milestone's Andrea Simone Basilio talks to us about the making of arcade racer sequel Hot Wheels Unleashed 2: Turbocharged, out this month.
---
It's fair to say that the first Hot Wheels Unleashed was a major surprise when it released two years ago. From the outside, you could easily assume it to be just another tie-in game coasting on the popularity of a brand that license-holder Mattel had been building for going on 60 years.
After looking under the hood and into the engine, however, players quickly discovered an exceptional arcade racing game (the kind we don't get too much of these days) with interesting track designs, fun boosting mechanics, and a general appreciation for the toy cars many of us grew up playing with; it paid exceptional tribute to all things Hot Wheels.
The game being so great made a lot more sense once you realised that behind it was Milestone, the Italian studio famous for working on such revered racing franchises as MotoGP, Ride, WRC and others – arguably the go-to developer for everything burning rubber. That's why hopes are high that Hot Wheels Unleashed 2: Turbocharged can meet these newly set expectations when it launches later this month. Fortunately, it's a high bar Milestone is adamant on surpassing thanks to its own internal ambitions for the sequel.
"The game was a success. More than we expected," says Hot Wheels Unleashed 2 associate creative director Andrea Simone Basilio of the 2021 original. "We were very happy about how the audience reacted to the game."
Read more: Hot Wheels Unleashed review | leading the way
Milestone was able to bring its expertise in sim racing to in effect let its hair down, crafting an arcade experience more approachable to the general car enthusiast. "We know, as developers, that we can bring something new and different in the genre that is completely different to other titles."
Milestone had already set itself up for a great sequel. Having already nailed the toyetic look of the first game's 66 vehicles – ranging from Ninja Turtles and Back To The Future themed crossovers to classic Hot Wheels originals like the Dragon Blaster and GT Scorcher – the vehicles sat alongside including various real-world locales like a kitchen, college dorm and construction site. Seeing these otherwise everyday environments was made infinitely more thrilling by racing through them from the perspective of a toy car. Hot Wheels Unleashed 2 looks to capitalise on this novelty again, while introducing new cars and more locations, complete with all-new vehicle types, modes, and even ways to influence races.
"We have a broader audience with a lot of different targets," Basilio explains. "So we saw what they wanted and listened well and started thinking about what to include in the new game. We had a lot of ideas but were quite scared about it, because taking and touching something that's working well is scary."
Milestone didn't want to include more vehicles, stick the number two on the box and call it a day, either. "That's the easy way," he continues. "We didn't want to do the easy way, so we decided to add a new action in the gameplay. You can actually jump, double jump and lateral dash left and right [relative] to the other cars if you want."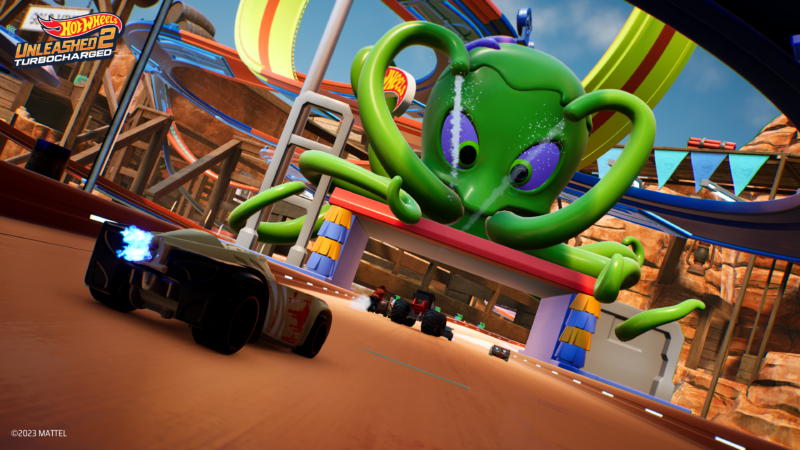 Alongside these new on track manoeuvres, one of Hot Wheels Unleashed 2's big new features is the inclusion of ATVs and motorcycles. And despite the discrepancy in size between these vehicle types in real life, Milestone was adamant on maintaining true 1:1 scale with the toys, and so expect to regularly see handlebars come above the roof of some cars.
"We also worked on having different kinds of physics inside the categories of the cars," Basilio continues, referencing how every vehicle is now split into one of five – Balanced, Swift, Drifter, Heavy Duty and Off Road – depending on the player's handling preference. "We also thought that moving from cars was a good thing to do. Obviously bikes are more agile in the movement and ATVs are especially good on the offroad surfaces because [we've created] new typology."
That's right, because while circuits in the first Hot Wheels Unleashed could briefly see you venture off the track before testing your ability to battle back on, in the sequel Milestone is set to add a whole new range of terrains (like grass and mud) that can drastically affect the handling of your vehicle. It was important to the studio, though, that players who wanted to stick to their favourite car for the entirety of the campaign could absolutely do that, as evidenced by the new skill system that allows various perks to be unlocked for each vehicle. "With perks you can customise your playstyle," says Basilio, adding that "it's not mandatory that you have to change car."
In almost every aspect, then, Hot Wheels Unleashed 2 looks set to live up to the Turbocharged moniker, whether that's in how players can affect races through new moves like the double jump, the ability to upgrade vehicles, and the way certain categories cater to different playstyles. The same can again be said for the total number of vehicles feature this time around, which almost doubles the count from 66 to 130. With literally thousands of new and classic Hot Wheels designs to choose from, the process of selecting what to include can be challenging but fun.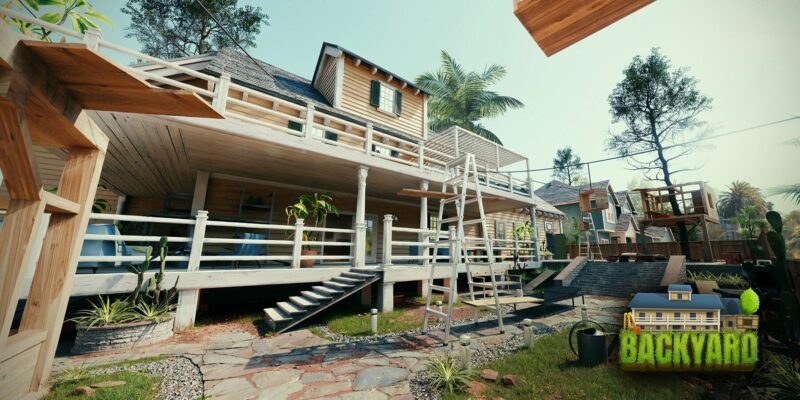 "I'm a collector of games, toys and other things," laughs Basilio, "and I already collect a lot of Hot Wheels. At the beginning of [development] Mattel sent us a super PDF with all the cars from 2022 to 2024, something like that. That was amazing! So we have seen all the plans." Despite having the skinny on what new Hot Wheels designs are forthcoming, however, choosing which to feature is all about listening to the community. "We have a lot of collaborations with a lot of different brands, but we understood better what our [audience] want. For instance, AcceleRacers is a big brand for us. After every post on social a lot of people ask for AcceleRacers.
"The new list of the day one cars is more focused on the direction of what our audience wants. It's a good mix, in my opinion, between the Hot Wheels originals that people like a lot and the OM [Original Manufacture] that are created by Hot Wheels. We have the Ducati Panigale, for instance, but we have a lot of other bikes that I can't say yet."
Just because Hot Wheels Unleashed 2 will debut with an already whopping 130 vehicles doesn't mean it has to stay that way either, as before. "We have a plan for the future," says Basilio.
The best part about all the vehicles featured in Hot Wheels Unleashed 2 is that, much like last time, the sequel won't feature any microtransactions, setting it apart from certain other rivals on the scene. Every one of the starting list will be unlockable entirely in game, with Basilio teasing that this will operate slightly differently than before; the blind box method replicated the tactile joys of unboxing a new Hot Wheels vehicle in real life, but didn't avoid the disappointment of doubles. The increase to 130 playable vehicles is sure to aid in resolving this too.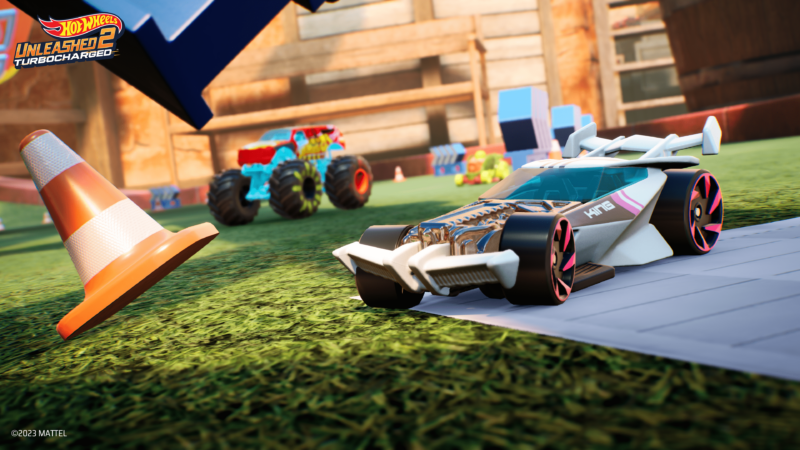 There was a time when the industry was a awash with solid arcade racing games, yet now they seem few and far between. With the Hot Wheels Unleashed series, Milestone has therefore tapped into a lot of people's thirst for a racer that captures the joy and fun of what it means to put pedal to the metal, no doubt assisted by leveraging the childhood nostalgia the Hot Wheels brand brings with it. It's a style of racer Basilio and his team are happy to cater to, alongside its more typical sim racing fare.
"Not to sound too arrogant, but Hot Wheels [Unleashed] changed something," says Basilo. "There's now a lot of games going to the market, like Lego 2K Drive this year – that is super arcadey. So I think it's going to be different in future. Not just for Hot Wheels, obviously, but [since] everyone has understood, even the biggest studios, that there are people that want those refreshing and arcadey type of games. Just wait and see!"
Hot Wheels Unleashed 2: Turbocharged launches on PS4, PS5, Xbox One, Xbox Series S|X, Nintendo Switch and PC this October 19.
Read more: Out of the box | Translating toys to video games