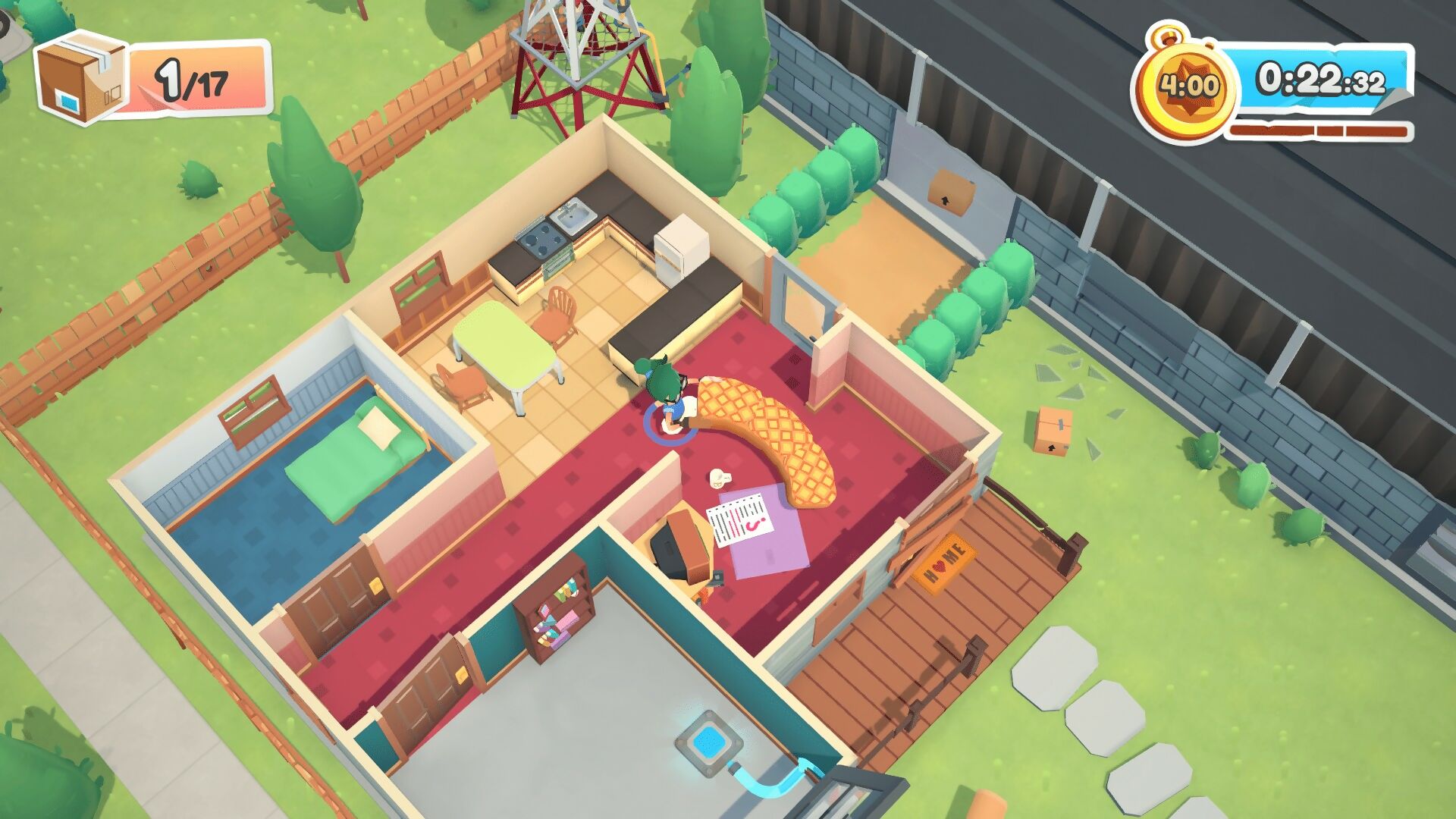 Throwing valuables through the glass of upper-floor windows into a truck below is just fun – there are no two ways about it. There's a lot of that sort of thing in Moving Out, a co-op party game where you and up to three other friends take on the role of professional movers.
The idea is simple: you go into a property and get everything that needs to be moved loaded into the van as quickly as possible, regardless of how damaged that might leave the property and the stuff you are moving.
Though you can play Moving Out in single-player mode, it'll be no surprise to hear that you'll get more out of it if you've got someone who can join you. Having two players opens up the possibility of engaging in some of the game's more fun mechanics, and adds a layer of complexity to planning when you're trying to optimise your runs for better times.
For example, smaller items can not only be thrown, but caught, leading to some satisfying co-ordinated moves – grabbing each end of a sofa with a partner and giving it the old 1-2-3-throw is unendingly satisfying.
Complexity is added as you progress through the game, with the unconventional architectural tastes of some of the residents of the town of Packmore providing bizarre layouts to work in, en-couraging you to think carefully about how best to move objects through the space.
Things get ever more outlandish as you're forced to hop across logs, Frogger-style, to move furni-ture across a river, deal with levers, fans, and conveyor belts, or dodge flamethrowers and other hazards. It's unfortunate that the developers didn't quite seem to get a handle on which of these nuances to the core idea made the game more fun or interesting and which just made it plain an-noying.
Some of the early additions to the game's formula are particularly frustrating – ghosts that chase and grab you if you wander into their field of view are a pain in the backside – and it's only when you stick with the game a little longer that you discover there are some great ideas too, such as the movie-like scene where you throw things off a moving train onto the removal truck running beside you. You'll wonder why there's not a little more of the good ideas and groan in frustration when you stumble across the odd bad one, but this unevenness shouldn't be enough to ruin your fun.
Moving Out is a game clearly pitched to fill the Overcooked!-shaped hole we might be looking to fill in our lives – another co-op party game from the same publisher that's aiming for a similar aesthet-ic and tone. It might not be quite up to that level, but like the movers who stuff their clients' bruised and battered furniture into the removal van, it just about gets the job done, in one way or another.
Highlight
When playing in co-op, heavy items can only be carried by two people working together. Holding down the throw button will start a swing, which can be released at the correct time to sling it in the right direction. It's not only satisfying but combines some of the game's best elements – planning, working together, and throwing things out of windows.
Verdict: 69%
An uneven but enjoyable co-op party game in the Overcooked! mould.
Genre: Co-op party
Format: PC (tested) / Switch / PS4 / XBO
Developer: DevM Games / SMG Studio
Publisher: Team17
Price: £19.99
Release: Out now