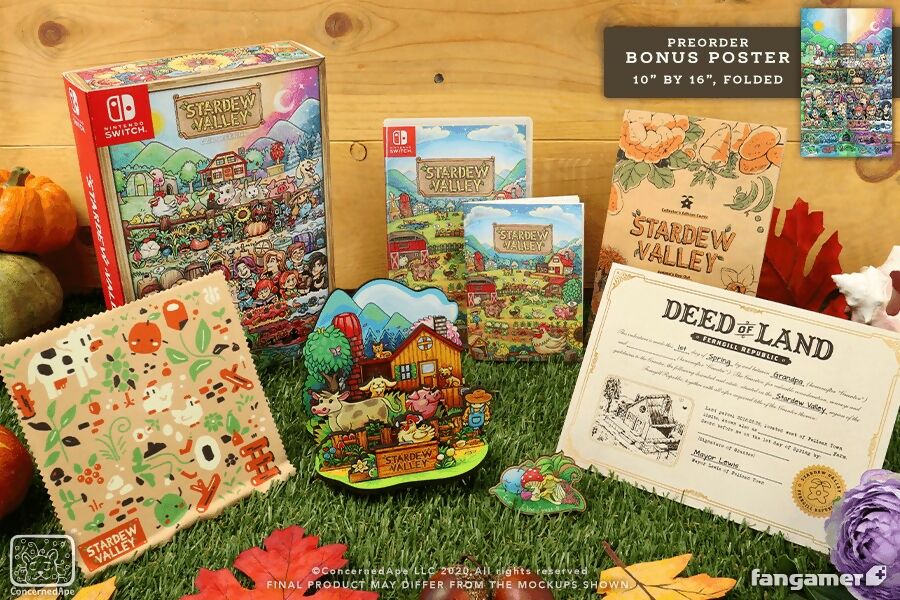 You'll note we don't (currently) run a news story every day on the Wireframe site. Instead we like to pick and choose, and make sure what we cover is the sort of thing that's big, that matters, that makes a difference.
Friends: the Stardew Valley Collector's Edition on PC and Switch is all three of those things, and much more. Just look at it. None of that silly two metre-tall statue of a character nobody really cares about nonsense here, no helmets, no reproductions of in-game currency that you forget you have lying around and keeps turning up in your desk drawer every now and then. This… is the good stuff.
The Collector's Edition – different from the Collector's Edition – sees the first physical release of Stardew Valley on PC, and brings with it the game and a whole host of adorable little extras. There's a cow/chicken/pig/dog-laden wooden standee made from responsibly sourced birch and cherry wood; a wooden lapel pin; a 14-page comic; a farm deed proving your ownership of the virtual land where you do nothing but grow massive pumpkin patches in order to maximise profits; a box to keep it all in; and most importantly, a cleaning cloth.
Available from Fangamer, the Collector's Edition will release early November and is priced at $64 (£49) for the PC version, and $69 (£53) for the Switch. Do note if you're in Europe, as I am, shipping prices are gargantuan for the time being, with only FedEx available as an option. Fangamer has said on Twitter it's trying to reinstate economy postage options, but no word when that might be. So for now it's great, but very expensive if you're on this side of the pond (or elsewhere that just isn't in the US).
Still, this looks to be a carefully crafted and thoughtful take on the collector's edition format, running with a strong theme throughout and presenting purchasers with a selection of goodies that they might actually want on display. Unlike that crap you got with Dead Island Riptide. Remember this not-safe-for-work nonsense? Yeah, rubbish.
Have a shufty through here, and consider either paying through the nose for postage right now, or waiting a bit to see if a cheaper option does indeed become available.