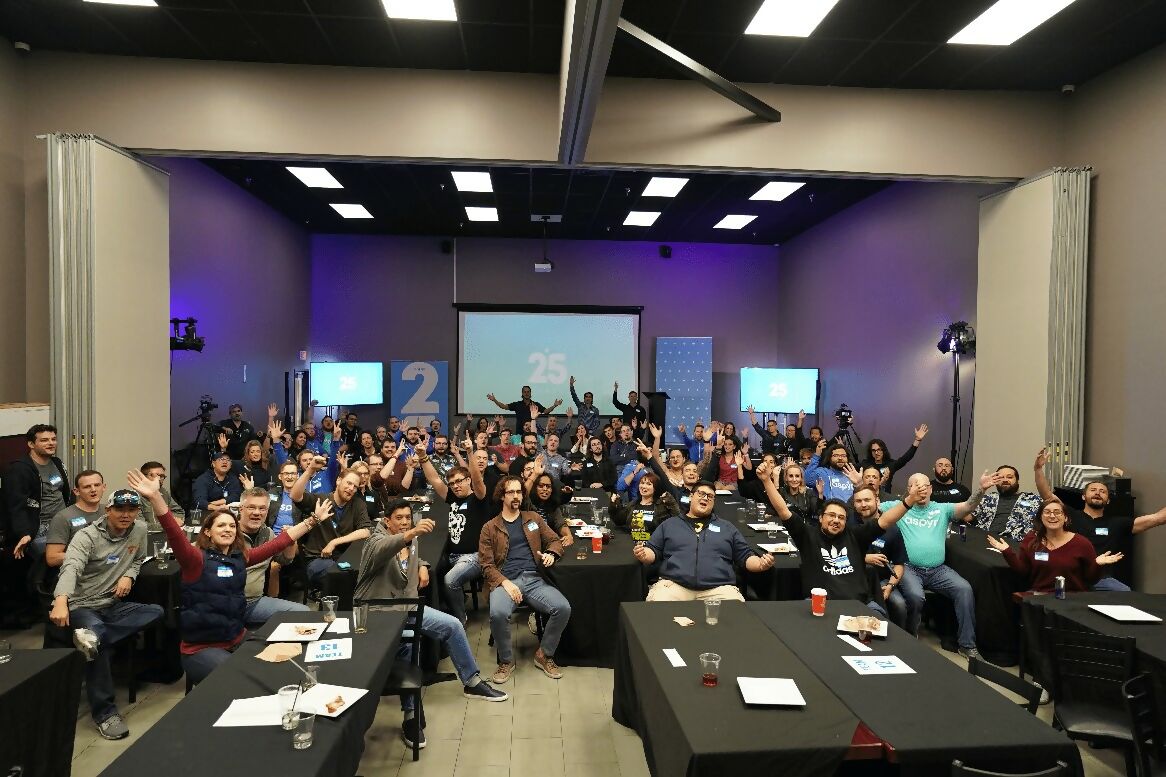 In the world of video game development, the job of porting a game from one platform to the other is often perceived as a thankless task. In reality, this meticulous, challenging, highly technical process is incredibly important. Not just because it ensures that a wider audience can play whatever title has been deemed worthy enough to be ported to another system, but also because it means that game stands a much better chance of being preserved as the years, decades, and console generations go on. Relatively few studios were founded to specialise in porting games, but Texas-based outfit Aspyr is a rare example: it has grown to become one of the most notable companies of its type over the past quarter of a century.
Aspyr was established in 1996 by business partners Michael Rogers and Ted Staloch. The two were big video game fans, but noticed there was a distinct lack of titles available to play on their favourite machine, the Apple Mac. And with the PC gaming scene constantly booming with landmark games like Quake, Diablo, and Half-Life all changing the way people think about the medium forever, why should players on Windows get to have all the fun? "Aspyr was founded to bring the world's biggest games to macOS," explains Michael Blair, the studio's senior director of business development, looking back. "Since then, we've continued that work, but have also shifted to bringing old and new experiences to gamers regardless of platform."
This ethos of preserving a game's core experience rather than toying around with it is something that has come to define the idea of a port. Unlike remasters and remakes where the explicit intention is to fundamentally change something about a beloved title (in the hopes of improving it in some way), Aspyr instead wisely tapped into a unique gap in the market, where a specific audience of players was being underserved. It's no wonder, then, that other prominent studios immediately saw value in the work Rogers and Staloch were offering. You'd think any budding upstart would have begun relatively small, yet some of Aspyr's first ports for macOS included working on such recognisable franchises as Tomb Raider, Madden NFL, and Deus Ex.
PORTING POWERHOUSE
Even if Aspyr proper wasn't directly responsible for porting, offloading certain responsibilities to partner studios like Westlake Interactive, it still played a key role as publisher. "When Aspyr was founded, making games accessible to Mac owners was the long-term goal," Blair explains, referring to the company's unassuming but ambitious origins. "Can any of us really say what our next two, three, or four goals are before the first goal is reached?"
Not necessarily knowing what steps to take next still didn't stop Aspyr from capitalising on the high demand for its services, though. It's estimated that by 2004, it owned 60% of the Mac entertainment market. Aspyr's quick swerve to becoming a publisher – in addition to reliable porting house – had paid off. "We were committed to our craft," says Blair, "and as time went on, we were able to modify that goal here and there to get us where we are today."
Publishing other developers' games on macOS was going so swimmingly that it was no surprise that Aspyr wanted to try its hand at doing the same for an original, never-before-released title. It seemed almost inevitable. Well, the opportunity eventually came in the form of 2005's Stubbs the Zombie in Rebel Without a Pulse, after partnering with Alex Seropian from Wideload Games. Infamously made using the same engine as Bungie's Halo (as explicitly mentioned on the box), this story of a zombie roaming around a retro-futuristic city in search of brains reviewed fairly well – it has since become a cult classic. The Xbox version sold well, but Aspyr heading up publisher duties meant that there was less of a wait – just a month's difference – for Mac and Windows players to get in on the fun, too.
ASPIRE TO ADAPT
Aspyr's reputation for port work may have evolved and grown throughout the years, but one of the reasons it has managed to stay so revered is its mastery of the process. Bringing a beloved game to a new platform always poses its unique challenges, but Blair is quick to mention that the tenets behind what makes for a successful port are the same now as they were 25 years ago; it's just the technology that has changed.
"Fortunately, at Aspyr, our processes have remained largely the same," he says, "with the ultimate goal of delivering memorable gaming experiences for all gamers."
Being in the game for so long has forced Aspyr to greatly expand its skillset and stay adaptable. So much so that it no longer ports purely to macOS. In fact, quite the opposite. As new consoles and platforms have popped up in the two decades since its establishment, the studio has had a hand in everything from PlayStation 2, the original Xbox, Game Boy Advance, Nintendo DS, and others – even Linux players have been well catered for with ports like Borderlands: The Handsome Collection, Sid Meier's Civilization VI, and most recently Observer making their way over. Whereas a lot of studios might look at such a platform and see limited viability, Aspyr thinks otherwise.
"What's awesome about our journey is that there's a trail and résumé of consistent quality titles, both original titles and ports, that speak of what we're capable of doing," Blair mentions. But just how hard is it to stay on top of advancements in hardware? "Sure, some challenges have arrived with modern technology such as new aspect ratios – remember 4:3? – and all the UI/UX changes that must be made to bring these titles to modern displays. At the same time, new technologies have made what we do a bit easier. That, coupled with the extremely talented team here at Aspyr, means we're able to overcome any challenges thrown our way."
A LONG TIME AGO
Aspyr is perhaps most notable these days for reintroducing games that sit within one of cinema's most memorable sci-fi universes, albeit in a non-canonical way. You see, following Disney's acquisition of the Star Wars IP in 2015, the House of Mouse made the not-so-popular decision to relegate anything that wasn't the theatrical movies and 2008 Clone Wars TV series to 'Legend' status. Wiping the slate clean to make way for new creative ideas and storylines made total sense, but it did leave many veteran Star Wars fans wondering about the status of classic titles.
Fortunately, one of the earliest relationships Aspyr formed was with that of the now-defunct LucasArts, first collaborating on the macOS version of 2002's RTS game Star Wars: Galactic Battlegrounds before setting its sights on other titles set in George Lucas's galaxy far, far away. From Knights of the Old Republic, LEGO Star Wars, and even The Force Unleashed, Aspyr soon became the custodian of sorts of Star Wars games on PC. This has continued right through to today, where on Nintendo Switch specifically, Aspyr keeps the memory of pre-Disney era Star Wars games alive through its exceptional port work.
"We've been lifelong Star Wars fans, so that's where it all starts," recounts Blair of the special partnership, which survived the shutdown of LucasArts in 2013, right through to its rebirth as Lucasfilm Games in 2021. "Aspyr and Lucasfilm Games share a long history, successfully bringing many of Star Wars' most beloved games to new platforms and audiences, and we're both committed to delivering high-quality experiences to the community, which makes it easier."
While working on such a storied sci-fi franchise is thrilling, the team has never lost sight of how much responsibility also comes with it. "Aspyr takes tremendous pride in the trust it has been given for the brand," says Blair.
Some players might look at the exciting new era of Star Wars games we're currently in, and wonder why the likes of Republic Commando, Episode I: Racer, and the Jedi Knight series warrant revisiting. The truth is that, whether considered canon or not, Aspyr is proud of the work it did to help LucasArts bring these classic titles to as many players as possible, seeing the value of keeping such fan-favourite characters as Kyle Katarn, Starkiller, and Darth Revan alive. Plus, with Disney seemingly taking influence from this supposed 'Legends' era for its new TV shows, comics, and books more and more every day, why not make the games these ideas originated from more widely available.
But what is it about these classic Star Wars games that makes them worth revisiting, according to Blair? "The characters and stories," he says, without hesitation. "Each of the games we've worked on has a diverse cast of some of the most well-developed characters in games, which leads to memorable stories that gamers can attach themselves to. Because of this, the characters and stories are timeless."
As such, Aspyr believes it'd be wrong to deny new audiences the opportunity of enjoying them. "Countless memories have been made across these games, and we hope that by bringing them to a new generation of gamers, more memories will be forged."
A NEW CHALLENGE
Aspyr's vast experience working on Star Wars ports meant it was exciting (though not especially surprising) to learn that it had its sights on something more ambitious for its next project: a full triple-A remake – not a port – of Star Wars: Knights of the Old Republic. Details as to how extensive a remake this will be compared to BioWare's much-beloved 2003 original remain scarce. However, the brief teaser trailer which depicts Darth Revan fiercely shooting up his red lightsaber boldly states that it will be "a legend remade for PS5", at least to begin with.
For the first time in its history, Aspyr is developing what is, for all intents and purposes, an entirely new game in-house, using an existing framework to provide a fresh perspective on one of the most celebrated sci-fi RPGs of all time. This doesn't necessarily mean that Aspyr's moves in the port world are over, but just as when the studio first dipped its toe into publishing, the time has now come for it to fully stretch its development chops. "As with any craft, you learn from your experiences," says Blair, referring to what makes Aspyr ideal to work on the KOTOR remake. "In our case, we have a robust history of bringing loved and successful games to all platforms. So, our work in the past has shaped us into who we are and what Aspyr can do. On top of this, everyone here loves Star Wars passionately. So, we know that love is being poured into any project from a galaxy far, far away."
Regardless of how its first fully-fledged remake turns out, the experience Aspyr gains on the project is no doubt emblematic of a studio that is now capable of taking almost any direction it wants. From its humble beginnings, trying to ensure that macOS players get to enjoy triple-A games being released elsewhere, to its successful foray into publishing, choosing to rebuild a beloved title its already ported countless times – first to Mac, then iOS, then Nintendo Switch – seems like a sensible next step.
Should Aspyr's KOTOR remake be well received, it's not impossible to envision a future where the studio develops more games from the ground up in-house, alongside its still flourishing porting side. "We're committed to creating games that will be loved across the globe," says Blair of where Aspyr might go next. "This includes both revitalising fan favourites and creating new titles, and we're excited about what the future holds!"