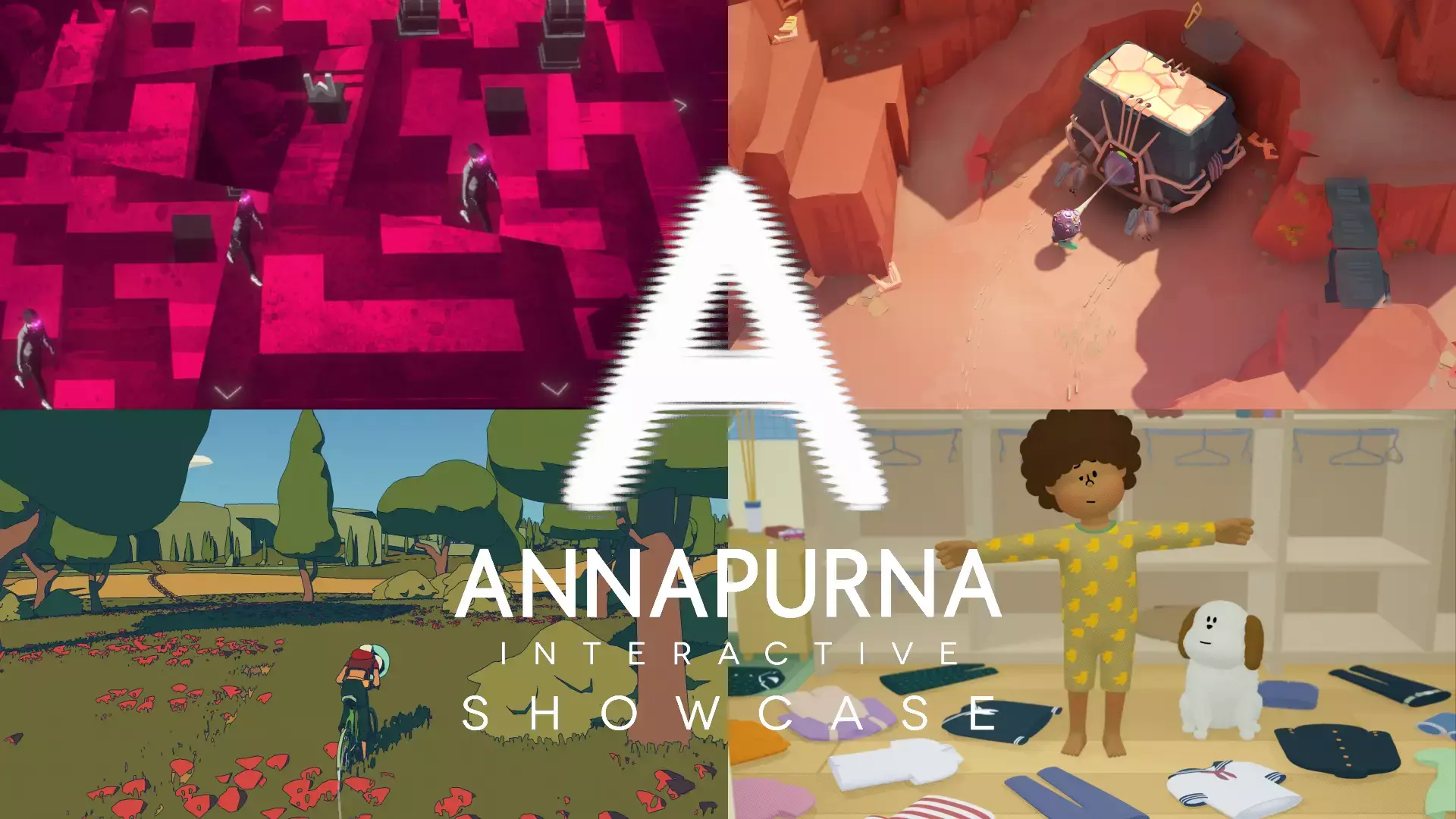 The Annapurna Interactive showcase included new game reveals, release dates, platform updates, as well as a reveal of its first internally developed title.
---
You might assume the not-E3 season had concluded with last week's Nintendo Direct, but then you'd be forgetting that the best was yet to come from one of the most exciting – and hippest – publishers in indie gaming, Annapurna Interactive.
With its third annual summer digital showcase, the 40-minute stream wasn't short on announcements, including new game reveals – not least the publisher's first internally developed game – trailers that provided a deeper look at a previously announced title or confirmed a release date for ones we've been eagerly anticipating, and even some welcome ports.
As with past showcases, there was also time taken to spotlight new developers the publisher has partnered with. These include Marumittu Games, a Kyoto-based studio founded by husband-and-wife team Hiroco Shiino and Akira Mitsuhashi, and Glass Revolver, an American studio based in Rhode Island helmed by Jacob Williams. While you'll only catch a glimpse of what they're working on, it's still a nice way to give a face to the people behind the games.
It might not have included everything we expected, with Open Roads still notably absent following the controversy over allegations of toxicity from its former developer Fullbright. We still don't know when (or if) that Outer Wilds Switch port is coming, either, but there's a lot that undoubtedly left a smile on our face.
Here's a chronological rundown of all the game announcements from the Annapurna Interactive 2023 Showcase:
Lorelei and the Laser Eyes
Simogo is never one to repeat the same trick, even if characters with masked faces might remind you of Sayonara Wild Hearts (though that game also didn't have people with laser eyes). The new trailer for Lorelei and the Laser Eyes has a different mood, with its setting seemingly a baroque and unsettlingly weird European mansion.
There's hints of four different time periods, scratchy 90s video, and plenty of emphasis on interpreting patterns and solving puzzles, especially mazes. The Witness meets Last Year at Marienbad? Colour us intrigued.
Lorelei and the Laser Eyes is coming to Switch and Steam, though a release date is yet to be confirmed
Cocoon
With its mind-boggling sequence that sees your playable winged character warp out of their world into a new one with the former the size of a marble carried in their backpack, it's no wonder that Cocoon is already one of the most talked about indie releases of this year. The game from Geometric Interactive, co-founded by Jeppe Carlsen (Limbo, Inside) and award-winning programmer and composer Jakob Schmid, was awarded Most Anticipated Indie Game by attending press at this year's Summer Game Fest.
This new trailer shows off more of the world-within-worlds mechanics. But the best news? Cocoon is only a few months away: it's out on 29 September for PC, Switch, PlayStation and Xbox, including Game Pass.
Lushfoil Photography Sim
The first new game reveal of the showcase is true to its title – it looks absolutely lush. Building on developer Matt Newell's previous short VR photography experience Wakamarina Valley, New Zealand, Lushfoil Photography Sim has you trekking through select spots of stunningly rendered locations from around the world, using an in-game camera to take the perfect shots.
There's a very zen vibe to it all, as you take in breath-taking sights that range from mountain vistas to Japanese temples and torii gates. But you'll also be rewarded for having patience and a keen eye for different angles, so who knows what secrets you might find through your lens?
The game has no release date but will be coming to PC and console.
to a T
A new game from Keita Takahashi and Wattam developer uvala is always a reason to be happy, and to a T was by far the showcase highlight for us with its hilarious premise of a boy called Teen who's trying to live a normal life – even though his arms are stuck in a permanent T-pose.
No doubt this episodic 3D adventure game will have a heartwarming message about discovering what makes you unique, and the boy's dog is already going to be doing battle with Ghost Trick's Missile and Final Fantasy XVI's Torgal as best boy, but really, it's the theme song that has us in total chuckles.
to a T is currently confirmed for Steam with no other details on release.
Flock
Announced last year, this multiplayer co-op game from Hohokum and I Am Dead developers Hollow Ponds and Richard Hogg has a new trailer. In it, Hogg is joined by narrative designer Pip Warr to demonstrate Flock's flight and creature collection mechanics.
Your rideable birdlike creature doesn't exactly fly, but it doesn't have legs either, so it's a bit like it's skimming across the environment. As for how to gather other species to your flock, it's less gotta-catch-em-all and more about seeking other creatures out, getting close and then charming them with a bird song so that they join you. It all looks very lovely indeed.
Flock is coming to PlayStation, Xbox, and PC, though no release date has been confirmed.
Ghost Bike
Alas, this bears no relation to Ghost Trick but is instead a new title, not to mention new direction, from Nidhogg developer Messhof. It's a cycling game that sees you play a streetwise city kid on a mission to revive the last Ghost Bike, a magical courier that can ride between worlds of the living and the dead.
It's a racing game where you'll literally race against ghosts, but it's also got impeccable vibes from both its cel-shaded style and a soundtrack from synth-electronica label Italians Do It Better.
Ghost Bike is coming to PC, PlayStation and Xbox in 2024.
Mundaun
Joining in the shadow drop trend, a new trailer for acclaimed hand-pencilled horror game Mundaun confirms the game is now also available on PS5 and Xbox Series X/S, featuring 4K/60FPS support. An update has also dropped for existing platforms that includes bug fixes as well as new languages.
Bounty Star
Developer Dinogod provides a narrated walkthrough of its upcoming 3D action game set in the post-post-apocalyptic American Southwest. This is billed as half mech combat bounty-hunting action and half deep base-building customisation and farming, which in turn feeds into the combat.
More importantly, it appears to tie into a rich story of redemption as your protagonist and ex-soldier Clementine McKinney is on a personal journey to clean up her life and shed the guilt of her past to become self-sufficient and a force for good.
Bounty Star is slated for an early 2024 release, coming to PC, PlayStation, Xbox and Game Pass.
Stray
Last year's feline indie darling may have been a PlayStation console exclusive, and was even free for PlayStation Plus Extra/Premium members, but this new adorable trailer confirms that Stray is also heading to Xbox on 10th August.
Thirsty Suitors
We've been pretty excited about this South Asian-flavoured mix of Scott Pilgrim, Jet Set Radio, Persona and Yakuza for a while now, so it's a relief that we now know Thirsty Suitors will be releasing on 2 November on PC, PS4, PS5, Switch, Xbox Series X/S, Xbox One, and Game Pass.
In the meantime, you can whet your appetite with the new trailer, which shows protagonist Jala back in her hometown of Timber Hills navigating family pressures, more of the exes she must confront, a whole side story involving a skate gang with a leader dressed in a mascot outfit. Then there's the most fearsome adversary of all: Jala's grandmother, who's flying over for her sister's wedding.
Storyteller
It may have taken 15 years for developer Daniel Benmergui's latest project to finally release, but there's still more to come from Storyteller in the form of an upcoming free update that adds even more content, including new characters and scenarios that will test your creativity and penchant for chaos in this ingenious narrative-based puzzle game.
The free update comes to PC and Switch, while coinciding with the game's release on Netflix.
Blade Runner 2033: Labyrinth
If there's a slight disappointment that the first game from Annapurna's internal studio isn't an original IP, that's swiftly forgiven when you realise the licence it has its hands on. Then there's the track record of its creative director: Chelsea Hash previously brought us the fabulous Solar Ash.
Blade Runner 2033: Labyrinth's announcement trailer doesn't give much away on whether this will be a spiritual successor to the 1997 point-and-click adventure or something else entirely, although you should expect some distinctly noirish detective vibes. The title implies the game will be set between the events of the first Blade Runner film and its sequel, but with such a significant gap in years between them, expect a new story and cast that expands this iconic franchise.
Blade Runner 2033: Labyrinth is coming to PC and console in the future, and is definitely one to keep an eye on.