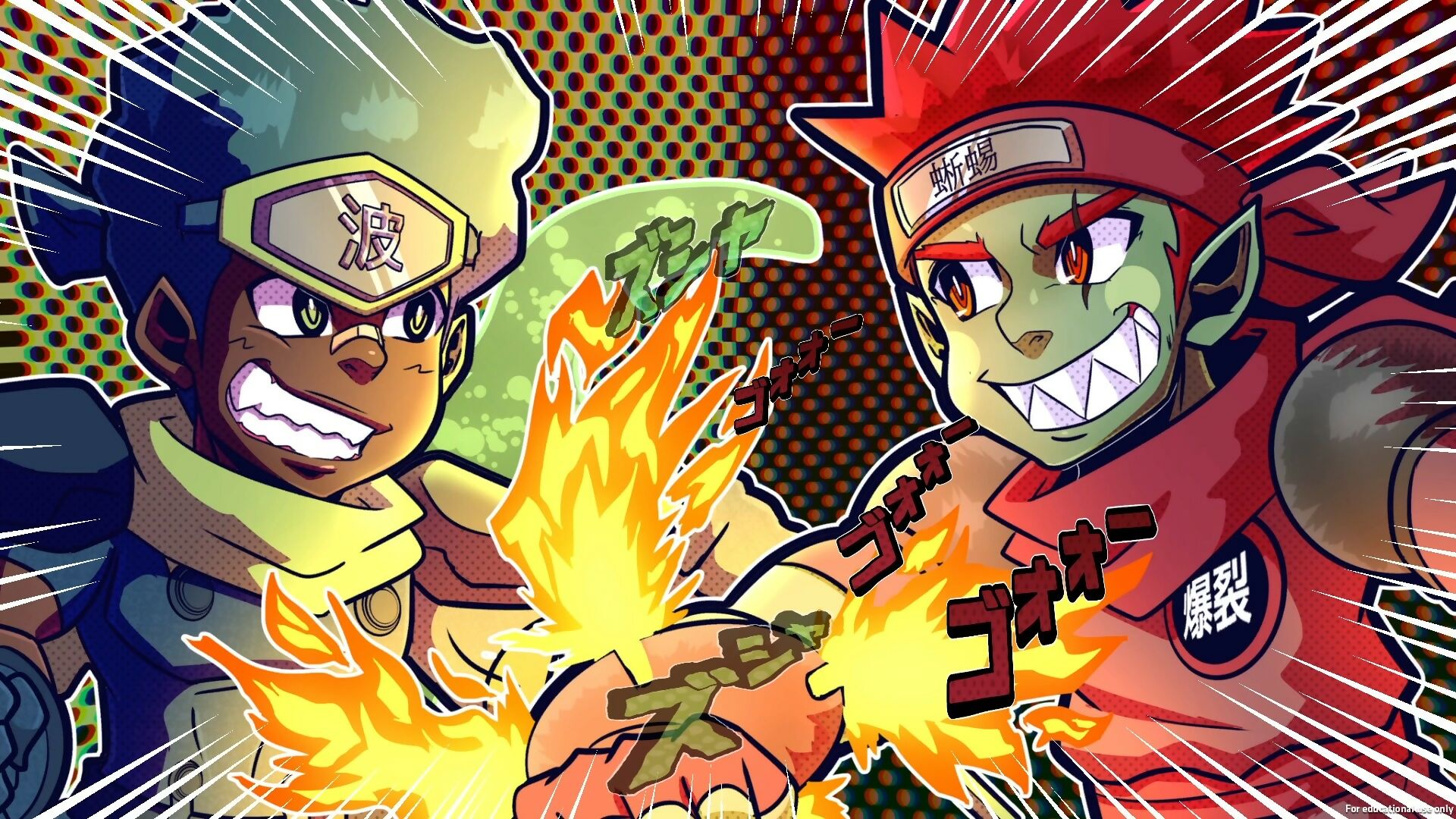 EGX wasn't exactly bustling with triple-A games this year, but this at least gave indie developers more space to shine. One such developer was London-based game design student Aisosa Ugiagbe, who was there to show off a demo of his action-adventure, Octo-Ninja Hachimaru.
A final year project for his MA course in game design at the National Film and Television School (NFTS), Octo-Ninja harks back to an early-2000s era of arcade-like brawlers – and with its bold splashes of colour and anime-like character models, we could easily imagine it as a Sega Dreamcast game from the dawn of the millennium. "We had a stall as part of my uni course," Ugiagbe says of his EGX experience. "I thought we'd be put at the back of the convention, but so many people came by that it was a bit overwhelming… There was a kid at EGX who played it, and not only did they play it, they were trying to speedrun stuff already. I was, like, 'What are you doing?'"
Long before its public debut at EGX, though, Octo-Ninja Hachimaru had an unusual origin. In 2020, Ugiagbe created an entry for that year's My Famicase Exhibition – an annual event in which fans and artists design the label for a fictional Famicom cartridge. Ugiagbe's entry for 2020 was – you guessed it – Octo-Ninja Hachimaru. Later, when Ugiagbe's university course set him the task of making a vertical slice for a full game, he revisited the plucky teen character he'd first dreamed up for that exhibition – Hachimaru, a ninja whose powers are augmented by an octopus god, Takogomi.
The result is a 3D action game with a pace akin to the likes of Sonic Adventure and PlatinumGames' Metal Gear Rising: Revengeance, but presented in Ugiagbe's day-glo anime art style. It's a true east-meets-west concept, too: while Ugiagbe looks to Japan for his spiky, vibrant character designs, it's joined with a distinctly British flavour. The soundtrack by Darkos Strife is heavily grime influenced ("I thought, everything the grime genre can do – why isn't this in games more?" Ugiagbe says), while the voice cast, which includes Nickeem Latty-Morgan (who plays the hero, Hachimaru), Amina Koroma, and Benji Buckley, all have distinctive British accents.
"Everyone in games is American, which I don't mind – it's cool – but at the same time, we exist," Ugiagbe says. "We're right here! Why has no one done it? The first game to open my mind to the possibility was Xenoblade Chronicles. I played it six, seven years ago now, but I just thought, 'Wait, this needs to happen more'. I'd never heard anyone say 'Bob's your uncle' before in a JRPG!"
An artist since he was a boy, growing up on a diet of video games (which his parents didn't, strictly speaking, approve of) and Japanese shows like Naruto and Bleach, Ugiagbe didn't get into game design until his late 20s, when he started on his course at the NFTS. For Octo-Ninja, then, he's not only creating all the character art and animation, but also designing the game in Unity. "I've had to update my Google-fu," Ugiagbe jokes about learning to program in C#. "I've had to look in forums and take in so much information. And luckily, sometimes it sparks curiosity: I've learned that X equals Y. But what if I change X to achieve Z? Which is funny because before the course I was like, 'Listen, I'm not programming. Stop looking at me'. But now I know enough to not be completely lost when people are talking about programming, which is nice."
Ugiagbe's other challenge was a common one: time. His original slice was of an entire stage, with the player ascending seven floors of challenges on the way to a final boss. With time running out before the demo's EGX debut, Ugiagbe realised he had to reduce his scope. "Each level was going to be randomly generated, so every time you went through a level, it'd be from three different types: there'd be a normal platforming level, a battle-type level, with waves of enemies, and then a stealth level where all the enemies on this floor are super-strong, so you need to stealth around them… At the moment, the demo has the first two levels, almost trying to explain the energy I want to give in the game. So that was the biggest challenge: scoping and time."
With the demo complete and positive reactions from players at EGX, Ugiagbe hopes to get working on a full version of Octo-Ninja Hachimaru in the future. "I'd love to make it into a fully-fledged thing. I'd love to receive funding to be able to do that, and I'm looking into that now."
Not only is Octo-Ninja Hachimaru an exciting-looking action game, but it also offers unique characters and perspectives we don't see often enough in the medium. Which is where the kid who sped through Ugiagbe's demo at EGX comes back in.
"His mum was telling me how much he enjoyed it, and said, 'Please, finish the game if you can'. I wasn't expecting that reaction at all. I was trying not to make eye contact because I didn't want a tear to fall out.
"A lot of black people that came by were surprised: 'Oh wow, this is different. Once they heard Hachimaru's voice, and realised he was Black British, they were, 'Wow'. I think that a lot of kids would benefit from a game like this."
Representation Matters
As well as finishing his Octo-Ninja demo, Ugiagbe has also had a dissertation to write. For its subject, he's been looking into black representation, both within games and the wider industry. "There's a lack of black and minority ethnic people in the industry on the development side," he says. "But when you go higher up, it's almost non-existent. I think the last black or ethnic person I saw in a prominent role was Reggie Fils-Aimé from Nintendo, and he's retired. So it's like, who else is there? There is no one really front-facing like that, and I feel that feeds into kids not being aware that game development is a viable career."
The same is true of character creation options in games, Ugiagbe adds: things are changing, but at a slow pace. "For people with hair like mine, we realise there are barely any options for us, and when there are, they're horrible… For example, Animal Crossing – until recently, you couldn't be black in the game. You had to get a tan to be at least somewhat dark, or there were two actual black hairstyles… but it's the internet age. Now people can actually voice opinions and realise, 'Wait a minute, I'm not the only one that feels this way. This is kind of BS. What can we do about this thing?' I'd like to believe that, you know, people are trying to improve and stuff like that."