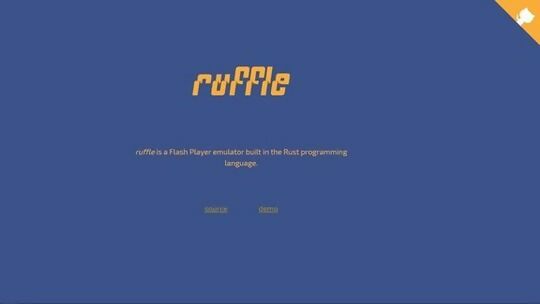 With Adobe calling time on Flash support at the end of next year, the race is on to preserve gaming (and animation) history once again. Thankfully, Mike Welsh's new Flash emulator project Ruffle seems like it'll be up to the task.
"Ruffle is being written in the Rust programming language and targets desktop and the web using Web Assembly," Welsh announced over on Newsgrounds, where he previously developed Swivel. "The project is open source and contributors are now coming aboard, which is exciting! There is even work being done to create a browser extension that detects old Flash embed code and swaps it with Ruffle, meaning you could visit any old website and the Flash will (eventually) just WORK."
But you won't need that browser extension to access the benefits of Ruffle to start with, if all goes well.
"On Newgrounds we'll be swapping our old Flash embed code so you won't need a browser extension. We're adding a true/false attribute to every Flash project to track whether it works in emulation. The initial rollout will cover animated content, then gradually expand to cover more and more games. We'll also be tracking which Flash games are touch screen friendly because they will work on mobile for the first time ever."
You can keep up to date with Ruffle's progress right here.
Wireframe #20 is out now