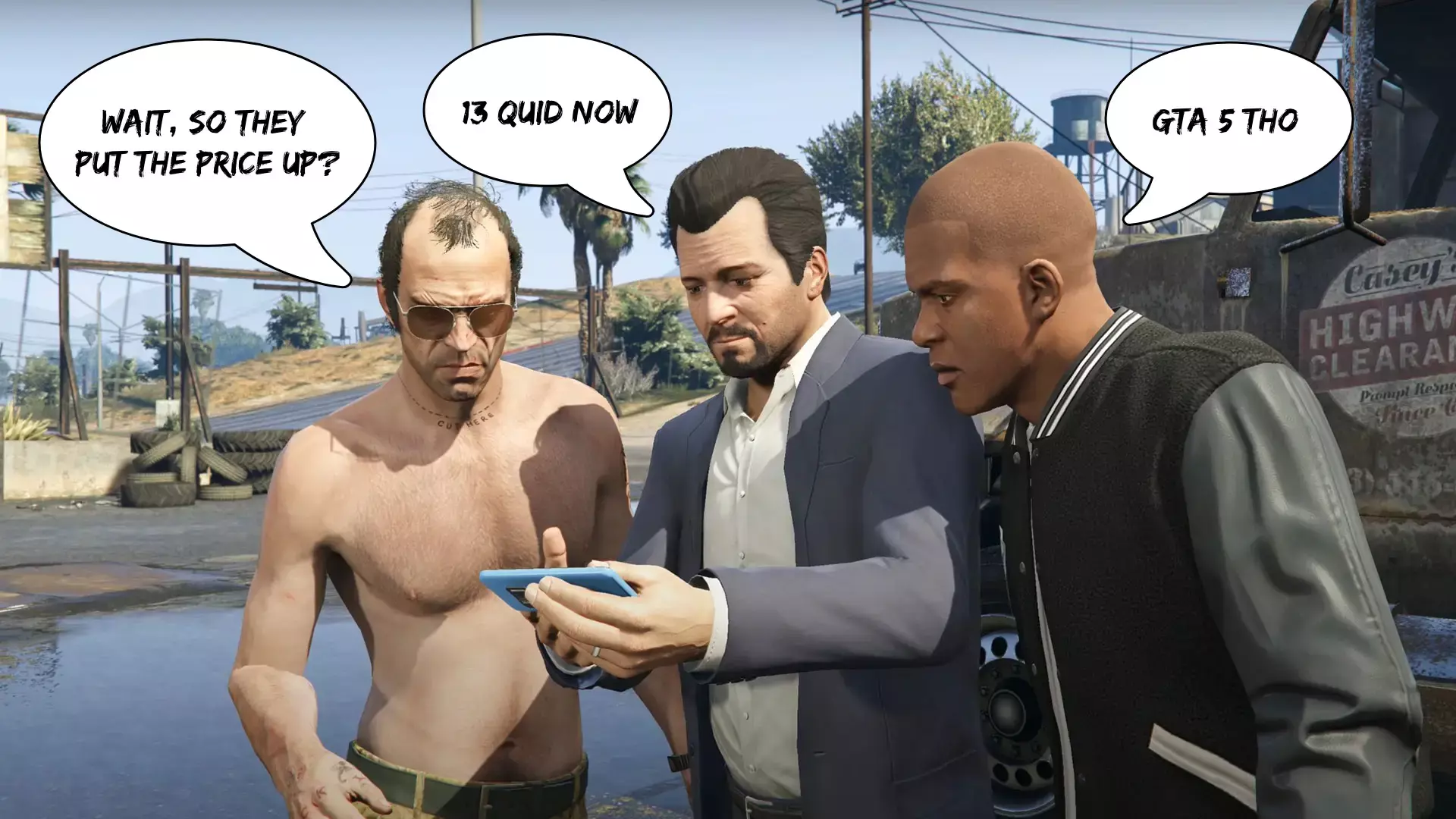 GTA 5 is one of the most played game in the world. So why did Microsoft fight so hard to get it on Game Pass? Vikki has a few thoughts…
---
Surprise! Grand Theft Auto 5 is now free to play at no extra cost for Xbox Game Pass subscribers.
That's right: the decade-old shooter that now spans a staggering three hardware generations – PS3/Xbox 360, PS4/Xbox One, and now PS5/Xbox Series X/S (wow: Microsoft's naming convention really stands out when you list them out like that, doesn't it?) – has been added to Microsoft's delightful mix of oldies, goldies, indies and newbies on its subscription service, Xbox Game Pass.
That means that if you have a valid Xbox Game Pass subscription – which, as of today (6 July), has just increased in price from £11 to £13 a month for the Ultimate tier (or £8 to £9 for console-only subs) – Grand Theft Auto 5 will be among the titles you can download and play today for no additional charge.
It's not the only game being added to the service this month, of course; other new offerings include Sword and Fairy: Together Forever, McPixel 3, Common'hood, Insurgency: Sandstorm, and Techtonica, all of which join the PC and/or console library alongside Capcom's brand-new shooter, Exoprimal, which drops later this month, too.
Let's face it: even without GTA 5, that's a lot of gaming for £13… and that's before you start exploring the other 400+ games currently available on the service.
Because it's easy to miss some games the first time around, isn't it? The release schedule is relentless, so when you're invested in, or distracted by, something else – particularly a live-service title that requires so much of your free time it begins to feel like a second job – being able to dip in and out of an all-you-can-play buffet and try out a selection of triple-A and indie games at your own pace is deliciously tempting.
I have no idea who's still waiting to be tempted by Grand Theft Auto 5, though.
No, that's not a slight. Ten years old or not, GTA 5 remains a bonafide juggernaut in gaming, shaping not just a genre but perhaps an entire generation of games. Many of the teens (and, let's face it, pre-teens) that loved trekking through GTA 5′s open-world carnage in the footsteps of Michael, Franklin, and Trevor are the game makers of today. Even now, the shooter continues to hold the enviable record of being one of the best-selling video games of all-time, second only to Mojang's Minecraft.
The online mode for sibling franchise Red Dead Redemption may have been abandoned just four years after it released, but GTA Online, too, continues to thrive. Yes, we know, finally and definitively, that GTA 6 is in development – albeit not quite in the way Rockstar may have preferred – but with a pedigree like that, it's perhaps no surprise that publisher 2K is keen to keep the shooter in circulation for as long as it possibly can.
But given not one but two generations of gamers have essentially grown up alongside Trevor and company, why is Grand Theft Auto 5's inclusion on the Xbox Game Pass line-up making headlines? And if someone hasn't played it yet – despite it being available across three generations of hardware, on essentially every platform, and at pretty much every conceivable price point, for a decade – why would bringing it to Xbox Game Pass change that? I mean… if you've somehow managed to avoid the hype and allure of Grand Theft Auto 5 so far, despite its clutch of awards and endless record-breaking sales, why would you play it now? Is a ten-year-old shooter even enough to tempt new subscribers to Xbox Game Pass?
The answer is a resounding yes, of course. Microsoft wouldn't have fought to get GTA 5 on the service otherwise. Not only will lapsed or older players be able to replay the game as a native current-gen version, but it offers an entirely risk-free, play-at-your-own-pace opportunity for the handful of people left in the world who haven't played it at all.
That's the magic of subscriptions. Yes, there are loads of them, and cutting through the hyperbole to find the one(s) that best suit you can take a while, but Xbox Game Pass is probably the service that best fits the hallowed term "Netflix of games" because it doesn't restrict by publisher or developer, unlike, say, Ubisoft+, and it includes all-new triple-A releases as well as vintage games, something Sony's been surprisingly – and vocally – resistant about.
Most crucially of all, though? Microsoft hopes that if it can tempt you into trying a few free hours of GTA 5 via its subscription service, you may end up sticking around to try some more… and I suspect that's why it's so giddy to have bagged Grand Theft Auto 5 on Xbox Game Pass.
Vikki Blake  has a column here every week at whynow Gaming. You can read her previous dispatch here.