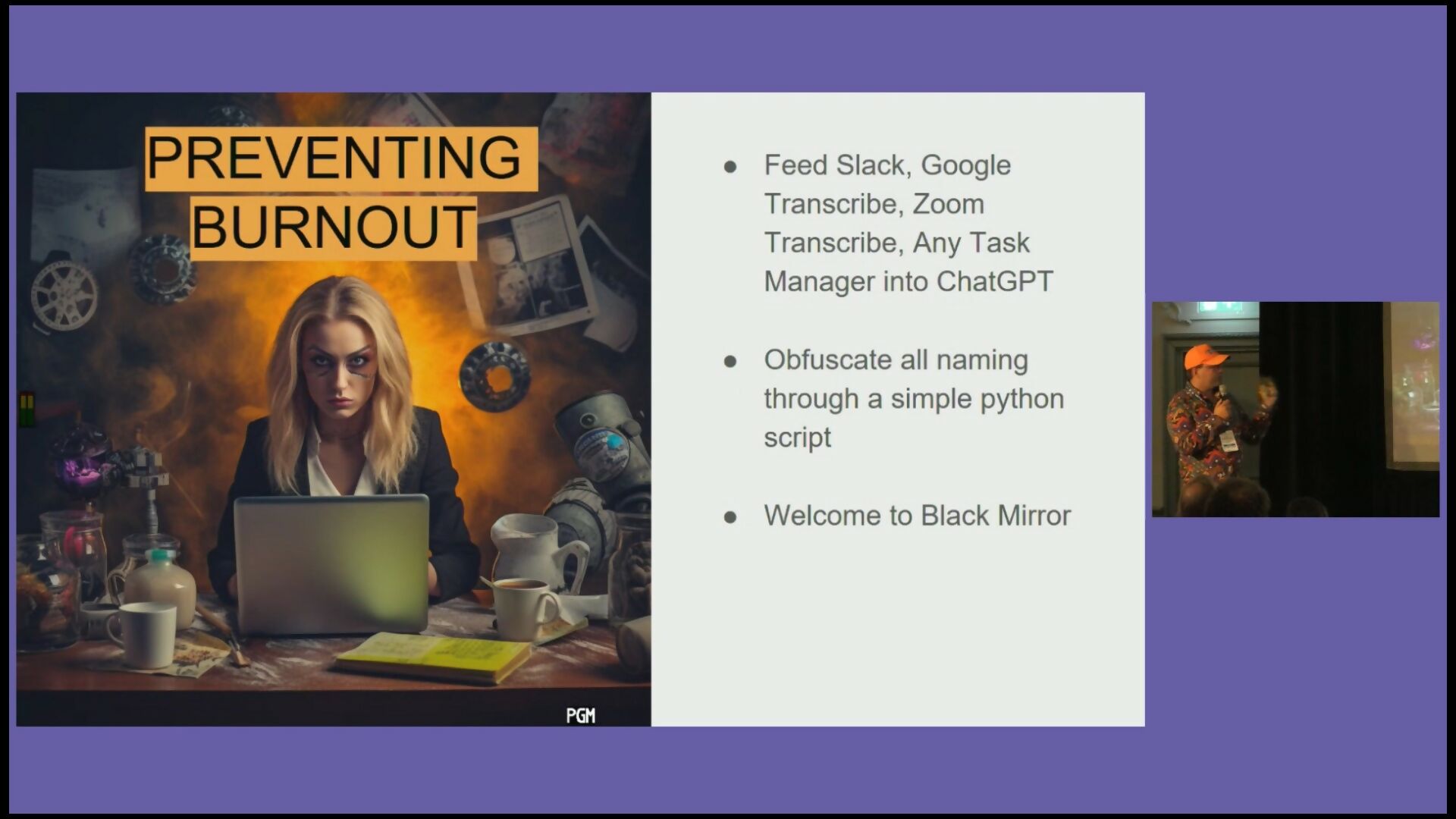 Alex Nichiporchik, the CEO of Hello Neighbor publisher tinyBuild, recommends that managers use AI to identify 'problematic team members' who talk about themselves too much.
---
Update: Since this story was published, tinyBuild CEO Alex Nichiporchik has provided the following response via email, which we publish here in full:
"The HR part of my presentation was a hypothetical, hence the Black Mirror reference. I could've made it more clear for when viewing out of context. We do not monitor employees or use AI to identify problematic ones. The presentation explored how AI tools can be used, and some get into creepy territory. I wanted to explore how they can be used for good."
Our original story follows…
---
In a talk entitled 'AI in Gamedev: Is My Job Safe?' at this week's Develop:Brighton conference, tinyBuild CEO Alex Nichiporchik has outlined the ways his company uses AI to monitor workers.
The head of the indie-game publisher, which is behind titles such as Hello Neighbor and Graveyard Keeper, introduced a section of the talk entitled 'AI for HR' by saying, "This one was quite bizarrely Black Mirror-y for me," before going on to explain how tinyBuild is using AI to identify workers who are suffering from burnout.
After saying that in most cases burnout is identified too late, he outlines a method for monitoring employee communications to identify it early. He explains that text from Slack messages, automatic transcriptons from Google Meet and Zoom and "any kind of task manager" can be fed into ChatGPT after identifying information has been obfuscated. This can then be used for what he calls an 'I, Me Analysis', adding, "I should really copyright this, because to my knowledge, no one has invented this."
Nichiporchik explains that the 'I, Me Analysis' involves monitoring the number of times that an employee says 'I' or 'me' in meetings, saying: "There is a direct correlation between how many times someone uses 'I' or 'me' in a meeting, compared to the amount of words they use overall, to the probability of the person going to a burnout."
He recommends that managers should ask HR to identify the "potential problematic players on the team" and then compare the amount of times they say 'I' or 'me' with the "A-players" in the company.
Nichiporchik then goes on to talk about what he calls 'Time Vampires', or people who talk too much in meetings and then "nothing gets done". The accompanying slide says: "Search for disproportional amount of meeting time talking compared to colleagues (time vampires)" and "Identify people who type too much (can't condense their thoughts)".
Nichiporchik adds: "Once that person is no longer with the company or with the team, the meeting takes 20 minutes and we get five times more done."
He goes on to talk about the '360-degree feedback' tool that is commonly used in HR. Nichiporchik explains that "we ask for positive nominations", encouraging employees to name five people who are not part of their team that they have interacted with in a positive way, then using that information to flag who doesn't appear on those lists.
Nichiporchik concludes that by combining the three methods – searching for people who are, as the slide says, "Talking too much about oneself", "Sucking up too much time in meetings" and that show "Flags during 360 review" – one might be able to, as he says, "identify someone who is on the verge of burning out, who might be the reason the colleagues who work with that person are burning out, and you might be able to identify it and fix it early on."
"Again, this is very Black Mirror level of stuff, but it works," Nichiporchik said, adding that the studio has used the technique retroactively on employees who have left the company, but is now beginning to use it proactively. "We had our first case last week, where a studio lead was not in a good place, no one told us. Had we waited for a month, we would probably not have a studio. So I'm really happy that that worked."
Nichiporchik goes on to add that originally this section of the presentation was about toxicity, not burnout, but, as the slide notes, "They're the same thing". He comments: "Toxic people are usually the ones about to burn out."
Finally, Nichiporchik encourages managers to use these tools positively, saying: "Do not ever make your team members feel like they are being spied on."
The rest of the talk focuses on how AI can be used in various processes in game development and publishing such as analysing contracts and generating concept art. On the latter, Nichiporchik said: "The way that I look at it is, if you're saying, 'hey, I don't want to do this', you'll be the blacksmith that's making a sword, it's going to be a really nice sword, but there is a factory being built there in the background that's going to produce a thousand swords that might be 80, might be 85% as good, but they will make a thousand of them a day versus your one sword a week."
WhyNow Gaming has reached out to tinyBuild for comment, but we have yet to hear back from the company. We will update this article if we receive a response.
Thanks to Alex Spencer for alerting us to this issue.
Read more: Media firm posts – then deletes – a job listing for 'AI editor'