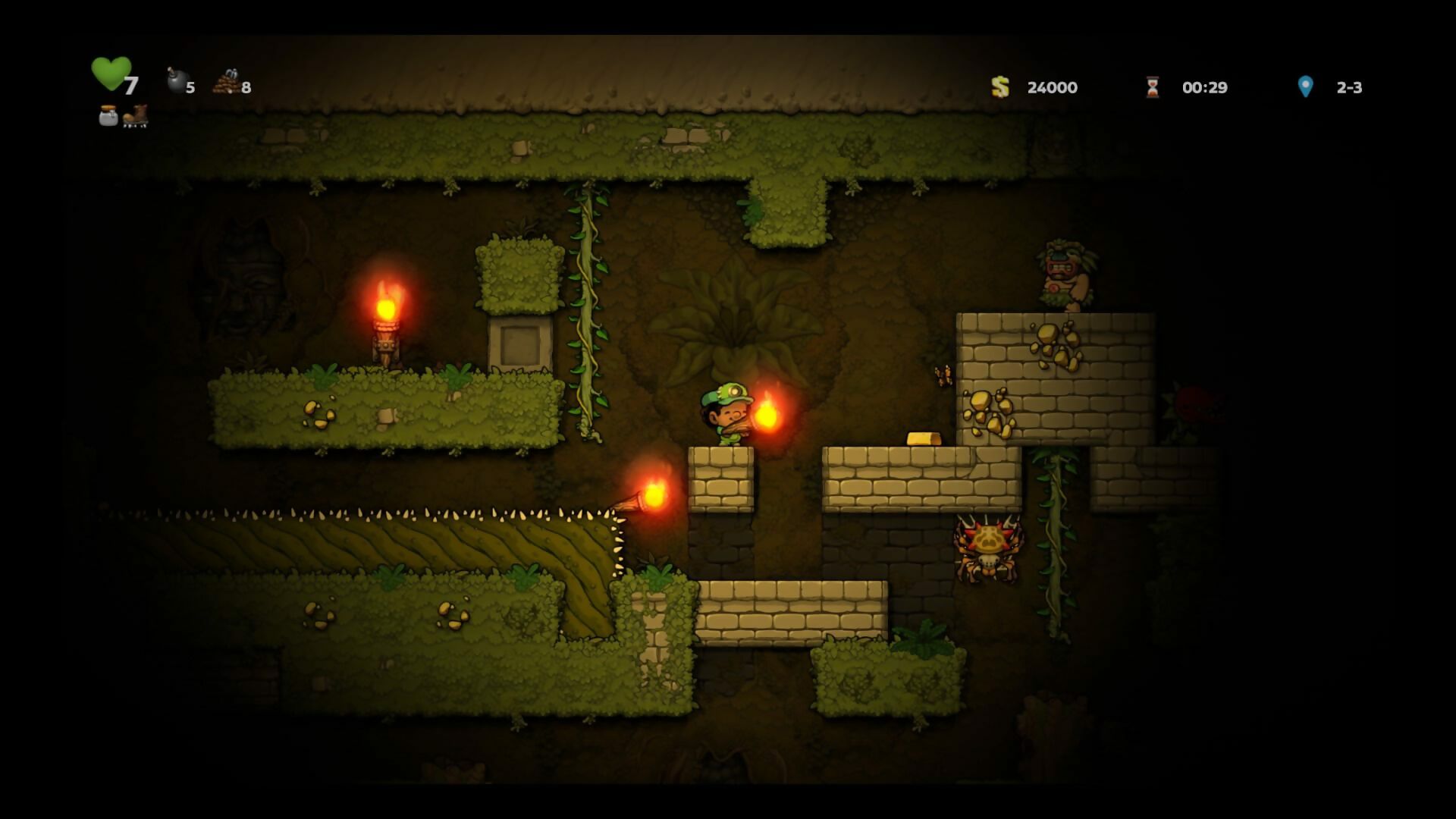 Spelunky 2 is a series of life lessons taught by someone who views the world as a Hobbesian state of nature: a war of all against all where existence is nasty, brutish, and short.
Derek Yu's long-gestated sequel is a rebuke to the smooth civility of today's roguelike. It seeks to punish us for enjoying the likes of Rogue Legacy and Dead Cells as much as reassert its orthodox methodology.
Like an elderly relative griping about the youth of today, it decries the fads of build choices and pro-gression systems to lecture on the value of hard knocks and making the most of what little you're given.
You don't master Spelunky 2 so much as learn to survive it, as fairness and narrative payoff fall prey to the law of the jungle. You're not the protagonist; you're an element in an ecosystem. Yes, the creatures and environs interact with scientific consistency, but so do the subjects of an Attenbor-ough documentary.
If there's an instant-kill snap-trap obscured behind a burst of grass? Tough. A giant spider poised next to a pit of spikes? Deal with it. Or die. Whatever. Your life has no more meaning than that of the last bat you bullwhipped to mush.
Even Spelunky veterans will struggle to find their feet. Where once the denizens of the opening area loitered in loose strings, they now cluster menacingly, ready to shuttlecock you from one ca-lamity to another the moment you poke a toe in their pool of influence. The snakes, bats, spiders, and arrow traps have multiplied, and share their dwelling with vicious rolling lizards and burrowing moles.
What differentiates you, of course, is that with each demise and rebirth you accrue the genetic memories of your misadventures. That and a mastery of tools, from rocks to hand-held teleport-ers, when they don't backfire in your stupid face. Like the first humans who began to communicate their experiences and capitalise on their opposable thumbs, you can grow. Until the fleeting day that you become this world's apex predator.
It's as beguiling as it is brutal. Other roguelikes cushion their randomness to ensure softer landings, at their worst becoming flabby pandas, grinding listlessly through piles of bamboo to an inevitable end. Spelunky 2's honed purity rejects this evolutionary cul-de-sac.
More even than its predecessor, its scorpion-laced sandboxes produce endless nuggets of concen-trated agency. It's not about builds and synergies. It's about the organic pros and cons of each mi-cro-situation. Every route taken, every coin spent, every enemy engaged, every resource con-sumed is of import.
Often it's a rigged gamble, in which you repeatedly put your house on the line in the hope of land-ing a new piece of furniture. But with the caveats that the more you roll the dice, the more you understand how they fall, and every time you lose your home, you can swiftly build another one.
As before, short sharp runs help offset strings of miserable failure against an occasional minor win-ning streak, while early success is measured in tiny gains – simply learning how something works, and lodging it in the memory bank.
And there is still plenty to learn. Although many area themes and side distractions are familiar, most are subtly remixed or tentatively expanded to wrong-foot the complacent. Most explicitly, Spelunky 2 branches its main route at key points, starting from the end of the first area, where two exits lead to completely different biomes. The paths later converge only to split again, with further secret trails for those with sufficient skill.
New additions within locations, alongside the usual keys, hidden shops, and sacrificial altars, main-tain the tradition of being as potentially deadly as they are useful. Steeds such as turkeys can be ridden for extra jump power and protection, yet can be tricky to tame and can't navigate ropes or ladders. A haunted urn in each stage contains a valuable gem, but unleashes a vengeful ghost when smashed. Can you carry this fragile cargo to the exit, then prise the treasure free just before leaving?
With all the hazards and temptations, there's dizzying scope for creative horseplay. But more stuff means less space; more moving parts equals greater chaos. Events trigger with little input. You spend more time juggling items, which only gets increasingly fiddly when mounted.
Flowing liquid physics aren't so impressive when lava pours from its containment bath to block your escape. With so many tripwires in play, it's easy to become gun-shy. Worse, it's less funny. Death now often induces a sigh, rather than a chuckle at your implausible misfortune.
Hardcore Spelunkers will no doubt tame these fractious nuances. Once again, there are hundreds of hours here for the patient, inventive, and skilful. But could Mossmouth have spread its good word upwards to welcome newcomers as well as deeper down to hell and beyond?
Adventuring with a partner is one answer (although the new online multiplayer mode has initially proved unreliable) – with good co-ordination, it's a less punishing way to unveil the game's idio-syncrasies. Yet the overall design is bloody-minded in its refusal to allow just anyone to enjoy it.
Spelunky 2 demands daredevil feats, but won't risk its own legendary reputation. The ageing alpha silverback even overcompensates to reprove its strength. Still, its grizzled bravado has much to teach young upstarts about ingenuity and reward. If it doesn't quite inspire the awe of old, it re-mains a magnificent beast.
Highlight
There's nothing as cathartic in Spelunky as blowing things up – forgoing tip-toe progress for a second to noisily punch a hole in the wretched scenery, regardless of consequence. This is ably illustrated in the sequel by the new robot enemies, with a head-mounted button that triggers a timed self-destruct. Just try and resist jumping on one.
Verdict: 83%
Spelunky 2 is a bullish, uncompromising love letter to its masochistic fan base.
Genre: Roguelike / Platform
Format: PS4 (tested) / PC
Developer: Mossmouth, Blitworks
Publisher: Mossmouth
Price: £15.99
Release: Out now