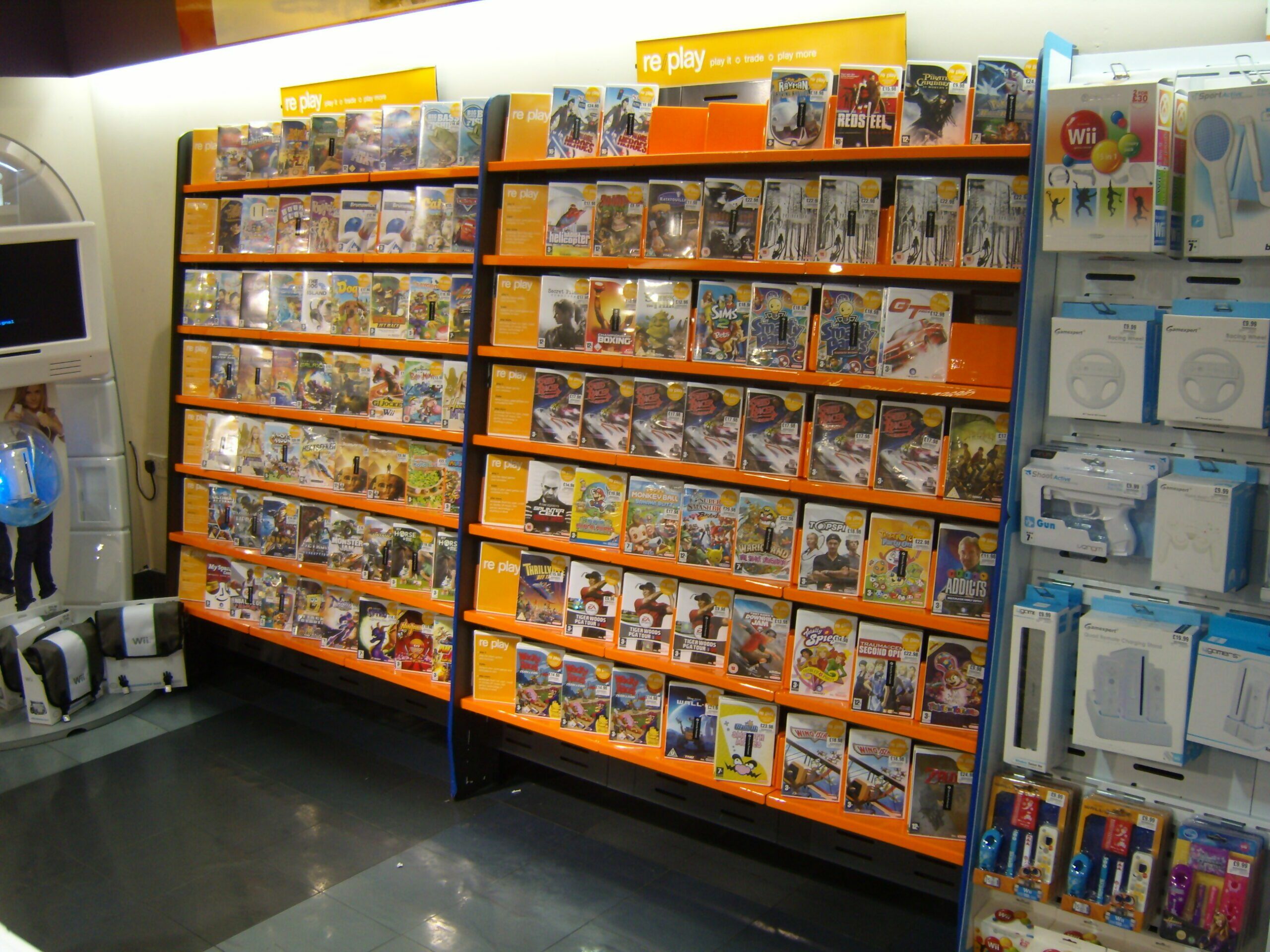 There was a time, not that long ago, when Frontier Developments boss David Braben was extremely vocal about the pre-owned video game market. He didn't like it. Not at all. He'd scorn the lack of action taken by the industry to nip the high street sales of used games in the bud. He'd also point out that pre-owned games were eroding sales of new copies, and went as far as to say the flogging of used titles was keeping the prices of video games high.
As if to underline the issue, he took to Twitter in 2017 to point out that British retailer GAME had "just tried very hard to sell me pre-owned instead of new". This aspect of the pre-owned market has long been a bugbear of publishers – but during Braben's shopping, something else provoked his ire: "They even told me developers get paid on pre-owned!" he wrote. Except, of course, this isn't true: when a pre-owned game is sold, the original developer doesn't get a penny.
And that, in essence, has been the nub of this particular industry problem. "The games devs get nothing for those sales, but the retailers get much more, which seems unfair," Rebellion boss Jason Kingsley tells us. It's why, at one stage, Braben wanted to see the sale of second-hand games replaced by a rental market that sent money the way of the creators. That way, they would at least get a cut.
Given how strongly Braben felt about the pre-owned market, it was something of a surprise that Wireframe's more recent approach to talk about this issue, via Frontier Developments, was kindly and politely rebuffed. "Thank you so much for thinking of us," came the reply, "but we're going to pass on this occasion." Fair enough, but why?
Maybe everything that needs to be said has been said over the many years that the pre-owned market has been in existence. Or perhaps what was once a hot topic has simply gone cold. Has the video game industry moved on and adopted new strategies, to the point where pre-owned is just a sideline niggle? Did the publishers and developers finally win after trying to gain the upper hand for so many years?
One thing's for sure – the pre-owned market isn't the same as it once was, certainly in terms of its high street presence. Around 2010, it appeared that every entertainment retailer wanted a slice of this particular pie, with many large chains – including some that raised a few eyebrows – offering customers a chance to trade-in and buy used games. That's not the case anymore.
DECLINING IMPACT
Back then, in the UK, Argos, HMV, and even supermarkets such as Asda and Tesco were exchanging games for gift vouchers or cash while offering cheaper second-hand alternatives to the brand new games they sat alongside. Many who entered the market at the time, however, have long since left, with some schemes barely lasting two years. Not that the practice has ended. Visit GAME, CEX, or GameStop, or simply browse online at the likes of musicMagpie and Chillout Games, and you'll see that trade-in schemes and the opportunity to buy and sell used games is still very much a thing.
The practice has become part and parcel of gaming to a large degree, despite past warnings from the industry that buying pre-owned games means less money for developers to spend on innovative, risk-taking ideas.
Online retailer musicMagpie is doing well, seeing a rise in profit after floating on the London Stock Exchange last year. "For musicMagpie, there hasn't been a reduction in the amount of games we buy or sell, and sales continue to be buoyant in the second-hand market, due to the appealing price point and the ability for people to sell the games back on," says musicMagpie's chief marketing officer, Liam Howley.
Yet the value of the overall pre-owned market appears to have dipped. In 2013, sales of pre-owned games were high, having reportedly grown faster than new titles over the Christmas period, rising by 4.9%, according to data specialist Kantar Worldpanel at the time. The value of the pre-owned market in the UK was put at more than £79 million. It then began to rise even further – for a while, anyway.
"Kantar reported that pre-owned software was worth £123 million in 2015, but by 2018 this had dropped by more than 30%," says Dr Richard Wilson, CEO of the video game trade association, TIGA. "Kantar estimates the sale of pre-owned games was worth £67.9 million in 2019 and, in 2020, consumers spent £43 million on pre-owned gaming software – this was a 22.8% year-over-year decline according to Statista."
Reports from some individual retailers appear to back such figures. In 2019, for example, GameStop reported its fourth quarter and fiscal results for the previous year, with Rob Lloyd, its then chief operating officer and chief financial officer, saying pre-owned sales had declined 21.3% (far more than the 8% decline in new software sales).
He said the drop was "reflecting declines in hardware and software", adding, "as we think about 2019 and beyond, we recognise the challenges facing our pre-owned video game business and are prepared to address them as we continue to evolve our business moving forward."
As for why there's been such a dip – well, you can probably guess.
DIGITAL GROWTH
"It's largely due to gamers increasingly switching to digital gaming downloads as opposed to buying physical copies," says Wilson. "The closure of gaming stores due to lockdowns has probably also contributed to the decline in the purchase of pre-owned video games."
The move towards digital has been in motion for a long time, and it was no surprise to see Sony and Microsoft offering digital-only versions of their PlayStation 5 and Xbox Series consoles in 2020. Although sales of disc-based machines make up the bulk of purchases (some 75%, according to the Interactive Software Federation of Europe's retail tracking Games Sales Data), the digital-only alternatives are still hard to find, suggesting they're very much in demand, too.
Publishers are certainly seeing growth in the digital market. In July 2020, Capcom said the digital sales ratio on games had grown from 53.3% to 80%. Meanwhile, just under 70% of sales of FIFA 21 in the first week of sale were digital. But that's not all. Gamers have more alternatives to physical products, too, notably with Xbox Game Pass, which offers a wealth of games to download for a monthly subscription fee. Sony is understood to be in the wings with a rival offering that will combine its existing digital services PS Plus and PS Now. It's a further sign that digital is driving forward. "The introduction of subscription services such as Xbox Game Pass has resulted in a decrease in the purchase of pre-owned games," Wilson affirms.
In that sense, the publishers and developers bitten by the purchase of pre-owned games in the past have been able to hit back, more so because most of the titles on subscription services are legacy games – older software that retailers used to buy from distributors until lots of them realised they could make more money by buying the stock from consumers.
It allows publishers and developers to once again generate revenue from their back catalogues. "Digital sales mean that consumers are increasingly likely to buy legacy titles as downloads, as opposed to buying them second-hand in stores," Wilson says. "Many companies such as Nintendo have also acknowledged the high demand for vintage video games, which has allowed classic games to be played on the Switch, for example."
Even so, pre-owned retailers aren't giving up – and while there are still tens of millions to be made, who could blame them? For its part, musicMagpie insists the pre-owned physical market offers distinct advantages over digital. "Many gamers buy physical games due to the price point when compared to digital," Howley says. "Many gamers also like to sell their games back after they're finished with them, and they can often get a good price."
In particular, he points towards the video game collectors' market as a reason why the pre-owned sector has plenty of life left in it. "People like to buy physical games for their personal collections and create a 'curated shelf'," Howley argues. "There's a strong collector's market in gaming, particularly when it comes to special editions and so on. It's also a lot easier for people to lend out or borrow physical games."
Interestingly, musicMagpie's main trade is still concentrated around older titles (it sells games for systems going back to the PlayStation 2 and Xbox). Howley says the company isn't yet seeing a huge turnover on current-gen games, but expects "this will change as more gamers have access to those consoles and more people complete or finish with the games". If the greater number of sales of disc-based consoles tell us anything, it's that gamers at least want the option to buy and play physical media.
EVOLVING DEVELOPMENT
Even so, the changing pre-owned market could affect how games are made in the future. For years, Braben said the pre-owned market was killing single-player experiences because gamers could whizz through campaigns, complete them, and sell their copy on. Multiplayer games give players more of a reason to keep hold of a copy and also play for longer periods, reducing the number of discs being sold on the second-hand market.
But does that mean the pre-owned market may have changed the ways games have been developed over the past 15 or so years? Yes and no, is the less-than-straight answer. On the one hand, Graeme Devine (best known for developing The 7th Guest and spending time at Microsoft's Ensemble Studios creating Age of Empires III) says the pre-owned market has never actually affected the length of games. "The strategy seemed to be a move towards downloads, which I supported," he says. "But, while we did talk about the pre-owned market a lot and got pretty upset that we weren't seeing a cut from one of the largest parts of our industry, no one ever came in and asked to change the length of a game."
On the other hand, publishers and developers have looked at other ways of making money, but they may well have done this anyway, pre-owned market or not. "Of course, we had downloadable content," Devine continues. "I think people saw it as 'stuff we held back', but we were too tired at the end of a game to lop something off neatly like that."
First emerging in the late 1990s and early 2000s, DLC became a way for publishers to generate more revenue from players who have already shelled out for a game. It also persuaded a good number of second-hand purchasers to pay for the extra content, too, so they could extend their experience. "The games industry saw the value of targeted smaller add-ons," Devine suggests.
Publishers, developers, and the wider industry also battled against lost revenues caused by the pre-owned market in other ways. "The most obvious was the use of subscriptions and other in-app purchases, which means the second owners had to pay to play and not all income is lost," says Jon Hare, a veteran game designer currently working on Sociable Soccer. "In-game adverts can also make a developer or publisher money from a pre-owned game."
With the drive towards digital, however, will the approach to revenue generation alter yet again? "Consumers are now playing games for longer, with less need to trade-in games," Wilson says, pointing towards a whole new issue, both for the pre-owned market and the game makers themselves. "Broadly speaking, there are fewer games available to sell and there's also less demand."
Maybe shorter, standalone single-player experiences could become more commonplace to ensure people keep investing in new games. Or maybe the industry will simply continue to look at ways of keeping those engaged with the games they've already bought.
One thing the industry will have to consider if the pre-owned market does eventually disappear is how many gamers will continue to be able to afford buying multiple games. As it stands, consumers receive credit or money when they sell a game – cash they can put towards another.
Of course, developers could simply try and make the best games they can for the audiences they serve. "We didn't really mind the pre-owned market," says Kwalee boss David Darling, thinking back to his time as CEO of Codemasters. "We mostly made realistic games based on pre-existing popular themes, concentrated on the player experience, and felt confident that enough people would want to buy them without worrying about the pre-owned market."
Exactly where things will go next is up for debate: the ongoing digital march, the rise of games as a service (GaaS), and cheap subscription models are likely to eventually quash the pre-owned market – but it may not be without consequence. Hare points out at least one silver lining in the current climate, though: "I'll say this," he offers. "It's all better than the 20-to-1 piracy rates from the old home computer days…"