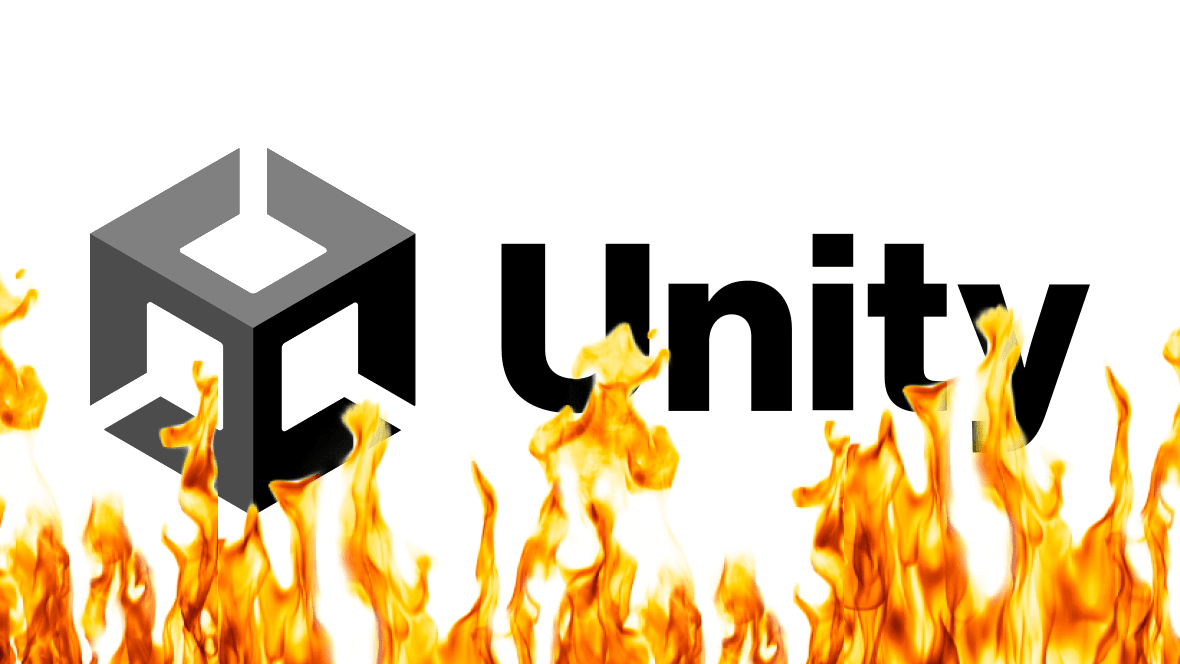 Unity is to introduce a 'Runtime Fee' in January 2024 that will see developers pay 20 cents per install after a certain thresholds. The response has not been pretty.
---
On 12 September, Unity published a blog post which introduced what it called a Runtime Fee – a new pricing system that is set to come into effect in January 2024.
That fee is based on the number of times a game created using Unity has been installed, and will kick in at two particular thresholds. If a game made using the free-to-use Unity Personal and Unity Plus has made more than $200,000 in the past 12 months and has been installed 200,000 times across its lifetime, then the developer will be expected to pay 20 cents per install.
Unity Pro and Unity Enterprise users – those who already pay upwards of $2000 a year for Unity's tools – will see a lower runtime fee start at a higher revenue threshold of $1 million and 1 million installs. A table over at PC Gamer shows how convoluted the pricing actually is, with users charged anywhere from 15 cents per install to less than one cent per install depending on whether they use Pro or Enterprise and how many installs they've amassed. We can only imagine how difficult it will be for studios to accurately keep track of how much they owe Unity for these installs.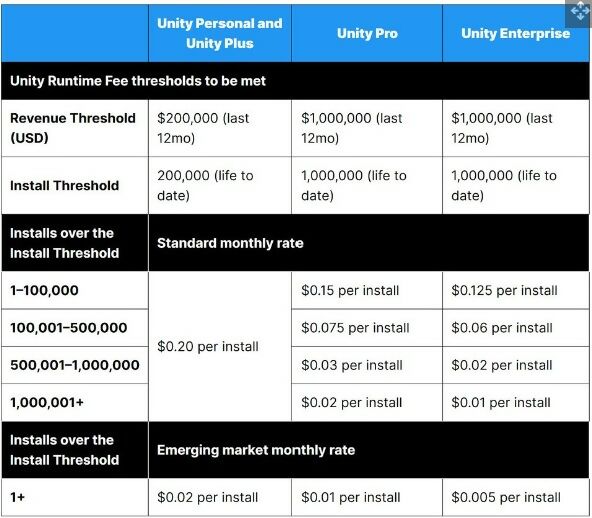 In the wake of the announcement, Twitter (or X) has been ablaze with responses from studios and developers – and they've been quick to point out all kinds of potentially ruinous problems with Unity's new pricing.
That Unity will charge per install sparked concerns that developers could be charged for simply offering a free demo if it's unfortunate enough to be downloaded more than 200,000 times – a situation that could be financially disastrous to smaller indie studios.
Others wondered whether a developer who added their game to a charitable compilation like, say, Humble Bundle might also be heavily out of pocket.
Then there was the question of smaller studios hoping to drum up publicity by giving away free keys to reviewers or influencers, those signing their game up to a subscription service like Game Pass… the potential effects are potentially so multitudinous and so far-reaching, it's a wonder how much consultation and analysis actually went into Unity's Runtime Fee before it was announced.
In the wake of responses such as these, Unity has since sought to "provide clarifying answers," this time on Twitter/X.
"Yes, this is a price increase and it will only affect a small subset of current Unity Editor users," the company wrote, adding: "We want to be clear that the counter for Unity Runtime fee installs starts on January 1, 2024 – it is not retroactive or perpetual. We will charge once for a new install; not an ongoing perpetual license royalty, like revenue share."
If Unity hopes that its reassurances will calm the situation down, it doesn't currently appear to be working.
"This is insane," one typical response read. "This currently won't affect me but it is crazy to think that if I continue to grow using this software and become very successful that I could be hit with a massive bill."
Unity has also since pointed out to Axios that it has "regrouped" and has clarified that demos and Game Pass installs won't trigger that 20 cents-per-download fee.
All the same, the anger and loss of goodwill from developers has been enormous, with some saying they're moving to rival game engines such as Unreal or Godot (at the time of writing, the latter is trending on Twitter/X). Developer Xalavier Nelson Jr has even tweeted that "at least one significant group of developers is talking a class-action lawsuit against Unity."
It's likely we'll see many more 'clarifications' and updated FAQs before the Unity Runtime Fee begins in January 2024.