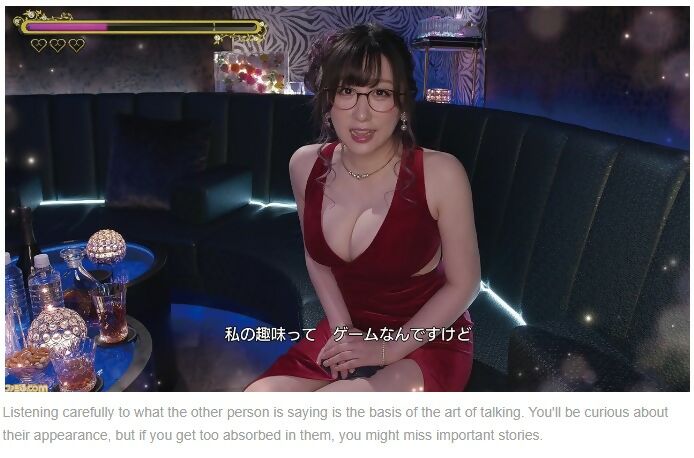 Like A Dragon Gaiden: The Man Who Erased His Name will feature a club where the player can romance hostesses and trigger 'sexy' live-action scenes. What year is it again?
---
Yesterday brought the welcome news that Daytona USA 2 will finally be getting a console release – albeit as a minigame tucked away in Sega's upcoming Like A Dragon Gaiden: The Man Who Erased His Name.
Famitsu, the long-running Japanese magazine that first broke the story, is just as excited about another feature in the upcoming action-adventure, however. The game contains a 'cabaret club' where you can talk to five hostesses. According to the Famitsu's article, now online, "If you liven up the talk based on their individuality, give presents and increase intimacy… a happy reward awaits!"
That 'happy reward'? Live-action 'sexy scenes' featuring one of the hostesses. The caption beneath a still from one of the scenes, set in a plunge pool, reads, "Because it is a live-action film, the destructive power of the sexy scenes seen as a reward is much higher than in the previous series. I wonder what will happen in the "example pool" after this…!?"
There are plenty of other things to do in the club, according to the article: there are arena battles with multiple modes to choose from, some sort of racing game with toy cars, karaoke, darts, a 'boutique' where you can change outfits, and an arcade featuring the aforementioned Daytona USA 2 (now called Sega Racing Classic 2), Fighting Vipers, and two 8-bit era titles: Flicky and Galaxy Force.
The greater chunk of the article, though, is given over to those hostesses and what amounts to a somewhat lascivious 'romance' minigame. It all feels distinctly 1990s.
Interestingly, Eurogamer's Ed Nightingale stumbled on one of these live-action sequences during his playthrough of a demo at Gamescom, and described them as "slightly disturbing and unnecessary."
"It's a clinical exchange that breaks the immersion of interactivity the video game can provide," Nightingale writes – "and of course panders predominantly to the male gaze. It's a baffling switch for a company like Sega to have made."
Well, quite.
Like A Dragon Gaiden: The Man Who Erased His Name is set to be released on PC, PS4, PS5, Xbox One and Xbox Series X/S on 9th November 2023.