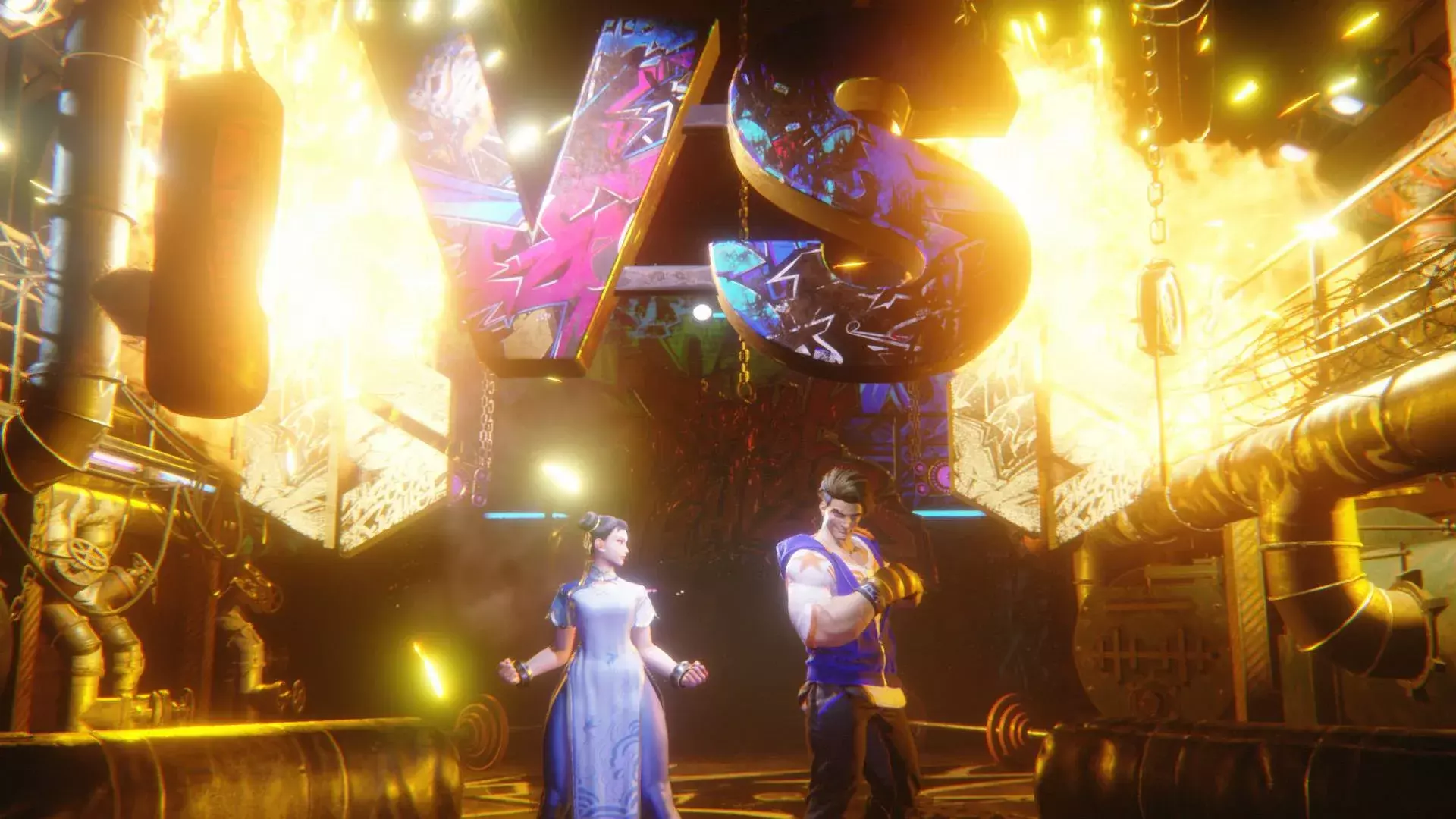 Street Fighter 6 has a roster of 18 warriors available at launch. Here's our at-a-glance guide to the strengths and weaknesses of each character.
---
Street Fighter 6 starts strong with its roster of 18 fighters, which include all eight of the original World Warriors from Street Fighter 2, a few other solid favourites from the series, as well as six new fighters that are as diverse in their backgrounds as their fighting styles.
There's a bit of something for everyone, with the Modern Control scheme making it easier to at least test out a character you may be completely unfamiliar with. That rankings are now tied to each fighter also means competitive players can either focus on their main character or work their way up improving their skills with another fighter but without impacting an overall rank.
But which fighter is right for you? Are you after someone who's fast, and has a bag of tricks that keeps your opponent guessing, a heavy-hitting grappler who goes up close or a good all-rounder 'Shotos' with fireballs and dragon punches with the exact inputs from 30 years ago? Or maybe you're settled on your main fighter, but want to know what to expect from the competition. This guide should hopefully give you a quick overview, summing up each fighter's strengths and weaknesses.
On the character select screen, you'll also get a quick rundown of each character's fighting type, the range they excel at and how easy or difficult they are to learn (this has also been listed in the below guide for reference). But for a more in-depth look at each fighter, be sure to check out the game's Character Guide under Training in Fighting Ground.
Ryu
Type: standard
Effective range: mid-range
Ease of use: normal
Strengths: Your classic all-rounder, where even someone passing knowledge of Street Fighter should know his iconic special moves, Ryu's the best place to start for beginners or veterans. His Hadoukens are great for keeping opponents at distance while his Shoryuken is great for anti-air as well as on the ground. His Tatsumaki Senpukyaku (or Hurricane Kick) also gives him forward momentum that most importantly dodges projectiles. Another great move for closing distance is his High Blade Kick, the overdrive version also powerful enough to wall-splat your opponent, which can easily follow-up with a dragon punch or a Super Art.
Weaknesses: Because his moves are so familiar, they're all quite easy to read, and if the dragon punch and hurricane kick is blocked, that leaves him open for being punished. His fireballs can be strengthened with Denjin Charge but doing this also leaves him wide open to attacks.
Ken
Type: power
Effective range: mid-range
Ease of use: normal
Strengths: Starting out as an Americanised palette swap of Ryu, Ken has very much evolved into his own fighter, despite possessing similar fireball, dragon punch and hurricane kicks. The key difference is his specials hit harder and land as combos. There's an extra flaming charge to his overdrive versions of Shoryuken and Tatsumaki, the latter also an effective anti-air. A good option for players who like to play fast and aggressive.
Weaknesses: Much like Ryu, Shoryukens thrown out too often can be easily blocked and punished, but one thing to bear in mind that unlike his former rival, Ken's Tatsu doesn't dodge projectiles.
Chun-Li
Type: speed
Effective range: mid-range
Ease of use: hard
Strengths: Chun-Li is a naturally fast fighter with a good repertoire of overheads and anti-airs without even having to reach for the specials. She's also great in the air thanks to being able to throw or use Lightning Legs while jumping. Her speedy specials mean she's one of the few fighters capable of breaking through Drive Impacts, especially the overdrive versions.
Weaknesses: Despite being speedy, a lot of her attacks such as her Kikoken and Spinning Bird Kick require charging up, while Serenity Stream also leaves her open before you can even execute any moves in that stance. While her Tenso Kick is an effective anti-air, the arc is also too high, making it less effective against opponents on the ground.
Guile
Type: standard
Effective range: long-range
Ease of use: normal
Strengths: With just simple inputs, Guile's unique attacks all offer decent variety, such as an overhead with forward medium punch or a forward heavy kick that gives him good forward momentum. His Flashkick is a terrifically devastating anti-air that's also good against opponents on the ground. While his Sonic Boom projectiles are charged, Sonic blade is a great alternative since that also essentially gives him a shield before firing it off.
Weaknesses: Like Chun-Li, his signature specials are charge-reliant. Compared to others, his Super Arts have trickier inputs compared to the double quarter-circle motions of most fighters (albeit less a problem for players using Modern controls).
Zangief
Type: power
Effective range: close-range
Ease of use: hard
Strengths: The old-school grappler, all of Zangief's grabs, including his signature Spinning Pile-Driver, does enormous damage, but even his normal attacks pack a wallop, a charged up heavy punch equivalent to another fighter's special move. His Siberian Express move is great for closing distance, while his Double Lariat can also dodge fireballs meant to keep him at bay. For a slow and burly fighter, he also possesses surprisingly fast jabs.
Weaknesses: Being as pure grappler as it gets, Zangief is arguably not as versatile as other grapplers on the roster, so opponents with good zoning techniques can keep him at bay, making it harder to make effective use of his moveset.
E Honda
Type: power
Effective range: mid-range
Ease of use: normal
Strengths: For those who want someone who's a hard hitter but also fast, then Honda's your guy. While as a sumo wrestler he naturally excels up close, his Sumo Headbutt and Sumo Dash are both effective methods of closing distance, while of course there's little as fast as his Hundred Hand Slap. Both the Headbutt (timed well) and Sumo Smash are also effective anti-airs.
Weaknesses: Being able to close the distance is still necessary for Honda since he doesn't have any projectiles. He's also required to spend overdrive in order to absorb fireballs with his Sumo Headbutt.
Blanka
Type: speed
Effective range: mid-range
Ease of use: normal
Strengths: Is it fair to call Blanka cheap? In any case, this fighter from the Brazilian jungle is an annoyingly tricky fighter with both quick and charging moves that can frustrate and confuse your opponents. His Electric Charge will shock anyone who comes close and even opponents who block it won't be able to immediately counter. He's also got three Blanka-Chan dolls he can toss out each round and then power up with his electrical charge so that you have a minion to further annoy your opponent. His Wild Hunt is also great at grabbing opponents from a distance, while he's got a sliding attack to dodge projectiles.
Weaknesses: Another charge-based character means it can be quite easy to pressure him. His Rolling Attack can also be countered with well-timed normal mediums.
Dhalsim
Type: tricky
Effective range: long-range
Ease of use: hard
Strengths: With his stretchy limbs and projectiles, Dhalsim is great for keeping opponents on their toes and at a distance. Those Yoga Fires can work along the ground or in the air, making it difficult for anyone trying to close in on him, if his stretched heavy kick doesn't also catch them. He's however able to close distances on opponents thanks to his Yoga Teleport, which works on the ground and in the air, effective for getting a surprise drop or dodging projectiles, though a sliding heavy kick can also work just as well for the latter.
Weaknesses: If you disregard his teleporting manouevres, then you can argue that Dhalsim's tricks are balanced by his slower speed. His stretchy limbs also effectively means he's got a larger hitbox that can be punished.
Luke
Type: standard
Effective range: mid-range
Ease of use: normal
Strengths: As the latest character at the very end of Street Fighter 5, Luke finished very high up on many players' tier lists, so it's no surprise that he has a very strong start here too. While he's got some similarities with other Shoto fighters, well-equipped for zoning and anti-air, many of his moves also give him forward momentum for closing distances, while his Sandblast fires off at greater speed compared to other projectiles. His moves also have different effects when the button is held down.
Weaknesses: While his projectiles are fast, they don't cover as much ground as someone like Ryu, Ken or Guile unless using the overdrive version.
Juri
Type: speed
Effective range: close-range
Ease of use: hard
Strengths: For the foot fetishists, considering that Juri has more kicks in her moveset than punches (her heavy punch is actually a kick). She's got a strong variety of moves that are dependent on the strength of the button used, which can leave opponents guessing. She has a gimmick where by using Fuhajin she'll gain Fuha stock that's used to enhance some of her other attacks, and Fuhajin is fortunately an attack of its own too. Most frightening is her Level 2 Super Art, Feng Shu Engine, which makes her combos fast and furious as she can cancel moves normally not possible.
Weaknesses: Her damage is overall weaker compared to other fighters, so it all hinges on being able to build her resources with both Fuha Stock and activating Feng Shu Engine.
Cammy
Type: speed
Effective range: close-range
Ease of use: normal
Strengths: Fast and deadly, it's no wonder Cammy has been a favourite for the pros for much of Street Fighter 5, and that's likely to continue here. Her leg-based Spiral Arrow, Cannon Spike and Cannon Strike are all speedy attacks that cover the ground, anti-air and diving back down respectively, while her Hooligan Combination has multiple outcomes that can leave opponents guessing whether it's going to end as a throw, an overhead, or even a feint. Topping it off, her Quick Spin Knuckle can also dodge through fireballs while closing distance.
Weaknesses: Besides her normal attacks lacking forward momentum, the spin jump opening of her Hooligan Combo does have a long animation time, which means it can easily be punished by more alert players.
Dee Jay
Type: tricky
Effective range: mid-range
Ease of use: normal
Strengths: Dee Jay loves to bait with feints to confuse his opponents, with the light attack of a few special moves always a feint, though the heavies double up the damage. Just Cool also allows him to retreat before coming back in with a counter, including another that allows him to evade fireballs. Add this with his use of projectiles and anti-airs and he makes for a tricky but playful fighter to get your head around.
Weaknesses: As with Chun-Li and Guile, some of his moves are also charged-based. Less suited for players who prefer to be more direct, as feinting and evasion is quite a core part of his fighting style.
Jamie
Type: tricky
Effective range: mid-range
Ease of use: normal
Strengths: This drunken breakdancer has a lot of forward momentum in his attacks. More importantly, he's built around a gimmick of new moves being unlocked or existing moves becoming more powerful the more he takes a swig of his special drink, at Level 2 unlocking a series of breakdancing kicks that passes through projectiles. When maxed at Level 4, his appearance also changes a bit like Street Fighter 5's Necalli.
Weaknesses: There's perhaps too much reliance on his drink gimmick to make him as effective as other fighters, and players also have to remember which moves they have access to depending on Jamie's drink level. Taking the drink itself also leaves him open so that's something to be aware of.
Kimberley
Type: speed
Effective range: mid-range
Ease of use: normal
Strengths: The African-American ninja is wildly unpredictable with a lot of fast and tricky moves. Just her heavy kicks give her either great forward momentum or an overhead while her Bushin kick is a great anti-air that varies in trajectory depending on the strength of the kick. To really close the distance she has a sprint that can follow into a number of moves that can throw your opponent off. Throw in a bunch of ninja moves like shuriken bombs, smoke bomb teleport, as well as a Level 3 Super Art that permanently buffs her speed and attack for the entire match and you've got a whole lot of trouble to unpack.
Weaknesses: Kimberly's troublesome moveset is balanced by her having weaker base damage than other fighters (at least until she gets her Level 3 Super Art buff), and while her teleport and sprints can be a nuisance, there's still enough telegraphed for experienced players to punish.
Manon
Type: power
Effective range: mid-range
Ease of use: normal
Strengths: Underestimate this Parisian model at your peril, for that balletic grace comes with immense power. Manon specialises in grapples and kicks, with a core gimmick being her judo moves that grant her a medal with each successful connect. She's able to obtain a maximum of five medals in a match, the total carrying over each round, making her throws not only look more refined but more powerful. Her legwork is just as strong, from Rond-point working great in combos or as an anti-air, Dégagé having different effects at different strengths, while Renversé can evade fireballs before becoming a throw, a kick, or even a feint.
Weaknesses: Being able to read the opponent early is important for her counters like Renversé and Rond-point to connect. The Renversé grab also doesn't actually connect if the opponent blocks it.
Marisa
Type: power
Effective range: mid-range
Ease of use: easy
Strengths: This gladiatorial powerhouse may just be the ideal fighter for newcomers to take up. Her moves are not only relatively easy to learn, but she also hits hard with her attacks giving her plenty of forward momentum to continue the offensive pressure. Perhaps the best part is that her moves like Scutum allow her to build up armour without using the Drive gauge, while Gladius is a devastating punch that's the only special move that can definitively smash through the armour of a Drive Impact.
Weaknesses: While Glaidus can break through Drive Impact, it's less effective against other special moves such as projectiles and still be parried or thrown.
Lily
Type: standard
Effective range: mid-range
Ease of use: easy
Strengths: Coming from the same tribe as T. Hawk, Lily's stature is not to be underestimated as her war clubs help do some of the heavy lifting, from using Condor Wind to gain Windclad stock that enhances her special moves to being able to perform powerful grapple Mexcian Typhoon. While the grab does require getting close in, especially if opting for the higher-damaging version, she's actually best played at a certain distance from her opponent because her clubs do the most damage when the tips just touch her opponent.
Weaknesses: While the Condor Wind does follow up with attacks (except the light version), it still leaves Lily open to attack. Her Condor Dive can also leave her vulnerable if it's blocked, so it's perhaps better used for closing distance than a direct attack.
JP
Type: tricky
Effective range: long-range
Ease of use: hard
Strengths: Effectively the new big-bad of Street Fighter in a post-Shadaloo world, JP possesses a familiar psycho power. Unlike Bison, however, this chap is more of a zoner, using his staff and psycho power to check opponents from range, or knock them away. Perhaps most deadly is that he's the only fighter who can basically grab an opponent from long range with the psycho-based Embrace.
Weaknesses: As he's got a lot of his psycho power doing the work for him, JP's not the most agile fighter, making him more difficult to master. His Embrace can also be countered with projectiles, and if opponents can close in on him then he's a bit of a sitting duck.
---
Want to learn more about the world of Street Fighter 6? Then check out our other guides:
Street Fighter 6 Beginner's Guide | Street Fighter 6 World Tour Guide