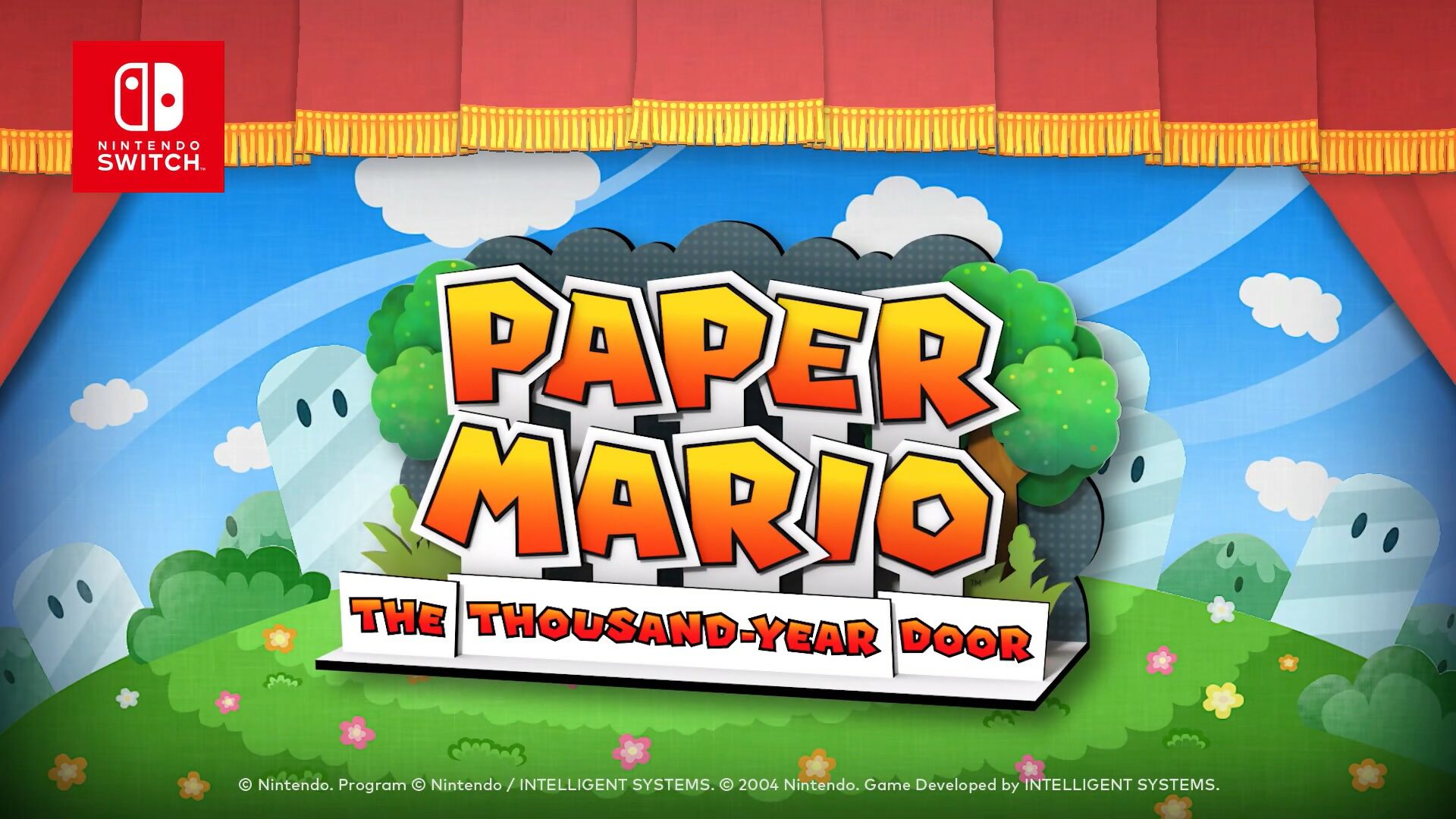 Paper Mario: The Thousand-Year Door! F-Zero 99! Trombone Champ! Here's a look at the best bits of the latest Nintendo Direct.
---

I was a bit down on the last Nintendo Direct back in June, which felt a bit like Nintendo was reheating leftovers while holding back all the really delicious, interesting stuff for the Switch 2. The latest Nintendo Direct on 14 September did nothing to dissuade me of the notion that all the big and exciting new things are being held back for Nintendo's next console, but it did at least provide some genuine surprises, as well as the welcome return of some much-missed classics.
The biggest announcement, which dropped right at the end of the presentation, was undoubtedly the upcoming remaster of Paper Mario: The Thousand-Year Door. Fans have been clamouring for this game to be re-released for years, and the GameCube original now goes for absolutely silly money on the second-hand market. Until now, the original disc has been the only way to play this most anarchic of entries in the Paper Mario RPG series.
Funnily enough, there's a Time Extend feature on The Thousand-Year Door in Edge this month, highlighting its "wonderfully nasty sense of humour", something that was watered down considerably in later Paper Mario games. This dark humour is exactly what makes the game so beloved by fans, with its corrupt fighting tournaments, organised crime gangs, and a town where people are being turned into pigs. "Are pigs good eatin'?" asks one character.
It's a brilliantly bizarre take on Mario's world, and the remaster looks exceedingly lovely. It's set to be released at some point in 2024.
One genuine surprise from yesterday's Nintendo Direct was the launch of F-Zero 99 right after the presentation. A new F-Zero game is something that fans have been clamouring for for donkey's years, but I don't think anyone expected the series to return in the form of a Battle Royale, following the format of Tetris 99.
I had a quick go on it last night, and I'm pleased to say it's a right laugh. Attempting to negotiate the original SNES F-Zero's tight corners with 98 other players is pleasingly chaotic, and there's an excellent risk/reward mechanic in that your craft's power meter (i.e. your health) is also used for boosting. So a quick tap of the boost button might move you up a few places, but if your power level drops to zero from too many collisions, then it's game over. There's also a 'skyway' track you can hop onto, which travels above the course and provides shortcuts, but to hop up there you need to gather sparks which are dropped when players collide.
In short, it's a lovely little present for Nintendo Switch Online subscribers. And who knows? Maybe it's an indication that Nintendo is considering another mainline F-Zero game. Maybe.
The Nintendo Direct also saw the welcome return of Mario vs. Donkey Kong, which originally launched on the Game Boy Advance back in 2004. This puzzle-platformer sees Mario pursuing Donkey Kong through a toy factory, collecting Mini-Mario toys along the way, and it ended up spawning several sequels, the last of which was Mario vs. Donkey Kong: Tipping Stars in 2015. This new remake of the original game – which adds local co-op – is set to launch on 16 February 2024.
We also got to see some footage of the new Princess Peach game that was announced in June's Nintendo Direct, but now it has a name: Princess Peach: Showtime! The set-up sees Princess Peach attempting to save a theatre whose shows have been disrupted by the wicked Grape and the Sour Bunch – which gives Peach the excuse to dress up in various acting roles to save the day. The trailer shows us Swordfighter Peach, Detective Peach, Patissier Peach and Kung-Fu Peach, but apparently there are more transformations in the final game, which is set for release on 22 March 2024.
Contra: Operation Galuga is being billed as a "reimagining of the classic run-'n'-gun action game from the '80s", and it seems to be a complete overhaul of the original NES Contra from 1987. The last entry in the Contra series was the dismal Contra: Rogue Corps from 2019, but this new game is being developed by WayForward, the studio behind the Shantae series and the recent Advance Wars remake, so we're quietly optimistic. It's being released at some point in early 2024.
Another blast from the past came in the form of Tomb Raider 1-3 Remastered – which, as the name implies, is a remaster of the first three games in the Tomb Raider series. In a lovely touch, players can switch between the original, angular graphics and the newly smoothened modern version at any time. This remastered collection includes all of the DLC for each game, and it's also being released on PC, PS5, PS4, Xbox Series X/S and Xbox One in addition to Switch. It arrives on 14 February 2024. Ahh, Valentine's Day. What a lovely present this would make for a secret admirer.
Here's another genuine surprise: Cing's cult classic Nintendo DS game Another Code: Two Memories is getting a remaster, along with its sequel, Another Code: R. Both games are being bundled together as Another Code: Recollection, which is due to be released on 19 January 2024. Cing was behind some brilliantly clever and quirky games in its brief, ten-year existence, such as Hotel Dusk: Room 215 on the DS and Little King's Story on the Wii, and it's fantastic to see the studio's work being given the love it deserves.
We also got a glimpse of the final batch of Mario Kart 8 DLC, which includes the characters Diddy Kong, Funky Kong, Pauline and Peachette, although frankly this was a missed opportunity for Nintendo to introduce Bowsette to the world. We also got news of more amiibo. As predicted back in June, Ganondorf and Zelda amiibo are on the way for The Legend of Zelda: Tears of the Kingdom – they launch on 3rd November. We're also getting Noah and Mio from Xenoblade Chronicles 3 in amiibo form on 19 January 2024, and the long-awaited Sora amiibo will launch later in 2024, finally meaning that every single character in Super Smash Bros. Ultimate will have an accompanying amiibo.
But perhaps the best and most cheering thing featured in yesterday's Nintendo Direct was the unveiling of a Switch version of PC rhythm action game Trombone Champ, which provides the option to play together with up to four people for maximum chaos and parping noises. The Joy-Con gyro controls can be used to move your virtual trombone's slide, or you can instead move your hand back and forth in front of the Joy-Con's IR camera, but there's also the option to just use the analogue stick if that doesn't appeal. The sheer caterwauling that four players will unleash together is undoubtedly the highlight though. This promises to be wonderfully, joyfully silly – and it's out now.
Read more: Retro Game Challenge and its sequel heading to Nintendo Switch